This black rice salad is super easy to make and has some wonderfully nutritious ingredients—rich in colour and packed full of fresh flavours, and it'll have your taste buds dancing!
I always like to create something a little different, and salads are no exception! You'll find that most of my
salad recipes
can also be eaten as main meals on their own.
If you love fresh, vibrant and Japanese-inspired flavours, this black rice salad will be your new go-to recipe!
Kitchen tools used to make this black rice salad.
There's only a handful of kitchen tools needed to create this wonderful, vibrant side dish.
Chopping board
Large knife
Medium pot
Large bowl
Mixing spoon
Small jar
Ingredients used in this salad
The simple, yet tasty ingredients used in this salad are what makes this combination work. You'll find the following ingredients in this dish:
Black rice
Roasted red peppers
Fresh mint
Fresh coriander
Cucumber
Toasted almonds
The dressing is made up of the following:
Toasted sesame oil
Tamari
Lime juice
Maple syrup
Olive oil
Chilli powder and fresh chillies
This post may contain affiliate links, for which we earn a small commission at no additional cost to you. Read our full disclosure here.
Why use black rice?
I've chosen to use black rice because it has a wonderful earthy and nutty flavour. The rice also doesn't get too soft, which is typically found with some white rice varieties. It probably resembles red rice the most in terms of its cooking instructions, texture and flavour.
You can substitute this for brown rice or red rice. I personally love black rice for this dish, plus the colour contrast with the herbs and veggies is so beautiful!
Black rice is typically used in desserts or served as a side to curries and stir-fries. I loved the idea of having it in a salad that created a bold and refreshing look and flavour.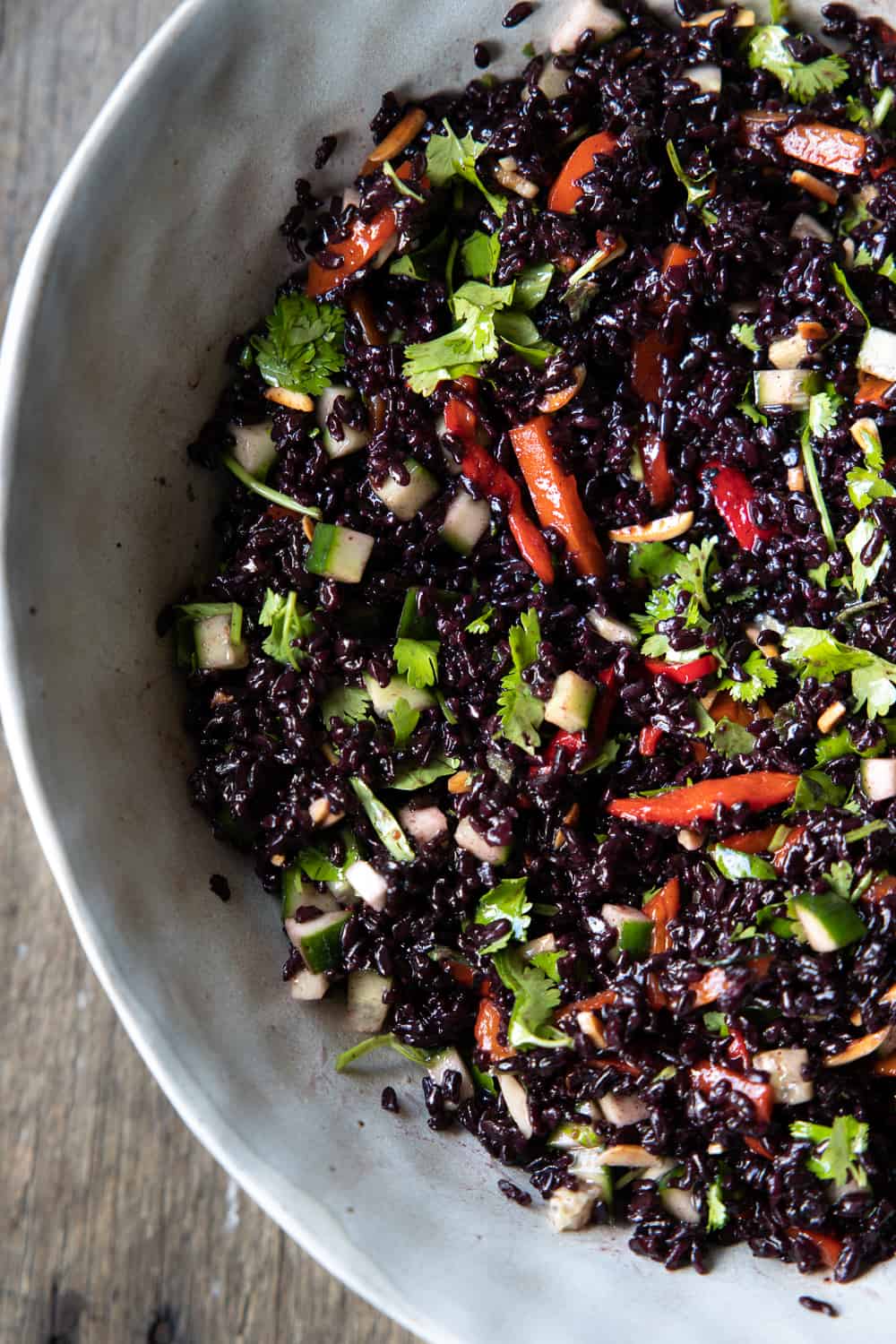 Tips for making this black rice salad
As this salad is straightforward, there aren't too many tips needed to make this dish. I do, however, have a few tips for swaps if needed.
If you don't have black rice or can't access it easily, you can swap it out for medium grain brown rice or red rice.
You can swap out the maple syrup for any liquid sweetener of choice, agave or rice malt syrup are great alternatives.
If you're not gluten-free, you can switch out the tamari sauce for soy sauce.
Besides almonds, other nuts that would be great in this salad are peanuts and cashews.
This salad is:
Fresh
Vibrant
Spicy
Gluten-free
Perfectly balanced
Healthy
Flavourful
Other delicious recipes you'll love:
If you try this recipe, let me know! Would love for you to leave a comment and rating below. If you want to go that extra mile, tag us on Instagram or share your photo of the recipe on Pinterest.
Join the MV community
You'll get a neat summary of our content each week, as well as some behind the scenes of what's happening! See you on the inside 😉