From plant-based burgers to fishless fingers, today, there is no dearth of vegan meat substitutes in the world out there. From helping you make a healthy hearty meal to easing out your way for following a vegan diet, these meat substitutes leave no stone unturned to take the palate on a delectable sojourn.
Acting as a doppelganger, these alternatives never cease to give stiff competition to actual meat items, nor does it take the backseat when it comes to capturing one's senses. Filled with exotic aromas and enticing flavors, they can make you fall head over heels for them in no time.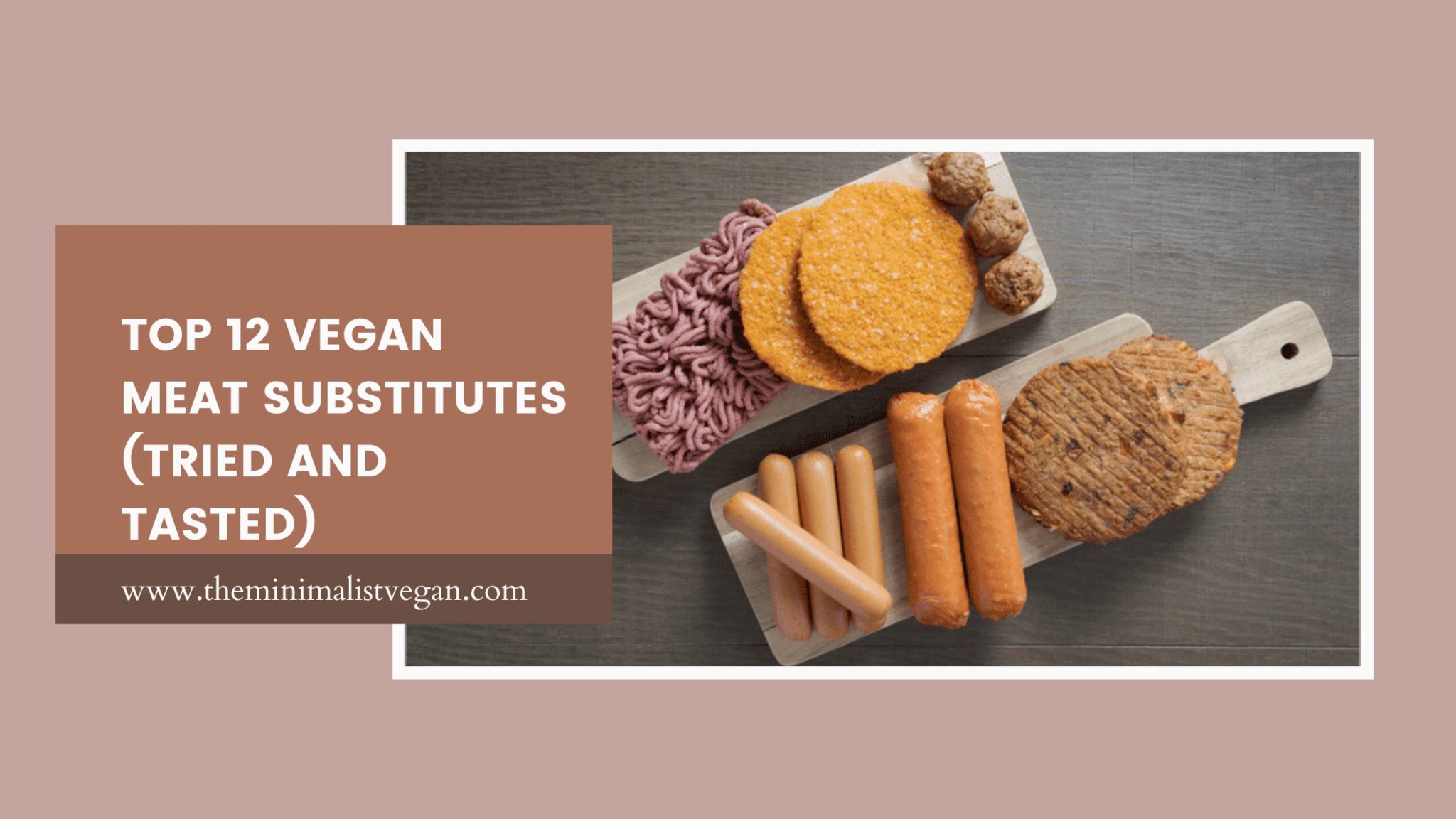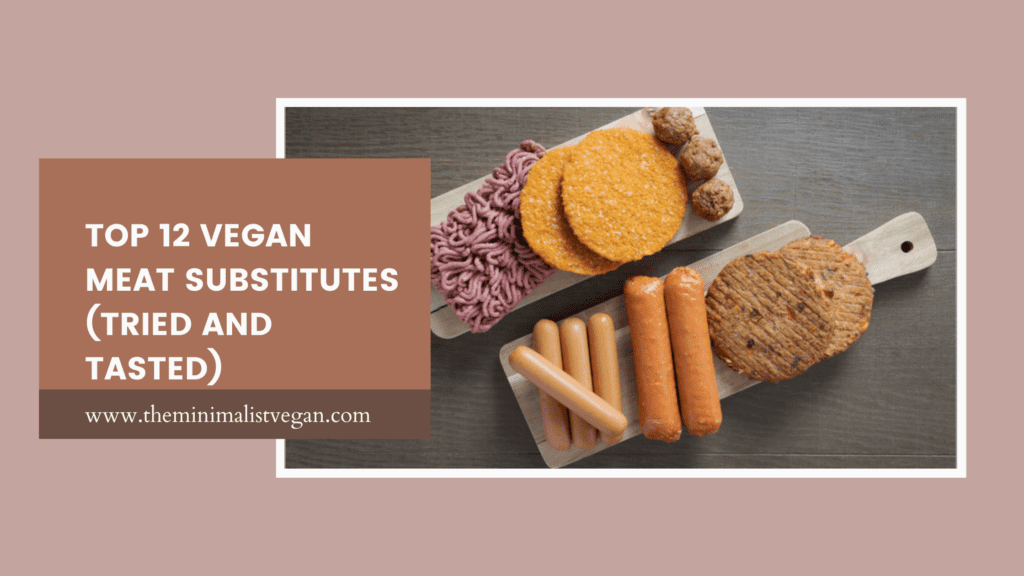 But what exactly do we mean when we say meat substitutes? What are they made of intrinsically?
Let's answer these WHATs and WHYs:-
Meat alternatives refer to those consumables that resemble the characteristics of a specific type of animal-based meat. In other words, these substitutes carry similarities to the actual meat in terms of its taste, flavor, and appearance.
Made with different types of ingredients, these sumptuous items act as reassuring springboards to delve deeper into the plant-based world and adopt or follow veganism. Not only this, they are also full of beneficial properties that make them healthy for the body.
Well, there was a time when most of these substitutes were made of processed soy protein. However, today due to the immense popularity of these vegan alternatives to meat, several other protein-packed bases are being used to prepare these lusciously healthy items.
So if you're looking for a nice, delectable treat to ratchet up your barbeque party this weekend, get going and explore the below-mentioned options for making delectable items with these plant-based alternatives:-
Top 12 Scrumptious Vegan Meat Substitutes
The most intriguing part about the protein-dense best plant-based meat substitutes is that they can be used in their basic form which helps in creating dishes from scratch.
So, let's explore these vegan alternatives to meat without much ado:-
#1) Tempeh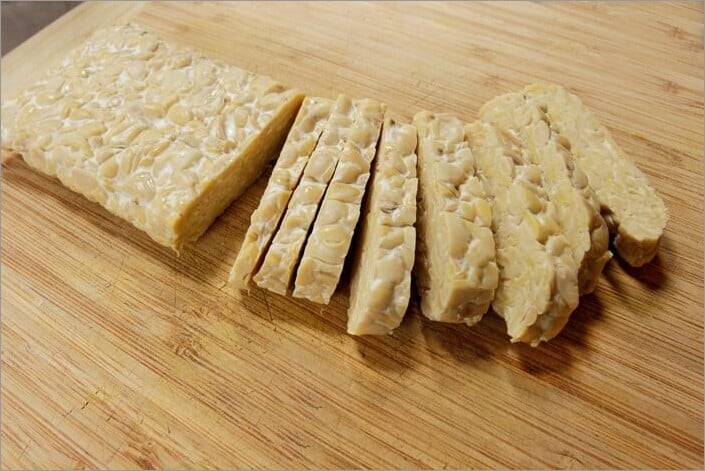 Used for thousands of years in Indonesia, Tempeh is a delicious soybean-based product that is made from fermented soy. Since it is prepared from whole soybeans, it possesses more flavorful properties which are slightly nutty in essence. Tempeh can be cooked in a variety of ways ranging from grilling, baking, simmering, and boiling. Based on these styles of cooking, it can be crumbled and then used as ground meat or employed in a similar way a chicken or a strip of bacon gets utilized.
This vegan meat alternative is also blessed with several health benefits. Rich in protein, fiber, iron, magnesium, manganese, and calcium, this vegan alternative to meat is a pathway to a healthy lifestyle. From helping improve cholesterol, and lowering blood pressure to promoting bone health and protecting the heart, Tempeh has much more than what meets the eye.
Pros:
Tempeh is usually less processed.
Possess probiotic benefits
Dense with a meaty texture
Cons:
Tempeh can be bitter or dry.
May contain gluten
Carries a certain amount of fat
#2) Lentils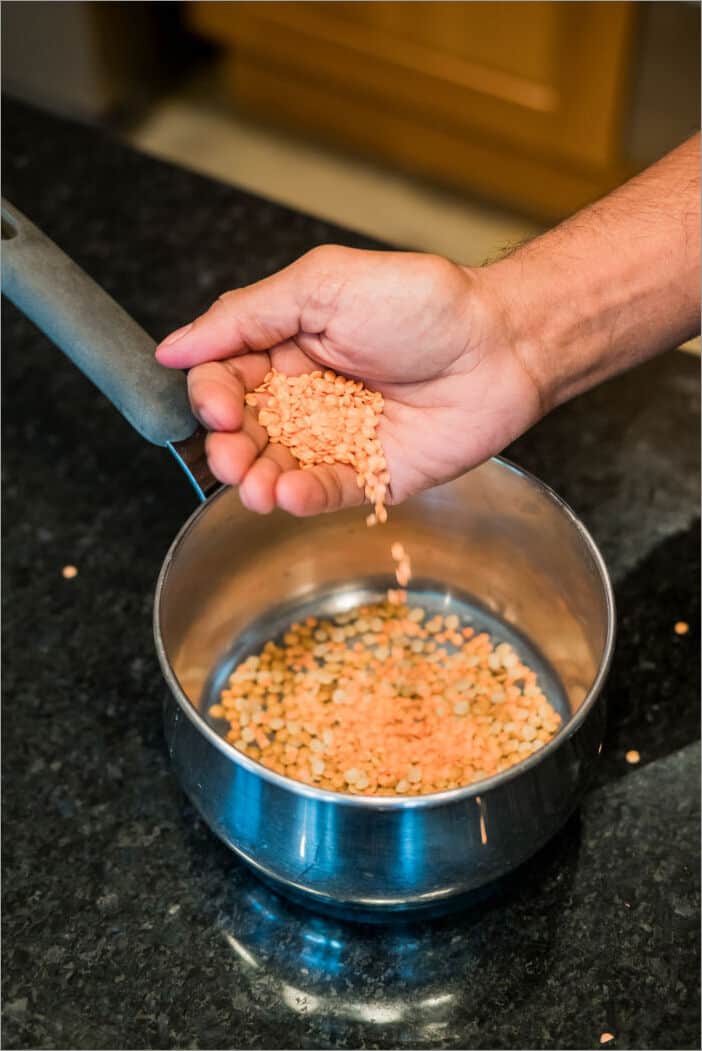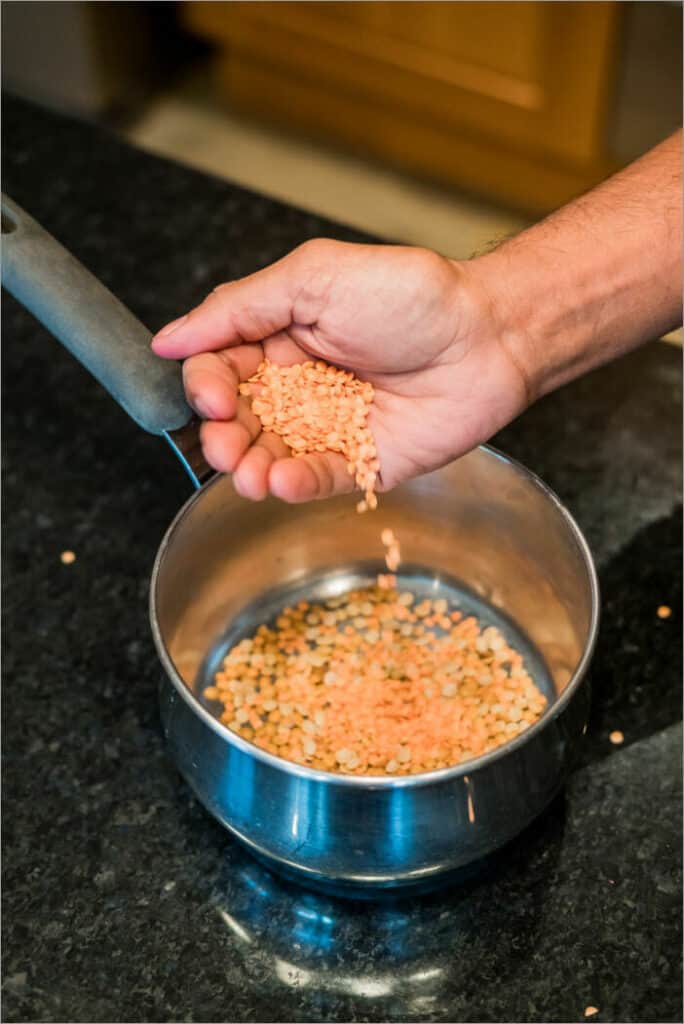 Another prized meat replacement for vegans is lentils. Blessed with a delicate earthy flavor, this healthy item adds unique and much-needed texture to every vegan meal. This is the reason that makes lentils a great alternative to beef-based dishes, especially its green, black, or brown variants. For preparing pork mince, red lentils work as a good replacement due to their distinct flavor. Being one of the most unprocessed forms of plant-based items, they make a great addition to a vegan palate.
High in protein and nutrients, lentils have numerous health benefits, ranging from aiding in lowering blood pressure, cholesterol, and even blood glucose levels amongst others. They help in protecting against breast and colon cancer. Being an excellent source of fiber, they even assist in reducing the problems of constipation and support a balanced gut biome among people.
Pros:
Versatile in nature
Rich source of folate and magnesium
Promotes heart health
Cons:
Possess low levels of amino acids
May sometimes cause flatulence
Might lead to allergic reactions in some people
#3) Tofu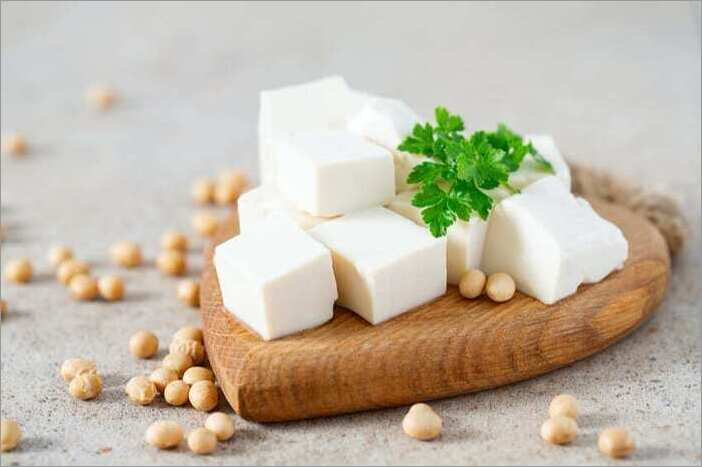 One of the classic types of vegan meat is none other than Tofu. A versatile item, it has been a staple of Asian cuisines for centuries. Made from curdling soy milk, it makes a good alternative for pork, seafood chicken, and beef. Soft and spongy, this delicious item is known to take up any flavor without much ado. Tofu comes in varying varieties ranging from soft silken to dense and firm, which makes it an ideal accompaniment to a wide variety of dishes.
Gluten-free and low in calories, the item contains several essential nutrients that are required by the body. Not only this, tofu can promote heart and bone health, better cognitive function, and lower cholesterol levels too. It can even ward off certain types of cancers.
Pros:
High protein quotient
Source of protective antioxidants
Helps in alleviating menopausal symptoms
Cons:
Can be difficult to prepare
May taste bland if not seasoned properly
Might cause digestive issues in some people.
#4) Seitan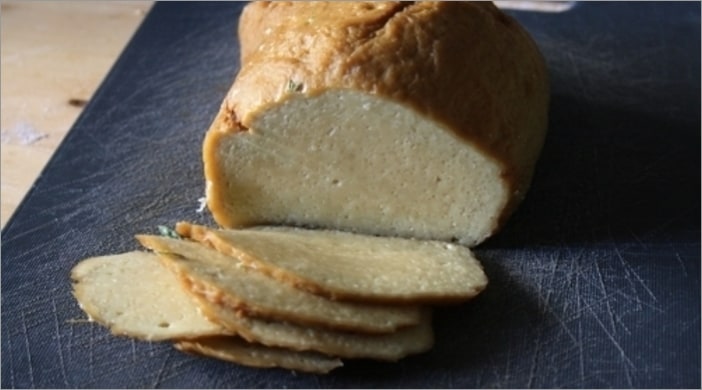 An appetizing vegan meat substitute, Seitan is made from wheat gluten. Developed by Buddhist monks in the seventh century, it was prepared by soaking wheat dough in water to extract the wheat gluten or protein from it. Blessed with a dense and chewy texture, Seitan possesses a taste that is strikingly similar to duck meat and thus works as a great substitute for it. Apart from this, the humble item can also be used in sausages, cold cuts, and cutlets. One can fry, grill, or braise this succulent substitute of meat per one's desire.
Being one of the best meat substitutes for protein, and carbohydrates, the item makes for a healthy addition to one's diet. Since it has little to no starch, it is low in calories. It also promotes satiety for a long period of time and keeps hunger pangs in check.
Pros:
Require less preparation
Present in numerous variety
Works as a versatile item
Cons:
Contains gluten
Can cause gluten sensitivity in people with celiac disease
May sometimes be over processed
#5) Jackfruit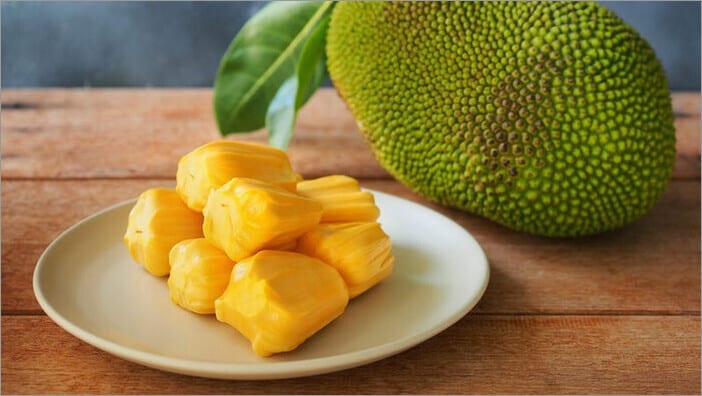 A vegan alternative to meat, Jackfruit is a succulent item used in South Asian and Indian cuisines for centuries. Mimicking the taste of pulled pork, it possesses a stringy texture that works great for different meat-based items and even carnitas and tacos. A versatile option with a mild flavor, jackfruits easily goes along with other appetizers and recipes and adds a charm of their own in a subtle and unique way.
High in fiber and antioxidants, jackfruit is full of health benefits. Studies show that this meat substitute contains calcium and magnesium that promotes bone health. It aids in combating the problems of arthritis and osteoporosis amongst others. Jackfruit even helps in replenishing energy and ensuring better heart health.
Pros:
Low in calories
Loaded with phytochemicals
Not much processed
Cons:
Low in protein
Can be harmful to pregnant women
Can sometimes be allergic
#6) Beans and Legumes
Amongst meat alternatives present, beans and legumes are one of the most readily available items that can be found sitting peacefully on the market shelves. These humble items make a perfect substitute for animal-based meat and can amp up any dish they are used in due to their mellow, starchy, and hearty taste. A filling substitute, beans, and legumes can also be utilized in stews, burgers, and more.
These items contain antioxidants that aid in preventing cell damage and digestive cancers. They also help reduce cholesterol and lead to decreased blood sugar levels.
Pros:
Rich in folate
Highly unprocessed
Versatile
Cons:
Have low levels of certain amino acids
Can sometimes interfere with digestion
Can trigger migraines in some people
#7) Textured Vegetable Protein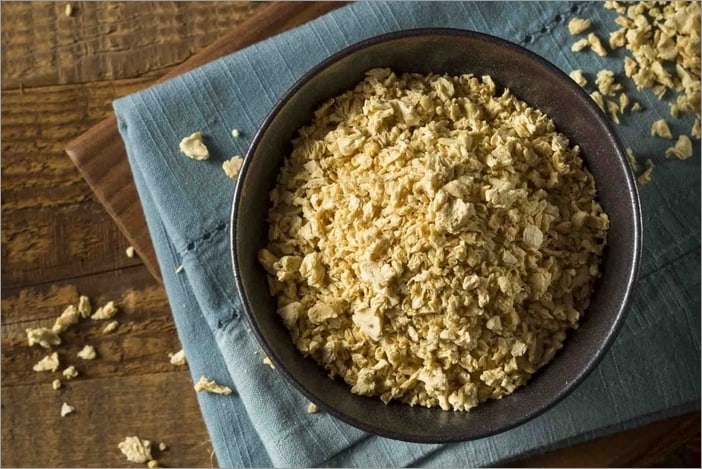 Textured Vegetable Protein, or TVP, is a highly processed vegan alternative to meat that was developed in the 1960s. Prepared from soy flour, it has both flavored and unflavored varieties that come in different sizes. An easy-to-use item, it can be included in a wide array of cuisines which makes it a versatile ingredient. TVP does not contain any flavor and is thus a mock meat. However, several already seasoned variants are available that taste like beef, ham, sausage, bacon, or chicken. Unseasoned options are present too.
Highly nutritious, TVP has several health benefits ranging from promoting heart health to being a great alternative to people with celiac diseases.
Pros:
Gluten-free
Rich source of fiber
High in protein
Cons:
Overtly processed
May cause allergic reactions in some people
Can lead to digestive problems
#8) Mushrooms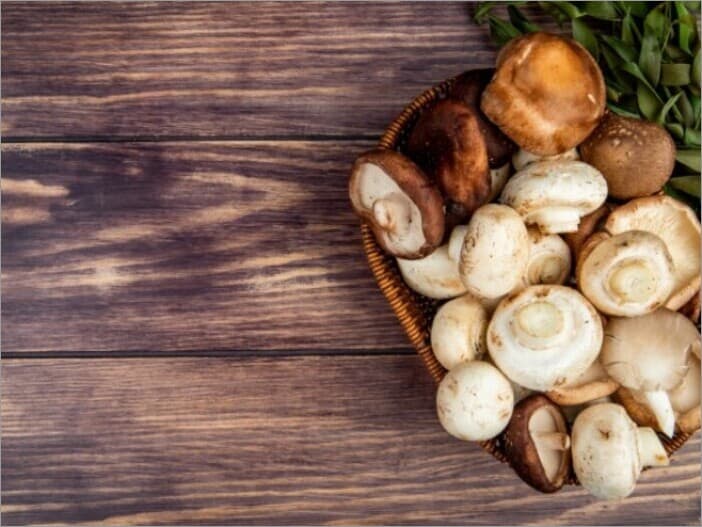 Amongst the meat replacement for vegans, mushroom is by far one of the most enticing options. Blessed with a similar flavor profile as that of a meat, it is worth the substitution. With a unique texture, and a mystical taste, known as "umami", mushrooms can be used any time to power up your dish. One of the best variants that can be used for a meat replacement is the Portobello mushroom caps which are simply mind-boggling.
Mushrooms too possess nutritional secrets that are enough to make you and your loved ones healthy. Rich in vitamin D, they also contain antioxidants that help support the immune system and prevent cell damage.
Pros:
Loaded with vitamin B6
Good source of beta-glucan
Low in calories and fat
Cons:
Might lead to stomach upset
Can cause nauseating feeling in some people
May trigger skin allergies
#9) Cauliflower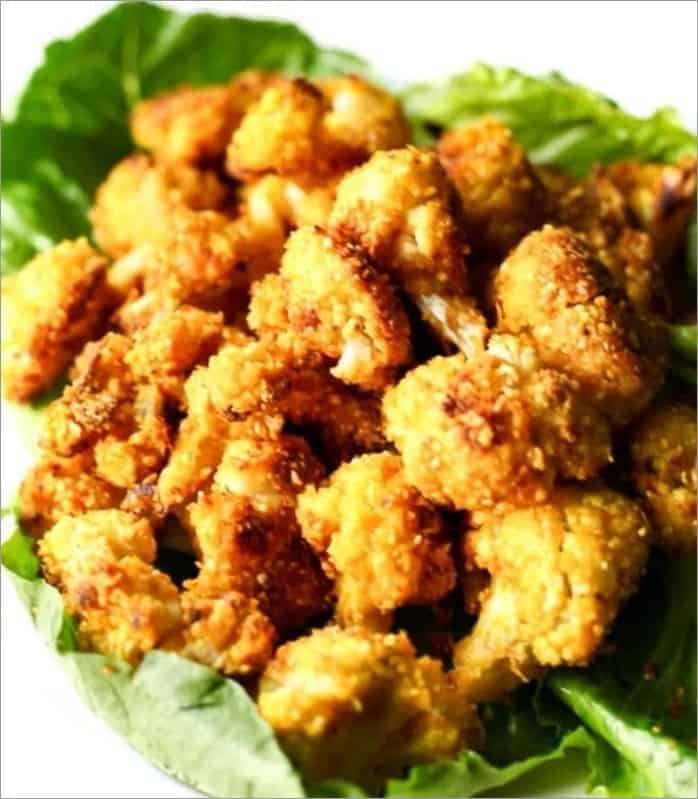 A luscious vegan meat substitute, cauliflower has a unique charm and exoticism that is hard to overlook. A delicious cruciferous veggie, this humble item has more to it than what meets the eye. One can use this plant-based alternative in various ways, but the best two varieties one should try making include cauliflower steaks and wings. Cauliflowers can be mashed and then seasoned with other ingredients to make the ultimate dish for parties or special occasions.
Loaded with vitamins, minerals, and fiber, this vegetable has numerous health benefits for all. It not only prevents constipation but also promotes weight loss. Cauliflowers even contain antioxidants and phytonutrients that can fight against cancer.
Pros:
Good source of Choline
Supports the immune system
Boost bone health
Cons:
May cause flatulence and bloating
May trigger asthma and respiratory problems in those who suffer from these health issues
Can cause food allergies in sensitive people
#10) Mycoprotein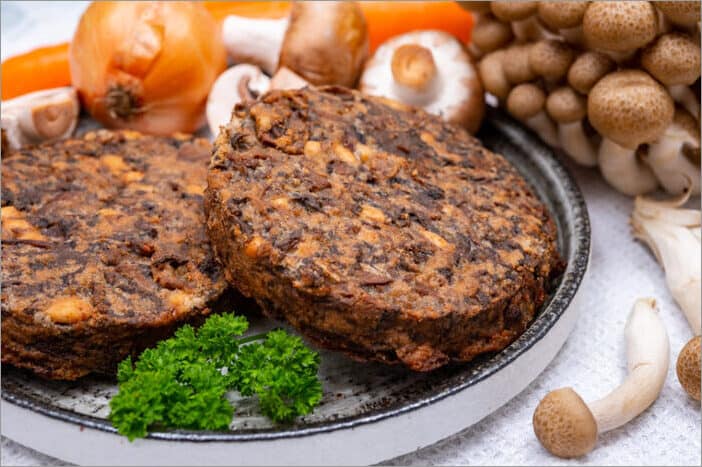 A fungus-based protein, Mycoprotein is a lesser-known vegan meat substitute present in different varieties like cutlets, burgers, patties, and even strips. With a doughy consistency and a meaty texture, they can easily be turned into a substitute for chicken, beef, sausages, and other meat-based products. A toothsome option for vegans and vegetarians, mycoprotein can add a unique punch to any dish in no time.
Blessed with many nutrients, it can aid in maintaining healthy blood cholesterol levels and controlling insulin and glucose levels. Mycoprotein also promotes satiety.
Pros:
Rich source of protein
Ready-to-cook
Less processed than many meat substitutes
Cons:
Some varieties are not vegan
Little expensive
Not easily available
#11) Pea Protein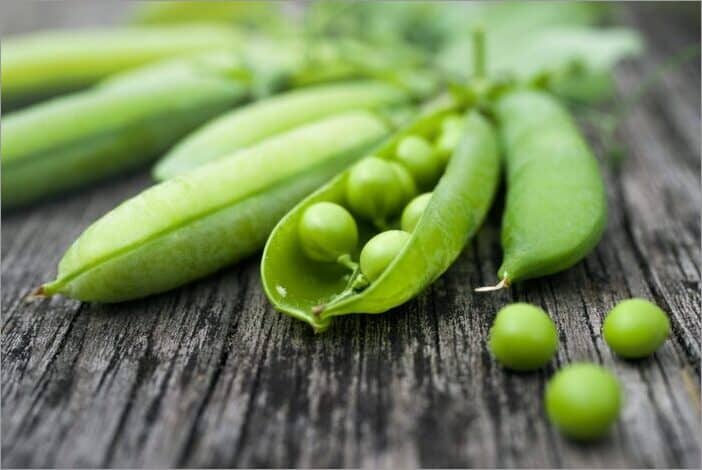 Among the meat alternatives present, Pea protein is one of the most popular items that have skyrocketed in popularity in recent years. Prepared by extracting protein from ground peas, this delicious substitute is increasingly becoming an indispensable part of many of the cuisines made across the globe. Since pea protein has a neutral flavor, it can be used along with other ingredients to make various meat substitute products. Alternatively, you can also look for pea protein meat substitute recipes and try making one at home.
This plant-based option has several health benefits attached to it. From helping in muscle growth, and promoting the feeling of fullness to boosting heart health, this beneficial item can make your lifestyle healthy just by being in it.
Pros:
Rich in protein
Less preparation needed
Soy and gluten-free
Cons:
Various products are high in sodium
Used in highly processed products
Good for an occasional indulgence
#12) Soy Protein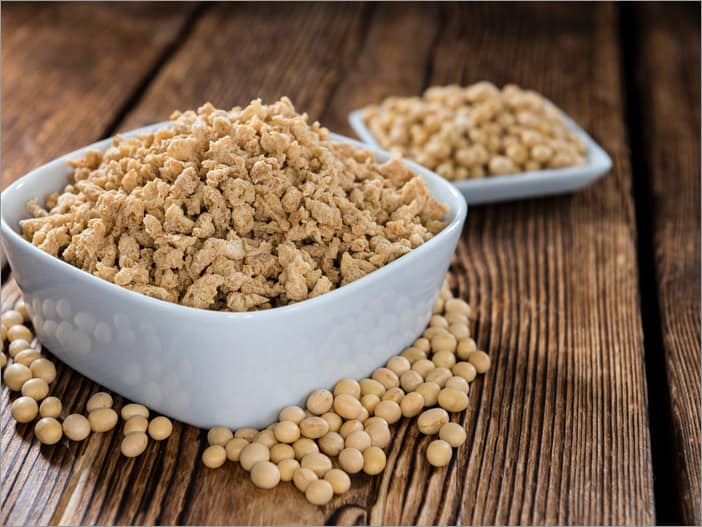 A meat replacement for vegans, Soy protein is a delicious alternative that has been winning people's hearts for a long time now. Prepared by processing soy, this humble item is one of the most inexpensive substitutes that one can go for without a second thought. Primarily available in cutlets, balls, or mince form, Soy can be added to almost any dish to create a magic potion. Since most of the items made out of soy protein just need heating and are good to consume, they make the preparation as easy as a walk in the park.
The protein-based product has innumerable health benefits that are necessary to lead a healthy life. Consumption of soy protein can help you with weight loss and is known to lower the risk of heart disease and breast cancer.
Pros:
Highly versatile
Loaded with protein
Requires less preparation
Cons:
Highly processed
Best when used occasionally
May be high in sodium
Thus, for one of your exotic indulgences, try and lay your hands on the items mentioned in the listicle above and try some of the meat substitute recipes at home. You can explore more veganmeat options over time, but as for now, put your mittens on and get going with these sumptuous substitutes.
A Glimpse of Vegan Ready-to-Eat Meat Alternatives
Till now, we've seen meat substitutes that can be bought to make various items. But there are other ready-to-consume options mentioned below that you can buy easily:-
#1) Gardien Classic Plant-based Meatless Meatballs, Vegan, Frozen
A classic blend of aromatic herbs that adds an Italian blend to every morsel, this ready-to-eat meat alternative gets prepared in fifteen minutes. With 15 grams of protein and 4 gm of dietary fiber per serving, they are extremely nutritious. The item works great on meatball subs or spaghetti.
Buy these product from here.
#2) Tofurky, Deli Slices, Hickory Smoked
Made with vital wheat protein, Tofurky is another easy-to-consume vegan alternative to meat. With 13 gm of protein and1 gm of dietary fiber, it is chock full of nutrients. A smoky-flavored option for you, it can make your palate crave for more.
#3) Field Roast Plant-based Breakfast Sausages
Another meat replacement for vegans is Field Roast Plant-based Breakfast Sausages which are extremely luscious. With apple maple flavor and barley malt, it makes for a good substitute for vegans and vegetarians alike.
Buy these product from here.
#4) Gardein Plant-based be'f Tips
A vegan meat replacement, Gardein Plant-based be'f tips are an easy-to-prepare item. Loaded with 14 gm of protein and 3 gm of dietary fiber, the item is full of nutrition. From helping make veggie kebabs, tacos, or home style stew, these can be consumed in numerous ways per your liking.
Buy these product from here.
#5) Field Roast Vegetarian Meat Sausages
A vegan meat alternative, Field Roast Vegetarian Meat Sausages is a wholesome item that is both smoky and savory. With a bold and enticing flavor, it is totally versatile in taste and usefulness.
Buy these product from here.
Ways to Choose Vegan Meat Alternative
While choosing vegan meat products, first decide as to what you're looking for in your meals, whether protein, good flavor, or exotic texture. Next, if you wish to consume these alternatives for protein intake, then before buying the items, check the labels that give information about the same.
If you're following a vegan or a vegetarian diet, look for the nutrients that are less in these alternatives like B12, vitamins, iron, etc. and cover them from some other sources. Likewise, if you're following a special diet that does not allow the consumption of soy or gluten, search for products that do not contain these ingredients.
In a nutshell, your nutritional needs will decide the types of vegan meat that you should opt for and consume.
Frequently Asked Questions (FAQs)
#1) What is a vegan meat called? What goes into its making?
Answer: A vegan meat is known by different names ranging from mock meat, imitation meat, to vegetarian meat. These vegan meat alternatives are made by extracting plant-based protein. Once this gets done, various additives are added to these items to make them appear and taste like traditional meat.
#2) Is vegan meat a healthy addition to one's diet?
Answer: Yes, plant-based items are a healthy addition to one's diet provided the intake is balanced. A moderate amount of vegan meat substitutes along with fruits, veggies, etc., can support sound health in the long run.
#3) Do vegan meat alternatives taste differently?
Answer: No, the taste of meat substitutes is similar to that of any animal-based meat because of the various additives used in them.
#4) Are meat alternatives better than actual meat?
Answer: Meat alternatives are always a better option than actual meat as they not only possess immense nutrients but also reduce the risk of developing heart-related issues, high blood pressure, and other chronic diseases.
#5) What are the benefits of consuming vegan meat substitutes?
Answer: Plant-based meat alternatives are loaded with several health benefits that are needed for a healthy body. From boosting heart health to promoting weight loss and preventing constipation, meat substitutes happen to be a good addition to one's diet chart.
#6) How can vegan meat substitutes be stored?
Answer: Like animal-based products, meat substitutes should be kept in the refrigerator. If frozen, they should be thawed before they are used. It is not advisable to keep any of these plant-procured alternatives at room temperature for more than two hours in one go.
#7) Can vegan meat alternatives be heated?
Answer: The plant-based substitutes function like any other meat item or fresh food and can be stored for a few days. However, it is recommended to consume them quickly as heating them more than once is not advised.
#8) How long a cooked vegan meat alternative can last?
Answer: Cooked meat alternatives can last for a week up to three months provided they are refrigerated well. The shelf-life also depends on the ingredients used in the product.
#9) What happens when a vegan meat substitute does not get cooked?
Answer: Similar to regular meat, undercooking vegan substitutes of meat can lead to foodborne illnesses. Therefore, it is recommended to cook them per the instructions given on the packaging.
#10) Is vegan meat beneficial for the environment?
Answer: Yes, vegan substitutes for meat are environment-friendly. Meat alternatives emit about thirty to ninety percent less greenhouse gas than actual meat. These plant-based items also require much less agricultural land and water than conventional meat products.
Takeaway (Final Thoughts)
Vegan meat substitutes are lucrative options that are not just scrumptious but also healthy. With numerous substitutes present across the globe, you can choose the ones that suit you and your lifestyle the best and incorporate the same for better results. From adding extra protein and nutrition to your diet to helping you recreate some of your childhood recipes, these alternatives can do it all for you.
There must be people who hates you for being vegan but that should not bother you. Thus, whether you wish to make chewy vegan sausages to meatless meatballs, lay your hands on these prized cheap plant-based meat substitutes and enjoy various delicacies in a whole new way!
So what are you waiting for?
Choose your favorite option from the listicle, head to the nearest store today and let the magic of these delectable alternatives begin!