While thinking of making any wholesome delight, an option that invariably comes to our mind is Beans! And why not?
This rave-worthy item has indeed added much to our culinary repertoire in the most delectable and nutritious way that can't be overlooked or replaced. An indispensable part of Mexican cuisine, beans have garnered much attention and popularity over the years across the globe.
With its two most popular variants present in the market realm- black and pinto beans namely, choosing one that can be better and healthier than the other might seem pretty daunting as every variety of beans are healthy and at par with each other. But before we delve into black beans vs pinto beans nutrition and which one to choose from a health point of view, let's see what exactly these beans are in their entirety!
Black Beans and Pinto Beans- What Are They?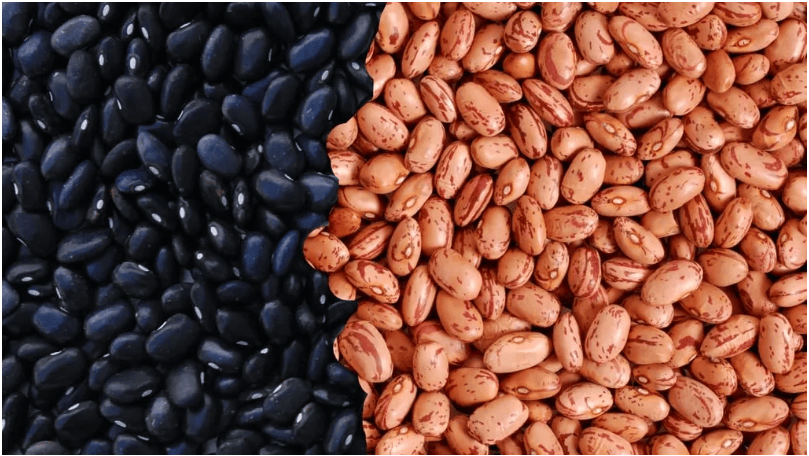 Black or turtle beans are a type of legume that is native to South and Central America. Small and oval-shaped, they possess a subtle earthiness with a slightly sweet flavor. A sumptuous item, they make for a common yet enticing addition to several staple dishes made across the globe.
Not only are they great in taste, but black beans are also loaded with numerous health benefits. Being a good source of protein, fiber and other essential vitamins and minerals, they are a great way to lead a healthy life.
On the other hand, Pinto beans are another type of renowned legume that has originated from Brazil and Peru from where they were taken up to the north and mid-west US by migrating indigenous tribes. Tiny and oval-shaped like their counterpart, they have a slightly nutty and mild, earthy taste. A prized item, they are invariably used in various Mexican cuisines.
Like black beans, this bean variant is also highly nutritious and contains a good amount of magnesium, potassium, and iron which makes it a healthy option for vegans and vegetarians all around. The Pinto bean's protein quotient is high too, which is yet another badge added to its star.
Well, that being said, let us further look at black vs pinto beans, their differences, and more!
Black Beans vs Pinto Beans- Differences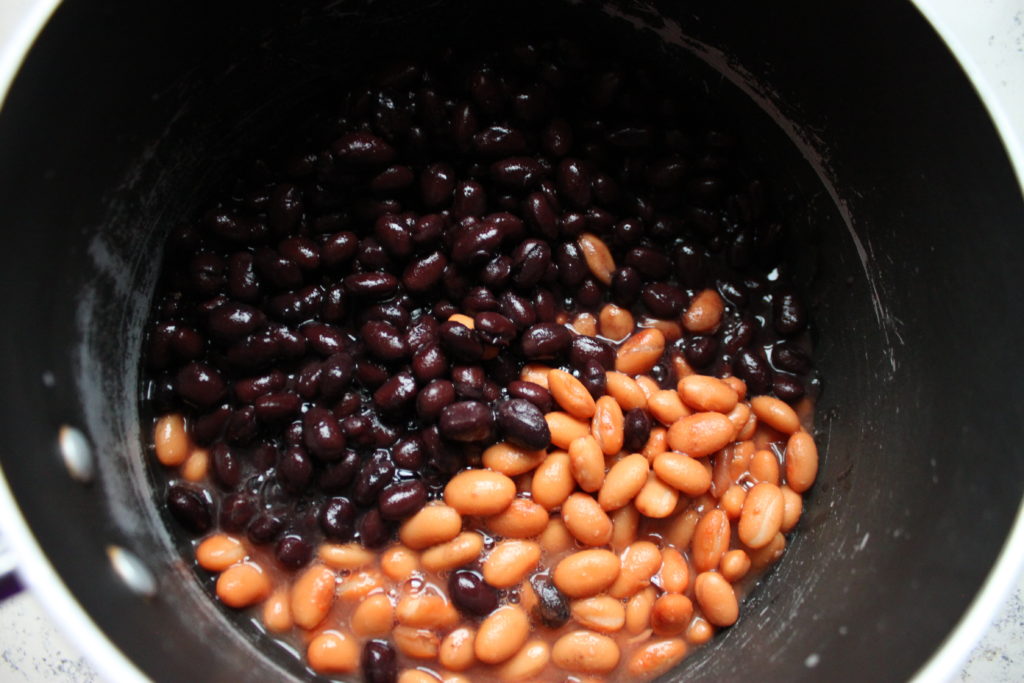 Now, that we know what black or pinto beans are, let us delve deeper and understand the basic difference between the two in more depth. As such, both varieties differ from each other in the following ways:-
1. Texture
Talking about texture, the major difference between the two beans can be found in their skin. While a cooked black bean possesses a thicker, firmer, and chewy texture that breaks easily, pinto beans have a thin, tender, and soft skin consistency that retains their shape and overall texture after cooking.
2. Appearance and Size
When it comes to appearance, black beans tend to be black and shiny when raw but usually their hue changes after cooking. In contrast, pinto beans have a mottled appearance that ranges from reddish-brown to tan in color.
In terms of size, black beans are smaller with an average length of 1/8 inch, whereas pinto beans are larger and rounder with an average diameter of about 1/4 inch.
3. Flavor and Taste
When we compare black beans vs pinto beans in terms of flavor, we'll find that black beans have an earthy flavor that can be seasoned with onion, garlic, and other spices for added taste. This makes them perfect for a wide variety of dishes. On the other hand, pinto beans possess a nutty undertone that is more subtle than black beans.
Also, depending upon the cuisine, black beans bring a more intense flavor to the tables compared to pinto beans. However, in certain dishes that call for a milder flavor profile, pinto beans would be the best option to go for without a doubt.
Nutritional Chart-Black vs Pinto beans
Apart from the above-mentioned differences, there also lies the difference in the nutritional value of both beans, which determines whether black beans vs pinto beans are healthier. As such, let us have a showdown and understand the black beans vs pinto beans nutrition more closely.
The nutritional Breakdown of 1/2 cup of Black and Pinto Beans is as follows:-
Nutrients of Black Beans vs Pinto Beans
| | | |
| --- | --- | --- |
| Nutrients | Black Beans | Pinto Beans |
| Calories | 114 | 123 |
| Fat | 0.46g | 0.55g |
| Protein | 7.62g | 7.52g |
| Carbs | 20.4g | 22.4g |
| Fiber | 7.5g | 7.7g |
| Calcium | 23.2mg | 39.35mg |
| Iron | 1.8mg | 1.79mg |
| Magnesium | 60mg | 42.75mg |
| Phosphorus | 120mg | 125mg |
| Sodium | 0.85mg | 0.86mg |
| Zinc | 0.96mg | 0.84mg |
| Folate | 128mcg | 147mcg |
| Vitamin K | 2.8mg | 2.99mg |
Although these beans contain some of the other nutrients too, the major ones that add to one's health have been mentioned above.
Black Beans vs Pinto Beans – Which is Healthier?
Although both beans are somewhat similar in terms of their nutritional quotient, black beans come out slightly ahead of their counterpart. If we look at black beans vs pinto beans calories, then it is clear that black beans are slightly lower in calories and contain less fat including fewer carbs than pinto beans.
In some of the nutrients like calcium, phosphorus, fiber, folate, and Vitamin K, though pinto beans come out as a clear winner, it still has a higher amount of sodium and lesser amount of antioxidants than black beans. Also, apart from these, even black beans vs pinto beans protein values are different with the former being more protein-induced than the latter.
Thus, both Black beans vs pinto beans nutrition facts state that they offer incredible nutrients with slight variations. However, considering the micronutrients, Black Beans can be a better choice for you as they tend to be slightly healthier than pinto beans.
How to Choose- Things to Keep in Mind while Selecting Black or Pinto Beans
Are black or pinto beans healthier? How do you choose one apart from considering its nutritional value? Well, some factors should be kept in mind before you decide which of the beans to go for!
One of the ways you can choose from these bean variants is by knowing the kind of dish you're about to lay your hands on. Ones that are to be made on a lighter note can use pinto beans, whereas those that need a high and rich flavor profile may use black beans in them.
In other words, apart from nutritional quotient, while choosing pinto beans vs black eyed beans, their culinary use, flavor, and texture can also be considered when choosing one over the other. Also, your taste preference would shape your choice irrespective of other factors.
Apart from these, one of the downsides of both black or pinto beans is that they tend to cause flatulence, bloating, and cramping since they have a high amount of non-digestible fiber. They can also lead to allergies in some people, which is yet another factor to be considered before choosing any of these alternatives.
Ways to Consume Black Beans and Pinto Beans
Both black or pinto beans serve as a versatile addition to the culinary world. As such, let us look at how you can use them in your dishes lusciously and consume them in a simple yet satisfying way:-
Black Beans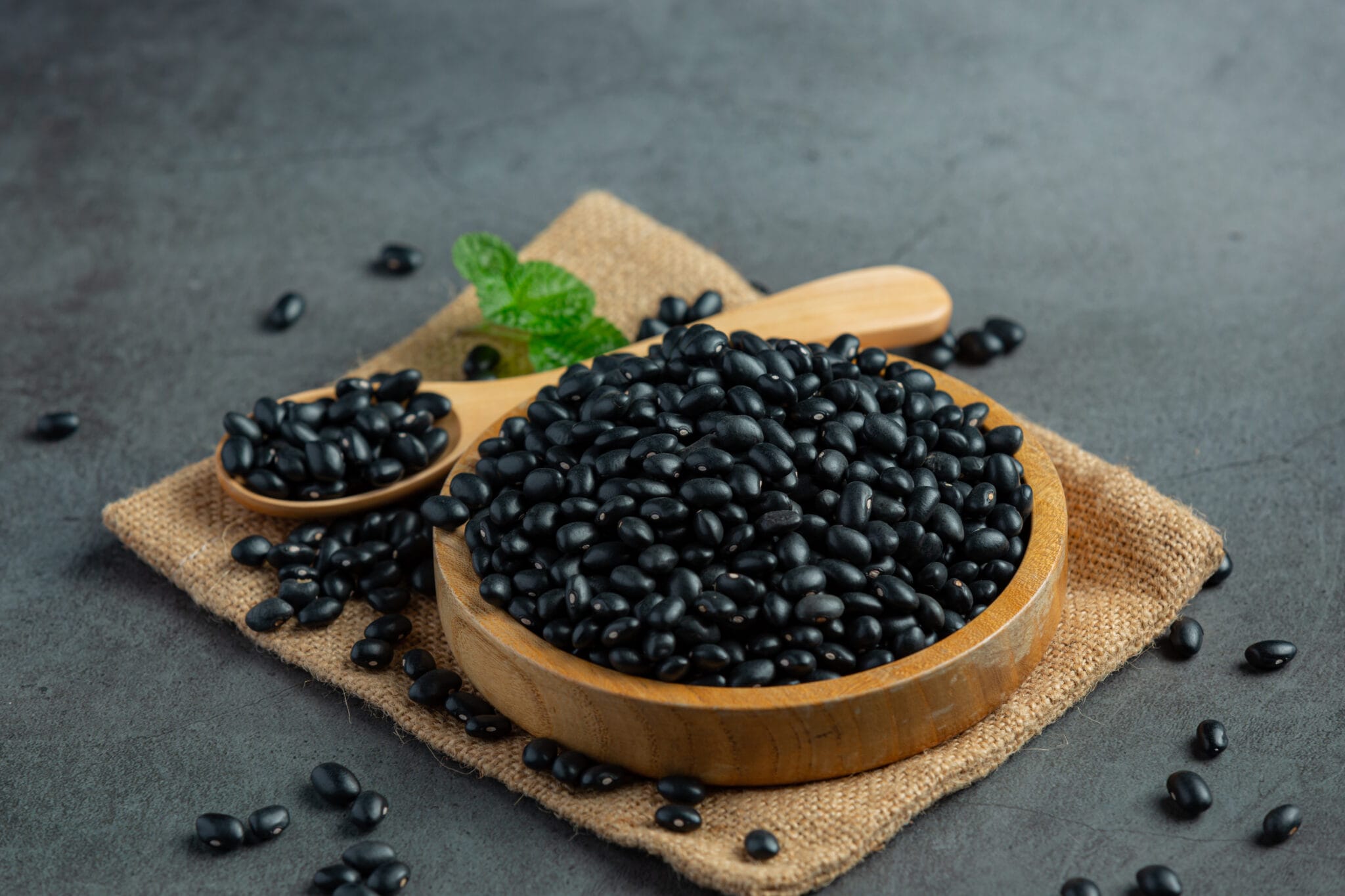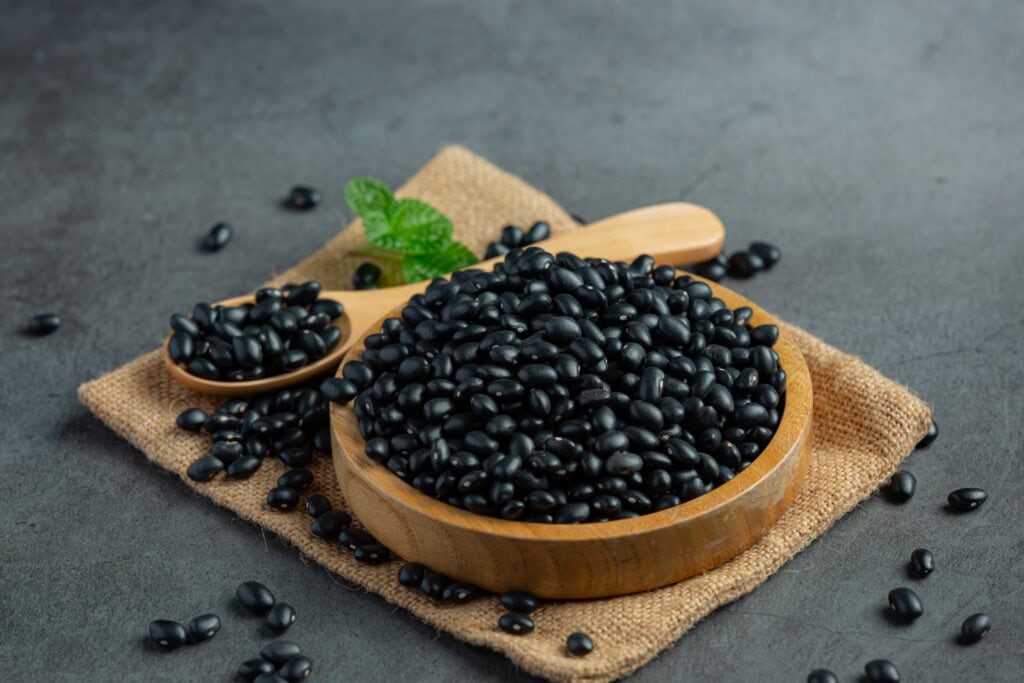 Black beans can be consumed in the following ways:-
You can mix black beans with rice and flavor them with veggies and spices of your choice.
You can use them to make black bean salad along with other vegetables and grains.
They can be used in soups, mixed with herbs and vegetables of your choice.
They can also be used in making black bean dip or spread.
They can be used for preparing patties along with the ingredients that you like.
Further reading => How to Cook Black Beans
Pinto Beans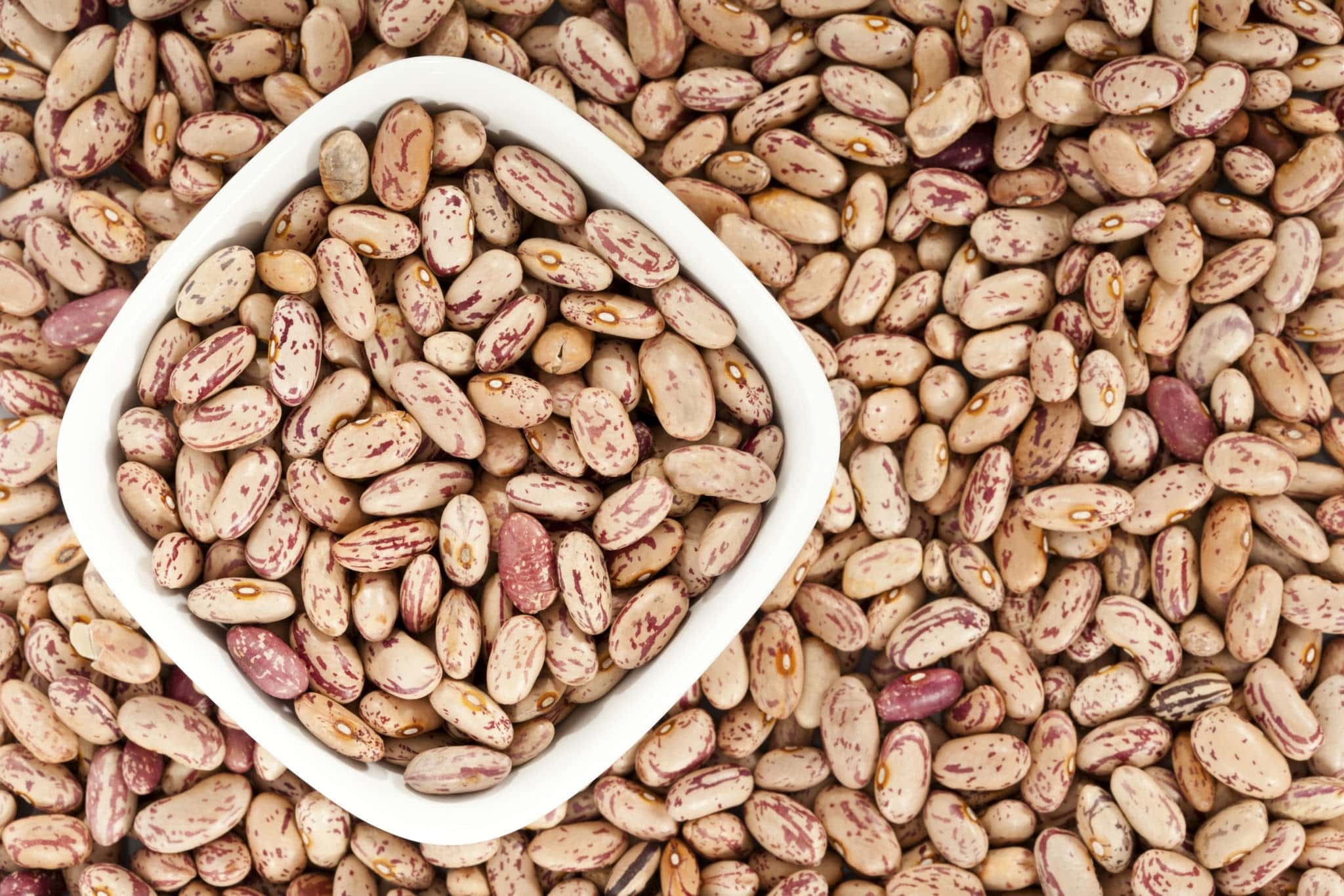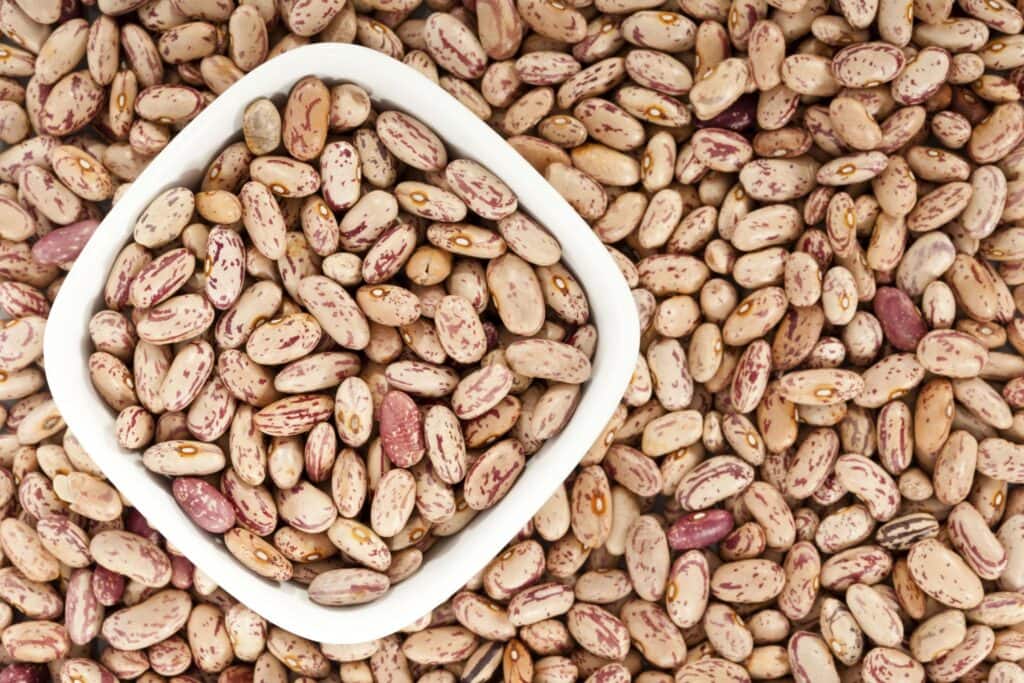 Here's how you can make use of Pinto beans in your culinary endeavors:-
Pinto beans can be used in spreads or dips and can be served as a snack or appetizer.
These beans make a good addition to tacos, burritos, and several Mexican cuisines along with cheese, rice, and salsa that can be prepared.
The beans can be eaten as a side dish mixed with other ingredients like spices, garlic, and onions.
You can make a nutritious salad out of them.
Another way to use them is by making burgers mixed with other ingredients such as grains, or vegetables.
Further reading => Pinto Beans Recipe
Storage Tips
Although like various other bean variants, black or pinto beans, too stay intact when they are dried, their good quality can only be retained if the dried beans are stored in an apt manner.
As such, the best way to store them is in an air-tight container in a dry, dark place with the temperature maintained below 75 degrees Fahrenheit. Storing this way, both the beans will last for about three years.
Frequently Asked Questions
Are Black beans better than Pinto beans?
Although, nutritionally, both beans are somewhat similar, Black beans are slightly healthier. However, it all boils down to one's personal preferences and liking.
Do Pinto beans have protein?
Yes, Pinto beans possess a good amount of protein. Their 1/2 cup of consumption gives 7.52 g of protein to the body.
Do Black Beans have protein?
Yes, black beans are a great source of protein. As such, 1/2 cup of these luscious beans gives 7.62 g of protein.
Are Pinto beans healthy?
Yes, Pinto beans are nutrition-induced items that are high in calcium, phosphorus, fiber, folate, and Vitamin K, which makes them a healthy addition to one's dietary habits.
Black beans vs pinto beans taste- Which is better?
Both beans have their unique taste and can be used in different dishes. Blessed with a robust flavor, black beans make a good addition to heavier dishes. On the other hand, the milder flavor profile makes pinto beans a good option for lighter cuisines.
Can black or pinto beans be substituted for each other?
Yes, both beans can be used interchangeably. However, one must be aware that since their flavors are different, they might lead to a certain amount of taste alteration in the cuisines they get used in.
What takes longer to get cooked – black or pinto beans?
Black beans take a longer time than pinto beans to get cooked since they are usually harder. As such, while an un-soaked pinto bean would take two hours to get ready on the stove, an un-soaked black bean would take up to three hours to get cooked. Their cooking time in pressure cookers varies too.
What is the best way to store cooked pinto and black beans?
Before storing, allow the beans to come at room temperature. Once done, keep them in an airtight container in the refrigerator. This way they remain intact and fresh for up to five days in a row. Alternatively, they can also be frozen in a container that is safe to use in the freezer for three months.
Are there some drawbacks to black or pinto beans?
Yes, both pinto and black beans have certain downsides to them that should be duly considered before consuming them on a regular basis. These include stomach distress, flatulence, bloating, and allergies in certain people.
Are pinto beans the same as kidney beans?
Although pinto beans vs kidney beans appear quite similar; they are two different varieties of beans. When cooked, pinto beans emulate a much softer and creamier texture compared to kidney beans.
Which are healthier, black beans or pinto beans?
Ideally, both black and pinto bean possess similar nutritional profile. However, black beans are considered a better option since they are low in calories and carbs and contain less fat than its counterpart.
What bean is healthiest?
Black beans nutrition status is considered similar to that of a pinto bean, the former does come out as a slightly better option for all. The benefit of black beans is that they are slightly lower in calories and contain less fat including fewer carbs than pinto beans, which make them a popular choice.
Are black beans or pinto beans in burritos?
Yes, people use black and pinto beans in burritos. However, more often than not, they use pinto beans to have a good flavor in their cuisine, although some use black beans since it is considered healthier than its counterpart.
Are black beans or pinto beans more gassy?
If we consider pinto beans vs black eyed beans, then pinto beans are known to be gassier than its counterpart. It also sometimes leads to bloating.
Are black beans or pinto beans better for weight loss?
Black beans are considered better for weight loss than pinto beans. This is because they have a higher fiber content which helps keep stomach full for a long time, whereas the protein quotient leads to satiety.
Takeaway (Final Thoughts)
Indubitably, both black beans vs pinto beans are healthier choices for vegans out there.Being one of the most versatile and luscious items that not just lend great taste but even greater health benefits, they have served as a good addition to various cuisines across the globe.
Slightly healthier than its counterpart, black beans might steal the limelight on several occasions but the decision to choose one from the other comes from you, your taste, likings, and preferences amongst others. That being said, all you need to do is choose the one that best serves your culinary requirements and tastes apart from the nutritional needs.
Well, what are you waiting for?
Get going and include your favorite beans in your diet today and reap health benefits in a whole new way!
You May Also Like