When you think about fast fashion, what is the first thing that comes to mind? Cheap clothes? What about slave labour in sweatshops?
How many people pause to think about the true cost of their $10 garment?
The True Cost is a documentary that we have talked about before, it's an amazing way to educate yourself on how the fast fashion industry is contributing to an array of issues globally, from worker exploitation to environmental degradation.
This industry (as well as lots of others) really gets under my skin. It's not good enough what we're doing. Which isn't much, to change the demand for these types of products.
The fast fashion industry was designed to be a win-win situation so that the people in Western society can get beautiful clothes at reasonable prices, and for the workers in third world countries to get jobs and start lifting themselves out of poverty.
That didn't happen. Instead, the fashion brands fought laws to protect their own interests and to keep the profits for themselves. That's all they care about, profit.
It all started back in the 1950s, and since then it has increased year by year which is now an industry worth well over three trillion dollars. One in every six people works in the fashion industry in some way along the supply chain. There are forty million garment workers worldwide, and 85% of them are women.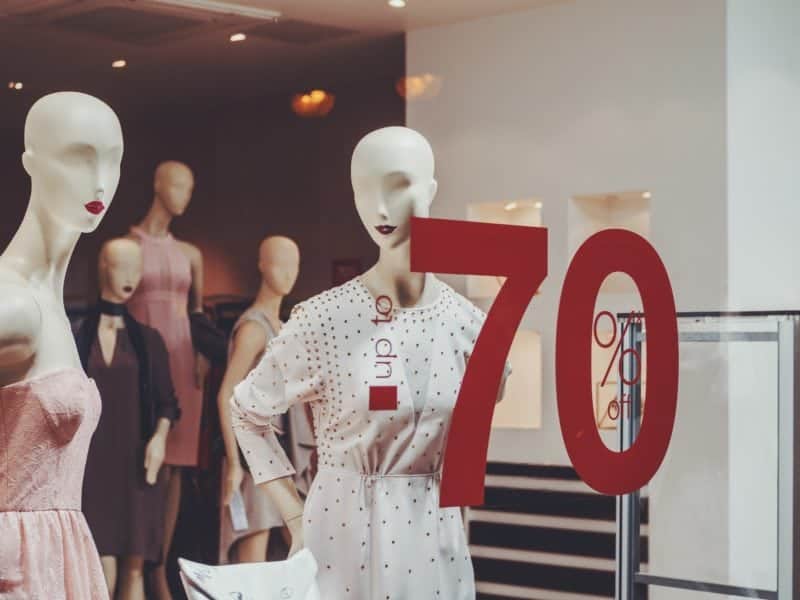 Throw-away mentality and how we can justify buying new items every second day
Instead of having two collections a year (Fall/Winter and Spring/Summer), we have 52 collections a year. There's a new look every week and consumers always have something different to buy. Fashion shouldn't be a disposable product, it should be garments that are made to last you a lifetime.
My grandmother is 89 and still has clothes that she bought from 50-60 years ago in perfect condition. She wears them because they are timeless pieces.
Fast fashion is cheap enough to throw away without even thinking twice about it. Since it costs you less than a meal, you don't need to feel guilty about it.
80 billion pieces of new clothing are bought every single year. This is madness. On average, a garment also lasts five weeks in a wardrobe. Unless you follow more mindful, conscious practices like us, fashion brands can make you feel rich by how much we can buy. However, they are in fact making us poorer and less happy as the only ones getting rich are the fashion labels.
The fashion industry is the clearest example of where globalisation has failed. We had globalisation and capitalism kick in and the workers were instead exploited, rather than supported to live better lives.
The garment factory owners would constantly have to negotiate with fast fashion brands and compete with other factories to get the business. They would only do business with them if they were prepared to do the job for less than the competition. This was the only way they could keep the business of the big brands.
So the workers would get paid less to be able to meet the demands of the brands that want that garment made next to nothing. Cutting corners and disregarding safety measures have become the accepted part of doing business.
They deliberately outsource to countries where the wages are low and are kept low. Some workers would get paid as little as $10 a month. If they chose to speak up about wanting change, they would be fired or beaten. In the case of many factory workers, risking their lives for their job was the norm.
A simple break down of the process
When you look at a garment, do you ever consider the water, land, chemicals, labour that went into making that product?
The cost that we are paying as a planet and a global community for those cheap clothes is the following:
The pollution of the environment

The people making the clothes that don't have fair working conditions

Our air

The farmers that don't have healthcare

The workers that have died in building fires or collapses

The workers in leather tanneries that are exposed to heavy chemicals daily, which also contaminates their drinking water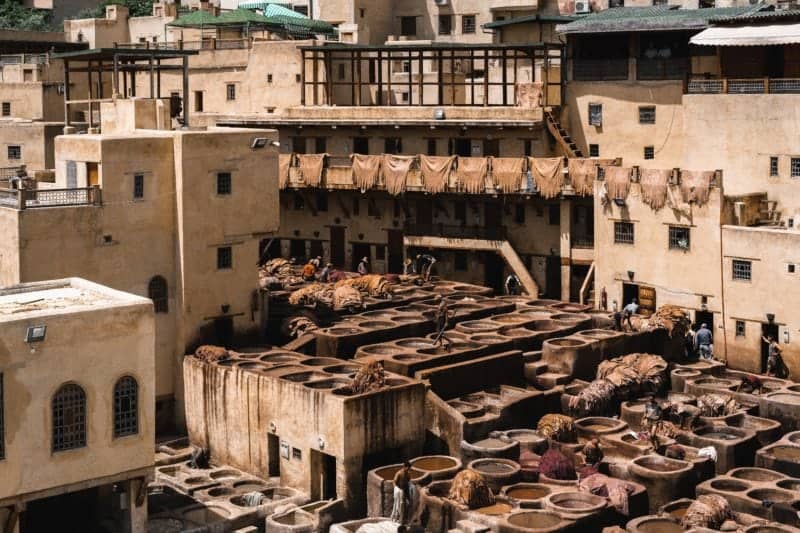 And this is not all of it. The cost is simply too high. All this chemical exposure has lead to new generations of children having shorter life expectancies compared to their parents in small villages. Yet this is the only work that they can get. How is that fair?
Not to mention the GM seeds that are being planted to grow cotton. They are 17,000% more expensive than other seed! And they still manage to dominate the market, as farmers have no choice but to use them. Even though they still have to spray expensive chemicals on their crop and buy new seeds every single year. This is one of the reasons that in 2014, 250,000 farmers in India committed suicide. They simply can't pay off their debts to the seed company. It's a vicious and sad cycle. Why is no one talking about this?!
The truth behind your garment from start to finish looks something like this:
Grow crop for fabric – which in many cases is GM crop (unless organic).

This practice has an impact on the environment and workers that are harvesting the crop are they are heavily sprayed.

The farmers and workers are at higher risk of contracting a serious illness – like cancer.

The factory workers that make the garments are underpaid, overworked and work in unsafe conditions.

The fashion brands want things done cheaper while retaining their own profit margin push them to cut corners, risking their own lives for fashion.

The garment is in the shops for $10 for you to buy and dispose of when you wish.
I made a point to mention that wearing clothing or sleeping on sheets that are made with toxic chemicals like formaldehydes, is not healthy for you or the planet. Considering that our skin is the largest organ, and we wear something pretty much 90% of the time, these chemicals are ending up in our bloodstream as they are being absorbed.
Consider more of what you put on your body as well as what you put in your body. Your toxic load adds up quickly!
It's time to re-think your choices
So if you don't want blood on your hands or wear garments that are made of toxic chemicals, it's time to re-think your wardrobe. Look at the 'Made in…' tag on your garment, look at the breakdown of materials used to make it and how this garment came into existence. Are you supporting the exploitation of vulnerable people? Are you buying something just because it's $10? Will you have it in your wardrobe in 10 years time?
Garment workers should be rewarded rather than exploited. They deserve to be working in safe and fair conditions just as much as we do. What change will you make today? Share with us in the comments below what you're doing to help end fast fashion.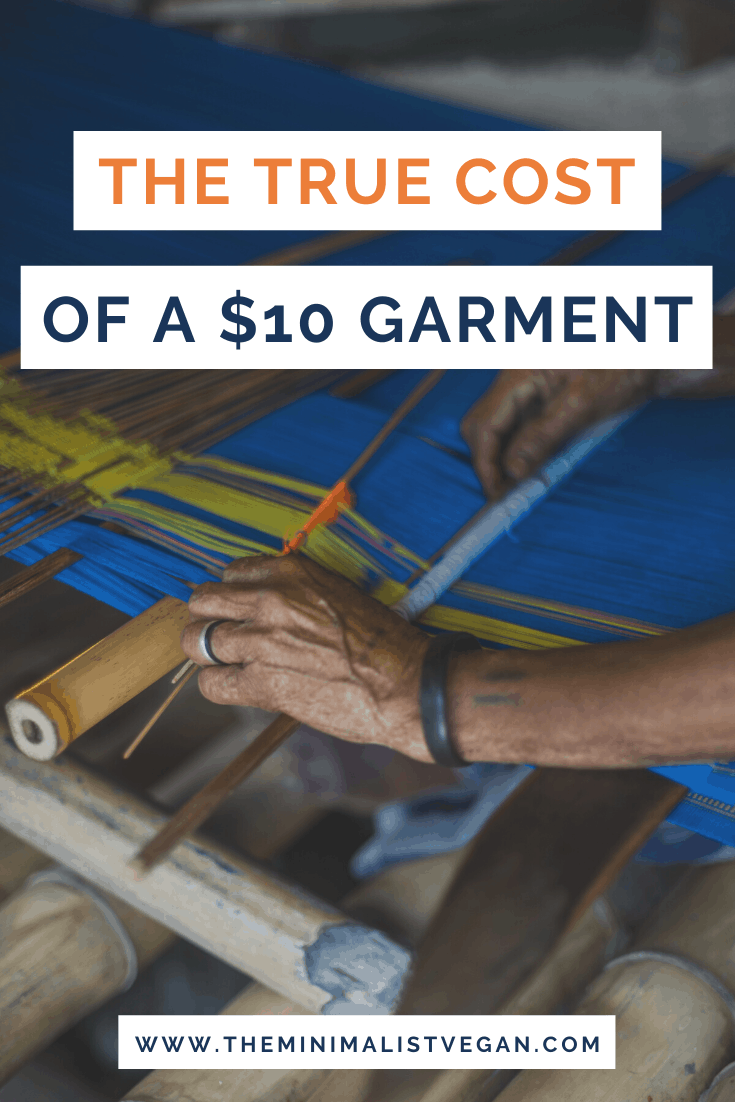 Other articles you'll love: