These vegan corn and zucchini fritters are so easy to make and are great as a snack, entree, brunch or for work or school lunchbox. They're perfectly paired with the optional yoghurt dressing that has a bit of a kick to it!
I've been thinking of making these fritters for a while. I love having plenty of quick options to eat from ingredients that I have in my house.
As the zucchini season is wrapping up, I wanted to utilise them in a recipe one last time for the season.
With minimal ingredients, if you cook with whole foods, you'll probably have everything you need on hand.
How to make corn and zucchini fritters
All you need is one bowl, a grater, a knife and some measuring spoons to get started.
You first combine all the dry ingredients, followed by the liquid. Once you form a nice batter, you'll add in the vegetables. Mix well, and you're ready to fry!
Create small fritters on a hot frypan and flip over when the batter starts to dry out on the top, flip over for another couple of minutes and you're done!
Repeat that process until you finish all the batter.
How easy is that??
A few useful tips
Don't skip the step where you need to squeeze the excess water out of the grated zucchini. Your batter will be too wet otherwise, and it won't stick together. If for whatever reason you don't do it, just add a couple more tablespoons of flour.
If you don't have spring onions, you can just finely dice a brown onion in its place.
If you prefer to use fresh chillies instead of chilli powder, go for it!
These fritters freeze well. Panfry them first and make sure you don't stack them without putting either some parchment paper or silicone sheets in between each one when storing in the freezer. They will be hard to separate otherwise. Alternatively, freeze them on a baking tray first and then put them in a storage container once frozen, so they don't stick together. For best results, pop them in the oven on 200C (390F) for around 15 minutes either side.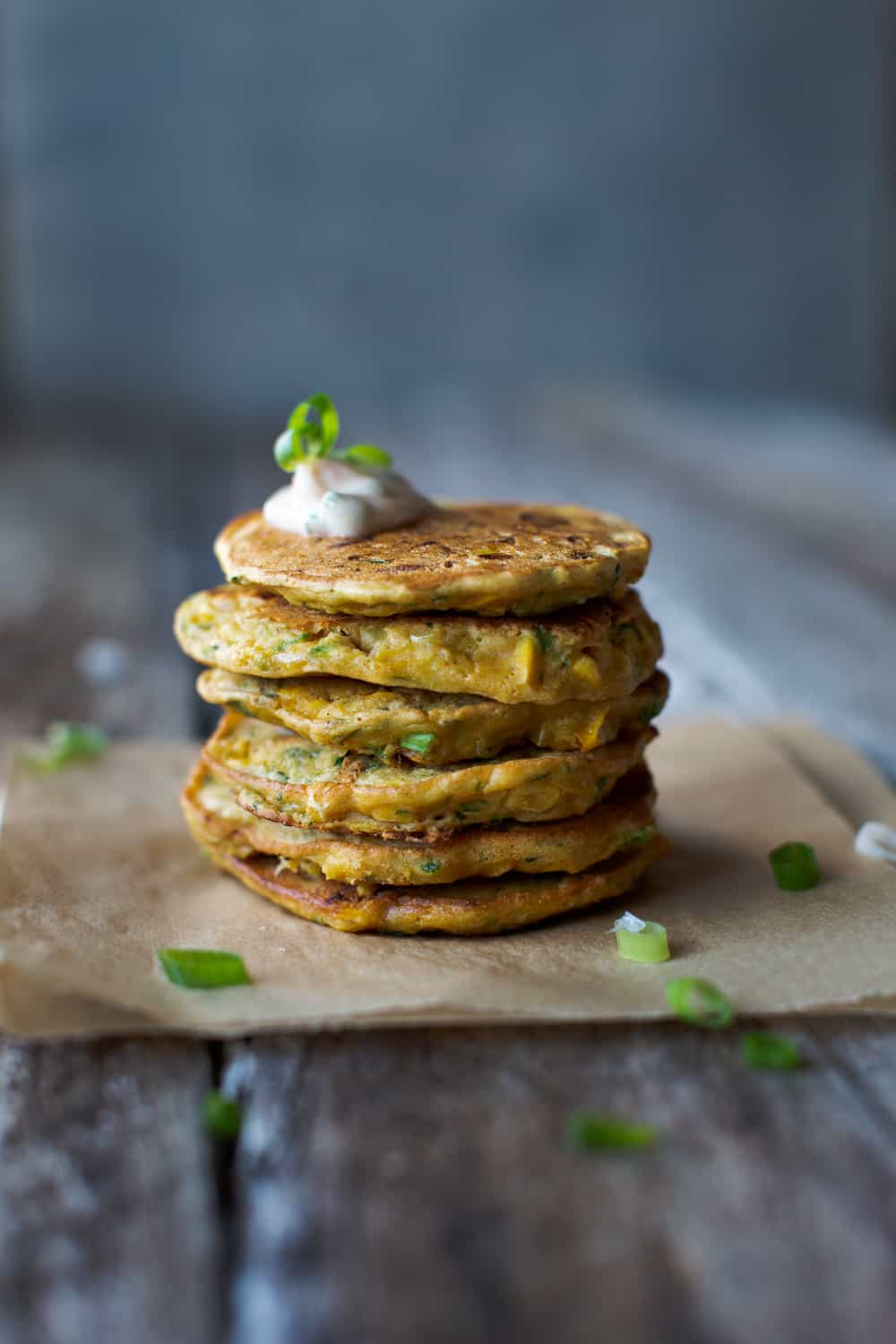 How long can you keep fritters in the fridge?
These will keep refrigerated for around three days. To warm them up, just fry them quickly on both sides.
I even like eating them cold! They go well with a fresh green salad as well as a couple of them in a hearty veggie sandwich.
Other recipes you'll love:
If you try this recipe, let me know! Would love for you to leave a comment and rating below. Want to go that extra mile? Tag us on Instagram or share your photo of the recipe on Pinterest. Don't want to make it now? Pin it for later!
Join the MV community
You'll get a neat summary of our content each week, as well as some behind the scenes of what's happening! See you on the inside 😉