There's nothing better than a red lentil stew with potatoes and peas on a chilly day to warm you up from the inside out. I love rich, (mildly) spicy curries, but sometimes, your belly craves something a little softer, lighter and less carb-heavy.
This is where this stew comes in. It's in between a traditional Indian potato and pea curry (Aloo Matar) and a red lentil dhal.
As I like to keep the recipes on The Minimalist Vegan approachable and using everyday ingredients, I have created a stew that uses ingredients that you'll find in your cupboard.
Even if you don't make Indian food too often, you won't have to pop down to your specialty Indian grocer to get these ingredients.
What's the difference between a stew and a soup?
Stews are a thicker consistency, using less liquid when cooking. Soups are runnier and use more liquid and can be blended as well.
I love both types but have a soft spot for stews as I find them more satisfying and filling.
The creaminess of this stew will make you go back for seconds and thirds.
The dish serves four people, but in our household, we'd be lucky to have leftovers when the two of us are eating. If you know us personally, you probably know that we're big eaters.
This post may contain affiliate links, for which we earn a small commission at no additional cost to you. Read our full disclosure here.
This red lentil stew is:
Creamy
Nourishing
Healthy
Comforting
Gluten-free
Dairy-free
Vegan
Filling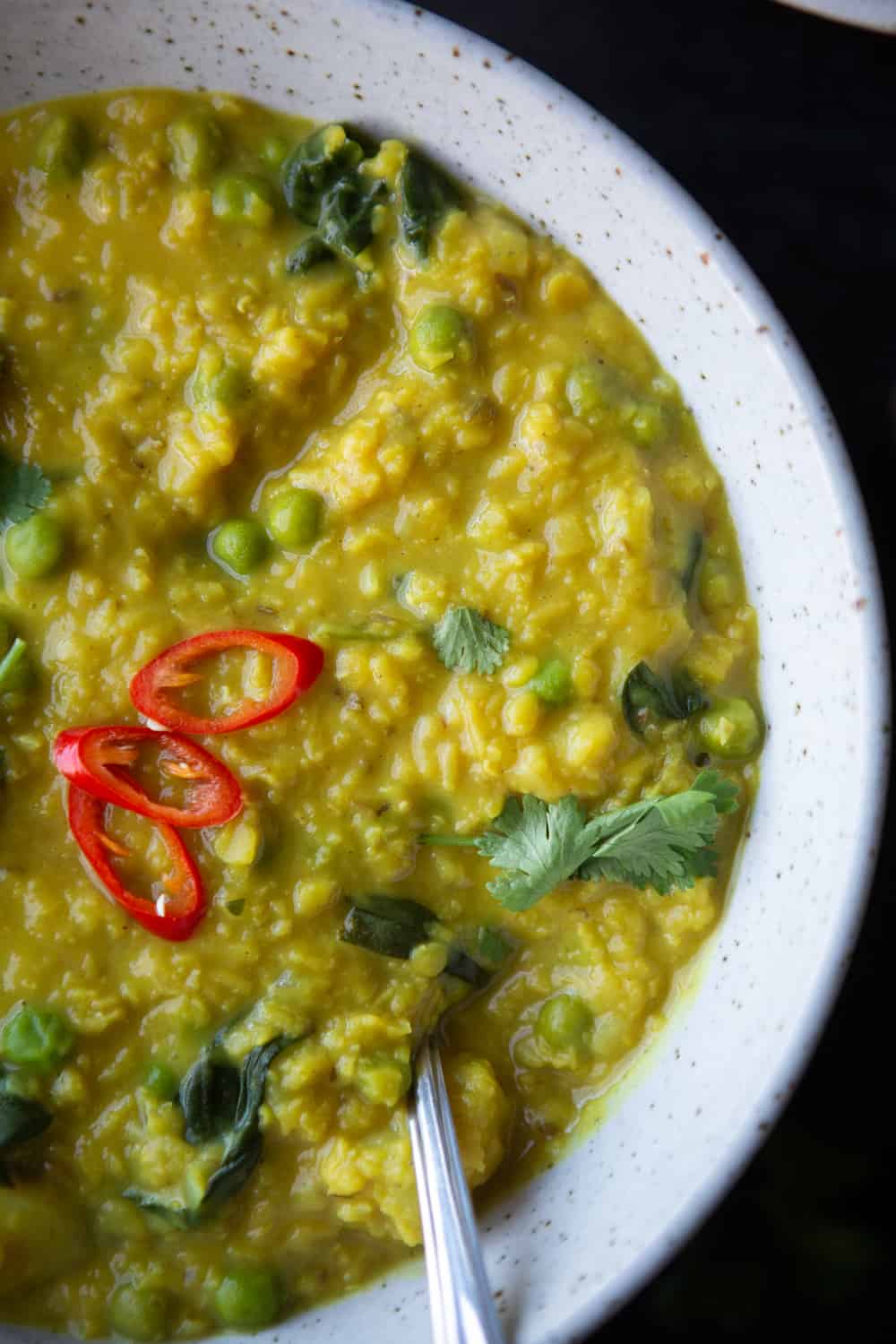 This dish is full of healthy and beneficial ingredients. I have talked at length about the benefits of split red lentils (aka Masoor Dal) in this post.
Ideally, you should soak the red lentils before using them for around 2-4 hours. It's not necessary to do it overnight like some of the other lentils because they are split and cook much quicker.
If you follow the instructions, you'll be soaking them for around 15-20 minutes before using them in the stew. If you soak them for a few hours prior, they will probably cook a little quicker.
Stews get better with age
This dish is even better the next day if it doesn't get eaten in one sitting. It also freezes well, but keep in mind that the potatoes will get mushier and won't hold their form too well when thawed and warmed up.
I hope you enjoy it and enjoy the versatility of this dish. You can certainly make this stew with many alterations to suit what you already have in your cupboard.
Other recipes you'll love:
If you try this recipe, let me know! I would love for you to leave a comment and rating below. If you want to go that extra mile, tag us on Instagram, or share your photo of the recipe on Pinterest. Or Pin It for later!
Join the MV community
You'll get a neat summary of our content each week, as well as some behind the scenes of what's happening! See you on the inside 😉