Whether you're decked up for a backyard barbecue party along the summer backdrop or planning for one of those special winter dinners, squashes invariably serve as a delicious bounty. A luscious item, it can be found year-round, making it one of the most desirable and loved options amongst people across the globe.
There exist different types of squash varieties that further get classified as summer and winter squash. The crucial difference between the two is evident in their texture and flavor. While the latter possess thicker and harder skin and a strong flavor, summer squashes are blessed with softer inner and outer folds with a light flavor.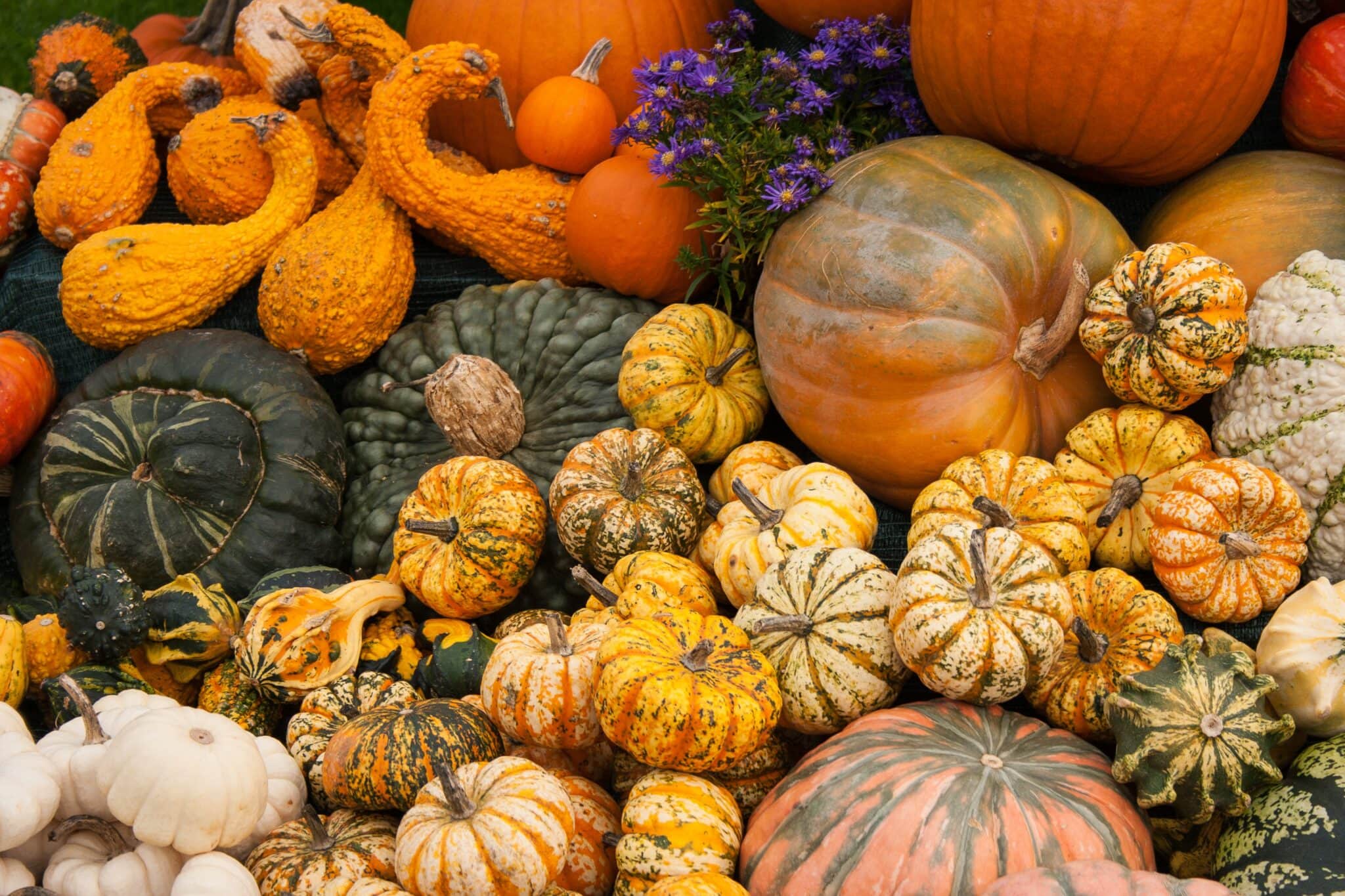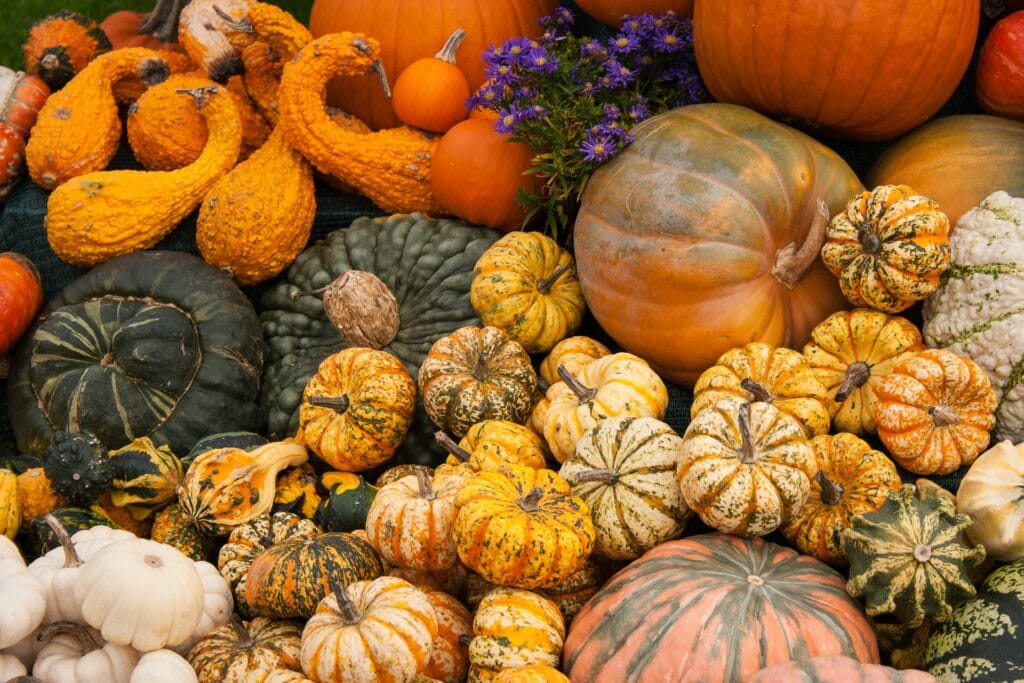 A thing that makes people fall head over heels for squashes is their health benefits. Blessed with antioxidants, vitamins, and minerals, these items are a great addition to one's diet. Rich in iron, they even help combat the problems of anemia, fatigue, and much more.
Well, according to the time of the year (summer or winter), you'll come across different types of summer squash variants that are simply sumptuous!
So, let's dive deeper to know more:-
Summer Squash Varieties
With summers around the corner, you're sure to find some of the most prolific squashes making their way into your kitchen baskets. To help you in choosing from such different squash types, we have mentioned the top variants in the listicle below.
1. Zucchini Squash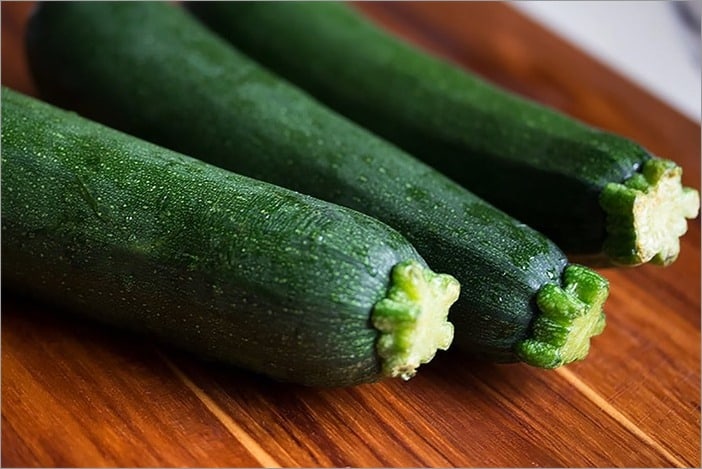 Although one can have a sneak peek of the Zucchini squash throughout the year, its visibility increases and reaches its zenith when the summer rolls in. These green-colored zucchini possess soft, thin skin and a mild-tasting flavor. From being used in muffins and bread to even being a pasta substitute, it is one of the most favored variants amongst the different kinds of squash known and utilized.
A highly versatile item, zucchini can be used in myriad ways and can be consumed raw. These items are a great accompaniment to both savory and sweet dishes.
Rich in Vitamin B6, this green squash help in maintaining and regulating blood glucose and fighting off problems like diabetes. They even help in managing high blood pressure.
2. Yellow Zucchini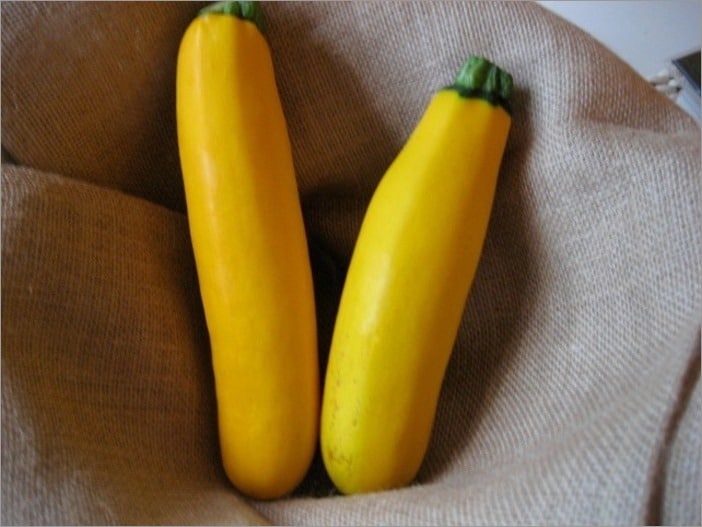 Also known as Golden zucchini, the Yellow Zucchini is similar to the green variant (green zucchini) in shape, though the taste is different. Amongst the squash varieties, this is another most relished and popular items across nations. To have a colorful zucchini display, both (yellow and green varieties) can be used together or even interchangeably as and when required.
The yellow variant can be pureed, grilled, roasted, or spiralized, turned into spaghetti-like strands, and can work as a replacer for pasta noodles.
Rich in vitamin C, B6, and Manganese, the yellow zucchini possesses several other nutrients that are essential to maintain a healthy body. These humble items not only improve heart health but even promote healthy digestion.
3. Yellow Squash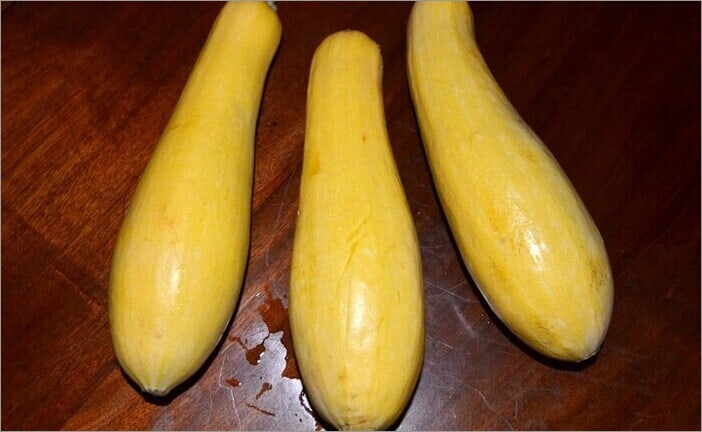 In the varieties of types of squash available and known, yellow squashes have an indispensable and remarkable role in summer cuisines. Present in two varieties: straight-neck and crookneck, these squashes are loved far and wide. Yellow squash can be pureed, sautéed, grilled, or fried per one's liking. These varieties are great substitutes for zucchini and lasagna noodles.
With a perfectly edible skin, yellow squash can be used in various dishes and sumptuous stir-fried items. Mild-tasting with a pinch of vegetable sweetness, they are indubitably a good match for every second cuisine out there.
High in Vitamin A, B6, and C, yellow squash is a nutrition-packed item with loads of health boons. From helping boost bone health to growing and repairing cell tissue, these squashes are essential to keep the body strong, and devoid of illnesses.
4. Chayote Squash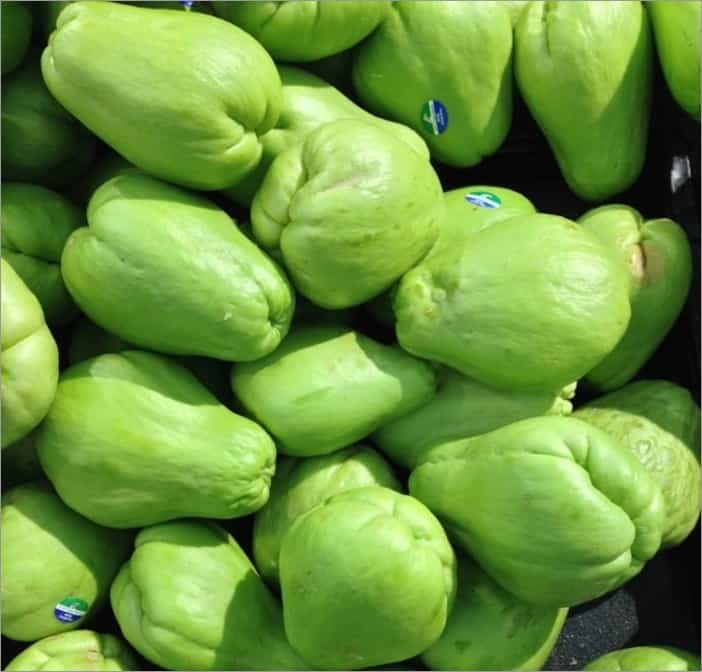 Once a lesser-known squash, today Chayote squash is grown all across the globe. With a taste similar to that of a cucumber, the item is prized and adored for its flavor and bright hues that give a unique squash color to this variant. Chayote can be grilled, baked, or sauteed and can even be consumed raw. They also make a good accompaniment to a wide variety of soups.
With green ridges and a mild flavor, they are a versatile addition to the culinary world and can be used as a great crunch to sandwiches or salads.
Chayote squash like its counterparts is blessed with immense health benefits. A nutritious item, it has anti-inflammatory properties that help treat kidney stones, indigestion, and high blood pressure.
5. Cousa Squash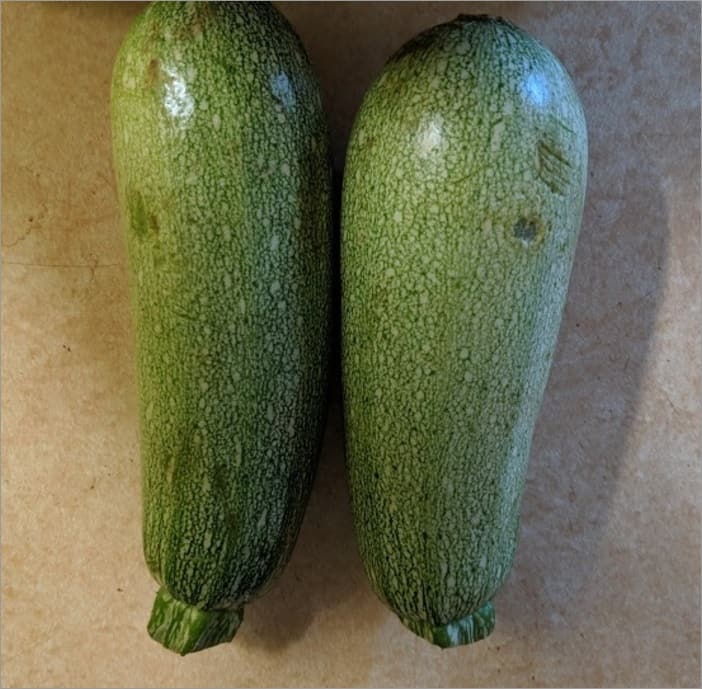 A combination of pale and medium green striations, Cousa is another type of summer squash that is similar to the classic zucchini. These squashes have a light green color with a bulb-like end. They possess thin skin and a slightly sweet flavor that is hard to resist. Cousa usually makes its presence known in exotic Lebanese and Syrian cuisines.
These squashes get along well with rice and meat and are usually used as stuffing because of their short and squatty shape. They can also be simmered in a flavorful broth, making them an ideal accompaniment to several scrumptious dishes.
Cousa squash is known for its several health benefits ranging from anemia prevention to improved gut health. They even help boost immunity and heart health.
6. Zephyr Squash
Among the different types of squash, Zephyr Squash is sure to win the squash beauty pageant or at least be a strong contender for the crown. Blessed with an enticing appearance, they are a hybrid of different varieties. These squashes can be recognized easily due to their different coloration; with their light green bottom and yellow top. This variety has firm flesh and a tapering neck.
Zephyr possesses a sweet, nutty flavor along with a slightly grassy finish that is hard to overlook and extremely tempting. They can be steamed, roasted, baked, or sautéed per one's liking.
This squash variety is a great source of dietary fiber, beta-carotene, folate, and copper. They also have antioxidant properties that are beneficial for the body.
7. Pattypan Squash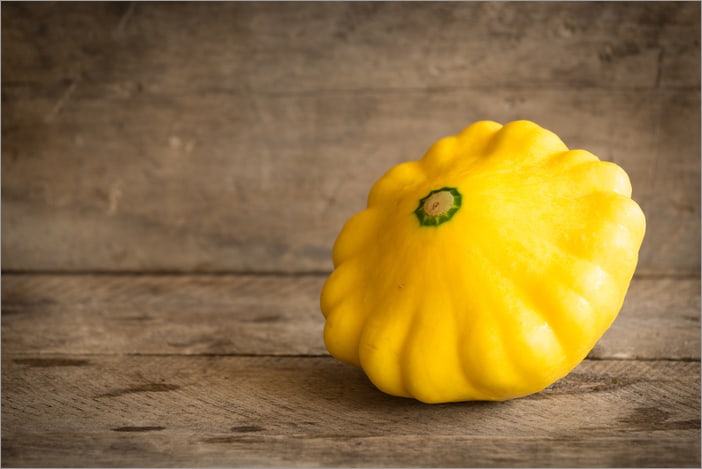 Resembling a miniature pumpkin, Pattypan is another type of squash that grows in the summer months. They possess a flat-bottomed shape which makes them ideal for stuffing purposes. Pattypan comes in different colors ranging from green to yellow to a mix of both. With scalloped edges, these squashes get an attractive look that is simply mind-boggling.
Pattypans are small in size but that does not deter them in any way from adding a crunch to salads or quick sautéed items. Due to their soft skin, they can be eaten raw but are usually roasted or grilled.
Phenomenal sources of Vitamin A, Pattypans help improve vision. They are loaded with Vitamin C and other essential nutrients that are needed by the body. They even assist in improving one's immunity.
8. Round Zucchini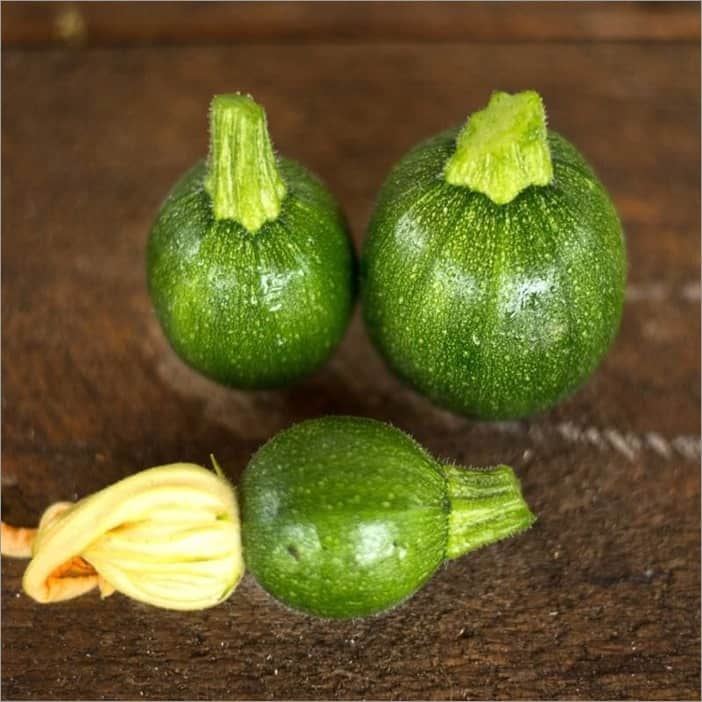 Also referred to as the eight-ball zucchini, Round Zucchini is one of the most delectable items known to mankind. This round squash has a mild flavor and a texture similar to that of green zucchini. Their short and wide size makes them a great option for stuffing and baking. One can consume them by scooping out their inside and stuffing and roasting them afterward.
These varieties make for a great summer side dish along with garlic, herbs, and quinoa. A wholesome item, it has today become an indispensable part of several cuisines prepared in different countries.
Round zucchini is great for regulating blood glucose and combating problems like diabetes. It helps improve digestion and promotes bone health.
Winter Squash Varieties
A surprising element concerning winter squashes is that they get harvested in the summertime. Since these squash types are blessed with a tough exterior, they last longer during winters even without refrigeration.
Well, without much ado, let's get going and see the wondrous world of winter squashes:-
1. Acorn Squash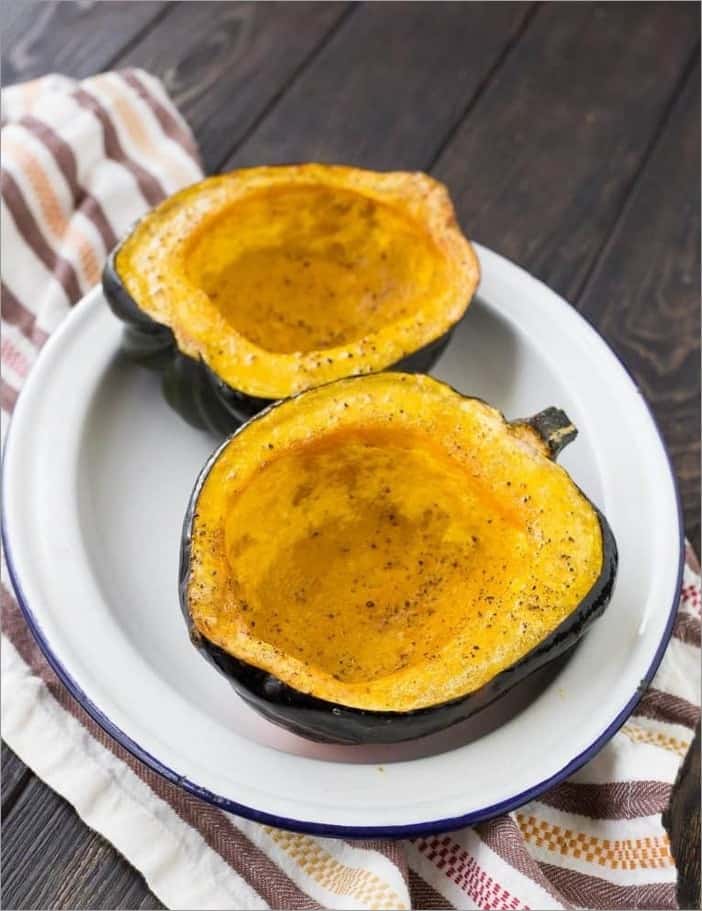 Resembling a huge acorn, Acorn squash is one of the most popular winter squash varieties. These squashes have orange flesh and ribbed skin that gives them a unique appearance. One can roast, steam, or microwave these luscious items that have been taking numerous palates on a sumptuous sojourn. Acorns have a mild flavor that works well with herbs or maple syrups.
These squashes can be prepared in no time by simply slicing them in half, and baking them with olive oil or butter. One can eat them directly from their bowl-like shell.
The peel of acorns is loaded with fiber, which makes these squash extremely healthy for the body. Being a vegan you must have faces several stereotypes but it is a known fact every variety of squash have more calcium and potassium than other winter variants. It also makes them one of the healthiest squashes available during the winter months.
2. Butternut Squash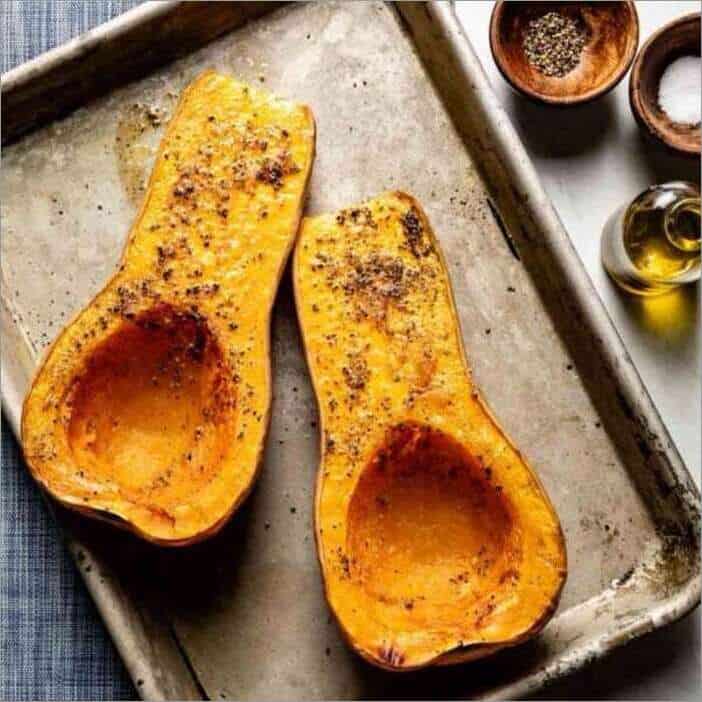 Shaped like a bulb, the Butternut squash is another squash type that has skyrocketed in its popularity today. This variety is used in a pureed form in soups and other winter dishes. They can be roasted with the skin on or cubed and then roasted per the liking. One can simmer, bake, braise, or steam these squash variants.
Butternut possesses smooth and thin skin with a somewhat sweet orange flesh that gives a unique squash color to this much-prized variety across different cultures.
High in potassium, this squash has loads of health benefits that make it one of the most relished items. They help manage blood pressure and reduce the risk of heart disease and stroke. Butternut is also an excellent source of vitamins B and C, potassium, manganese, and other essential nutrients.
3. Delicata Squash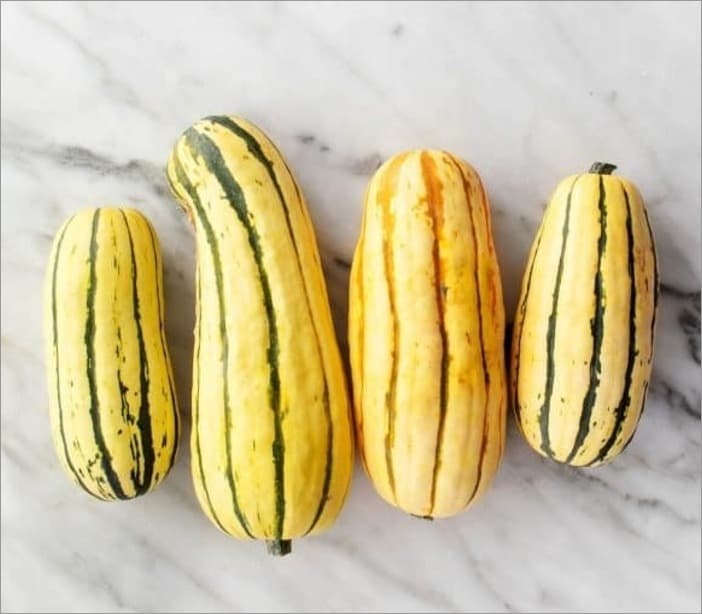 An heirloom variety, Delicata squash has a history that goes almost a hundred years back, unlike many of the recent hybrid variants. These types of squash have cream and green striped skin. They are blessed with a delectable yellow flesh that is consumed after baking, frying, steaming, or braising.
Delicata is also known as "Sweet potato squash" because of its starchy texture, which makes it a great replacer for sweet potatoes. These squashes work well when used for stuffing purposes.
Delicata is rich in fiber, which helps fight problems like obesity, diabetes, and heart-related issues. They help maintain vision, improve gastrointestinal health, boost immunity, and lowers cholesterol.
4. Spaghetti Squash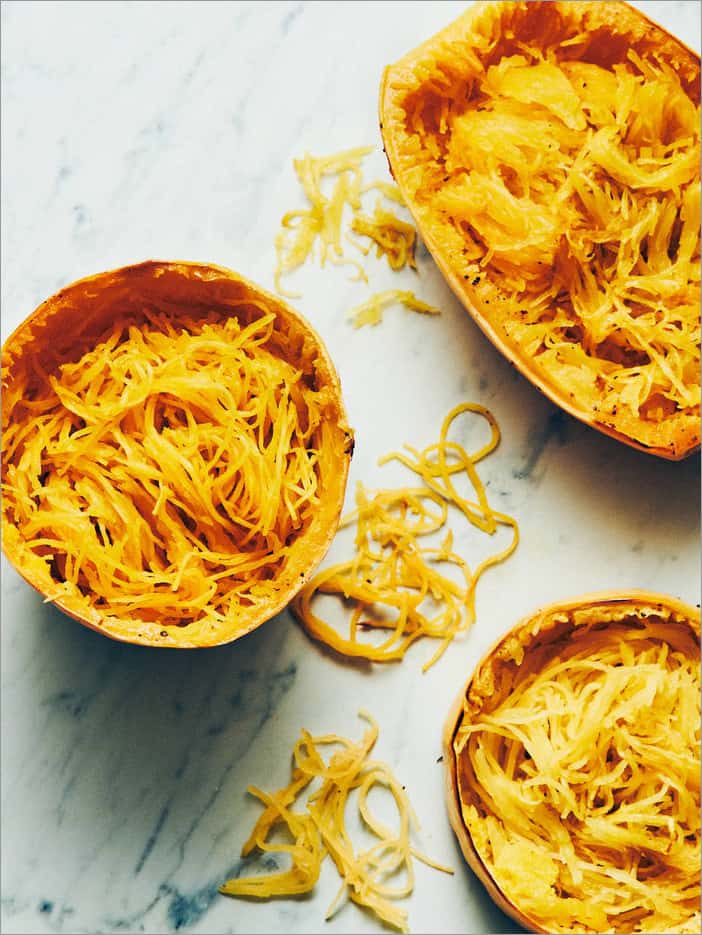 Large, round and yellow-shaped, Spaghetti squashes are other winter squash varieties that have gained popularity in recent years. These squashes are called "spaghetti squash" due to their golden flesh that separates like strings of spaghetti when cooked. The squash serves as a great alternative to pasta and can be served with sauces of different tastes and textures.
For making an eclectic flavor from this squash, you need to bake it with mozzarella or marinara and dive into the mind-boggling taste of the humble item.
Spaghetti squash is a good source of fiber, vitamin C, Vitamin B6, and manganese required by the body. A nutrient-dense food, these squash are also loaded with pantothenic acid and niacin. They are also low in calories, making them an ideal addition to one's diet chart.
5. Sugar Pumpkin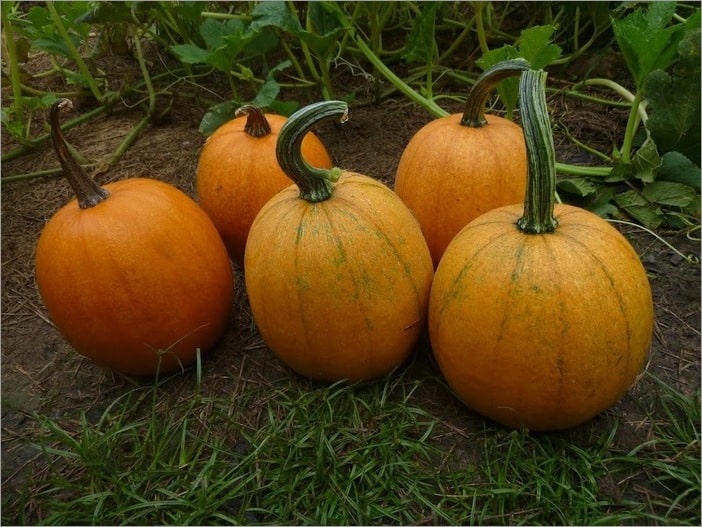 Sugar Pumpkins are delectable squash types that have invariably made their mark across different timelines. These squashes can be cooked or baked or used in pies, muffins, bread, cupcakes, soups, and more. They are extremely versatile and can be used for various purposes. Pumpkins are usually used in sweet items but can also be included in other exotic cuisines.
Sugar pumpkins have firm, sweet flesh and an enticing flavor. One can roast these squashes and eat them in chunks or pureed form.
These pumpkins are rich in vitamin A and are a good source of omega-3 fatty acids. They even promote good eyesight along with cardiovascular and digestive health.
6. Sweet Dumpling Squash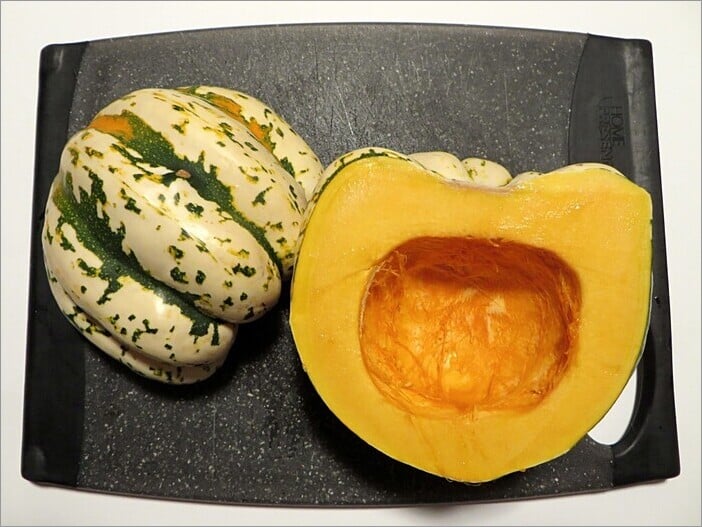 Amongst the squash varieties, Sweet Dumpling Squash is considered one of the most adorable variants due to its look. These squashes resemble the size of an apple and can be called a doppelganger of a pumpkin due to their shape. They have an eye-catching, multi-colored rind that speaks for themselves, giving these variants a charming appearance.
Sweet dumplings have tender flesh and a great flavor that makes them a good accompaniment to meat or cheese-based dishes. They can also be used for stuffing purposes in grains and veggies.
These squashes are high in vitamin A and C quotient which makes them extremely beneficial for one's body. They are also a good source of fiber and other essential nutrients.
7. Hubbard Squash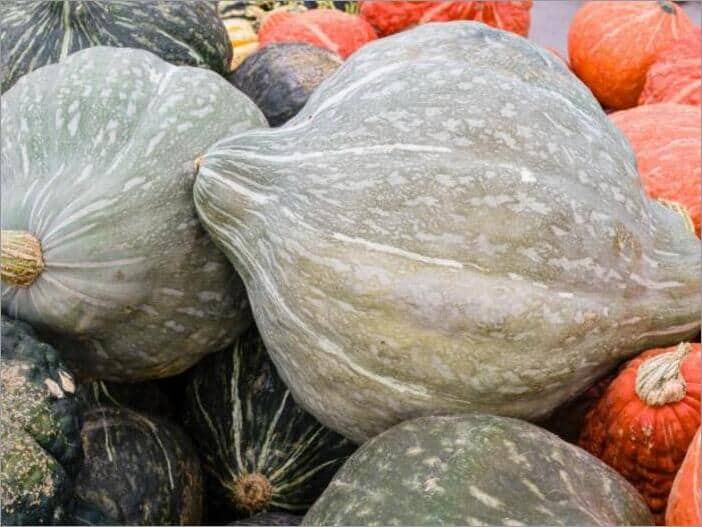 Hubbard Squashes are popular varieties of types of squash that have been winning the hearts of millions across the globe. These squashes possess a thick shell and lumpy skin with bumps around them. They can be found in various colors ranging from bright orange to deep green.
Hubbard squashes have a mild flavor and fibrous flesh, which makes them suitable for various dishes. These squashes are found in medium or large sizes and possess a starchy texture that is hard to overlook.
Loaded with vitamin A, vitamin C, potassium and magnesium, Hubbard squash has several health boons for all. This humble item not only helps control blood pressure but also aids in combating eye diseases along with promoting bone health. Hubbard also tops the list of being the most protein-filled squashes in the world.
8. Buttercup Squash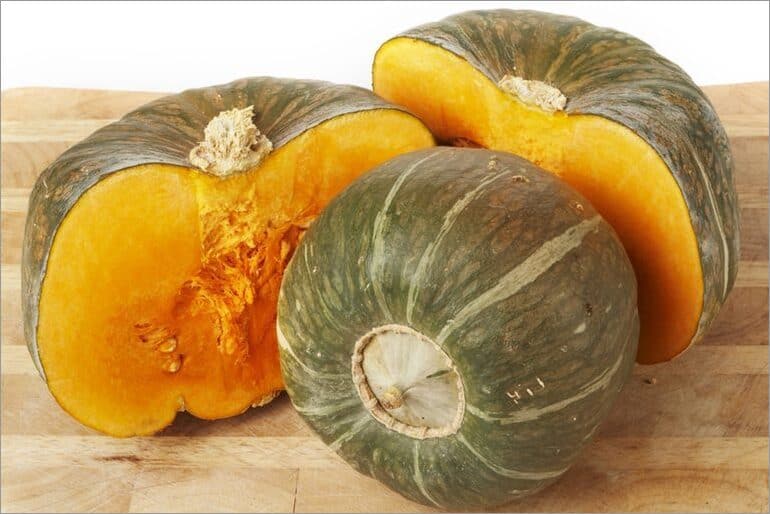 A round green squash, Buttercups resemble pumpkins. They have a squatty shape, green rind, and orange flesh that give them a unique appearance. From roasting, baking, and mashing to stuffing, these squashes can be used in a variety of ways.
Buttercups have a creamy flavor and are sweeter than other winter counterparts. Since they have dry flesh, it is ideal to steam or bake these delectable squashes that work well with curries.
Buttercups are rich in vitamins A and C, including magnesium which is required by the body. They help improve night vision and eye health apart from reducing blood sugar.
As such, today various other varieties are cultivated across the globe. But we have mentioned some of the most common ones along with showing pictures of different types of squash to make your purchase easier this time!
Ways to Choose Summer & Winter Squash
While choosing summer squash varieties, go for a firm and vibrant-looking squash. Avoid wrinkly skin or wet spots, and spongy textures as they signify aging and rotting.
For winter squash, choose the one that is rich and deep in color. Make sure that its stem is intact and the squash is heavy for its size. Avoid the ones that contain spots, cracks, or cuts.
Methods to Store Summer & Winter Squash
Store summer squash in refrigerators in plastic storage bags or containers so as to retain their moisture. However, refrain from storing fresh squash in a completely frozen manner.
For winter squash varieties, find a place that is relatively cool and dry with a humidity of about fifty to seventy percent but ensure that the temperature is apt as extra humidity leads to rot.
Frequently Asked Questions (FAQs)
1. What is one of the most popular green types of squash?
Answer: Although there exist different types of green squash year-round, Zucchini is far by the most versatile and loved variety across the globe.
2. What is the tastiest amongst the types of yellow squash known?
Answer: Yellow squash has two varieties: straightneck and crookneck. Out of these two, crookneck squash is more delectable because of its flavor and exotic texture.
3. What is the healthiest squash to eat?
Answer: Butternut squash, one of the most popular variants is known to be the healthiest of all squashes as it is one of the richest in Vitamin A and other essential nutrients required body.
4. Is winter squash nutritious?
Answer: Yes, winter squashes are extremely nutritious due to their carotenoid richness. They are also a great source of Vitamin A, Vitamin C, fiber, potassium, and several other essential minerals.
5. Is it okay to eat squash on a daily basis?
Answer: Squashes are known to have essential vitamins, minerals, and antioxidants that make them an extremely healthy item. As such, one can consume squashes daily without a second thought.
6. Which squash variant is the most common?
Answer: There exist several squash varieties that are present across the world. However, Zucchini is one of the most common variants which are available throughout the year.
7. What nutrients does squash contain?
Answer: Squashes are a rich source of vitamins A and C, antioxidants, and minerals like magnesium, manganese, and potassium. They are also loaded with fiber and water which makes them a hydrating element, good for gut health.
8. Which of the squash variants store better than other varieties?
Answer: Although there is a way to store squashes, be it summer or winter ones, ideally Butternut squash can be stored for a longer duration than its counterparts, which makes them one of the most cultivated varieties in the world.
9. How long can summer squash last?
Answer: Summer squash has a short shelf-life. As such, they can last up to two weeks only if stored in an ideal condition.
10. How long can a winter squash last?
Answer: Unlike summer squash, winter squashes have a longer shelf-life. They can last up to two to four months depending upon the variety purchased.
Takeaway (Final Thoughts)
Blessed with exclusive flavors, shapes, and textures, the squash varieties are seemingly endless. From roasting, steaming, and grilling to frying, this unique item can be consumed and relished in numerous ways. Whether used as a side dish or the main cuisine, it never fails to win hearts, traversing various cultures and traditions across the millennium.
Try planning out, which squash variety, you will be preparing for your next day lunch or even brunch. It taste great when prepared with some unique varieties of mushrooms,
You May Also Like