With more and more people turning vegan, the vegan food list seems to be increasing day by day. Vegan-friendly food items are rapidly changing the course of perceiving real meat. Be it chicken sausages, beef steaks, mutton chunks, or bacon vegan food brands have evolved and raised the bar of their products in taste, texture, and experience of that being meat-like or even known to eat fake meat. These food products are contributing towards a healthy lifestyle and environment.
One will be surprised to know, that there are so many recipes to make the perfect vegan bacon at home while on the other hand, food brands are making it possible for vegan meat to be easily available in the local market. If you are wondering is vegan bacon healthy or not and even if want to know few brands of vegan bacon, read this article for clearing your doubts.
What is Vegan Bacon?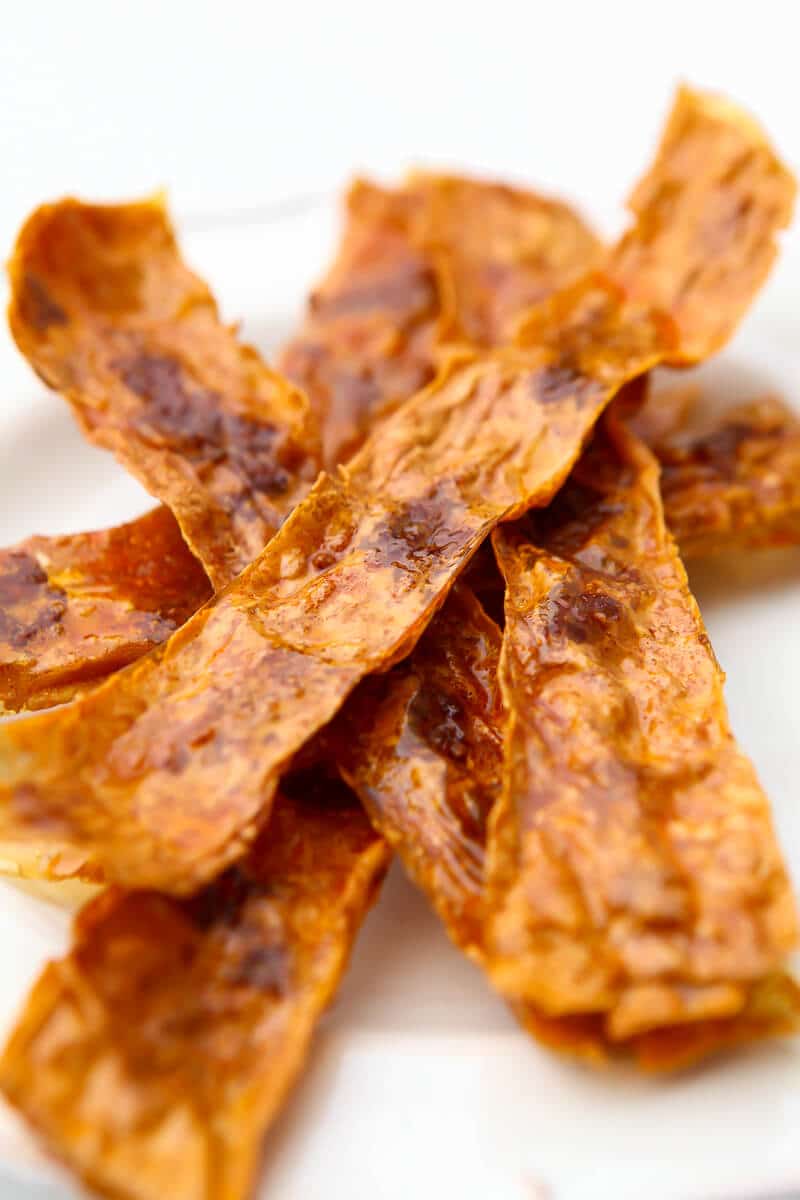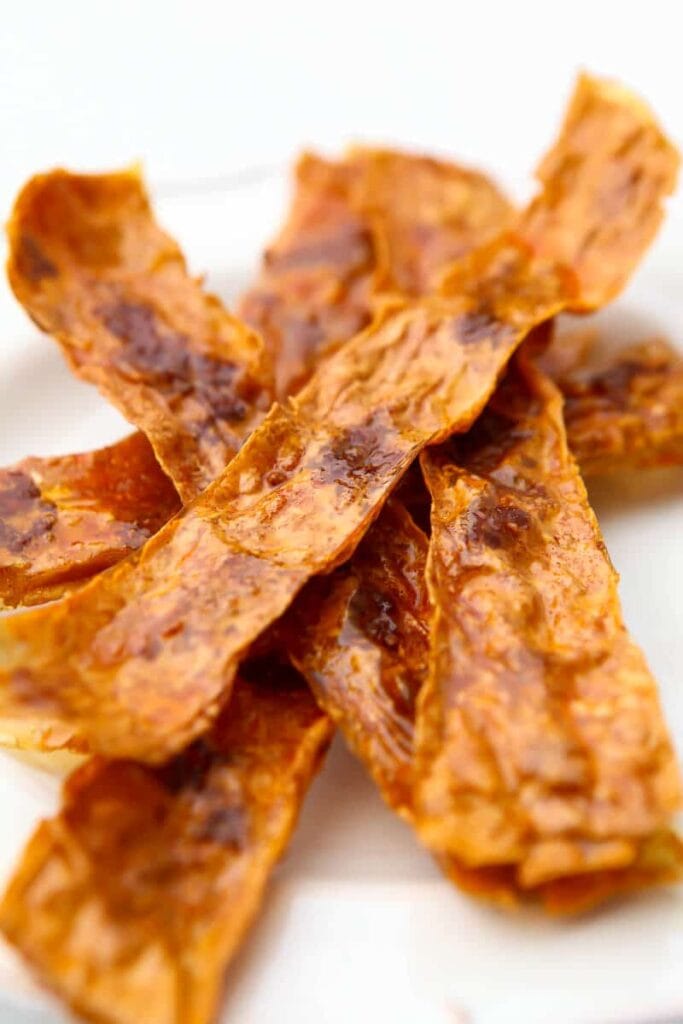 There is no doubt about the fact that every plant-based meat is healthy, vegan bacon is one of them. Vegan bacon majorly comprises of eggplant, mushrooms, soy, tempeh, and even beetroots. These foods are rich in protein and other vitamins and minerals, unlike real bacon that's high in cholesterol and calories.
Vegan bacon is not only healthy but also environmentally friendly, it helps in reducing the butchering rate of pigs which is predominantly termed as animal cruelty. As per to the data by Future Market Insights, the main global size of the vegan bacon market is estimated for reaching 1331 million USD in 2023 which may further expected for growing at a high robust CAGR of 6% mainly in between 2023 and 2033, that calculating around 2,442 million USD by the end of 2033
Is vegan bacon healthier?
Vegan bacon is made with the goodness of plant-based food items making it a very healthy vegan meat alternative. The core ingredients used in making vegan bacon such as soy, tempeh, or seitan are low in saturated fats and calories compared to the traditional meat bacon. One must be very careful in picking their vegan bacon brand as they are processed food item having the tendency of high sodium levels and preservatives. Consumption of these vegan bacon brands should however be done in moderation while the ones made at home is still healthier.
Plant-Based Bacon
Meat-free bacon is an outcome of a plant-based food source like tofu, eggplant, soy, and peas combined with other vegan ingredients like soy sauce, garlic powder, onion powder, maple syrup, etc. to bring in the perfect real meat flavor and texture.
9 plant-based bacon for a vegan to search for
Tofu Bacon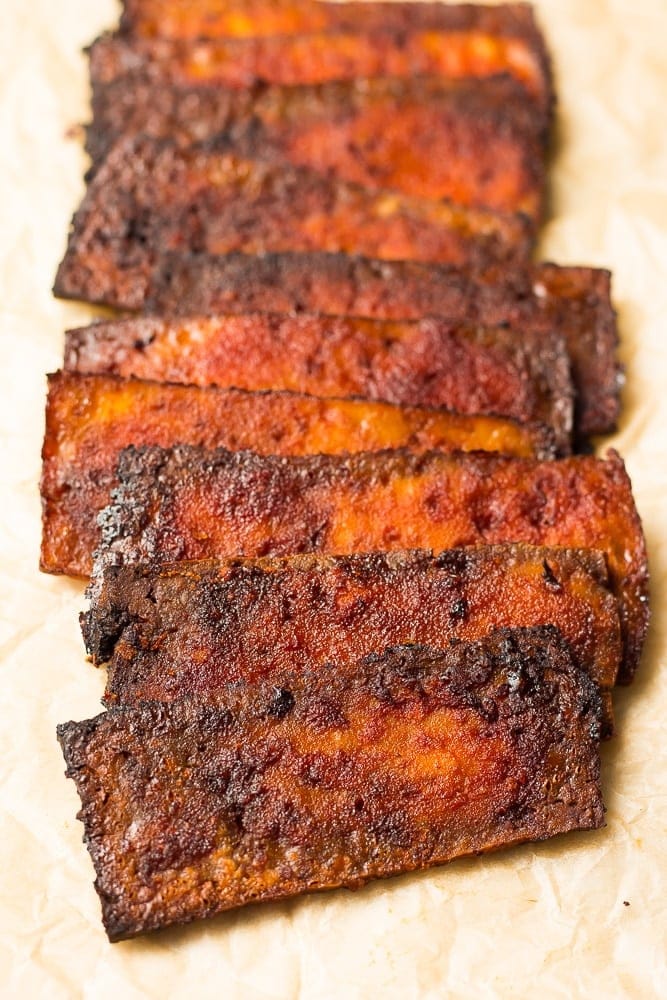 The key ingredient of this vegan bacon preparation is tofu which is made up of soy milk, a rich source of protein. Tofu bacon is known for its crispiness and its perfect smoky flavor, making it a delight for burger patty and barbeque nights.
Rice paper bacon
This is a perfect match for vegans who like their bacon strips to be extra crunchy. This plant-based vegan bacon ingredient is extremely healthy and low in cholesterol. Made of rice paper this vegan meat is well suited for fried bacon strips and sandwiches.
Coconut Bacon
Coconut bacon is made of sliced and shredded coconut, a 100% plant-based ingredient giving the taste of real bacon meat-like. Coconut bacon is juicy and has a mouth-watering flavor to it. It's an amazing vegan food product to indulge in for making salads and kinds of pasta.
Mushroom Bacon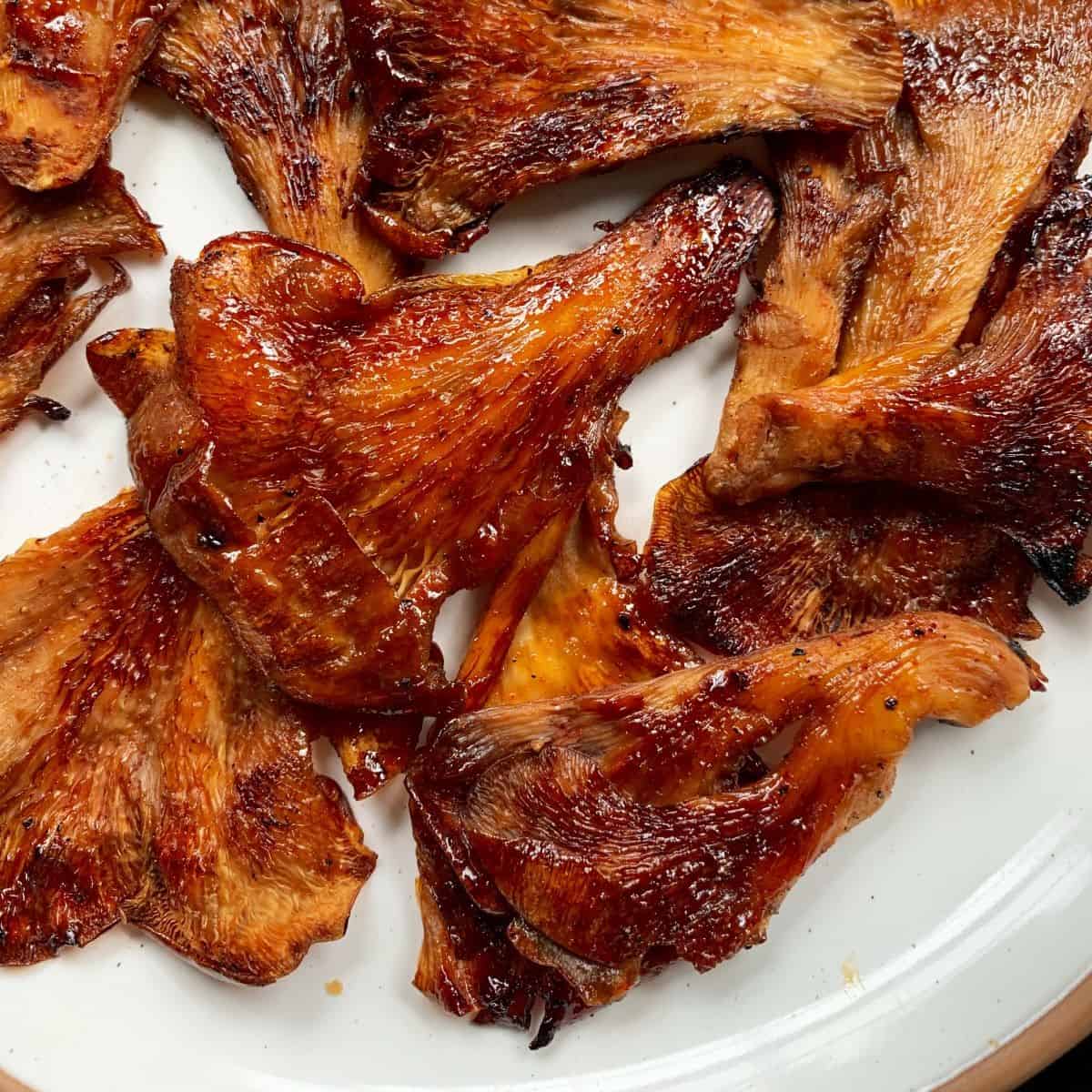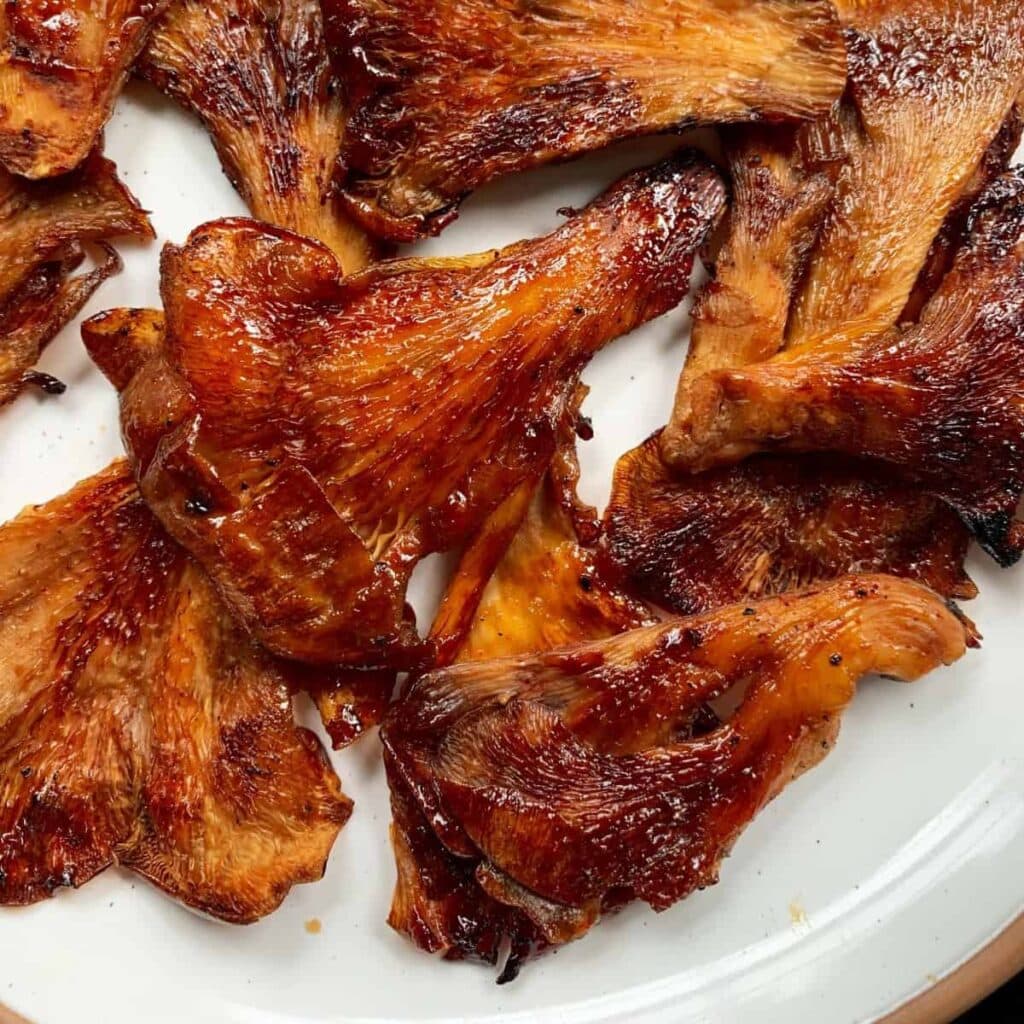 A vegan bacon ingredient made out of the most easily available food item, mushroom. it is one of the most used ingredients in vegan meat, its characteristic of being voluminous makes it a favorable vegan food product for vegan meat mince and scallops.
Eggplant Bacon
Eggplant is an amazing substitute for bacon. If you love bacon for breakfast then this could be your healthy vegan pick. Vegan meat made out of eggplant has a scrumptious texture and great flavor. This vegan meat is a mouth-watering substitute for people who love sandwiches and burgers.
Banana Bacon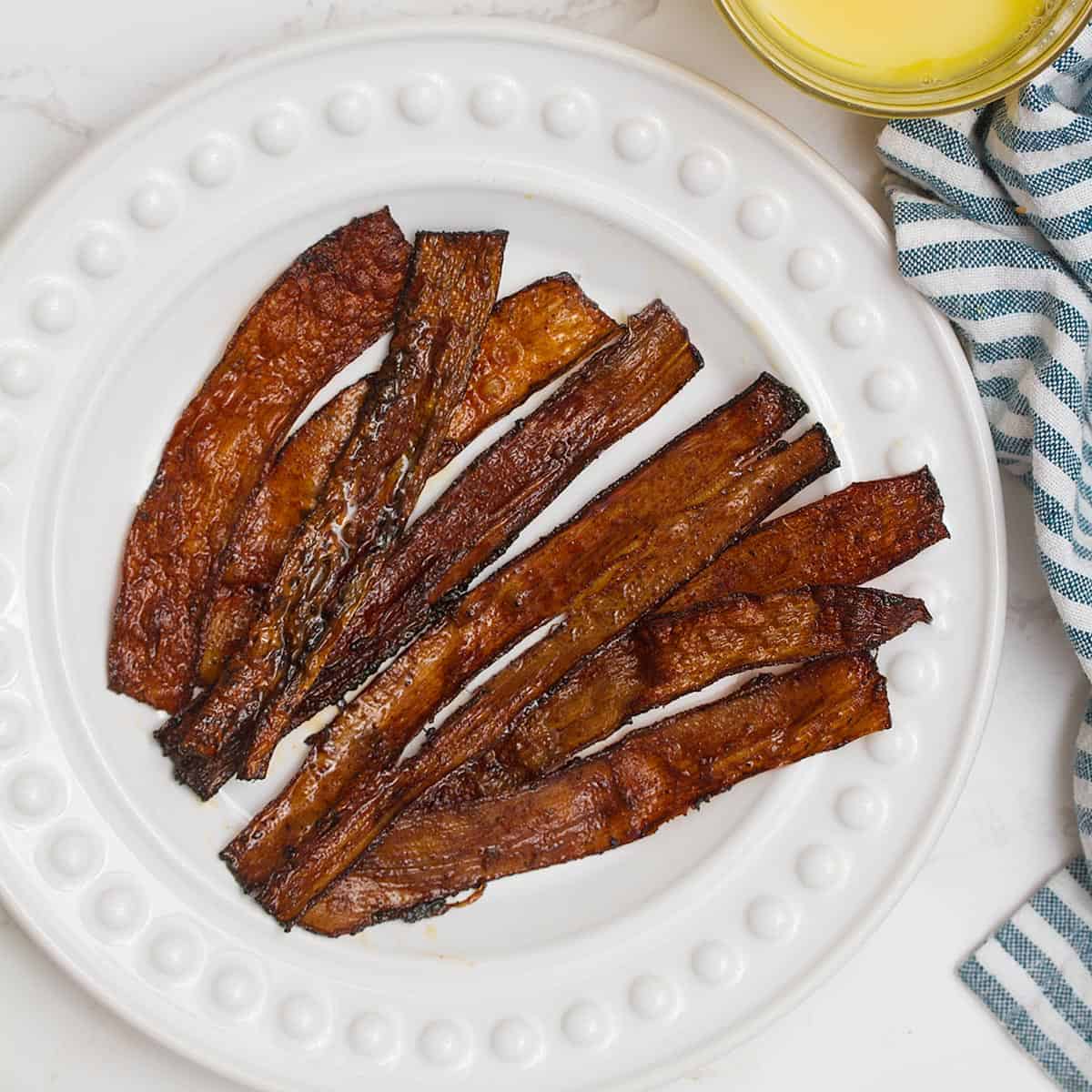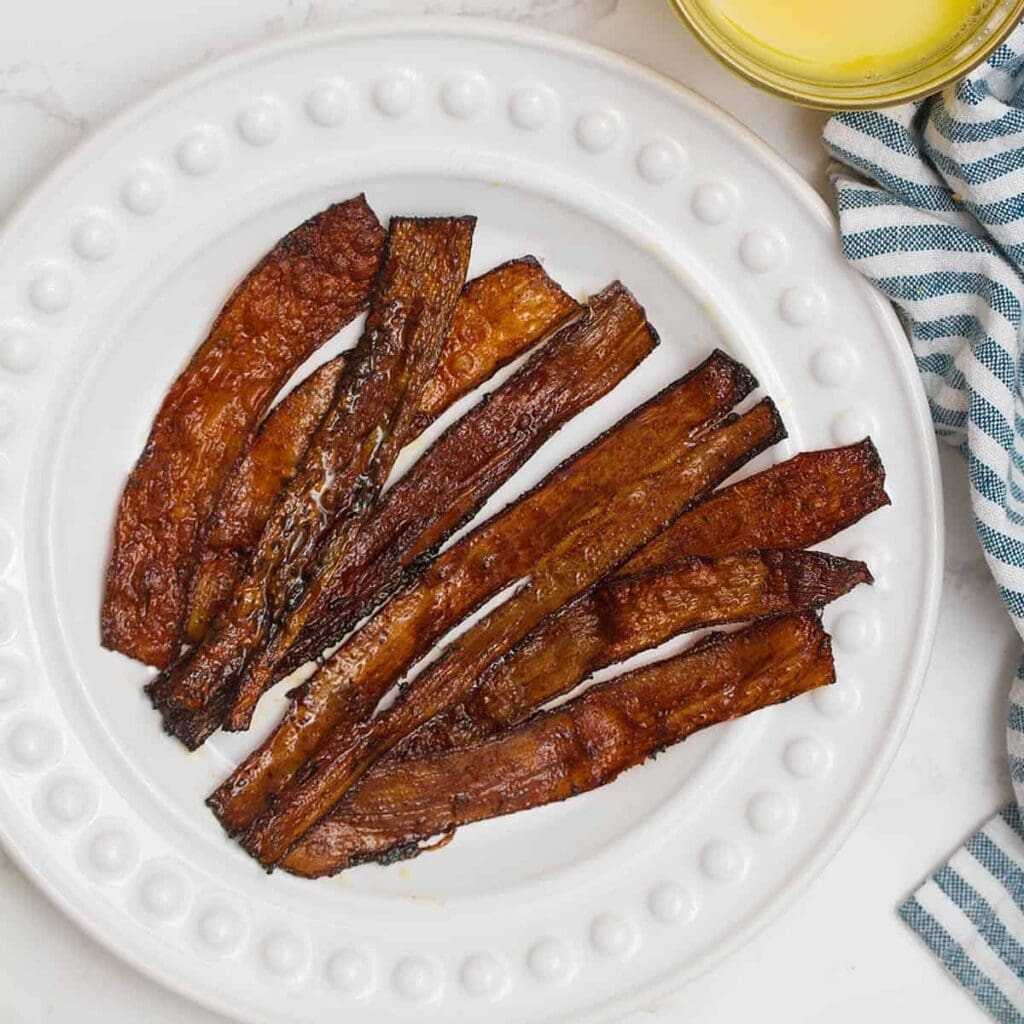 Who could have imagined Banana peel becoming one of the key ingredients in vegan meat? Something we consider a waste is transformed into a delight, for vegan meat eaters which reduces a major chunk of wastage. The bacon made from the banana peel is crispy, crunchy, and juicy favorable to add in recipes like pasta, vegan bacon strips, and more.
Seitan Bacon
Seitan is wheat meat, an insoluble gluten mass extracted from wheat. The vegan meat made from seitan is soft, meaty, and chewy replacing the real meat-like feel and taste. This vegan meat absorbs flavor like no other making it one of the best bacon substitutes.
Yuba Bacon
Yuba is the skin-like formation that appears on boiling soy milk. Its texture is elastic and chewy making it one of the most loved contenders for vegan bacon. Yuba bacon is super easy to marinate and has a rich smoky flavor to it.
Tempeh Bacon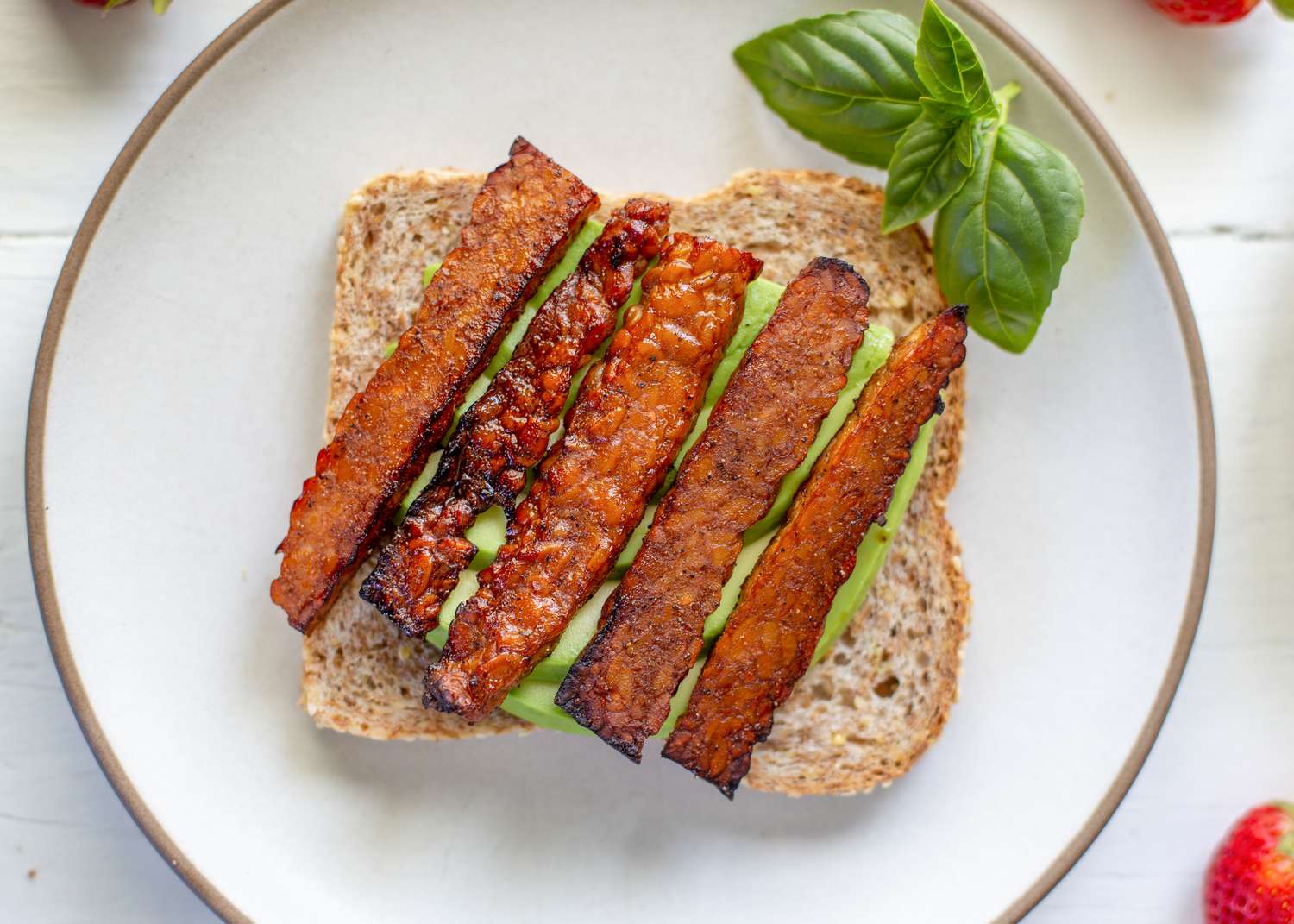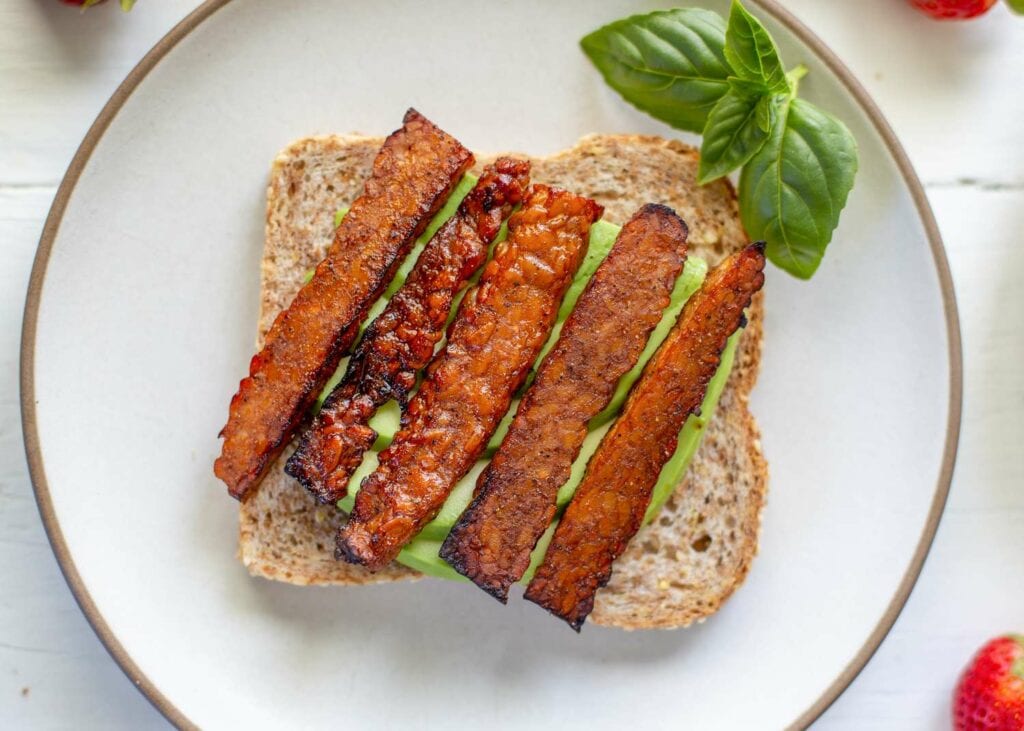 Tempeh or Tempe is another byproduct of soy. Tempeh is made by fermenting soy into a cake and is much better in texture than tofu. Tempeh has all the nutrition values extracted from soya making it a good and healthy choice for your vegan meals.
Carrot Bacon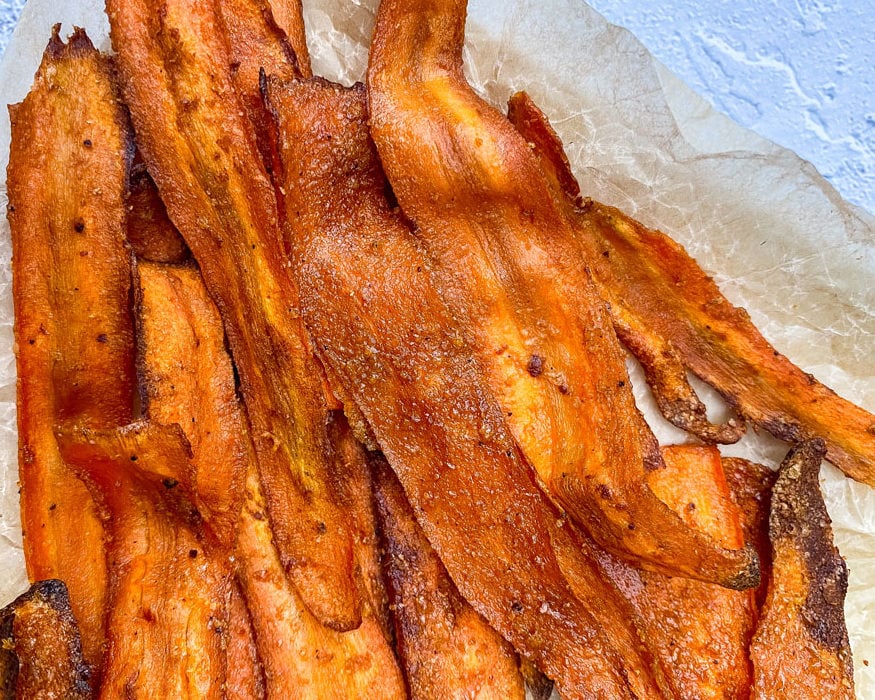 As the name sounds carrot bacon is made from nutrition-loaded carrots, it is one of the most easily available ingredients in the stores. With all the nutrients in the carrot, this makes it one of the healthiest vegan substitutes for real meat-based bacon. This sweet and salty vegan bacon is easy to make and amazing in taste.
Vegan Bacon Uses
Vegan bacon can be great substitute, to fulfil the meat space in any of your meat-based recipes. From delicious bacon pasta to juicy burger patty's, it can suffice all your meat requirement. Now using the vegan bacon completely depends on what you plan cooking in your kitchen.
Making of Vegan Bacon
Vegan bacon is one of the easiest recipes to prepare at home, its ingredients are easily available in any store. This time saving meat free recipe can be great for vegan beginners.
3 easy home recipes for vegan bacon
Smokey Carrot Bacon
Ingredients:
2 American carrots
2 tablespoons of sunflower oil
2 tablespoons of maple syrup
2 teaspoons of soy sauce
1 teaspoon of liquid smoke
2 teaspoons of garlic powder
1 teaspoon of smoked paprika
1 teaspoon of pepper
Salt as per taste
Preparation:
Peel the carrot skin and then make thin slices of the carrot.
Take a bowl, add two tablespoons of sunflower oil, maple syrup, and soy sauce,
Then add 1 teaspoon of liquid smoke, garlic powder, and smoked paprika.
Mix the ingredients thoroughly into a semi-thick liquid add pepper and salt as per your taste.
Once the liquid is ready add the sliced carrots
Leave it for 10 mins so that the carrot can soak in all the flavors.
Grill the carrot slices till fully cooked serve them with your favorite sauce
Juicy tempeh bacon
Ingredients:
9 ounces of tempeh bar (readily available in the market)
1 teaspoon liquid smoke
2 tablespoons of soy sauce
1 tablespoon maple syrup
Sunflower oil
Preparation:
Take the tempeh bar and slice it equally (not very thick)
Place the slices in a steamer and steam it for 15 mins so that the slices become soft and juicy.
Take a bowl and add soy sauce, liquid smoke, and maple syrup mix them all thoroughly.
Take a pan put some sunflower oil and add the steamed tempeh slices
Shallow fry till it turns golden.
When the tempeh turns golden add the sauce over it, for the slices to absorb the flavor.
Once ready, these tempeh slices can be a great option for sandwiches.
Tofu Bacon
Ingredients:
7 ounces of tofu bar
2 tablespoons of soy sauce
1 teaspoon maple syrup
1 teaspoon of smoked paprika
2 tablespoons of olive oil
Preparation:
Take a bowl and add soy sauce (you can add soy sauce as per the salt intake), maple syrup, and smoked paprika.
Cut the tofu brick into equally thin slices and lay them over a paper towel.
Add a layer of paper towel to stack the tofu slices one above the other and press, this is done to extract the water from the tofu.
Place a large saucepan over the stove add olive oil and fry the tofu slices till golden brown.
Add the liquid on the sliced tofu in the pan and stir fry till the edges don't turn crispy.
Serve when hot or can be stored in airtight containers for 2 to 3 days. 
Are vegan bacon brands easily available?
One can home cook and prepare these vegan bacon recipes at their home. Those who find cooking tedious or don't get time to cook because of their busy schedules can try a lot of vegan bacon brands that are easily available in stores. These ready-to-make vegan bacon are easy to cook and tastes good.
Also Read: 10 Common Vegan Stereotypes (Do They Check Out?)
Selecting vegan bacon brands
With a wide range of variety in vegan bacon brands its always important to pick the one which is healthier, a thorough check of the ingredients is highly recommended which can be found behind the product. To pick your vegan brand understand its nutritional values for example it should be high in protein, less in calories and sodium. Along with the nutritional values the taste and texture should also be commendable. We have put together some of the best vegan bacon brands that you will love!
9 best vegan bacon brands that you can use
If you are planning to start your vegan journey and are worried about coping with your meat cravings, then this is for you. Here's a list of brands that have evolved over the years and have been continuously working on creating real meat-like taste and experience for vegans, Inspiring and motivating them to choose a healthy lifestyle that is environment-friendly and animal cruelty-free.
1. Umaro Foods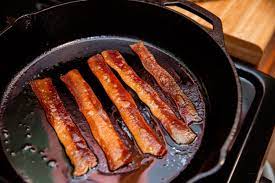 This brand made an entry to the shark tank for its awesome plant-based meat products. They are a seaweed-based vegan bacon meat brand, who are working towards contributing to the sea world. I love their bacon which is meaty, crunchy, and crispy which tastes good and just melts in the mouth. You can feast on their products in restaurants like Alchemy Café, 1 Up Bistro, American metro gourmet deli, Beach'N SF, Bend Pizza Kitchen, Between the Bun Deli, and many more.
Taste and Flavor: Crispy and crunchy just the way I like it!
Texture: I liked its meaty texture and the fact it's loaded with protein
Nutritional Value:
Calories: 210 per serving
Protein: 1g
Total Fat:19g
Saturated Fat: 5g
Sodium: 550mg
Website: https://www.umarofoods.com/
Rating: 5/5
Price: $79.99
2. Yves veggie bacon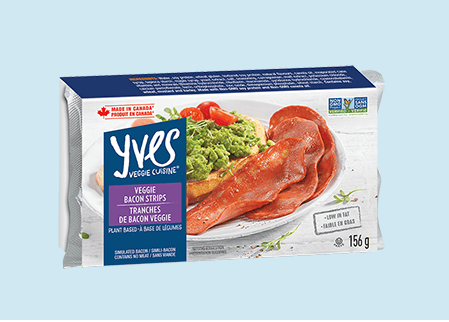 A delight for health-conscious people who loves binging on bacon for breakfast like me. This brand produces vegan bacon which is low in cholesterol and fats. Their meat alternatives are loved for the way it tastes. Food items from Yves veggie cuisine are easy to cook and loaded with nutrients.
Taste and Flavor: All natural flavors with the goodness of health, just the way I love my vegan meals to be.
Texture: I like the way it melts in my mouth a smooth juicy texture that works best for breakfast.
Nutritional Value:
Calories: 70 per serving
Protein: 14g
Total Fat: 0.5g
Saturated Fat: 0g
Sodium: 470mg
Top products to try: Veggie bacon, Breakfast patties, Good Dogs, Veggie Tofu Dogs
Website: http://yvesveggie.com/
Rating: 3.85/5
Price: $7.09
3. Beleaf vegan bacon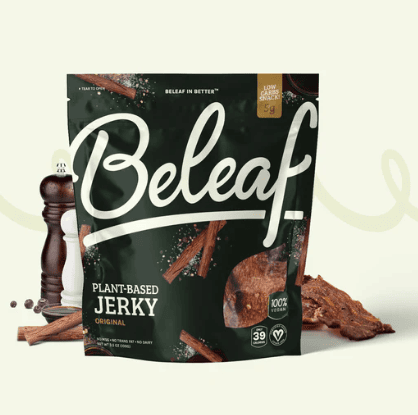 I strongly recommend this U.S based vegan brand which is determined to change the face of the vegan food industry. Their vegan plant-based meat products are healthy and do not contain any GMO ingredients. A must-try brand for vegans who are dedicated to leading a sustainable lifestyle.
Taste and Flavor: I like the smoky flavor, it's a must have in sandwiches.
Texture: Its chewy and juicy found it to be simply amazing in taste.
Nutritional Value:
Calories: 44.82 per serving
Protein: 3.48g
Total Fat: 0.9g
Saturated Fat: 0g
Sodium: 360mg
Top products to try: Beleaf bacon, Beleaf fried egg, Beleaf square ham, Beleaf loaf ham
Website: https://www.beleafvegan.com/
Rating: 4.71/5
Price: $11.39
4. Hooray foods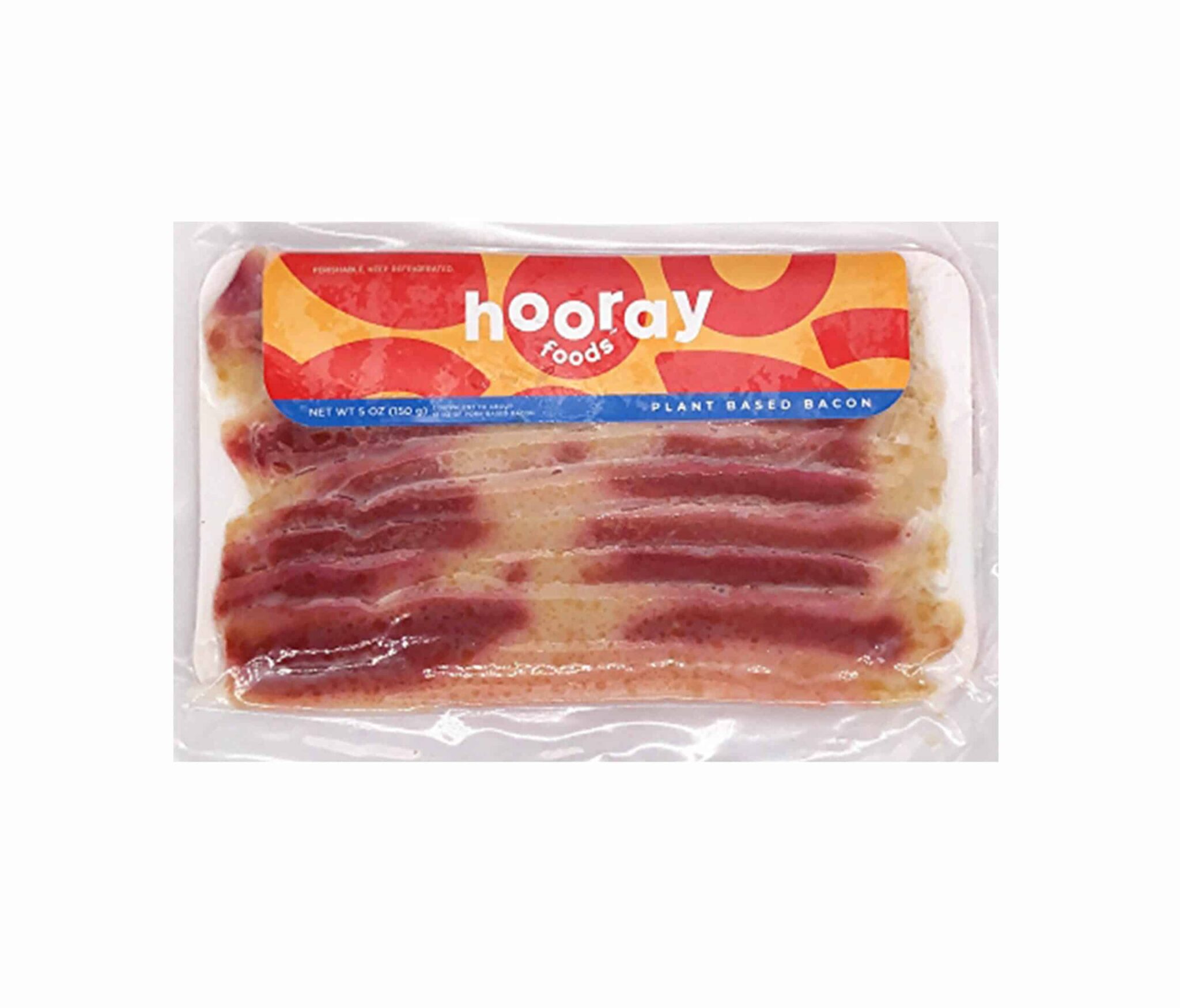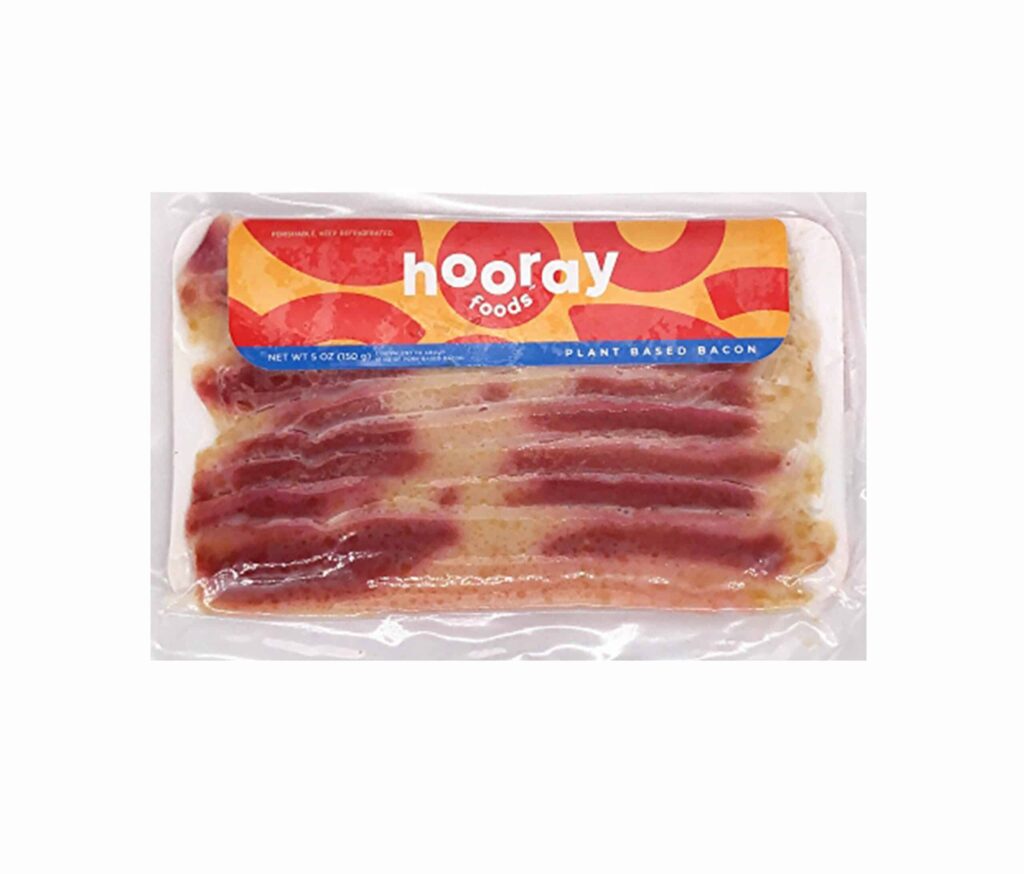 This cholesterol-free amazing food brand is a good buy for calorie-conscious vegans especially, for those who love bacon. Their meat-free bacon is juicy, crunchy, and crispy.
Their product can be experienced at various restaurants and cafes, some of them being – A Matter of Health, A- Market, Ace Natural INC, Apple Crate Naturals, Beer Plant, Berkeley Natural Grocery, Big Y, and Bristol Farms.
Taste and Flavor: I tried this food brand and its symphony bacon flavors left me completely Awestruck!
Texture: I like its crispy crunchy texture
Nutritional Value:
Calories: 60 per serving
Protein: 0g
Total Fat: 4g
Saturated Fat: 3g
Sodium: 270mg
Website: https://www.hoorayfoods.com/
Rating: 3.5/5
Price: $11.49
5. The Herbivorous Butcher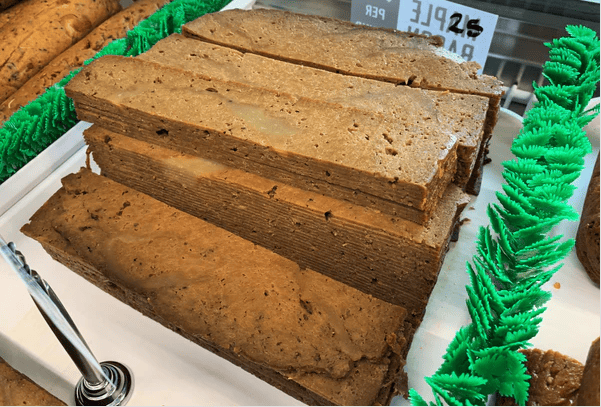 A brand dedicated to protect animal from cruelty. They deliver everything that a vegan would need from cheese to sauces to pre packed instant meals. Their vegan bacon meat menu has a wide range of products to order from. They have spoiled me with their variety and great taste.
Taste and Flavor: I like the salty hickory bacon but sweet maple bacon is also a must try!
Texture: Tender and juicy toppled with amazing bacon like flavors absolutely mouth-watering!
Nutritional Value:
Calories: 100 per serving
Protein: 11g
Total Fat: 3.5g
Saturated Fat: 0g
Sodium: 440mg
Top products to try: Korean ribs , steaks, smoky house ribs, bacon
Website: https://theherbivorousbutcher.com
Rating: 5/5
Price: $14.99
6. Upton's Naturals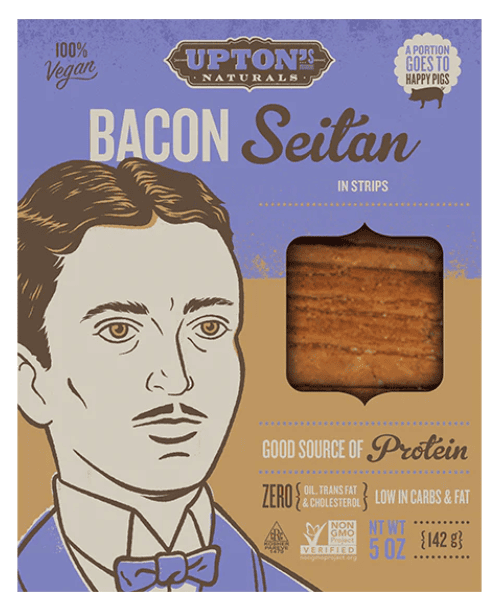 Their seitan bacon is worth a try! Their easy to cook food products in traditional recipes with easily available ingredients from the stores makes a vegan's life and meals easy and delicious. They are dedicated in providing a variety of meat alternatives to pick from as per your taste buds.
Taste and Flavor A smoky and spicy vegan bacon strips just perfect for my sandwiches and salad.
Texture I like it, how its chunky and crispy it is. Just perfect!
Nutritional Value:
Calories: 80 per serving
Protein: 15g
Total Fat: 0.5g
Saturated Fat: 0g
Sodium: 400mg
Top Products to try: Bacon seitan, traditional seitan, vegan holiday roast
Website: https://uptonsnaturals.com/
Rating: 3.6/5
Price: $7.79
7. Lightlife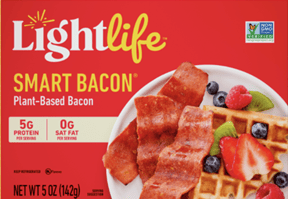 They have believed in creating high quality vegan products that is great in taste. They have been in the vegan food market since last 40 years, all the more reason to trust their meat alternatives to be a good buy.
Taste and Flavor I enjoyed this product as a sandwich stuffing because of Its salty taste due to the presence of soy.
Texture It has a chewy chucky texture that makes your patty wholesome.
Nutritional Value:
Calories: 20 per serving
Protein: 3g
Total Fat: 1g
Saturated Fat: 0g
Sodium: 140mg
Top products to try: Smart bacon, Smart sausage Italian, Jumbo smart dogs
Website: https://lightlife.com/
Rating: 4/5
Price: $7.14
8. Sweet Earth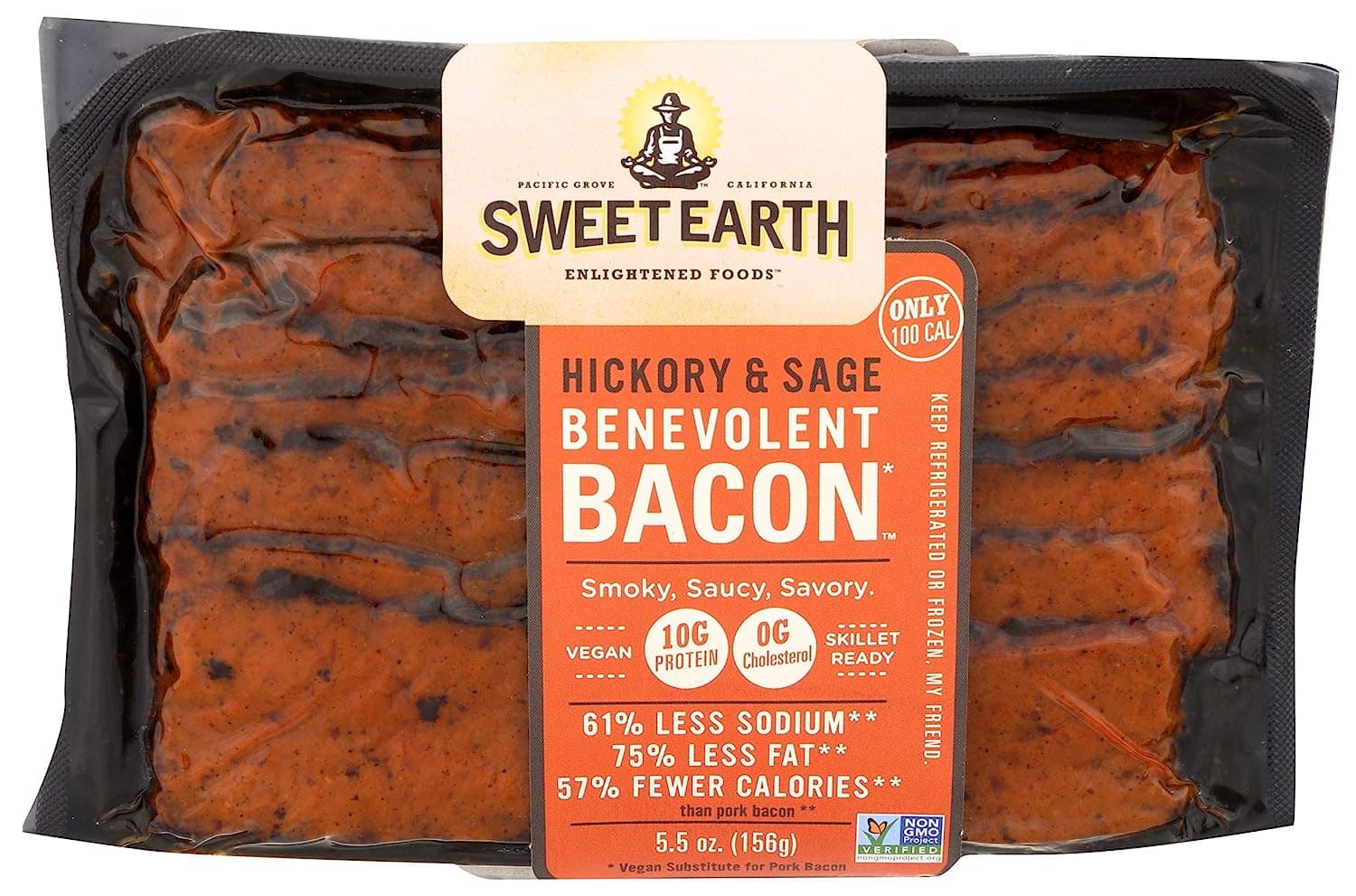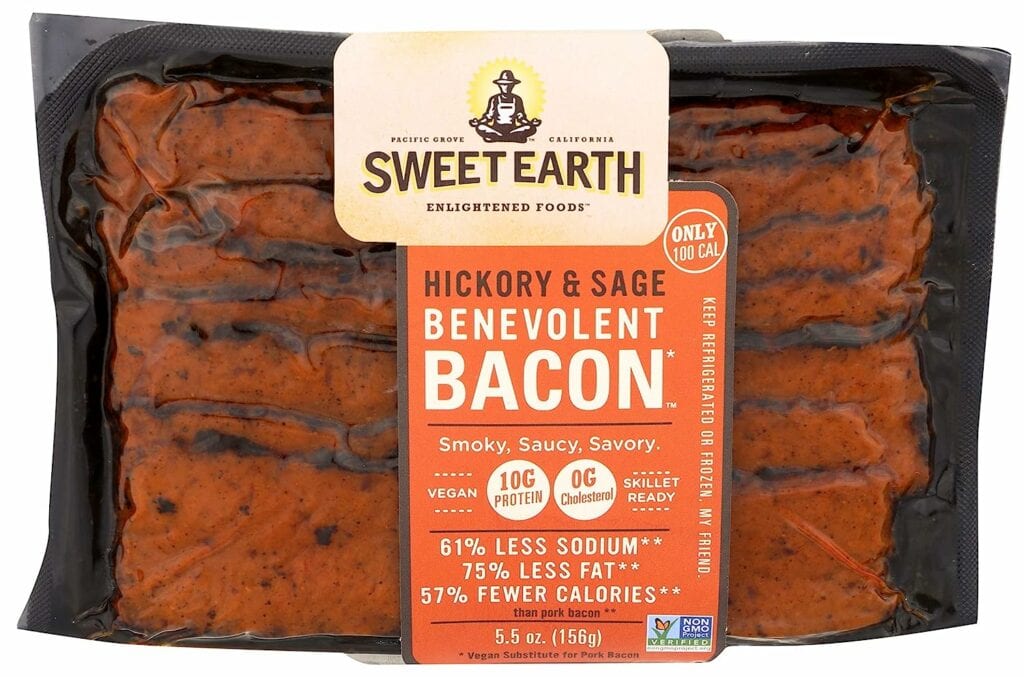 Their well curated vegan meat options are based out of traditional recipes. Their awesome food menu comprises of plant-based meat and ready to eat products. They have some amazing burritos and pastas to try!
Taste and Flavor It's my kind of flavor, an amazing combination of garlic, hickory and sage flavors just makes this vegan so delightful.
Texture It has a meaty texture, so if you are a bacon fan just pick this one!
Nutritional Value:
Calories: 45 per serving
Protein: 4g
Total Fat: 1.5g
Saturated Fat: 0g
Sodium: 100mg
Top products to try Veggie lo mein, benevolent bacon, butter chick'n
Website: https://www.goodnes.com/
Rating: 4.1/5
Price: $7.79
9. Tofurky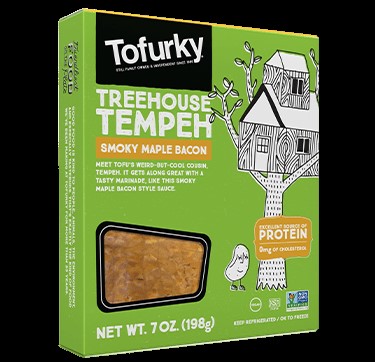 A young brand focused on making a better world for all. They advocate animal welfare and have products which are a delight for vegans and vegetarians who love to be foodies.
Taste and Flavor I like the smoky bacon flavor, these strips taste simple great.
Texture I like the chewy texture making it a perfect side dish
Nutritional Value:
Calories: 160 calories per serving
Protein: 13g
Total Fat: 4.5g
Saturated Fat: 1g
Sodium: 370mg
Top products to try Smoky maple bacon, Maple bacon ice-cream, Jalapeno bacon cornbread
Website: https://tofurky.com/
Rating: 3.2/5
Price: $6.99
FAQs
1. What is the best vegan bacon in the market?
Answer: It's very difficult to name a single brand but some of the best buys have been from brands like beleaf , Tofurky Smoky Maple Bacon as so many more.
2. Does vegan bacon taste like bacon?
Answer: Real bacon taste is difficult to replicate but brands with the use to innovative technologies have created meat like vegan alternatives to bacon which nearly tastes the same.
3. Why is vegan bacon better?
Answer: Vegan bacon is better is so many ways for mostly its animal cruelty free. Being plant based its low in calories and cholesterol free.
4. What is the healthiest kind of bacon to buy?
Answer: Vegan bacon is plant based so any vegan bacon is healthy to consume.
5. Is vegan bacon high in cholesterol?
Answer: No, vegan bacon is not high in cholesterol as its plant-based.
6. Can you eat uncooked vegan bacon?
Answer: To experience the best of its flavor and texture its recommended to cook as per the instructions.
7. Why does restaurant vegan bacon taste so good?
Answer: The vegan bacon served in restaurants is prepared by keeping every small detail in mind. Moreover, it is cooked by trained chefs.
8. Is morning star bacon vegan?
Answer: Yes, morning star bacon is vegan and completely plant-based
9. Is vegan bacon healthier than real bacon?
Answer: Yes, of course! vegan bacon being plant-based is healthy and animal cruelty-free.
10. Where can we buy vegan bacon?
Answer: Vegan bacon is easily available in stores and on online shopping sites.
11. What is vegan bacon made of?
Answer: Vegan bacon is made derived from plant-based products like tofu, tempeh, or vegetables like mushrooms, carrots, etc.
12. Is vegan bacon difficult to cook?
Answer: No, vegan bacon is easy and faster to cook.
13. Can we find vegan bacon in restaurants and cafes?
Answer: Yes, any restaurant that serves vegan food will have it on their menu.
14. Can vegan bacon be made at home?
Answer: Yes, Vegan bacon is a very simple recipe to make at home. If you browse the internet, you will find a lot of recipes for vegan bacon
Lets compare 5 top vegan bacon brands
| | | | | | |
| --- | --- | --- | --- | --- | --- |
| Brand name | Product | Made of | Calories | Protein | Cost |
| Tofurky | Smoky maple bacon | Soy and Wheat | 160 calories per serving | 13g | $112.7 |
| Lightlife | Smart Bacon | Soy and Wheat | 40 calories per serving | 5g | $5.79 |
| Sweet Earth | Benevolent bacon | Kidney beans | 55 calories per serving | 4g | $4.99 |
| Umaro | Vegan bacon | Seaweed, chickpea and coconut | 190 calories per serving | 1g | $79.99 (per case) |
| Upton's Natural | Bacon Seitan | Soy and wheat | 80 calories per serving | 15g | $4.69 |
Conclusion
The only striving aim of every vegan or vegan brand is to make this planet, environment-friendly and healthy, which is also free from animal cruelty. As per research, a pig gets slaughtered every 3 seconds making the pig slaughter house one of the deadliest places to visit. With people and brands coming together in using innovative technologies to create real meat-like flavors and textures this will surely help in making this planet a sustainable one.
Over the years, vegan bacon brands have evolved in taste and texture. These brands have made it easy for vegans to pick and opt for their favorite flavors from any nearby stores. With great taste and quality vegan bacon can be a healthy meat substitute for all the meat cravings.
With so many vegan food brands coming together the vegan food industry has shown a sudden hike in growth by 14% in the past 5 years. It's only because they have been perseverant and creative in bringing real meat-like flavors for plant-based meat. It won't be wrong to conclude that these brands are inspiring the young generation to live healthily.
Due to the availability of wide variety of types and tastes vegan bacon has seen exponential growth in the plant based meat industry. Food manufacturers are continuously incorporating vegan bacon in a variety of processed foods which will boost the sales of the vegan bacon in the coming years claimed by Coherent Marketing Insights.
You May Also Like