If you thought oats were limited to whipping up a bland breakfast cereal or pea powder that could only be used to thicken soups, think again. What if I told you that the humble oats and pea powder could be used to whip up deliciously creamy vegan ice cream? Yes, you read that right. I am indeed talking about one of the world's favorite indulgences when it comes to comfort food or simply treating yourself to a mouthwatering dessert.
For those of us who think twice about our calorie intake or are constantly looking for vegan delights, non-dairy ice cream could be the most tempting choice to reach out for. And if you're a health aficionado who thrives on almonds and cashews, let me offer my two scoops of sweet suggestions.
There are several vegan ice cream brands that use almond, soy, or cashew milk to make you feel less guilty when you grab a tub of these exotic flavors. And if you're worried about your carbon footprint, there isn't any better way to raise a spoonful of your favorite plant-based ice cream and enjoy this healthy and sinless delight.
What is Vegan Ice-Cream Made Out Of?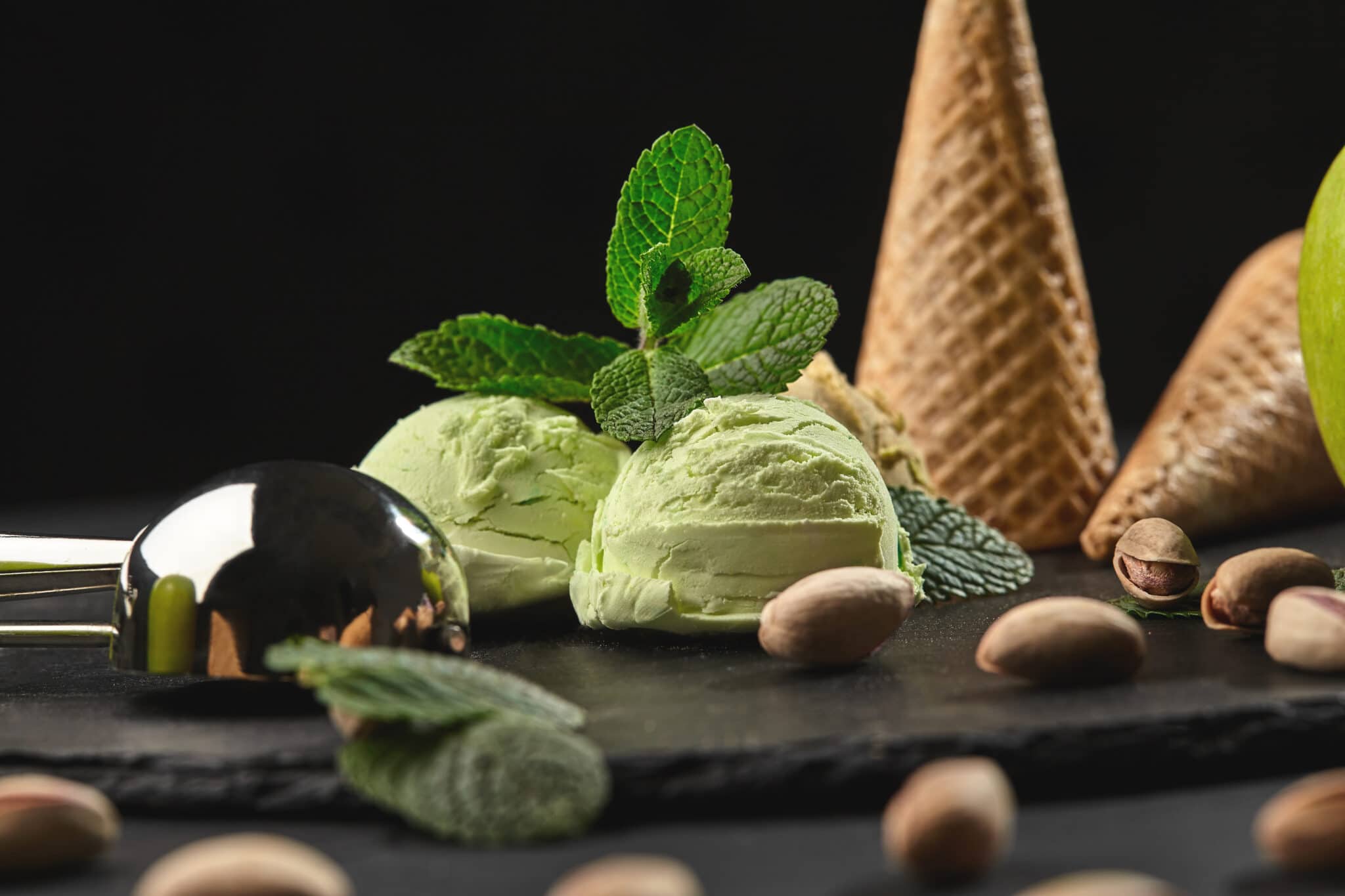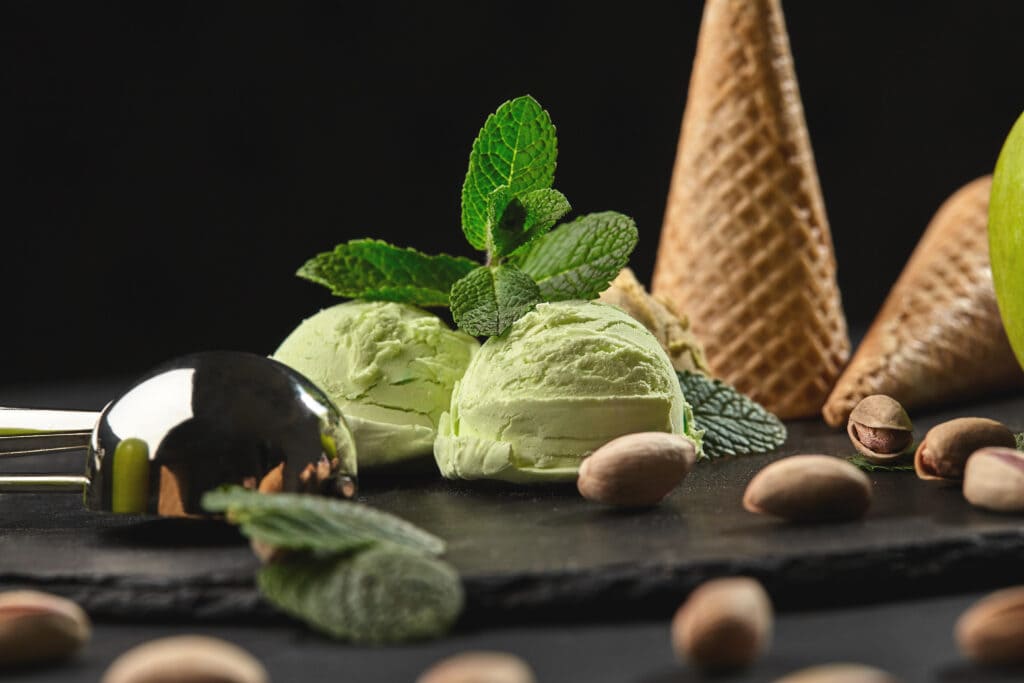 Vegan ice creams are usually prepared with coconut, soy or almond milk. The best vegan ice creams of summer that we all crave for, too utilize the same base to create the luscious, creamy texture. These milk bases tend to be plant-based and contain no traces of animal-derived ingredients.
However, make sure that even if your vegan ice-cream visibly has a coconut milk in it along with eggs, it is dairy-free but not vegan. Hence, it is always advised to check the ingredients of the ice-creams before making the purchase.
What to Look For in a Dairy-Free Ice Cream?
When looking for best store-bought vegan ice cream brands, there are certain things that you should keep in mind.
1. Taste
Before buying any ice-cream, make sure that it appeals to your taste buds. Since, these frozen desserts are an indulgence, their taste matters the most. If you are averse of the flavor or texture, then that brand is not for you. Hence, your preference is the main factor while buying any ice cream flavor.
2. Ingredients Used
Non-dairy ice creams are prepared with various base ingredients. As such, always check the labels and see the certifications like vegan, gluten or soy-free etc., before making the purchase.
3. Texture
The texture of any ice cream is another factor that should be considered before going for any of the best vegan ice cream brands. As such, look for those ice creams that give a thick, smooth texture, not thin or crunchy.
Also Read: 10 Best Vegan Egg Substitutes for Baking or Cooking in 2023
Best Delicious Vegan Ice Creams
You can browse the web and discover various brands, but we have made the task a tad easier by listing the brands offering the best dairy-free ice cream flavors in their vegan avatar. So all you need to do is take your pick, head to the nearest store and dig in!
1. Wicked Kitchen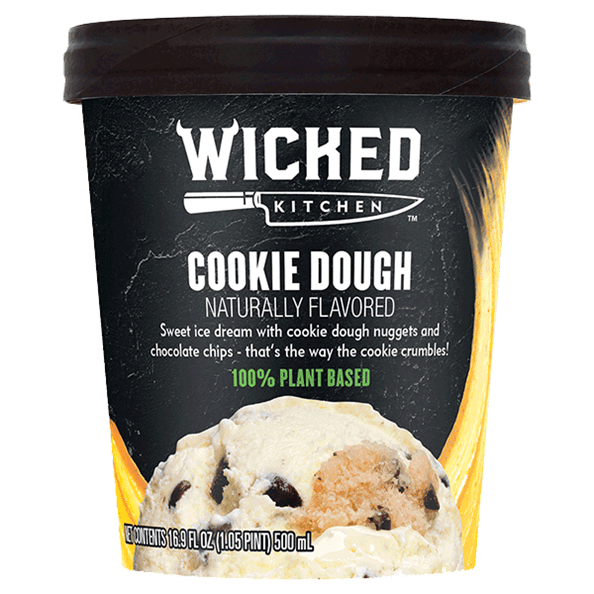 If you're looking to incorporate the goodness of lupin beans into your diet in a deliciously sinful treat, grab a tub of Wicked Kitchen's four varieties of regular flavors or go a step further and opt for one of the three distinctive flavorings it offers. For instance, their chocolate and red berry cones are gluten-free and filled with luscious vanilla ice cream, tangy red berry sauce, and delicious chocolate chips.
There's no easier and sweeter way to enjoy the health benefits of lupin beans, as Wicked Kitchen uses it as the primary ingredient in its plant-based vegan frozen dessert range. You can get your dietary fix of protein, vitamins, and fiber from any of their flavors. So get yourself a cone and eat it on the move.
Base Ingredient: Lupin Beans
Available Flavors: Cookie Dough, Vanilla, Chocolate, Mint Chocolate Chip, Birthday Cake, 3 Berry White Sticks, 4 Chocolate & Red Berry Cones, 3 Chocolate & Almond Sticks, S'Mores Cones
Certifications: Vegan, Dairy-Free, Non-GMO (as stated on the official website)
Best In: Creaminess and thickness
Pros-
Cons- None
Price: $ 6.49
Official Website: https://wickedkitchen.com/
2. Nada Moo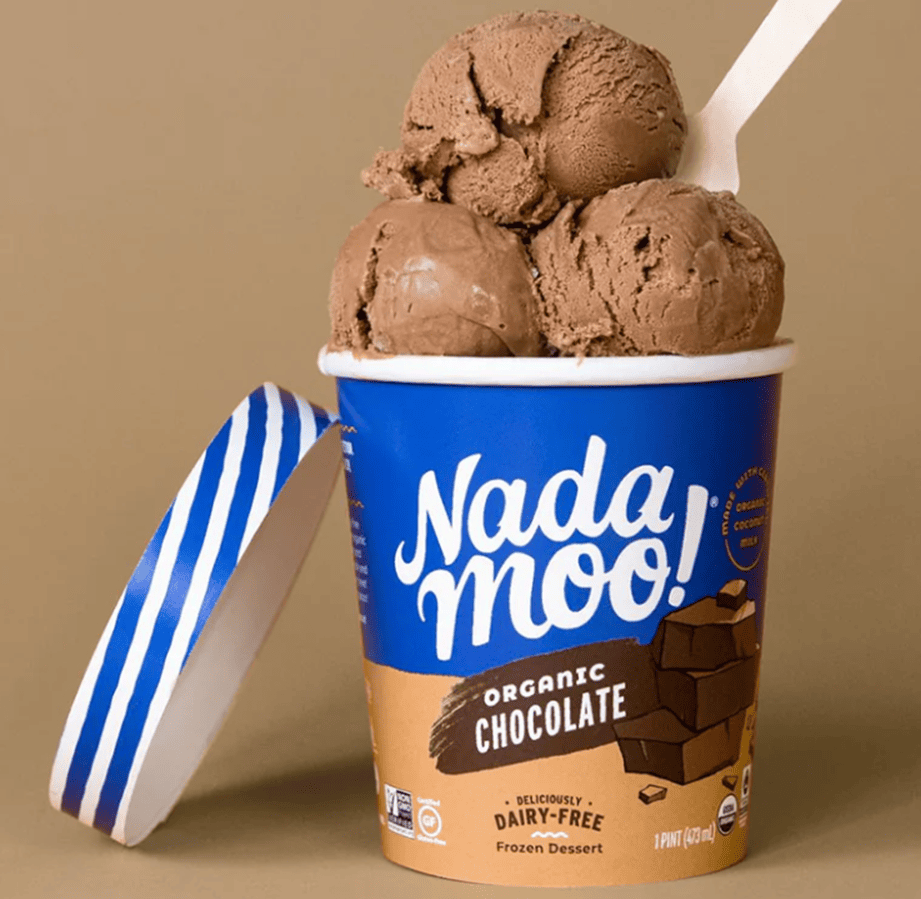 This is an excellent brand of frozen dessert to try if you're looking for something unusual, like coconut milk. To accomplish this, they concentrate on plant cultivation, strive to leave the world in better shape, and share joy with every scoop they serve. They offer a staggering fourteen tastes that are sure to blow your mind. As coconut milk contains no dairy, it's delicious. In addition, unlike soy or almonds, coconuts need nothing more than light and moisture to flourish.
Base Ingredient: Coconut Milk & Agave Nectar
Available Flavors: Organic Chocolate, Organic Chocolate Peanut Butter, Organic Mint Chip, No Sugar Added Mint Chip, Rockiest Road, S'Mores, Peppermint Bark,
Certifications: Certified Gluten-Free, Certified Vegan, Non-GMO Verified, Certified Kosher DE (for dairy equipment, not ingredients)
Best In: Organic Ingredients
Pros-
Cons-
Contains Tree Nuts (Coconuts)
Might taste coconutty to some people
Price: $ 14
Official Website: https://nadamoo.com/
3. Craig's Vegan Ice Cream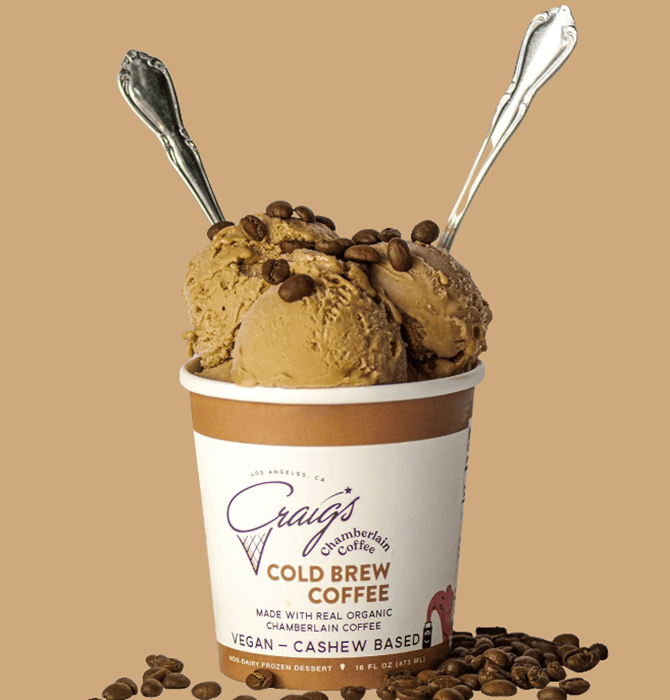 These ice creams are produced with only the finest natural ingredients and quality cashews. These frozen desserts have been certified as non-GMO by the non-GMO project; they are also cruelty-free, kosher, and gluten-free. Craig's and Chamberlain Coffee are a marriage made in heaven because of their unique, out-of-the-ordinary tastes, such as their cashew-based non-dairy frozen dessert and their full-bodied, hand-roasted coffee.
Cold brew coffee was thus created. If you want your coffee with a sweet treat, look no further. It's hard to imagine a finer way to spend a pint of time than with everything you love.
Base Ingredient: Cashew Milk
Available Flavors: Cold Brew Coffee, Perfectly Chocolate, Kursten's PB Krunch, Melrose Mint Chip, Killa's Vanilla, Sunset & Strawberry
Certifications: Certified Vegan, Non-GMO Project Verified,
Best In: Taste and Flavor
Pros-
Non-GMO
Kosher
Gluten-free
Cons-
Contains Tree Nuts (Cashews)
Price: $ 74.99 for 5 Pints & $ 82.99 for 4 Mini Tubs
Official Website: https://craigsvegan.com/
4. Oatly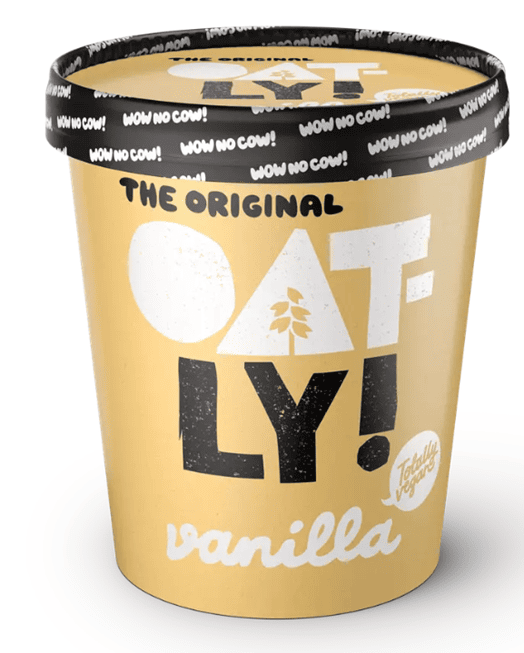 The unsaturated lipids in oats don't function as well as the saturated fats in milk when it comes to firmness, which is vital to remember if you want your ice cream to be fantastic. But, Oatly has found a solution to this issue by including rapeseed and coconut oil, two plant-based wholly hydrogenated fats. Saturated fats are created from these completely hydrogenated vegetable fats. They have 14 delightful variations to choose from.
Base Ingredient: Rapeseed & Coconut Oil
Available Flavors: : Oatly Vanilla Ice Cream, Banana Split Frozen Dessert, Chocolate Chip Frozen Dessert, Raspberry Swirl Frozen Dessert, Fudge Brownie Frozen Dessert
Certifications: Certified Gluten-Free, Certified Vegan,Non-GMO Verified, Certified Kosher D (for dairy equipment, not ingredients)
Best In: Flavor (Vanilla)
Pros-
Non-GMO
Lactose-free
Gluten-free
Cons-
Price: $ 5.79
Official Website: https://us.oatly.com/
5. Cosmic Bliss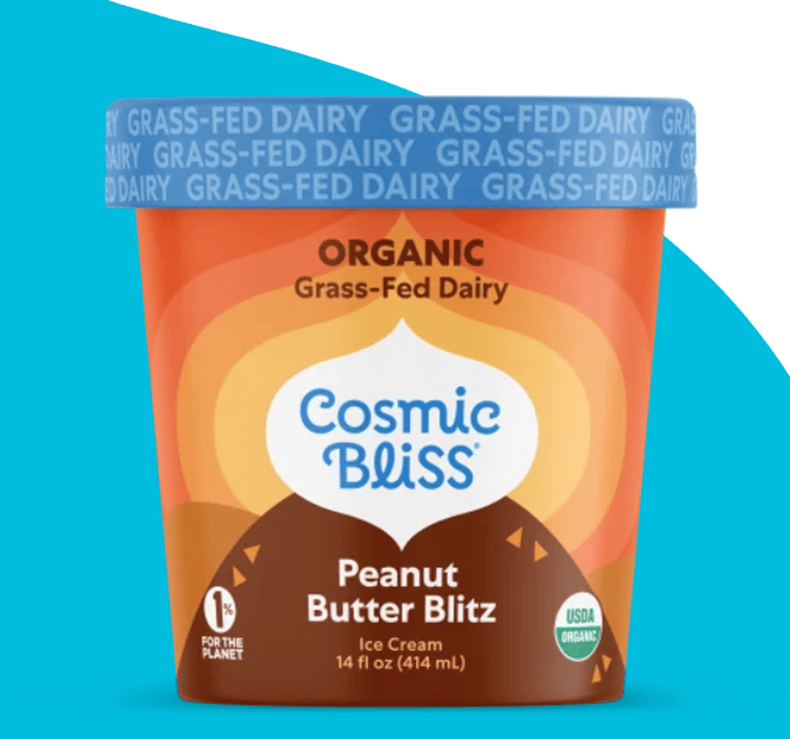 Dairy cows flourish when given enough space to graze. Hence when their milk is used as a primary ingredient in manufacturing ice cream, it is smoother, more delicious, and unlike anything you've ever tasted. Dairy Bliss has finally figured out how to make a satisfying, plant-based frozen delight. There are no added chemicals. Just the best there is in the form of something cold and creamy. You can choose from an array of 20 flavors.
Base Ingredient: Fire Toasted Almonds & Gluten-free Cookies, Organic Coconut Milk
Available Flavors: Peanut Butter Ice Cream, Legendary Cookie Dough, Chocolate Hazelnut Decadence, Chocolate Walnut Brownie, Mint Chip Galactica, Golden Banana Brownie Swirl, Sea Salt Caramel Chocolate, Sweet Cherry Amaretto, Madagascan Vanilla Bean
Certifications: Certified Organic, Certified Vegan, Certified Gluten-Free, Non-GMO Verified
Best In: Taste and Texture
Pros-
Cons-
Price: $ 6.99
Official Website: https://www.cosmicbliss.com/
6. So Delicious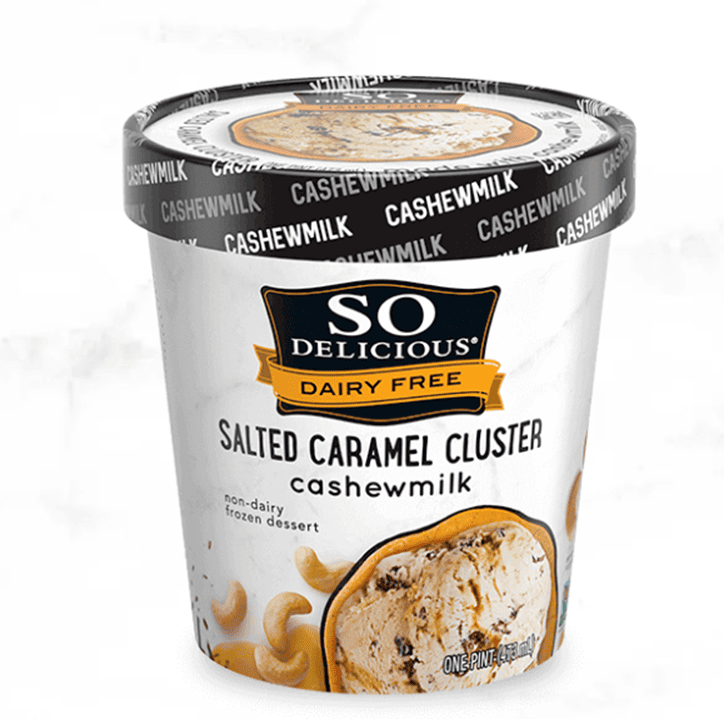 Indulge in uniquely flavored frozen treats. Choose from 12 deliciously different flavors like almonds, cashews, coconut, oats, and soy for a healthy and delicious dessert. Each delightful serving has been verified as non-GMO and vegan and contains no dairy.
Base Ingredient: Cashew Milk
Available Flavors: Salted Caramel Cluster, Chocolate Cookies n Cream, Very Vanilla, Dark Chocolate Truffle, Bananas Foster, Snickerdoodle, Dipped Salted Caramel, Dipped Double Chocolate Delight, Peanut Butter Bar, Peanut Butter Brownie Pint
Certifications: Certified Gluten-Free, Non- GMO Certified, Certified Vegan
Best In: Flavor Profile
Pros-
Gluten-free
Lactose-free
Non-GMO Certified
Cons-
Contains Coconut
Melts easily
Price: $ 4.99
Official Website: https://sodeliciousdairyfree.com/
7. Ben & Jerry's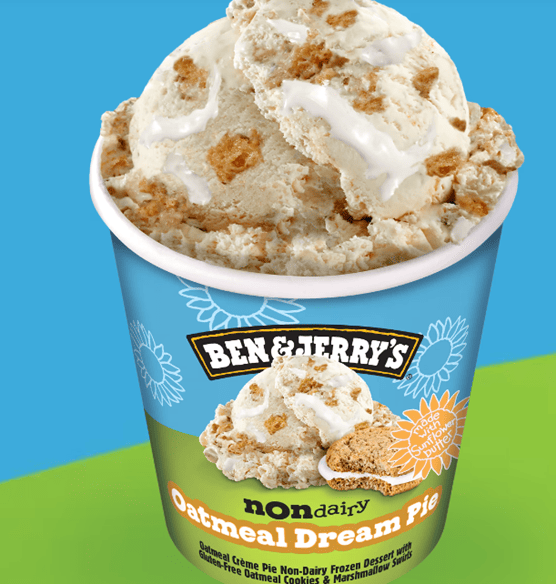 If you're a non-eggetarian, how about a Ben & Jerry's flavorful frozen delight without the milk and eggs? Their non-dairy varieties are vegan and packed with all of your favorite chunks and swirls. You'll discover exciting non-dairy variations of our traditional ice cream flavors. Its creamy, luscious texture, whether from almond milk or sunflower butter, is a beautiful canvas for the wacky inventions of our Taste Gurus. Never before have even the most dairy-free sweets tasted so authentically Ben & Jerry's.
Base Ingredient: Sunflower Butter & Almond Milk
Available Flavors: Ben & Jerry's Oatmeal Crème Pie, Caramel almond brittle, phish food, fudge brownie, chocolate swirl, coffee caramel fudge, peanut butter and cookies
Certifications: Certified Gluten-Free, Non-GMO Verified, Certified Vegan, Certified Kosher- DE (for Dairy-equipment)
Best In: Texture
Pros-
Non-GMO Certified
Kosher-free
Gluten-free
Cons-
Contains Soy
Not as sweet as some people crave in ice creams
Price: $ 4.95
Official Website: https://www.benjerry.com/
8. Noona's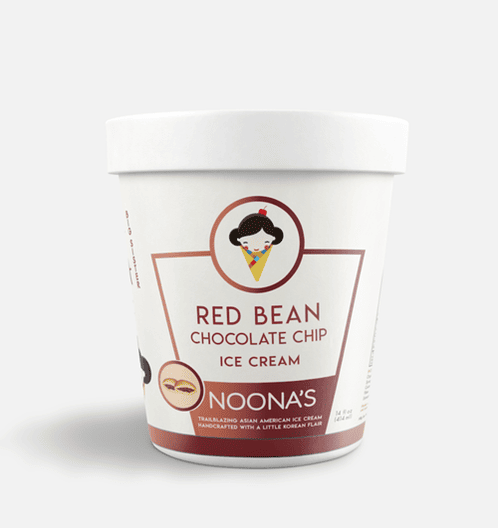 Fresh fragrant non-GMO seeds, spices, and cereals are used in these ice creams. All of their vegan and non-GMO coconut-based alternatives are dairy-free.
The tastes reflect the founder Noona's cultural heritage as an Asian American and vary from traditional to an unexpected burst of flavors. Noona's mission is to provide the community with Asian American tastes that spark discussion, take your taste buds on a blissful ride, and bring you back to reality in a single serving.
Base Ingredient: Organic Matcha Green Tea Sourced from Japan & Organic Ginger Juice, Black Sesame Seeds & Non-GMO Dextrose
Available Flavors: Red Bean Choc Chip, Pandan with Palm Sugar Coconut Crunch, Thai Iced Tea, Taro, Toasted Rice, Matcha Green Tea, Black Sesame, Turmeric Honeycomb "Little Miss Sunshine", Yuzu Blossom
Certifications: Completey Vegan, non-GMO ( as stated on the official website)
Best In: Texture
Pros-
Dairy-free
Non- GMO Certified
Soy-free
Nut-free
Cons-
Price: $ 12
Official Website: https://www.noonasicecream.com/
9. EatMud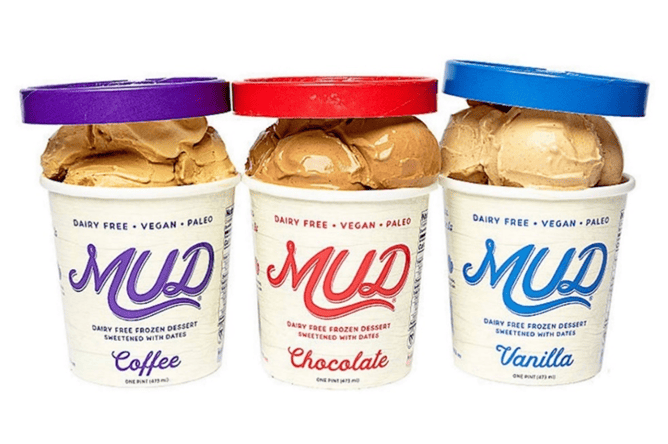 If you're careful about what you pop into your mouth or watch your weight every time you have a bowl of dessert, this brand offers sugar-free vegan ice cream! You don't have to say no to ice cream, as you can now enjoy the world's most craved frozen dessert with no added sugars. This is your go-to ice cream, as it's naturally sweetened with dates and fruits.
Base Ingredient: Acacia Beans
Available Flavors: Coffee, Chocolate, Vanilla
Certifications: Certified Vegan, Certified Paleo, Non-GMO Verified
Best In: Healthy Vegan Ice Creams
Pros-
Dairy-free
No Added Sugar
Sugar-free Variant Available
Cons- None
Price: $ 6.99 – $ 7.99
Official Website: https://eatmud.com/
10. Doozy Pots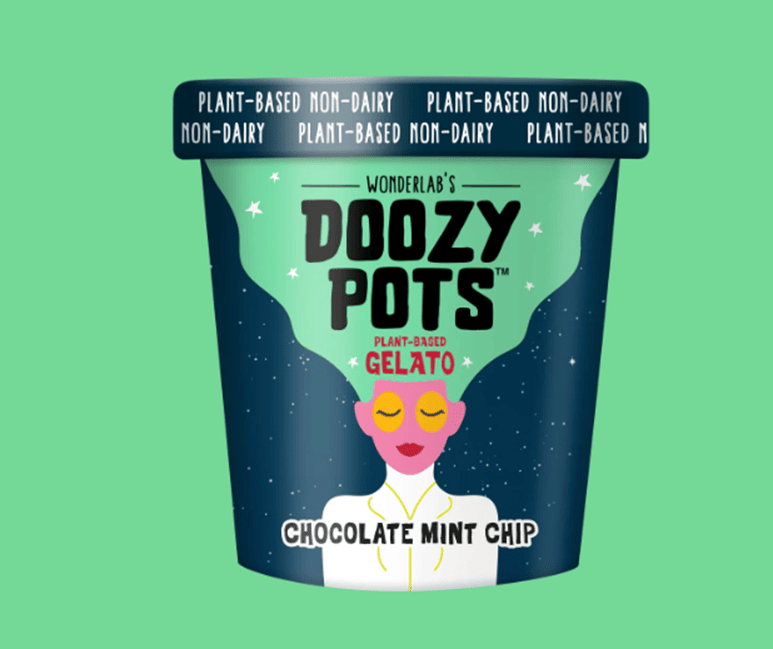 To Team Doozy, it's all about the food: how it makes us feel, affects the earth, and impacts our health. Using carefully chosen plant-powered champions, they create ice creams that are delectable, wonder-filled, and sustainable with the help of an inventive spirit and culinary creativity. You can take your pick from 4 distinctive flavors.
Base Ingredient: Organic Oats, Tapioca Fiber & Organic Hemp Seed Protein
Available Flavors: Chocolate Mint Chip, Banana Cinnamon Date Swirl, Chocolate Raspberry Swirl, Smooth Coffee
Certifications: None
Best In: Richness and Creaminess
Pros-
Cons-
Does not have any certifications
Price: $ 6.99
Official Website : https://www.wonderlabdoozy.com/
11. Tofutti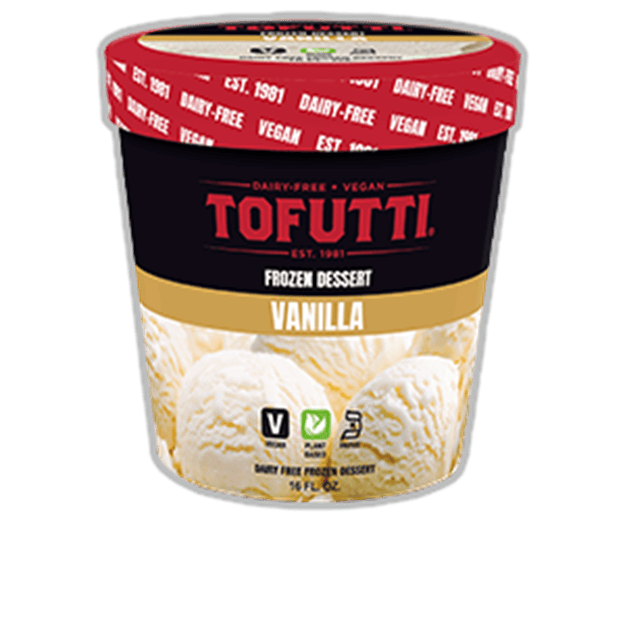 Since 1981, people have been ecstatic about Tofutti's dairy-free frozen desserts and cheeses. Nowadays, people from all walks of life may find dairy-free options at Tofutti. Indulge your taste buds with the goodness of these natural vegan ice creams from one of the healthy vegan ice cream brands.
Base Ingredient: Non-GMO Tofu & Soy Protein
Available Flavors: Vanilla, Wild Berry, Better Pecan, Chocolate, Vanilla Almond Bark, Vanilla Fudge
Certifications: Certified Kosher Pareve
Best In: Creaminess
Pros-
Dairy-free
Non-GMO
Cholesterol-free
Fat-free
Cons-
Price: $ 6.49 for Sandwich & $ 5.49 for Pint
Official Website: https://www.tofutti.com/
12. Mauna Loa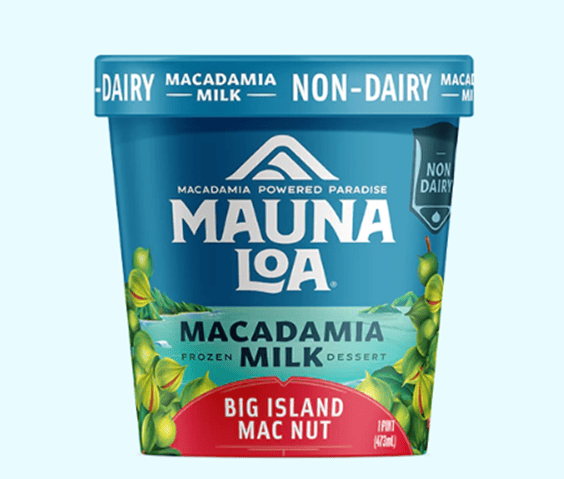 Whether it's a better health-conscious version of you or a better treat you're looking for, you'll find it in this pint of creamy, dairy-free macadamia nut milk vegan ice cream filled with the delightful plant-based power to catch what you desire. Unique tastes like those found in Hawaii and refined takes on old favorites can be found in their range of flavors.
Base Ingredient: Macadamia Nut Milk, Sunflower Lecithin & Coconut Cream
Available Flavors: Big Island Mac Nut, Moloka'I Sea Salt Caramel, Mango Liliko'I, Strawberry Guava, Kona Coffee, Rocky Road to Hana, Vanilla Orchid, Vanilla Chocolate Chip, Chocolate
Certifications: Certified Vegan, Non-GMO Verified, Kosher Certified
Best In: Taste and Texture
Pros-
Cons- None
Price: $ 9.99
Official Website: https://www.maunaloa.com/
13. Breyers
This brand uses almond milk in their non-dairy frozen desserts, so they still taste rich and creamy. You may try some of their new varieties, like Chocolate Chocolate Chip or Mint Chocolate Chip, or stick with the tried-and-true Vanilla Peanut Butter.
Base Ingredient: Oatmilk & Real Almonds
Available Flavors: Non-Dairy Vanilla, Non-Dairy Cookies & Crème, Non-Dairy Mint Chocolate Chip
Certifications: Certified Kosher
Best In: Creaminess and Texture
Pros-
Dairy free
Non-GMO
Gluten-free
No Added Sugar
Low-Cal & Low-Carb (only 4g)
Cons-
Price: From $ 6.89
Official Website: https://www.breyers.com/
14. Alden's Organic Ice Cream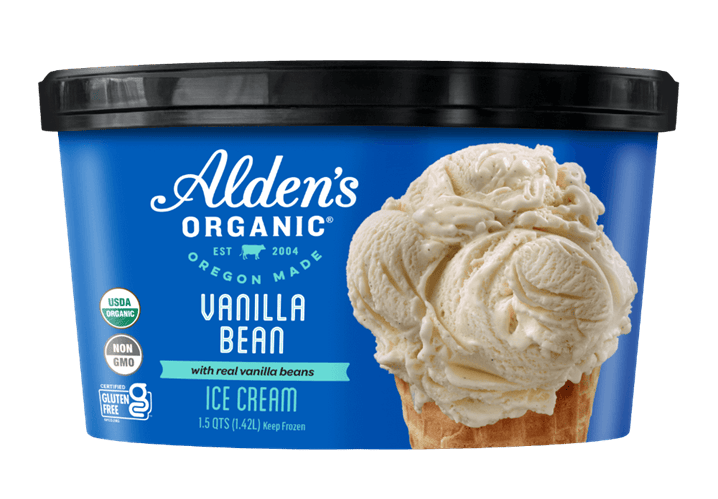 Their new dairy-free recipe will surely please even the most skeptical of dairy-free sceptics. Brown rice, pea protein, and coconut oil are other ingredients in their formula. They've been buying organic milk and cream from small farms since 2004.
Base Ingredient: Palm Oil & Organic Inulin
Available Flavors: Alden's Organic Vanilla Bean Ice Cream, Dairy Free Gluten Free Vanilla Bean Round Sammie, Dairy-Free Dark Chocolate Almond Bar, Dairy-Free Dark Chocolate Vanilla Bar, Dairy-Free Coffee Swirl, Dairy Free Key Lime Round Sammie, Dairy-Free Strawberry Lemonade Bar, Dairy-Free Caramel Drizzle Round Sammie, Alden's Organic Blackberry Fruit Bar
Certifications: Kosher-free Certified, USDA Certified Organic, Certified Vegan, Non-GMO
Best In: Taste
Pros-
Dairy free
Gluten-free
No Added Sugar
Cons-
Price: $ 7.99
Official Website: https://aldensicecream.com/
15. Clementine's Naughty And Nice Creamery Vegan Pints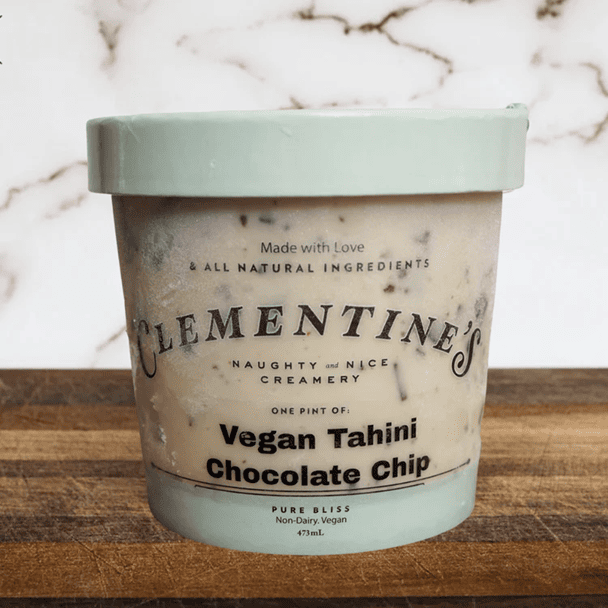 The best ingredients are used in every bite of their delectable small-batch masterpieces. They begin with the finest creams and then blend in flavours from some of the best breweries, bakeries, distilleries, and restaurants in St. Louis. Lastly, they add tonnes of love to produce smooth, velvety sweets. They insist on little overrun (less than 30 per cent air), an all-natural base, more than 16 per cent genuine, luscious butterfat, and plenty of love and care in every batch of ice cream they churn.
Base Ingredient: Luscious Butterfat
Available Flavors: Vegan Tahini Chocolate Chip, Vegan Peanut Butter Chocolate Chip Cookie, Vegan Vanilla Bean, Vegan Coconut Fudge, Vegan Lemon Poppyseed
Certifications: Completely Vegan (as stated on the official website)
Best In: Flavor Profile
Pros-
Dairy free
Gluten-free
No Added Sugar
All Natural Base
Cons-
Some found cookie dough to be oversalted
Price: From $ 15.00 USD
Official Website: https://www.clementinescreamery.com/
Are All Vegan Ice Cream Brands Healthy?
For those who are lactose intolerant, vegan ice creams can be the right dessert. As it is dairy-free, you don't have to worry about falling ill after consuming it. But it would be wise to eat it in moderation. And if you keep track of your daily calorie count, these vegan sweet delights can help you to watch those shapely curves while taking you on a guilt-free "dessert safari."
You must be wondering that whether all vegan ice cream brands are healthy or not. This is a question that springs to mind to even those of us who care two hoots when it comes to food, particularly soul food. And I might even get to see the not-so-sweet side of you if I tell you that all brands are not healthy. But let me point out a few aspects so that you can decide for yourself which ones are the best vegan ice cream brands.
Some brands may use stevia or sugar alcohols, which might not be healthy if you have certain health complications. Certain brands could have a high amount of sugar as well.
If you have diabetes, choose a flavor or brand that has less than 10 grams of sugar.
Some of these ice creams are high in saturated fats. Try to go for a brand that has less than 5 gms of saturated fats.
Certain brands may come in a calorie-dense form. Choose a low-calorie option of 100gm or lesser calories per serving.
Read the labels carefully and select your go-to flavor when it comes to best store-bought vegan ice cream brands. But exercise a little bit of caution as it will let you enjoy your scoop of frozen dessert without any guilt complex.
Quick Facts Table
| | | | | | |
| --- | --- | --- | --- | --- | --- |
| Number of Flavors | Features | What Makes It Different | Available in | Unique Ingredients | Price |
| Wicked Kitchen | Dairy-freeNon-GMO | Made using Lupini Beans | TubsSticksCones | Gluten-free Corn | $ 6.49 |
| Nada Moo | Dairy or lactose freeNon-GMO | Made from Coconut Milk & Agave Nectar | Tubs | Organic ingredients like tapioca syrup, inulin, cocoa powder, guar gum & seasalt | $ 14 |
| Craig's Vegan Ice Cream | Lactose freeNon-GMOKosher-free | !00% creamy Cashew Milk | Tubs | Invert Sugar, Coconut Oil & Himalayan Sea Salt | $ 74.99 for 5 Pints$ 82.99 for 4 Mini Tubs |
| Oatly | Lactose-freeNon-GMOGluten-free | You can take it out from the Freezer and eat it stratighaway | TubsBars Soft Serve | Oatmilk, Molasses & Diglycerides of fatty acids | $ 5.79 |
| Cosmic Bliss | Lactose freeNon-GMOGluten-free | Organic Certified Coconut Milk procured from Sustainable Farming | TubsBars – Crunch & SwirlCookie Sandwich | Fire Toasted Almonds & Gluten-free Cookies | From $ 6.99 |
FAQs
1. What ingredients do vegan ice cream makers use?
Answer: In substitute to its dairy counterpart, Nondairy ice cream is manufactured using plant-based dairy milk rather than animal milk. To everyone's relief, vegan ice cream has advanced considerably from its soy milk roots. Vegan ice creams using nondairy milk, including oat, almond, and coconut, are increasingly widely available.
Now you can even get vegan ice cream made with avocados and chickpeas. In the past, you could only get primary dairy-free ice cream flavors. Still, after what can only be characterized as the Vegan Dark Ages, we are experiencing the Renaissance of vegan ice cream tastes.
The freezer sections of grocery stores are now stocked with vegan ice cream in decadent flavors like cookie dough, mint chocolate chip, cookies and cream, and even Rocky Road.
2. What are the health benefits of vegan Ice creams?
Answer: To meet their dietary needs, vegans must depend more on nutritious grains and vegetables than those who eat meat and dairy. Vegans get more fiber, potassium, magnesium, and vitamins A, E, and C than those who eat a traditional Western diet, which is sufficient in vitamin B12, iron, and calcium.
Vegan diets, by their very nature, help people cut down on their calorie consumption. The food limitations mean that staples like pizza and burgers can no longer be ordered for delivery. Vegan ice cream, like regular ice cream, maybe less caloric if the vegan is limited in the toppings they can use.
Eating many fresh fruits and vegetables may reduce your chance of developing heart disease. Several studies have shown that vegan diets work better than other diets at lowering both blood sugar and total cholesterol. For example, oat milk is often lower in calories and fat than regular dairy milk because it is less processed.
Dairy products are a good source of many nutrients, but they have also been linked to more inflammation and even making conditions like acne worse. Consider also the over 75% of the adult population with lactose sensitivity or intolerance. Vegan diets, which depend only on plant-based sources of protein and minerals, have been found to reduce inflammatory responses and may even improve specific RA symptoms.
3. How does vegan ice cream affect the environment?
Answer: Vegan ice cream is healthier for you, the planet, and the animals than regular ice cream. One of the most important things people do to cause global warming is to raise animals for food. Vegan ice cream is delicious and refreshing and won't harm the environment. It's also available in a wide variety of tantalizing flavors. Alter your ice cream diet to include vegan options.
Greenhouse gases are released from the digestive systems of animals, including cows. We should be particularly concerned about methane. Compared to carbon dioxide, methane is 84 times more effective in trapping heat above the surface of the Earth. Methane, unlike other greenhouse gases, diffuses rapidly into the atmosphere. As a consequence, our atmosphere is warming up more quickly and dramatically.
4. Can vegan ice cream have a delightful flavor?
Answer: Handmade vegan ice cream may or may not have the same flavor as dairy ice cream, but store-bought vegan ice cream will always taste like dairy ice cream because of both additives.
Flavor, sweetness, acidity, melting softening temperature, natural taste, degree and kind of sweetness, tartness, depth or simplicity of background flavors, color, any solid non-frozen non-meltable components, and mouth feel are all aspects of ice cream that may be manipulated by the maker (cookies, nuts, etc.)
Which is better: soft serve, firm frozen, or mixed into a smoothie or milkshake? Then there are ice creams such as sorbets, gelatos, sherbets, and spumonis. Regarding preferences, all of those mentioned above are subject to change.
The creaminess of the flavor depends on the proportion of vegetable fats to water, the iciness of the texture to the amount of water used, and the air whipped into the mixture before it was frozen; the better the whipping, the smaller the ice crystals, and the less similar they will be to a snow cone.
5. Is there a link between the vegan ice cream melting quicker?
Answer: In contrast to ice cream made with dairy, vegan ice cream melts more quickly. Vegan ice creams may taste and feel quite similar to their dairy counterparts because they use inulin and potato proteins to substitute milk proteins; nevertheless, these ingredients cannot keep the ice cream's structure and form stable as the temperature around it changes.
When calculating how quickly ice cream will melt, it is also essential to consider the ice crystals' size and regularity. Vegan ice cream melts more quickly than dairy ice cream because its components can't keep their shape when the ice cream melts. This is because the absence of animal proteins in vegan ice cream causes its crystals to form more consistently, which at first helps reduce the melting of vegan ice cream.
As a result, vegan ice cream takes longer than regular ice cream to melt when removed from the freezer, but once the thawing process starts, it speeds, and you'll have a soupy dessert sooner than you would prefer.
6. What is the best vegan ice cream?
Answer: The best vegan ice cream brands should have lesser or zero added sugar, the least number of ingredients and saturated fats, and no trans fats or artificial flavors. It makes sense to choose one made wholly with organic ingredients. But do make an informed choice.
As many vegan ice creams are made with almond, coconut, or oat milk bases and use fewer or no artificial sweeteners, you may feel justified in eating many scoops, pints, or cones at once. Nevertheless, not all dairy-free ice creams are made equally, and some are considerably superior to others in terms of flavor and nutrients. No matter how impressive its ingredients list, even the healthiest plant-based ice cream should be savored in moderation.
Even though this new ice cream is natural, healthy, buttery, mildly flavored, and creamy in texture, it remains an ice cream and should be enjoyed in small amounts. Even if it's a plant-based frozen dessert, you shouldn't devour the whole pint in one sitting.
7. What is the best-tasting plant-based ice cream?
Answer: Since ice cream fans have wildly varying tastes in the best-tasting plant-based ice creams, there are three factors to consider — flavor, ingredients, and texture for both traditional and novel ice cream flavors. In a blind-tasting test, a vegan ice cream's flavor should stand out clearly and not be too sugary or mushy.
A full scoop shouldn't leave you feeling like you need to run to your dentist. When it comes to texture, a superb vegan ice cream ought to taste and feel much like its high-quality dairy counterparts. Vegan ice creams shouldn't become icy or sticky after being frozen. One should steer clear of vegan ice creams loaded with emulsifiers and sugar alcohols like glucose and corn syrup.
Your vote should be in favor of those with a shorter list of ingredients and more whole foods.
8. What kind of ice creams can vegans eat?
Answer: Vegans can go for plant-based ice creams and ones made with organic ingredients like fruit purees, nut milks, and oat milk. The creamy texture of nut milks adds to the silky smooth consistency of vegan ice creams. But do be careful about whether the flavor and brand chosen by you contain trans fats, cholesterol, added sugar, or artificial flavors.
Our Top Picks
| | | |
| --- | --- | --- |
| Name of Brand | What We Like | What We Don't Like |
| Ben & Jerry's | Goodness of Sunflower ButterDE Kosher Certified | Might not meet your sweetness quotient |
| So Delicious | Thick & Creamy TextureGoodness of Cashews | Melts rapidly |
| Oatly | Soy-freeCreamy Oat Milk Base | Subtle taste & flavor |
| Nada Moo | Creamy TextureAll organic ingredients | Not too flavorful & Most Expensive in the above-mentioned list |
| Cosmic Bliss | Made with Creamy Coconut Milk & Gluten-free Cookies | Expensive |
| EatMud | Available in sugar-free variantNutritional benefit of Acacia Beans | Pricey |
Conclusion
Whether you're looking to celebrate a happy occasion or simply curl up on the sofa and watch your favorite sitcom, a bowl of vegan ice cream can pep up your mood. And if you're one who likes to sweat it out before rewarding yourself with a sweet treat, a scoop of plant-based vegan ice cream or vegan protein shakes in your preferred flavor could refresh you after a session at the gym or at home.
You can even make it at home or top up your bowl of ice cream with a generous helping of fresh fruits, seeds, and nuts. But do remember to keep the serving size small as you wouldn't want to spend extra hours to shed those unwanted love handles that might soon show up due to your extra helpings of the vegan delight.
You might argue that there's always extra room for more ice cream in your tummy, so it makes sense not to listen to your heart once in a while. And this might often be your situation when you're contemplating to dig into a pint of the best vegan ice cream along with some vegan heavy cream brands of summer. Indulge in the sweet concoction but remember to do it in moderation.
You May Also Like