Beeswax is a hive construction material for honeybees to manage their larvae and store food. Removing this organic matter for human consumption makes the upkeep of hives harder on bees and is therefore considered exploitative and not vegan-friendly.
Even though beeswax is not vegan, is the impact of harvesting beeswax really that cruel? In this post, I break down the ethical considerations of the beeswax industry to decide if you want to actively support this bee product.
How is beeswax made and harvested?
Beeswax for hives is the equivalent of plaster, timber, and bricks for property structures. And like humans, bees produce their building materials—but they go about it their unique way.
Female worker bees turn honey into wax by huddling together and increasing the temperature in the hive. When the temperature reaches the right level, the wax glands in their abdomen convert the sugars to wax before secreting through tiny pores from their abdomen. Imagine doing that to create building materials!
To produce a pound of wax, bees need to ingest 6-8 pounds of honey. What's more, bees need to visit an estimated 30 million flowers to produce a pound of wax.
The wax is used to store honey, pollen (bee bread) and eggs. But as bees make a small amount of wax relative to honey, they use a hexagonal honeycomb shape to get maximum storage using the minimum amount of wax. Very efficient indeed.
Once the bees have worked hard to create wax structures in the hive, that's where human intervention comes into play.
Beekeepers will scrape the wax and honeycomb off the frame using specific equipment or simple tools like a spatula. This mixture will often include other parts of the hive, including bee pollen.
The next step is to melt down the comb, wax, and pollen using a double boiler. The honey will settle at the bottom, and the wax will separate at the top. Once cooled down, the wax will solidify, at which point you can scrape off and use it.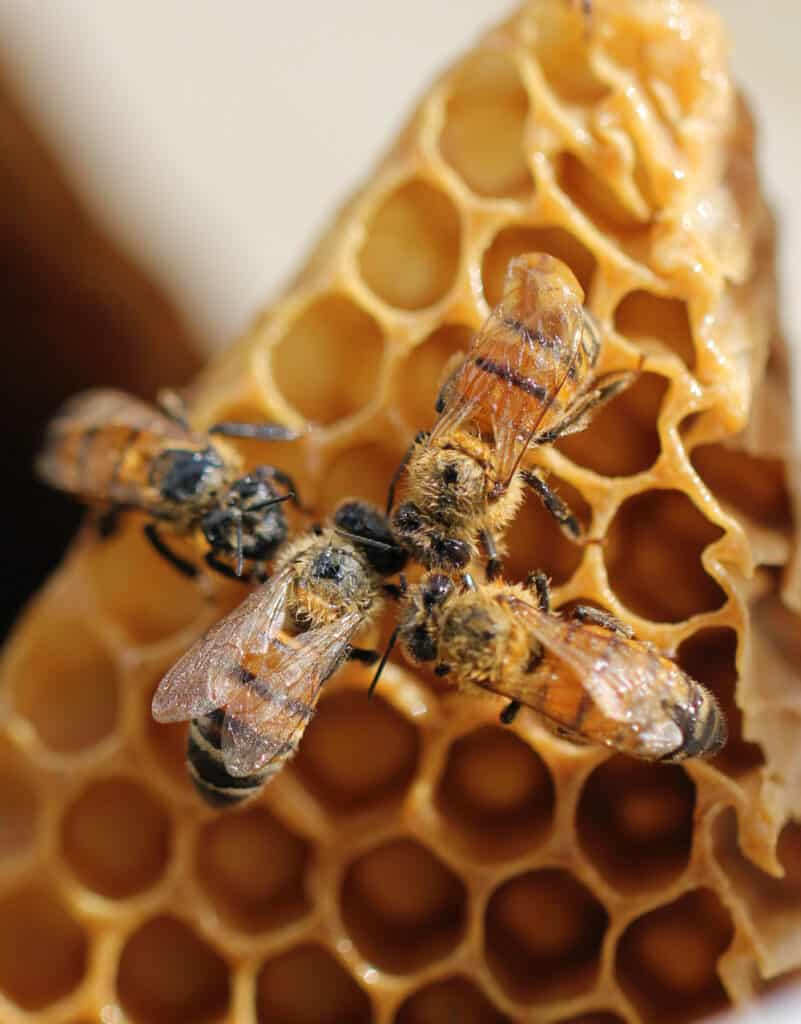 The commercial impact of beeswax
Humans have been using beeswax as a consumer ingredient for thousands of years. Fast-forward to recent times, beeswax is a 525.1 million dollar industry and is projected to reach 653.1 million by 2026.
Beeswax can be found in many goods ranging from packaging, candles, beverages, shoe polish, surgical material, skating, and cosmetics and personal care, which represents the largest segment in the wax industry.
Admittedly, beeswax is a natural alternative ingredient to harmful petroleum-derived plastics. It's why eco-conscious folks would rather pay a little more to purchase beeswax candles over cheaper conventional candles made from toxin chemicals.
Beekeepers, both small and large, have a couple of options to make revenue (or some sort of return) from their hives, including:
Making honey
Bee pollen
Propolis
Selling their bees
Pollination services
Beeswax
Keepers will tell you that the wax business only makes commercial sense if you're dealing with hundreds if not thousands of hives, as the wax portion of the hive is light in comparison to honey.
So while beeswax is usually labelled as a honey byproduct, it's actually a co-product of beekeeping—much like how leather is a co-product of beef. It comes down to what the keepers want to do with their hives.
Is beeswax vegan-friendly?
To answer this question, we need to ask ourselves, "is beeswax fundamentally essential or necessary?"
For one, there are certainly benefits to using beeswax in human consumption. You're probably already aware of how beeswax is a key natural ingredient in cosmetics and skincare products.
But are the added benefits of using beeswax make it necessary? I'm not convinced. There are plant-based alternatives that achieve comparable results without the need of taking honeybees resources. More on that in the next section.
There's a better argument to be made that fish are more essential to some folks in remote villages that need to eat fish for sustenance—yet as vegans who can choose, choose not to consume fish for ethical reasons.
There are claims that there are benefits to eating eggs or wearing wool to keep yourself warm. But again, vegans, we find alternatives and continue to thrive.
My life hasn't changed one bit since becoming vegan in 2014, and I gave up beeswax. The same goes for my wife, Maša, who had much more experience than me using beauty products with beeswax.
We've written about the ethical complexities of consuming resource-heavy plants like avocado and almonds dependent on migratory honeybee pollination due to large monocropping farms. While there are more ideal ways to approach farming, bees are responsible for pollinating most plant-based foods we need for survival.
Omitting the consumption of beeswax isn't going to kill anyone—so why use it? Remember, bees need to visit 30 million flowers to produce just one pound of wax.
Below I'm going to show you how easy it is to identify plant-based alternatives to beeswax.
Read more: Is Honey Vegan? The Definitive Guide
Vegan and eco-friendly beeswax alternatives
There's a misconception that you compromise sustainability by using plastic in an attempt to support vegan options. While this is true in some instances, we believe in trying your best to be a mindful consumer and support cruelty-free, toxin-free and fair-trade ingredients and practices.
Unfortunately, meeting these standards can be expensive and inaccessible at times. Until demand reaches critical mass, the supply costs will continue to be high.
Luckily, with beeswax, there are 100% natural plant-based alternatives that don't require us to take the home structure away from the hardworking honeybees. Below are six of the most sustainable and effective vegan beeswax alternatives.
1. Rice bran wax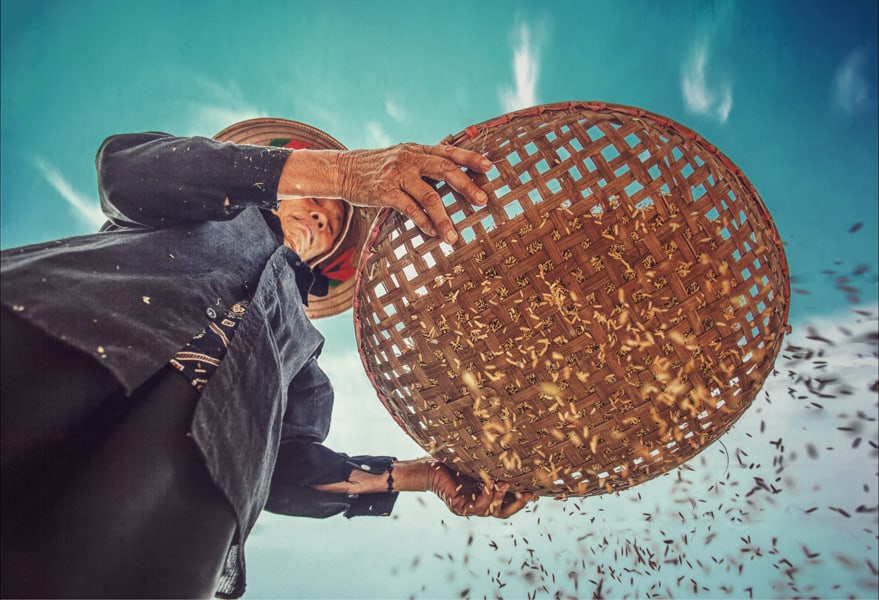 Rice is the most popular crop on the planet, with half of the global population relying on it as a food source.
To harvest a rice grain, it needs to go through processing, which removes the cracked rice, rice husk and rice bran.
You might be familiar with rice bran cooking oil. Well, rice bran can also be melted down and solidified into a sustainable wax source. Turning rice bran into oils and waxes instead of throwing them away is a resourceful way to take advantage of this historically prolific crop.
Applications of rice bran wax include balms, lipstick, body butter, lotion bars, ointments, mascaras, creams, and hair pomade.
2. Berry wax
Toxicodendron vernicifluum, more commonly known as the Chinese or Japanese Lacquer tree, is a native plant in Asia and the subcontinent of India.
The tree sap is typically used to create lacquer to coat products like instruments, tabletops, and jewellery. What's remarkable is this tree also produces berries, and wax can be made using the berry peels.
The soft nature of the wax makes it perfect for lipstick, lip balms, and mascara.
3. Candelilla wax
Candelilla wax comes from a small shrub in Northern Mexico and the Southwestern regions of the United States.
Referred to as the candelilla shrub, the name represents "little candle", as this was the first product made from the plant properties.
In nature, as a defence mechanism against severe weather conditions in the desert, the shrub develops a thick layer of wax on its leaves and stems for protection.
Wax is made by boiling the plant, which separates the natural wax for processing.
Applications include crayons, paints, varnishes, polishing, pharmaceuticals, lotions, balms and of course, candles.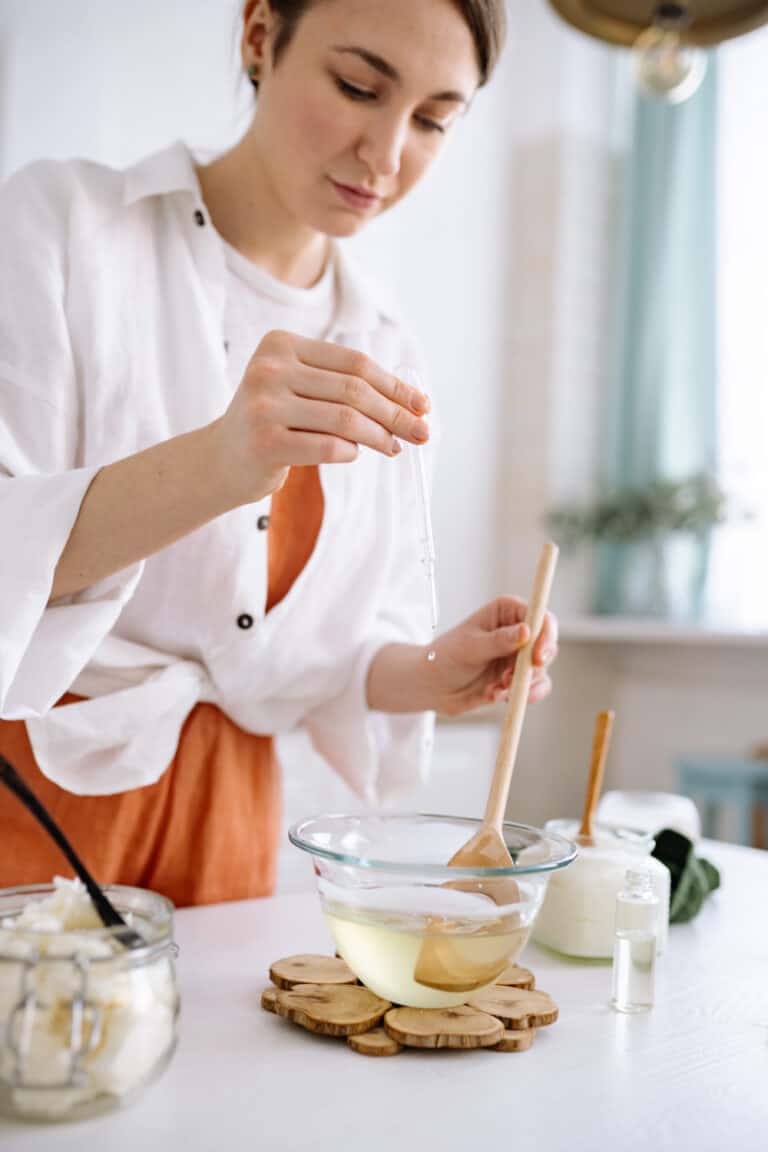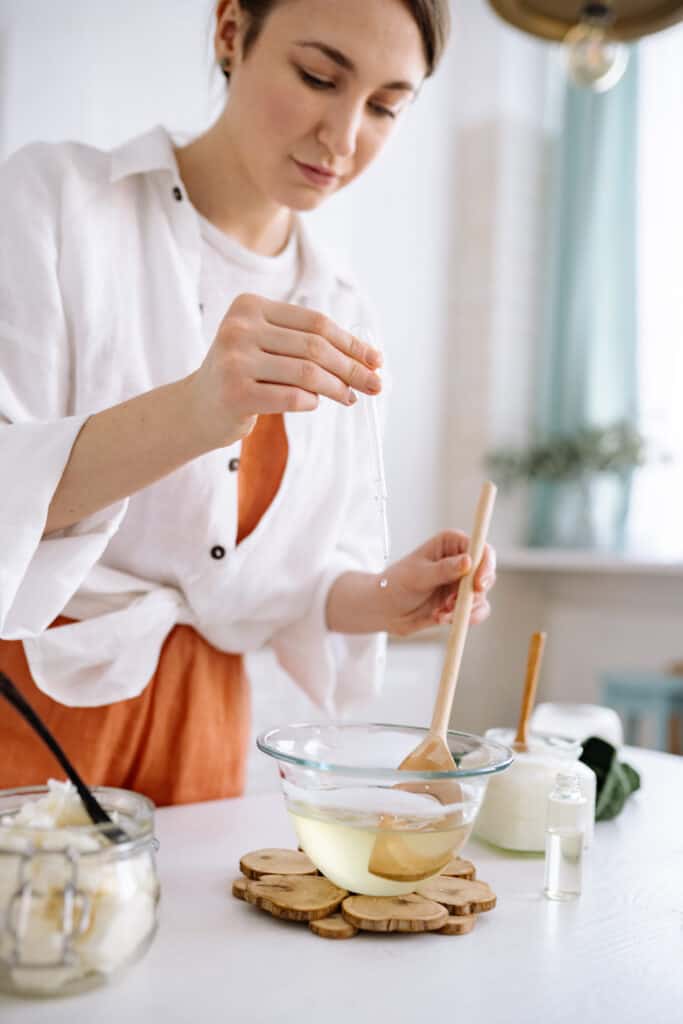 4. Carnauba wax
Carnauba wax comes from the leaves of the carnauba palm tree, native to the Northern areas of Brazil.
Like the candelilla shrub's functions, the carnauba tree develops natural waxes for protection against sweltering and humid climates.
Wax is extracted by gathering, drying and crushing the leaves. The carnauba tree produces up to 60 leaves, and only 10-20 leaves are harvested to ensure the plant's growth isn't stunted.
The application includes coating on confectionery products, the binding agent in chocolate and candy, lipstick, mascara, eyeliner, eyeshadow, and deodorant.
5. Myrica fruit wax
Myrica fruit wax is derived from Morella Cerifera, a large berry bush native to the East coast of the United States. Also known as Candleberry, candle bush or Bayberry, it's a fast-growing shrub found on most continents.
The tiny fruits have a natural powdery wax coating which is extracting through boiling, separating and extraction.
The wax yield is one of the highest of any plants, making bayberry a popular source for candle making.
Applications include candles, soaps, balms, medicinal ointments, moulding and leather polish.
6. Sunflower wax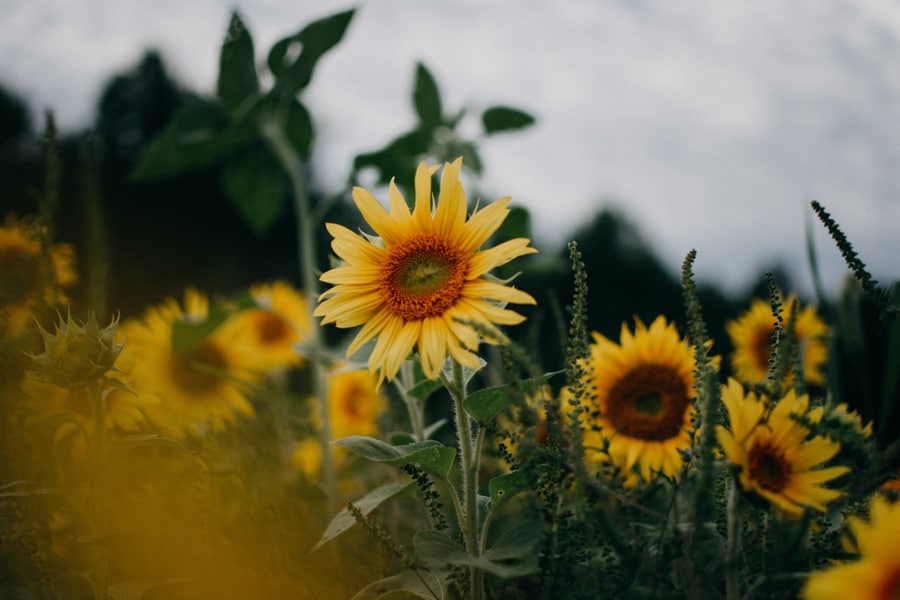 We know of sunflowers as the stereotypical pretty yellow flower that represents summer around the world. But beyond the beauty of this plant, we harvest sunflower seeds to eat or turn them into oil, which can then be turned into wax. Pretty resourceful, right?
Sunflower wax is white in colour and relatively odourless, making it an attractive alternative to beeswax.
Applications of sunflower wax include massage butter, mascara, balms, foundation and various hair care products.
If you want to learn more about organic plant-based beeswax alternatives, I strongly encourage you to read Vegan Waxes For Organic Formulations. The author also explains why other plant waxes derived in soy, hemp, and avocado aren't technically waxes but instead hydrogenated oils.
And if you're struggling to find quality vegan cosmetics, browse through our list of the best vegan beauty brands. One of my favourites on the list is Hurraw! lip balms. They use Candelilla wax instead of beeswax, and I've used their balms for almost six years.
Perhaps it's time for us to mind our own beeswax?
Beeswax is a co-product of the honey and beekeeping industry, and while it has some benefits, it's not necessary.
There are a bunch of eco-friendly and vegan alternatives, so why not leave the bees' construction material alone?
Let me know what you think in the comments below.