The courageous folks behind the minimalist blogs in this post got me thinking about the complexities of life.
In fact, these creators inspired my wife and me to start The Minimalist Vegan as we saw the impact a blog could have on the way people live.
There's a good mix of minimalists, creatives, and productivity specialists on this list. However, the underlying theme for all of these publishers is the concept that less is more.
They all ask, "how can I live a simpler and more meaningful life?" It's a great question and a question we should all be asking ourselves.
Under each section, I've added links to my favourite articles on minimalism for each website.
It's worth noting that the blogs on this list are prolific publishers. They've been blogging for over a decade consistently and regularly produce new content for their readers—yes, even this year.
I hope you discover some new resources that will ultimately help you live a more simple life. And even if you're already familiar with these names, it's further validation that you're on the peaceful path to minimalist living.
Without further ado, here are my picks for the 5 best minimalist blogs on the internet.
1. Zen Habits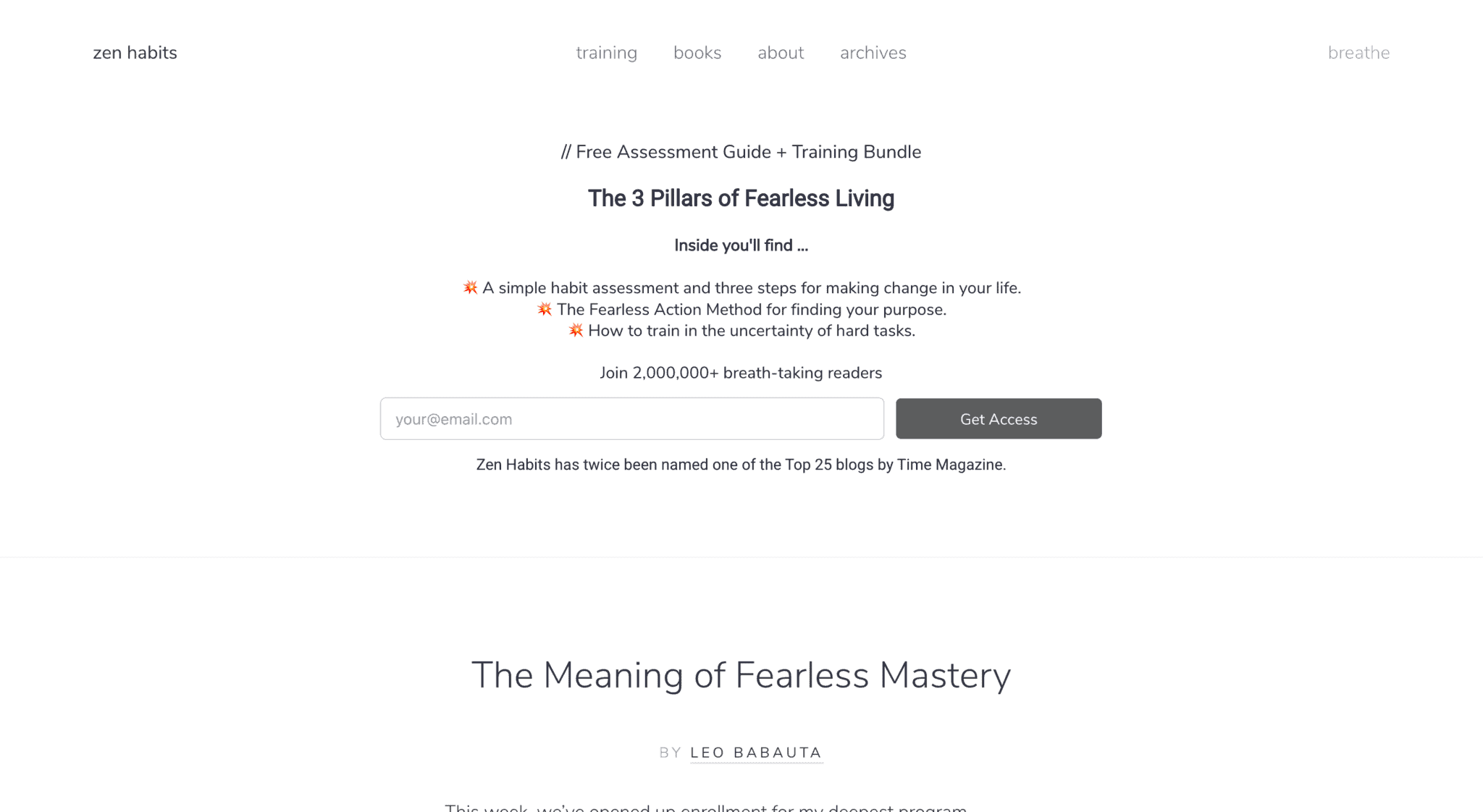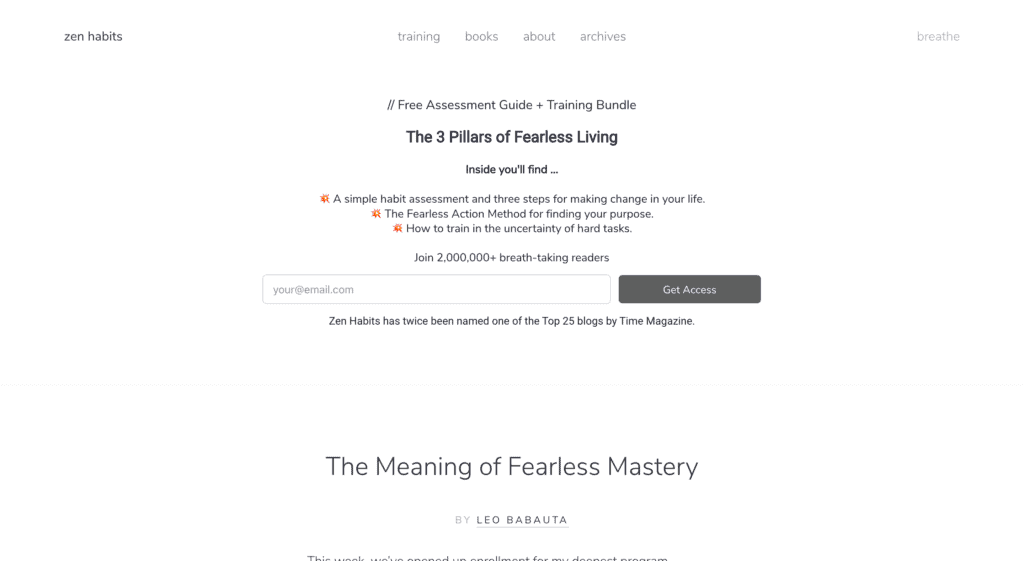 Leo Babauta's blog Zen Habits is one of the best resources for anyone interested in living a minimalist lifestyle.
Babauta, a San Fransisco-based vegan and runner with six kids, has first-hand experience simplifying one's life, and his blog reflects this knowledge.
The articles on Zen Habits cover a wide range of topics related to minimalism, including simplicity, health and fitness, motivation and inspiration, frugality, family life, happiness, goals, getting great things done, and living in the moment.
Babauta's passion for minimalism is evident in every article, and his positive attitude is contagious.
2. Be More With Less
After realising that she was leading a life full of excess and clutter, Courtney decided to downsize and live with less. She soon discovered that this created time and space to focus on what mattered.
Since starting Be More with Less in 2010, Courtney has written multiple books on minimalism, including Soulful Simplicity and Project 333.
Courtney is willing to get vulnerable, creating a down-to-earth and relatable experience for her readers.
3. Becoming Minimalist
Joshua's story and writing have been featured in media outlets such as The New York Times, Wall Street Journal, USA Today, TIME Magazine, Huffington Post and more. He is also the author of 6 books, most of which are Wall Street Journal bestsellers.
Joshua is one of the first minimalist blogs that popped up on my radar. His writing style is direct and practical. And you can always count on a consistent stream of content from his website.
4. Alexandra Franzen
On the surface, Alexandra is a professional creative, but as you dig deeper into her archives, you'll find that she's a minimalist at heart. She doesn't believe in owning too much stuff or complicating her life with unnecessary tasks or obligations.
5. The Minimalists
The Minimalists have been featured in the Wall Street Journal, Time, and GQ, and they have spoken at Harvard, Apple, and Google. With more than 100 million downloads, The Minimalists Podcast is one of the most popular shows on Apple Podcasts.
Read more: 9 Minimalist Podcasts Offering a Fresh Take on Intentionality
These gentlemen are the most well-known minimalists on this list. But while they've gone on to reach the mainstream media, the roots of their journey started on their blog, where you can still access hundreds of essays on minimalism.
What are your favourite minimalist blogs?
There are many fantastic minimalist blogs out there, each offering something unique and valuable. The 5 blogs listed above are some of my personal favourites, but there are many others worth checking out.
Minimalism is a popular topic these days, so new blogs and websites are created all the time. On that note, are there any minimalist blogs you love that weren't included on this list? Please share them in the comments below.
Happy reading!