Since getting into minimalism and sustainable living, I've naturally been fascinated with tiny homes. And after many years of watching tiny house youtube channels, my wife and I finally decided to purchase land and build our first tiny.
Our story isn't unique. Many folks get into tiny living as a result of these channels.
I've probably watched over 1,000 tiny house tours and stumbled across some incredible YouTubers I want to acknowledge and share with you.
I've also included some of my favourite tiny tours for each show, and I'd love to hear about your top picks in the comments.
1. Living Big in a Tiny House
Bryce Langston's YouTube show, Living Big in a Tiny House, is one of the most popular channels documenting the tiny house movement.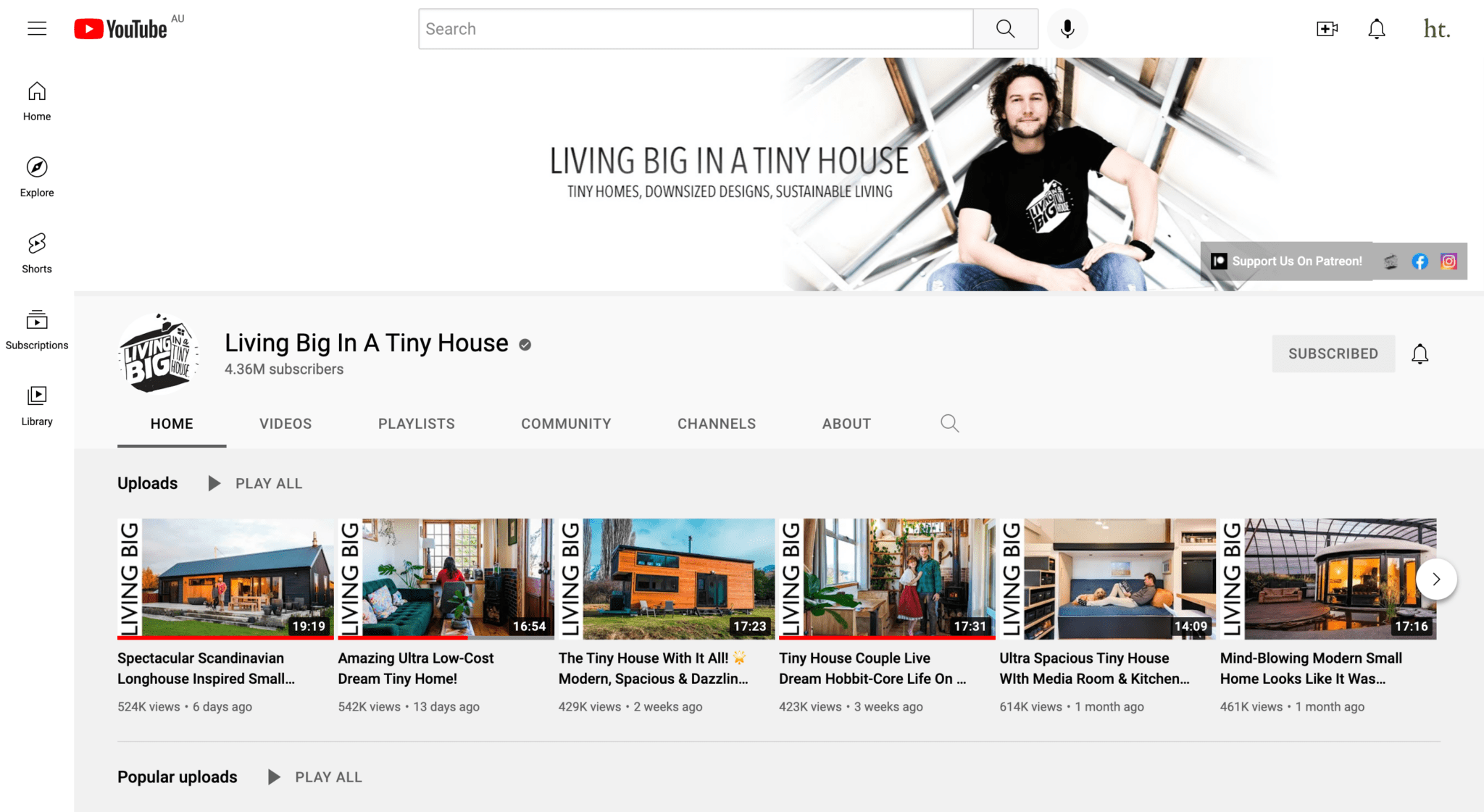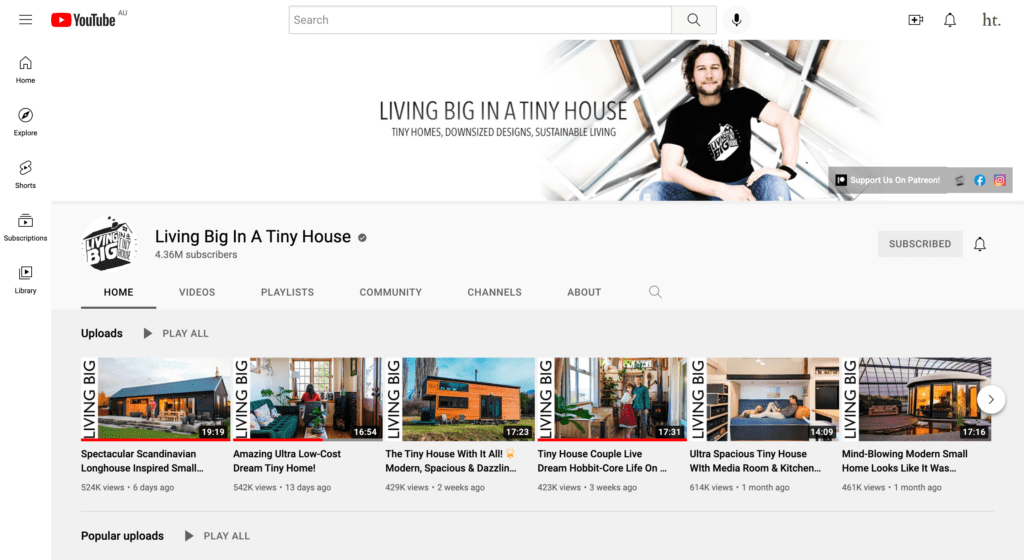 The New Zealand native gives viewers an inside look at all kinds of attractive small homes from around the world, including treehouses, earth homes, shipping container homes, busses and vans.
Bryce's partner Rasa Pescud does the videography for the show, which began in late 2013.
As someone who's watched and subscribed to the channel for many years, I can attest to Bryce's enthusiasm for tiny living—despite being a pretty big guy.
2. Exploring Alternatives
I came across Exploring Alternatives when doing research for a podcast episode on using minimalism to downsize your life. After seeing a story about how a man left his well-paying job to work part-time at a grocery store, I knew I had to see more.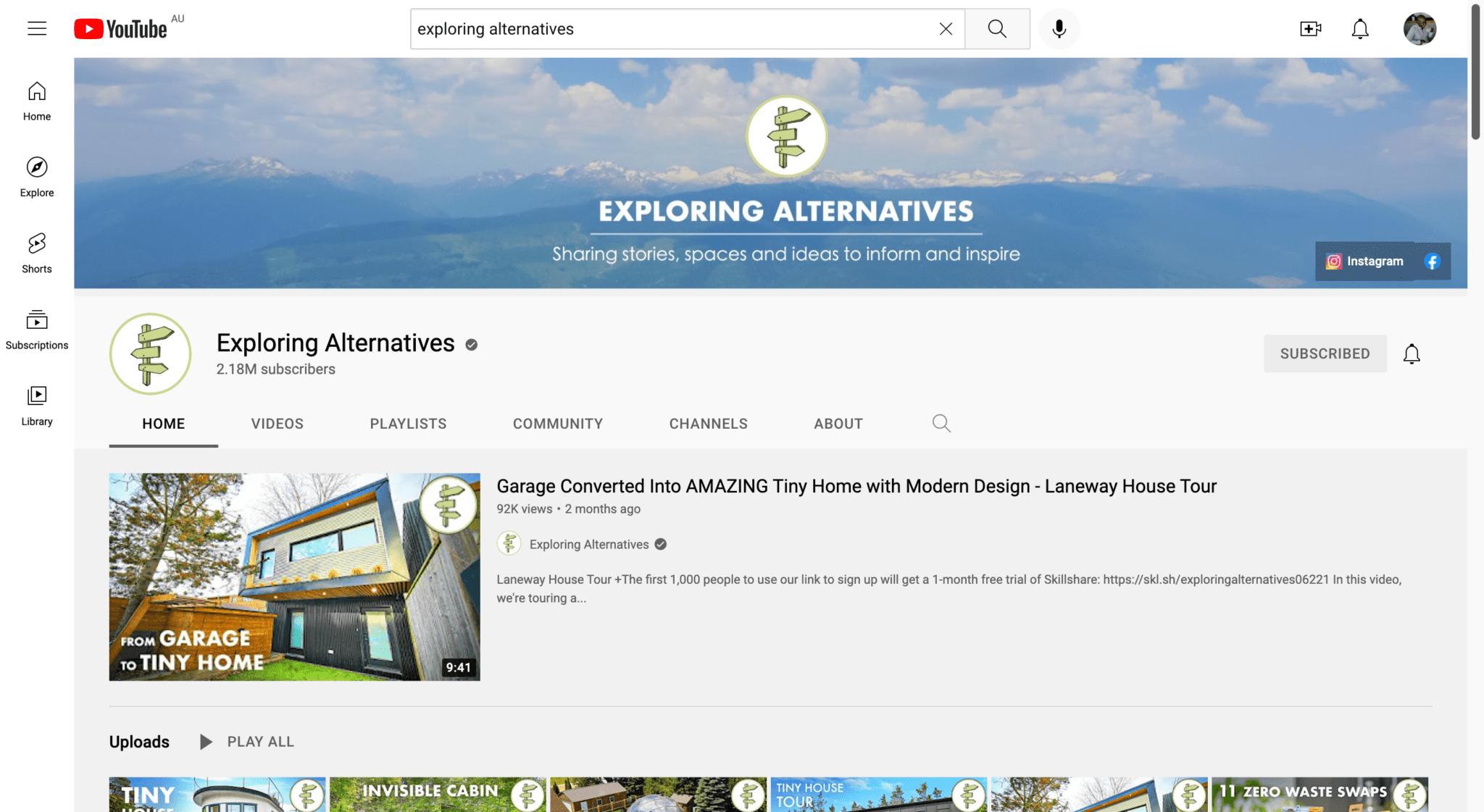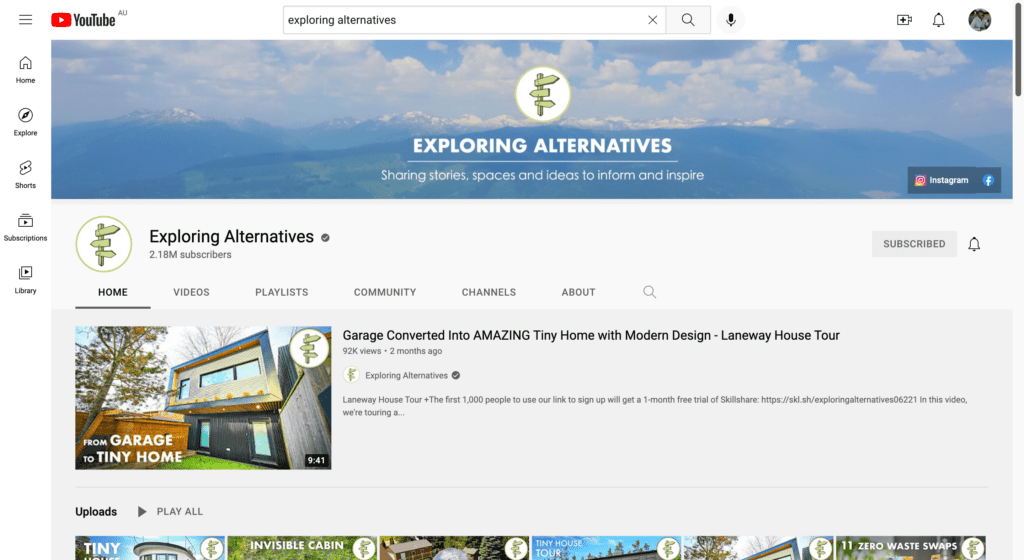 The videos are beautifully shot and edited and tell fascinating stories about people living alternative lifestyles. Each video presents a unique perspective on living differently, from tiny house dwellers to long-term travellers.
What I love most about Exploring Alternatives is that it isn't just about pretty homes and dreamy lifestyles. It's also about the hard work and dedication that goes into living an alternative lifestyle.
Through their videos, the talented Canadian couple, Mat and Danielle, show that it's possible to live a life that is both meaningful and sustainable.
3. Tiny House Giant Journey
I recently discovered Tiny House Giant Journey, and I'm now a fan. Jenna Spesard initially started the YouTube channel to document how she built and lived in a tiny house so that she could free up her finances and travel the world.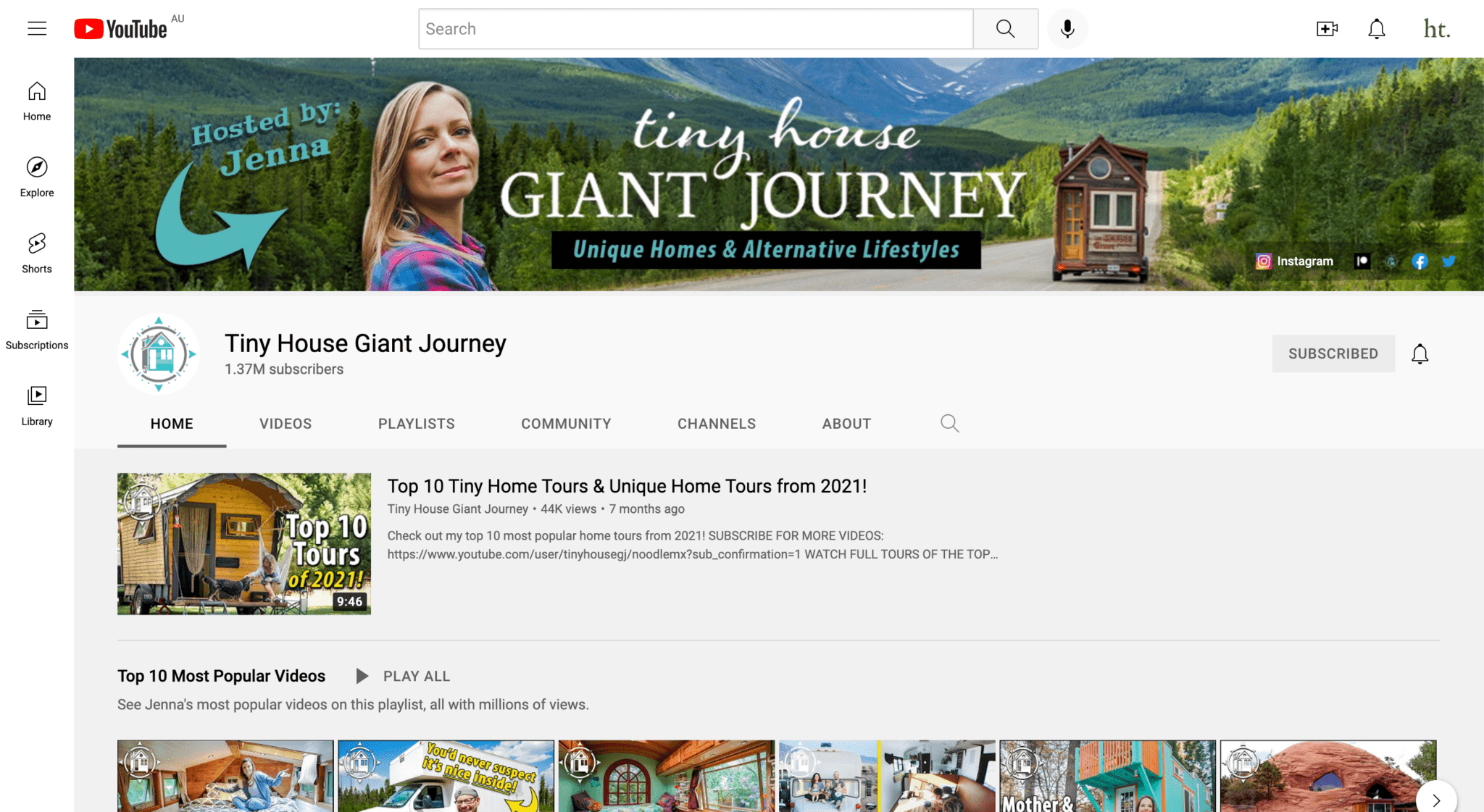 Tiny House Giant Journey has evolved to share alternative dwellings, lifestyle videos, and tiny vacation rentals while still capturing Jenna's travel adventures and projects.
What I appreciate most is how raw and transparent Jenna is about tiny living. You learn the good and the not-so-good so that you can learn through her experiences.
4. Robuilt
If you're considering building a tiny house or entering the short-term rental market, you need to check out Rob Abasolo's YouTube channel, Robuilt.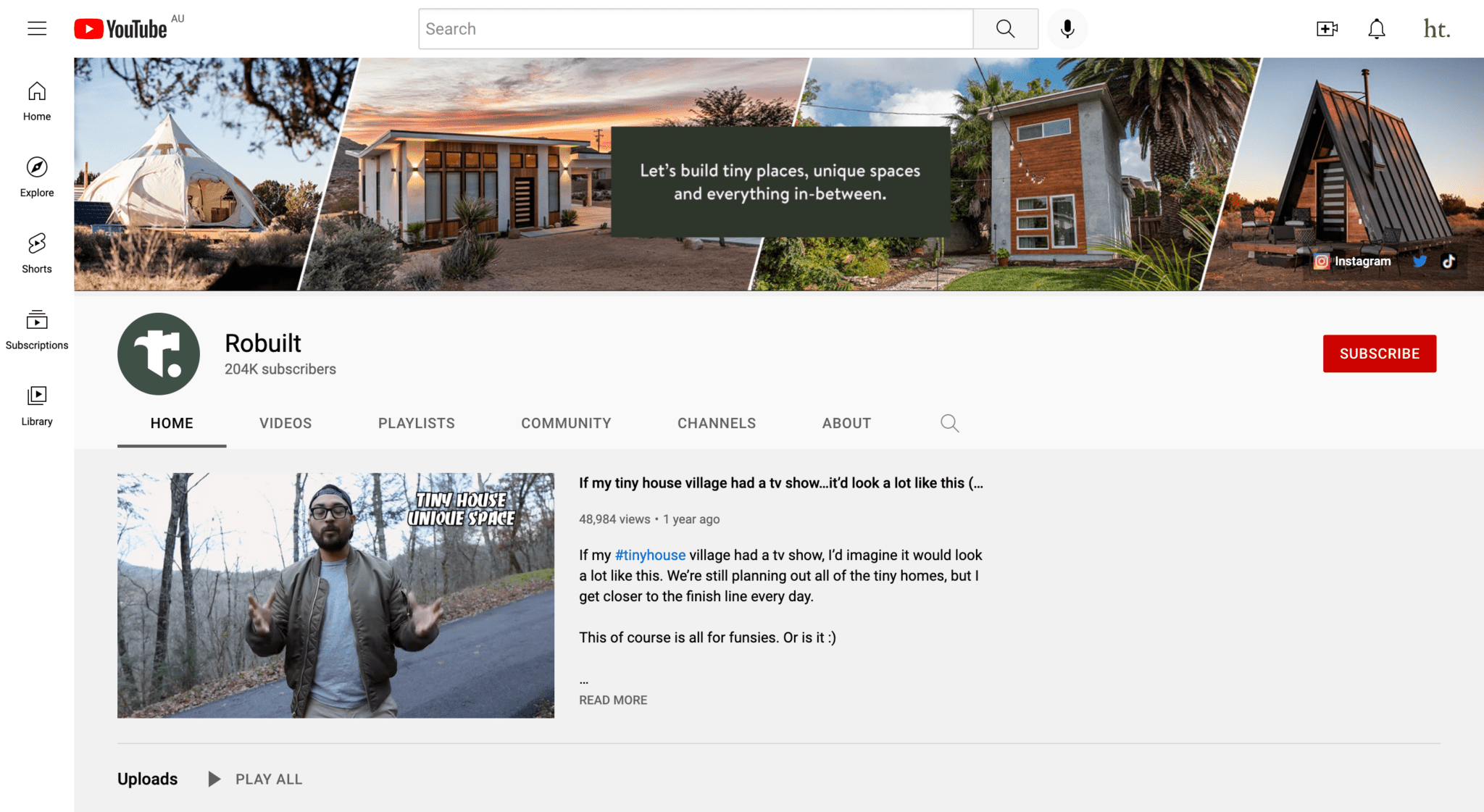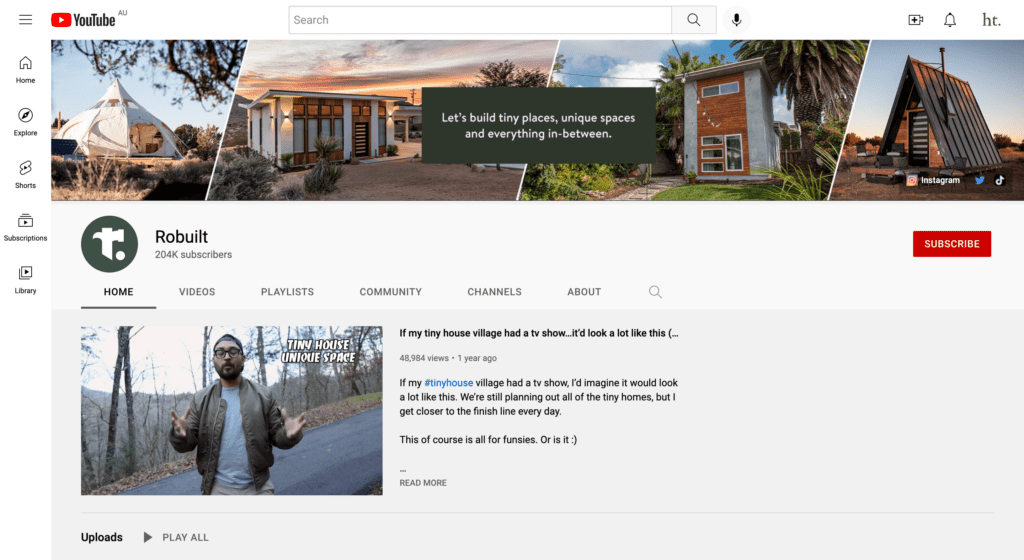 Rob is an expert in tiny house Airbnb rentals, and he's 11x Airbnb Superhost with over $1.5 million in bookings.
Rob's channel blew up when he shared his story of building a tiny house in his Los Angeles backyard for just $72k and renting it out on Airbnb. He's since gone on to build tiny house villages and glamping sites, which he documents and shares in his videos.
Not only does Rob provide valuable insights and tips, but he also demonstrates that tiny homes can be highly profitable investments.
5. Tiny House Expedition
The Tiny House Expedition is run by a married couple, Alexis and Christian, who are self-proclaimed tiny home nerds.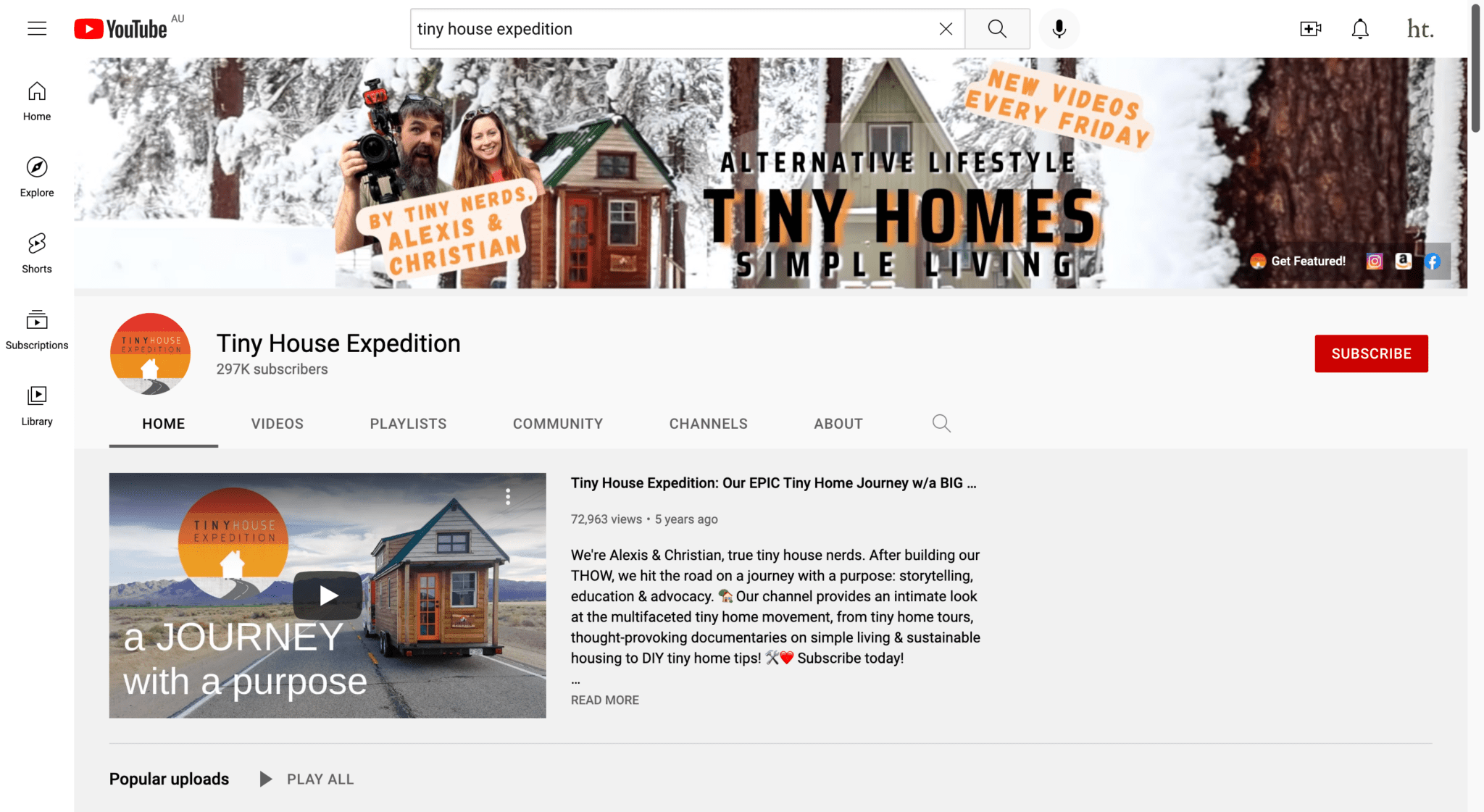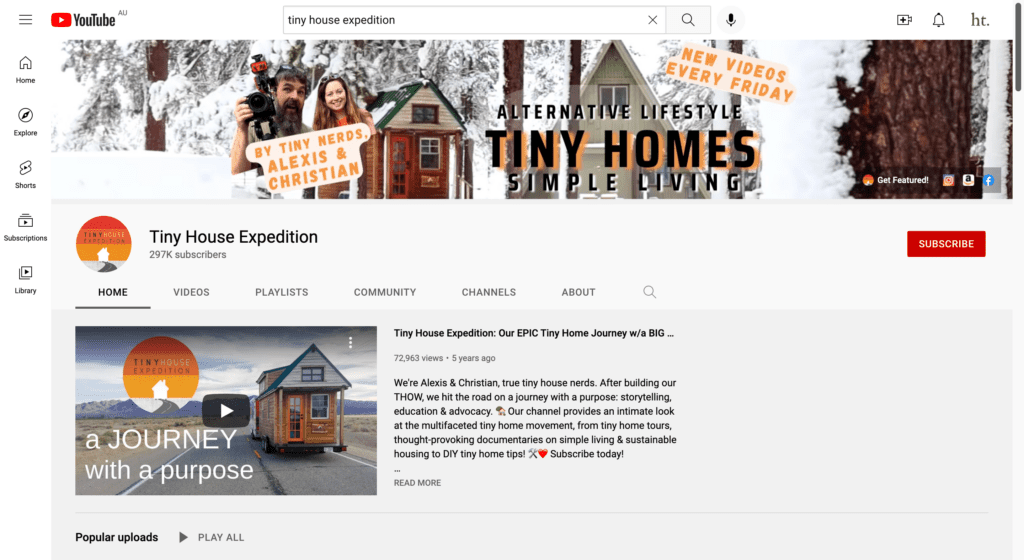 After building their own tiny house on wheels (THOW) in 2015, they hit the road as full-time nomads. They're still travelling part-time in their shuttle bus conversion.
What caught my attention about this channel was their "living tiny legally" series. Unfortunately, full-time tiny house living is not legal everywhere, as many local councils/counties aren't quite sure how to categorise tiny houses.
So this series documents people's experiences of dealing with local governments in different states and the experiences of other tiny house dwellers around the country.
It's equally frustrating and inspiring and offers an intimate look at the multifaceted tiny house movement.
The best tiny house YouTube channels to follow
So that's my short list of tiny home YouTubers worth following this year. From informative tiny tours to Airbnb rentals, they offer something for everyone.
What do you think? Who would you add to the list? Let me know in the comments below.