Sustainability is a hot topic in the blogosphere, and for good reason. As we hurtle towards an uncertain future, more and more people are looking for ways to reduce their impact on the planet.
If you're looking for advice on how to live a greener life, you've come to the right place. My curated list of sustainability blogs will help you make small changes that add to big savings for the environment and your wallet.
Here are my top picks for the best sustainability blogs of this year.
1. Treading My Own Path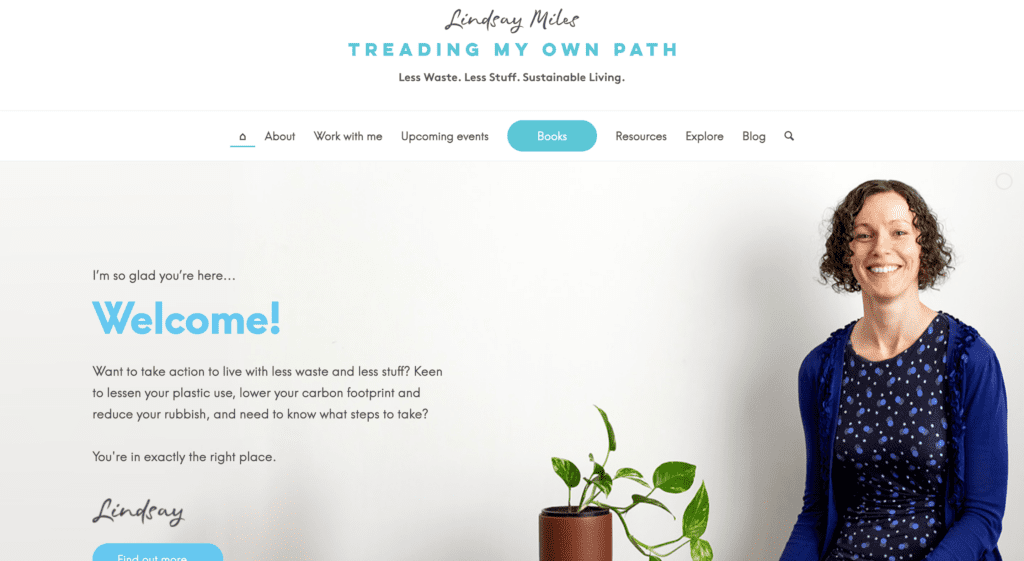 Created in 2013, Treading Your Own Path is an educational and inspiring resource if you want to tread lightly. All of the content is written by Australian author and TEDx speaker Lindsey Miles.
I had the pleasure of chatting with Lindsey back in 2016, and she's the real deal when it comes to sustainable living.
Lindsey pours her heart and soul into the blog — documenting her eco experiments (like her sustainable garden transformation project), so we can learn from her mistakes as well as her successes.
2. A Considered Life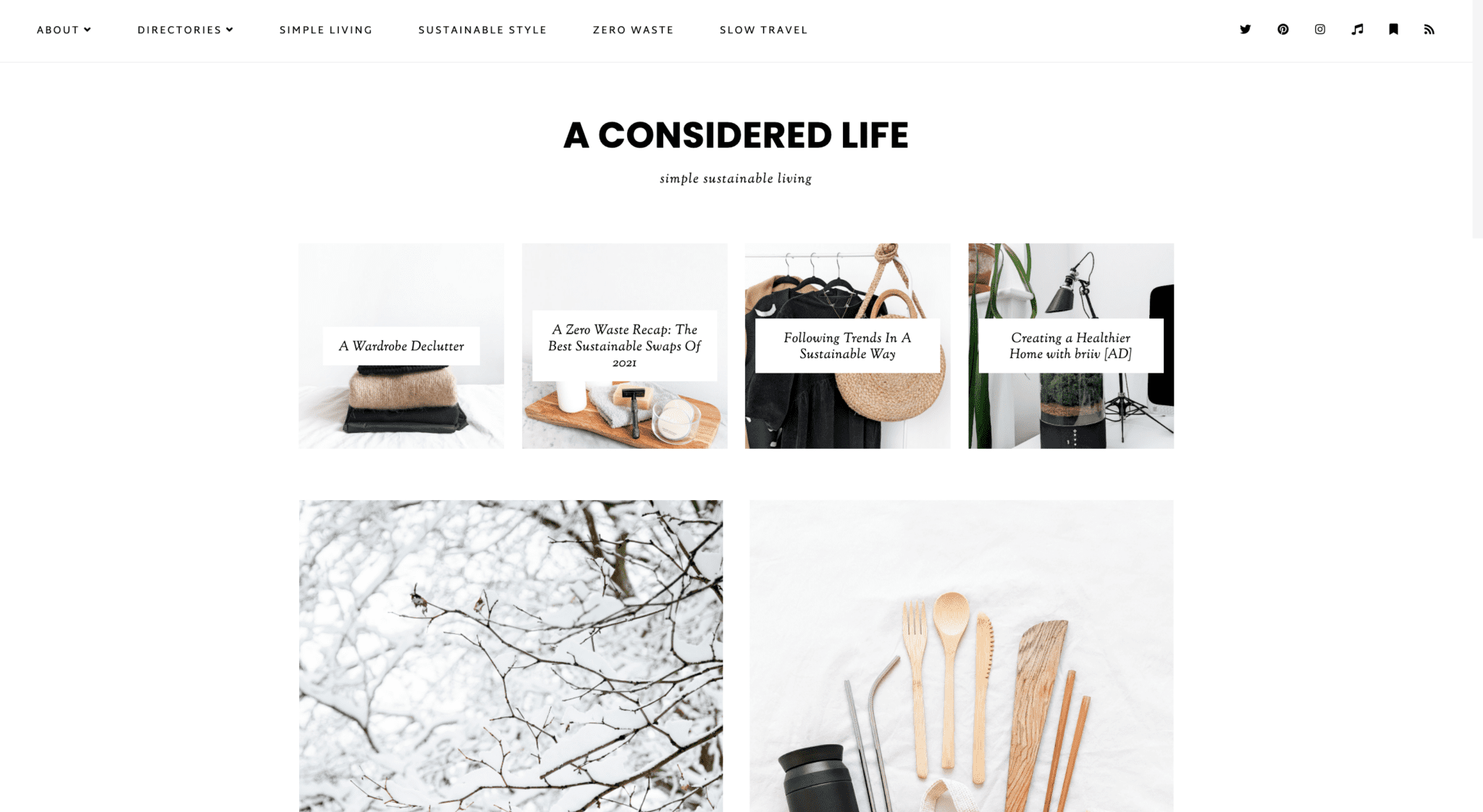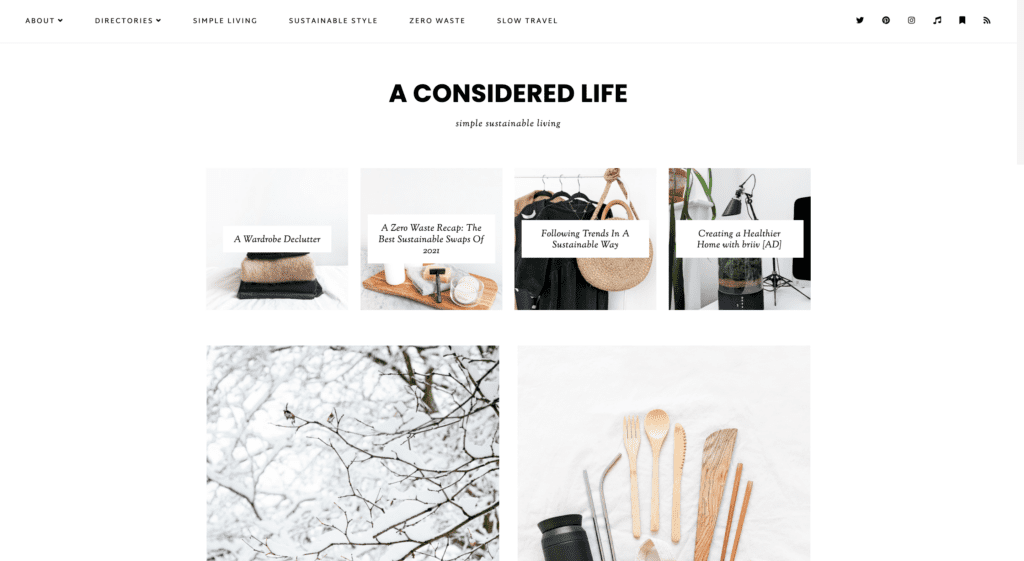 A Considered Life is a blog created by Sophie Davies from the UK, also featured on our list of the best vegan bloggers.
The blog covers topics such as zero waste swaps, minimalism and sustainable fashion guides like her week of sustainable outfits series.
Sophie is a dedicated blogger featured in magazines like The Guardian, Grazia, Cosmopolitan and more.
If you're looking for some inspiration to live your best life with less waste, then A Considered Life is the place to go.
3. Sustainable Jungle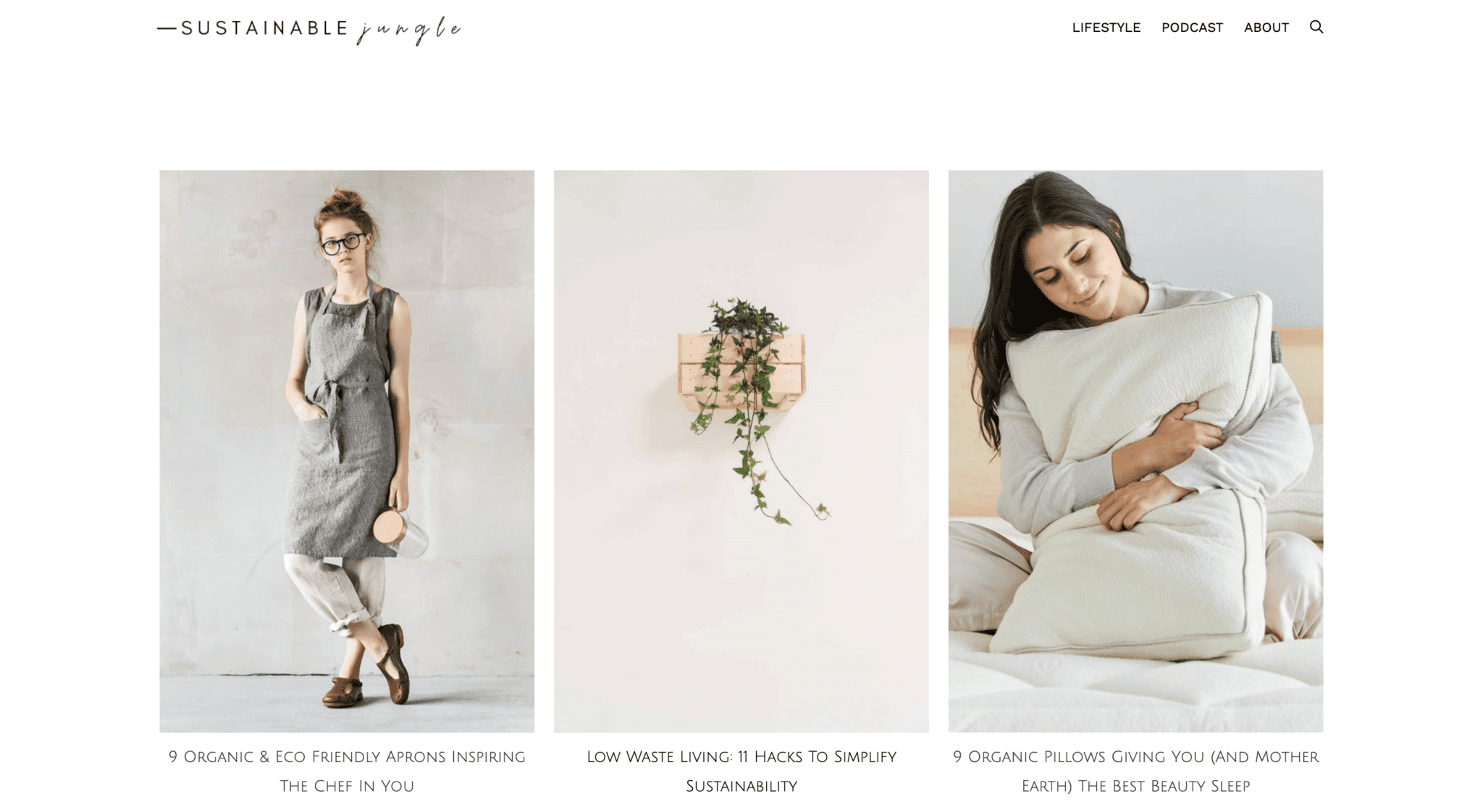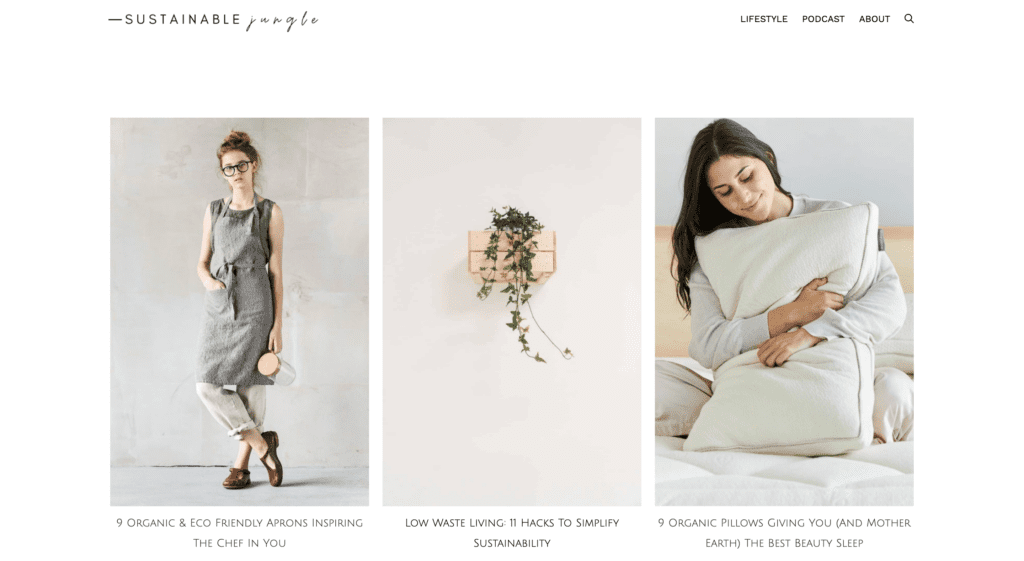 Sustainable Jungle, created by Lyall and Joy, is a blog that focuses on supporting changemakers (both individuals and businesses) that are making a meaningful difference to the world around them.
Sustainable Jungle underpins the belief that we all have enormous power to positively shape our environment through the ideas, organisations, and people we choose to support.
They focus on sharing sustainability-related ideas, tips, tricks, hacks, products, brands and stories of people and organisations doing meaningful work to future-proof our planet.
I've been particularly impressed with the level of detail and research that goes into their eco-friendly product recommendations, like 9 Sustainable Yoga Props To Bolster Your Environmentalism.
4. Sustainably Chic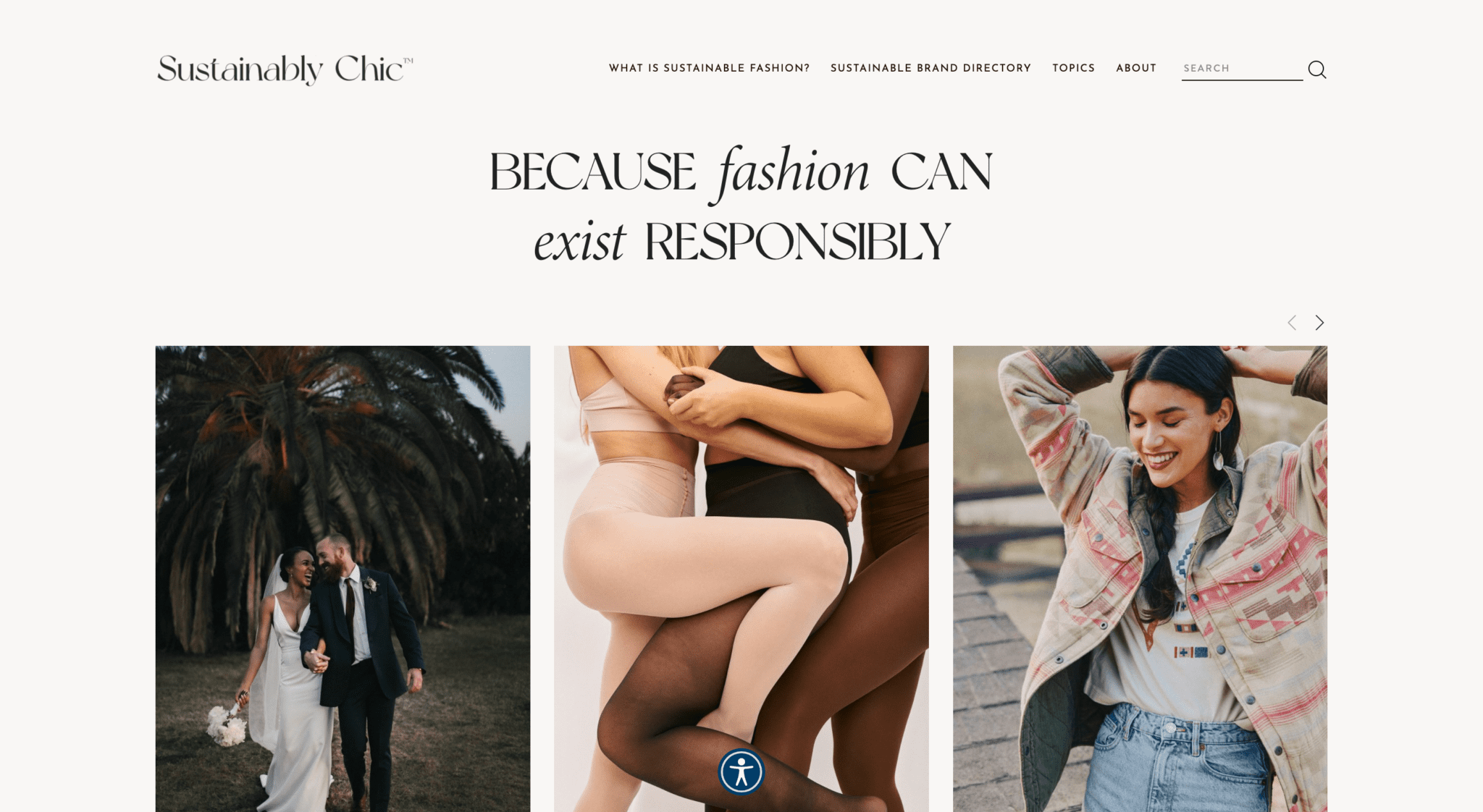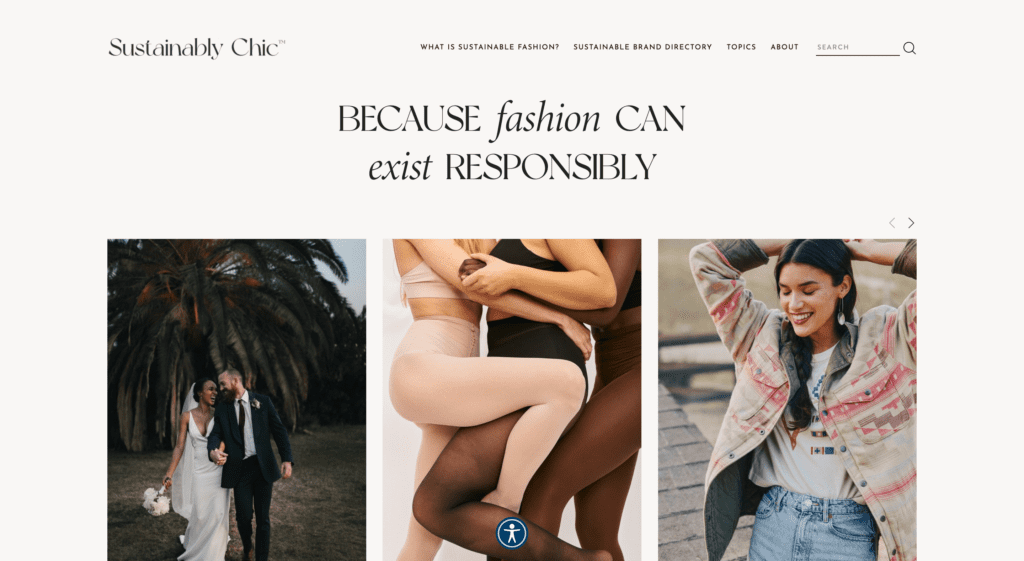 Founded by Natalie Kay Smith in 2014, Sustainability Chic is an online destination for sustainable fashion, green beauty and eco-lifestyle. It's a place where fashion can exist responsibly, so we can enjoy the art and love behind the things we wear and use every day.
Sustainably Chic is one of the OG sustainable fashion bloggers featured in magazines like Vogue, Elle, Harper's Bazaar, Glamour & Marie Claire.
As of 2021, Sustainably Chic has added several contributors to bring more voices into the conversation and share others' experiences.
Their blog covers various topics from green beauty, eco gift guides and informational pieces like How the Fashion Industry Contributes to Pollution.
Read more: The Best Vegan Clothing Brands: 2022 Sustainable Fashion Guide
5. Going Zero Waste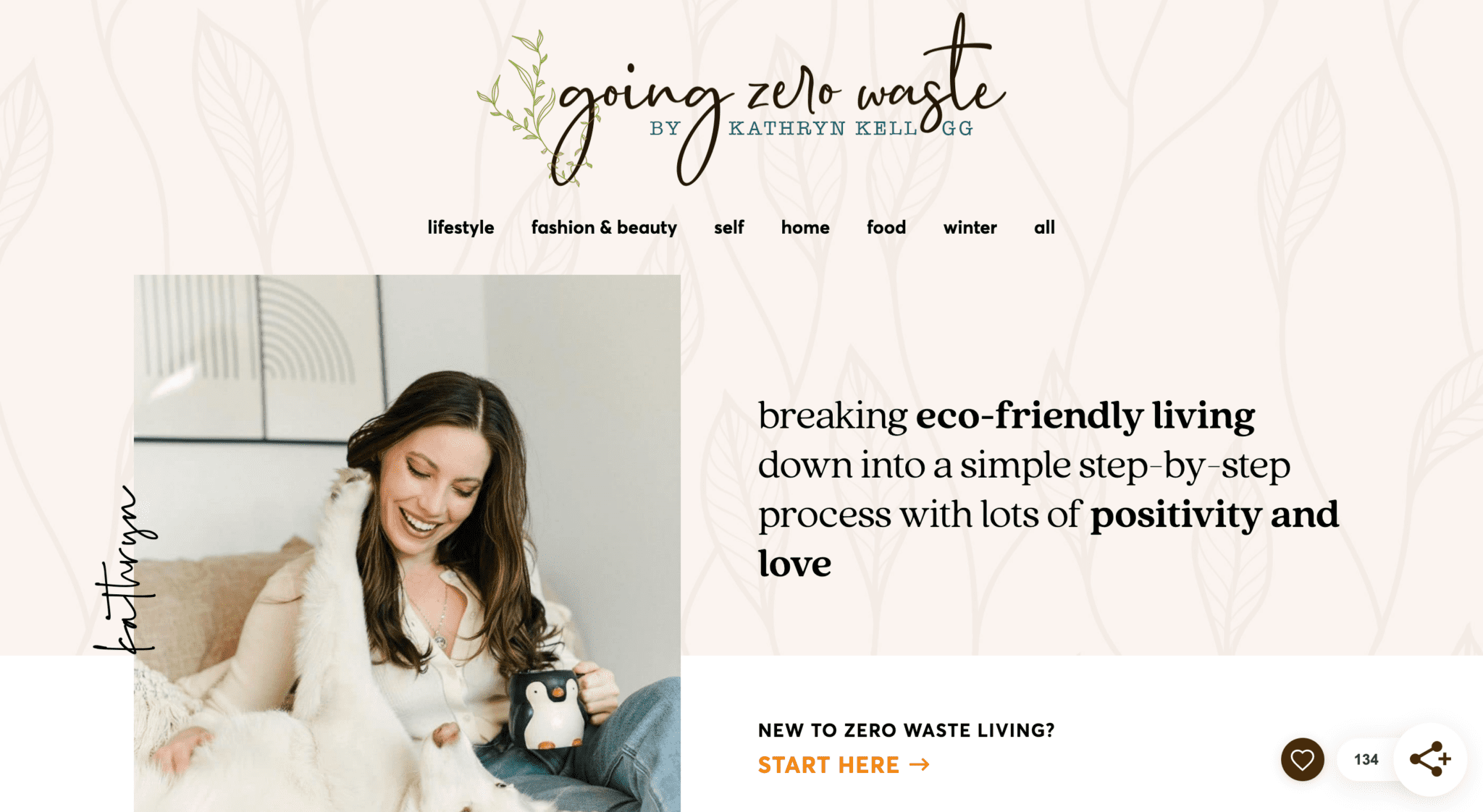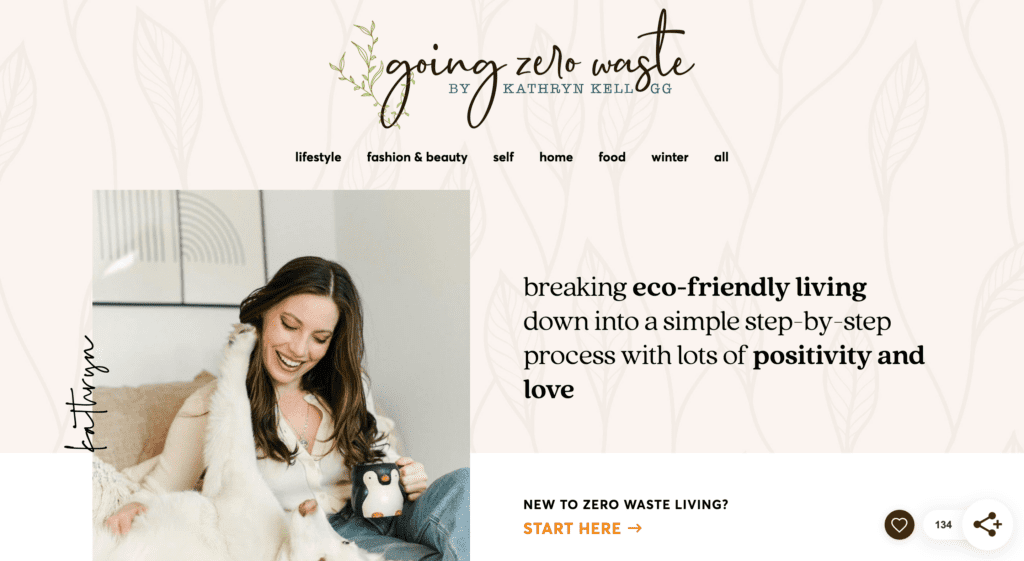 Going Zero Waste is a popular eco-living blog created by Kathryn Kellogg, committed to helping others live a healthier and more sustainable life.
Kathryn is a spokesperson for plastic-free living for National Geographic, Chief Sustainability Officer at the One Movement, and author of 101 Ways to Go Zero Waste which breaks eco-friendly, sustainable living down into an easy step by step process with lots of positivity and love.
The blog is a comprehensive resource for all things waste reduction, from personal care and household cleaning to fashion and food. You can find guides, recipes, product recommendations and more. I especially enjoyed reading 8 Things I Wish I Knew BEFORE Going Zero Waste.
Kathryn's mission is to make sustainable living easy and fun for everyone, which comes through in both her writing and the vibrant photos on the blog.
6. GreenBiz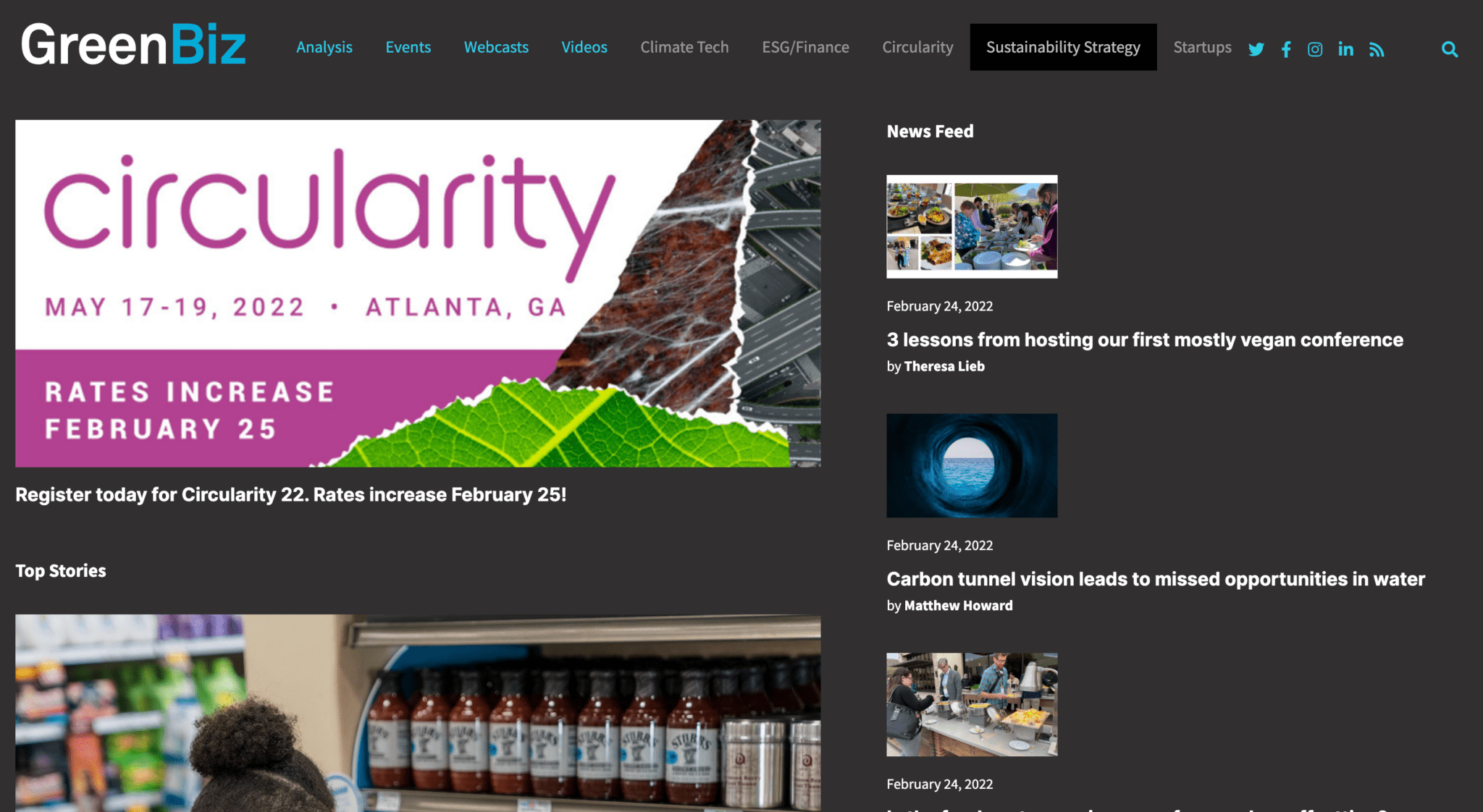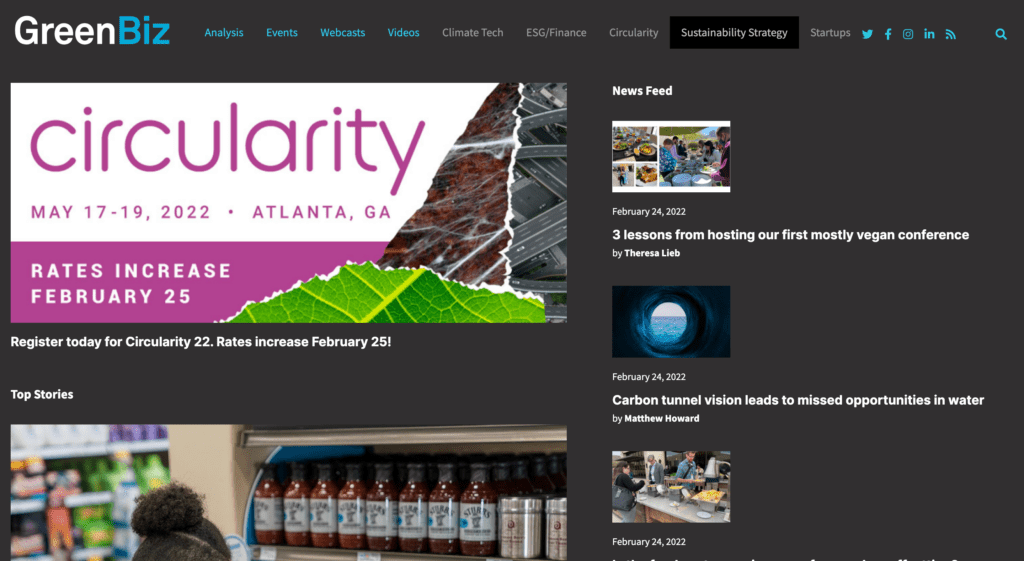 GreenBiz is a media company with an excellent blog about all things sustainability.
The blog covers a wide range of topics, including renewable energy, the circular economy, sustainable business practices, food waste and more.
What I love most about GreenBiz is its commitment to intersectionality. The blog features content from various voices and perspectives, which helps create a more inclusive discussion around sustainability. Example: Why younger generations are more willing to change in the name of sustainability.
7. My Green Closet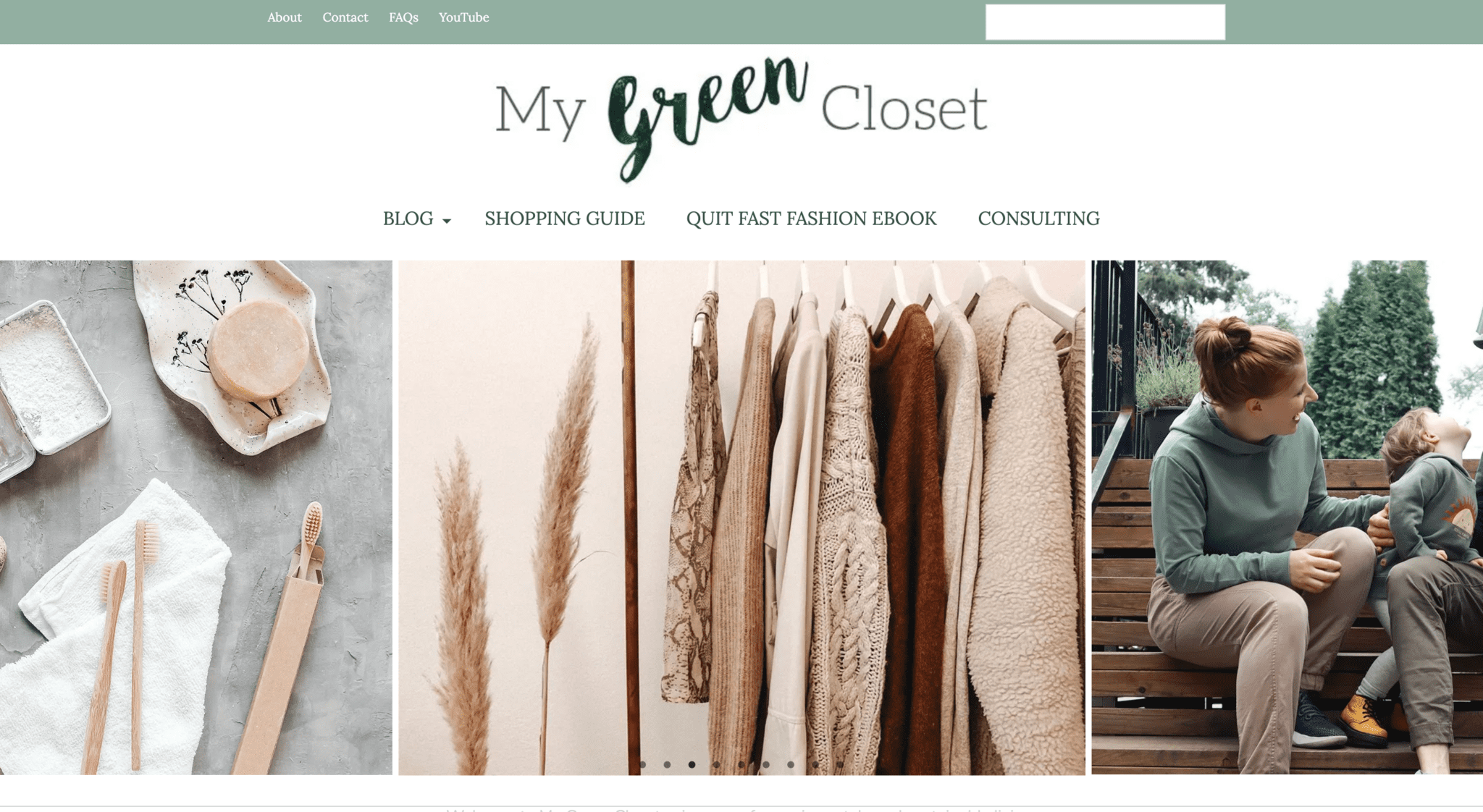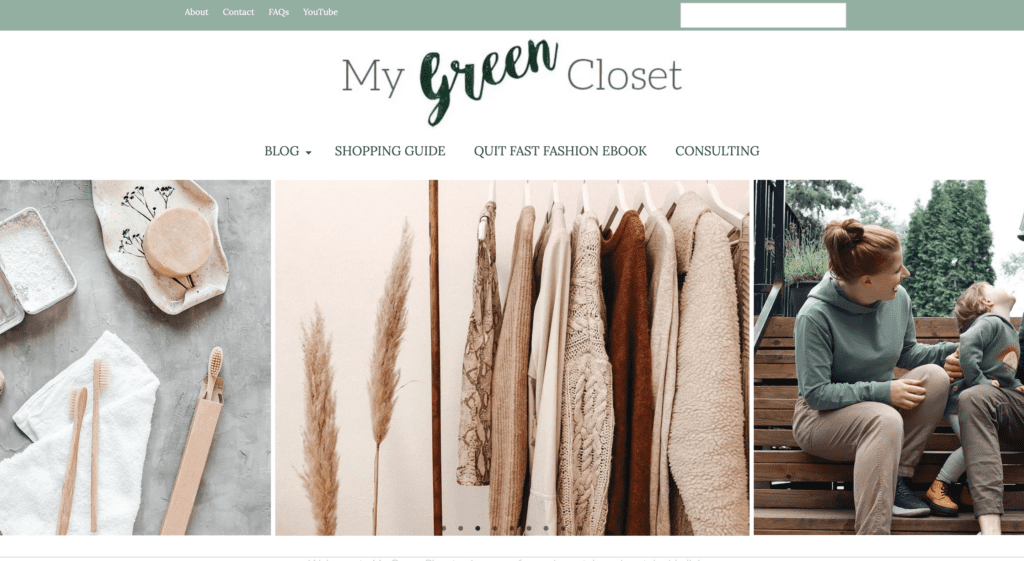 Created by sustainability advocate Verena Erin Polowy (commonly known as Erin), My Green Closet is a blog about sustainable fashion, low waste living and conscious consumption.
The blog is based on the belief that we each have the power to influence change, reduce our impact and make the world a better place. On the website, you'll find topics such as sustainable & ethical fashion brands, low waste living tips, capsule wardrobe examples, sustainable beauty, conscious shopping tips, minimalism and more.
What I like most about My Green Closet is the level of detail Erin goes into with her sustainable living posts.
For example, in her article What Real (not Greenwashing) Circularity in Fashion Looks Like she covers everything from the meaning of circularity to the steps brands need to take to create a more sustainable future.
8. Old Word New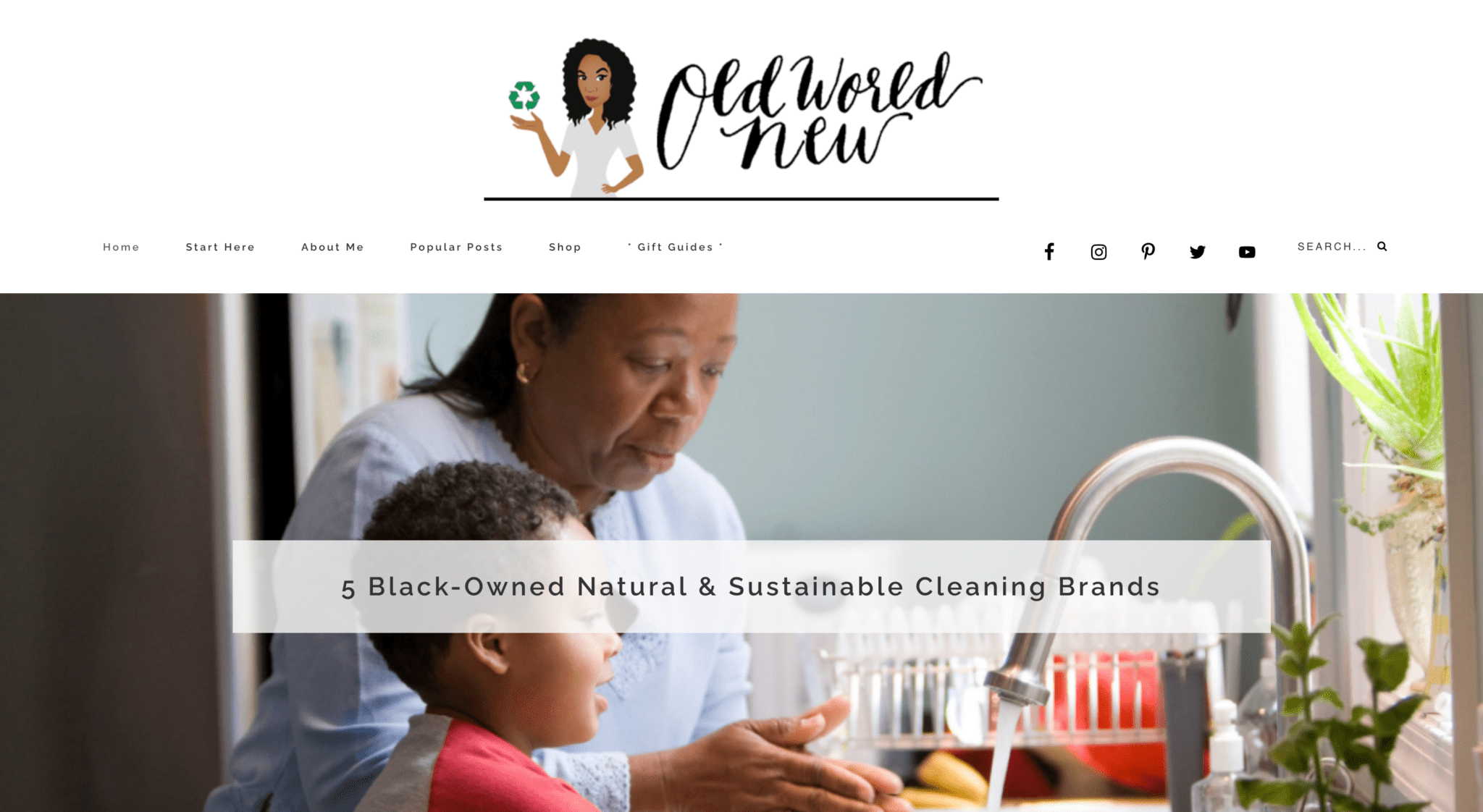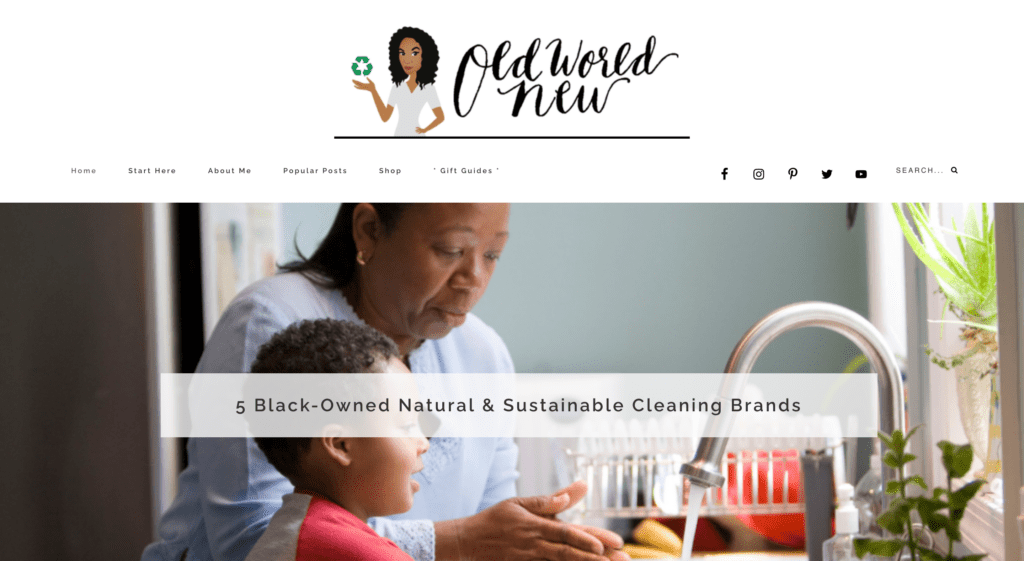 Old World New, founded by Addie Fisher, is a sustainable living blog that features practical, sustainable living tips for people trying to get by in everyday life.
The blog is designed to provide a community that empowers action, and Addie's motto is, "everything can be done sustainably". Old World New covers various topics, including kitchen tips, greenwashing, travel, fashion, and diversity and inclusion.
One of my favourite things about Old World New is the sustainable living tips are broken down into small, achievable steps. For example, in her post Perfectionism is Not Sustainable: 7 Ways To Be Imperfectly Sustainable, Addie discusses how making small changes in your daily routine can significantly impact the environment.
Founder Wendy Graham started Moral Fibres in early 2013 after she realised a lack of representation for people like her interested in sustainability. The blog covers ethical fashion, green cleaning, eco-product guides, and ethical banking.
What I love most about Moral Fibres is the variety of topics Wendy covers. No matter your interests or concerns, there's a good chance you'll find a post on Moral Fibres that addresses it.
I particularly enjoyed reading Wendy's take on Why Plastic-Free Isn't Always Better For the Environment.
10. Wasteland Rebel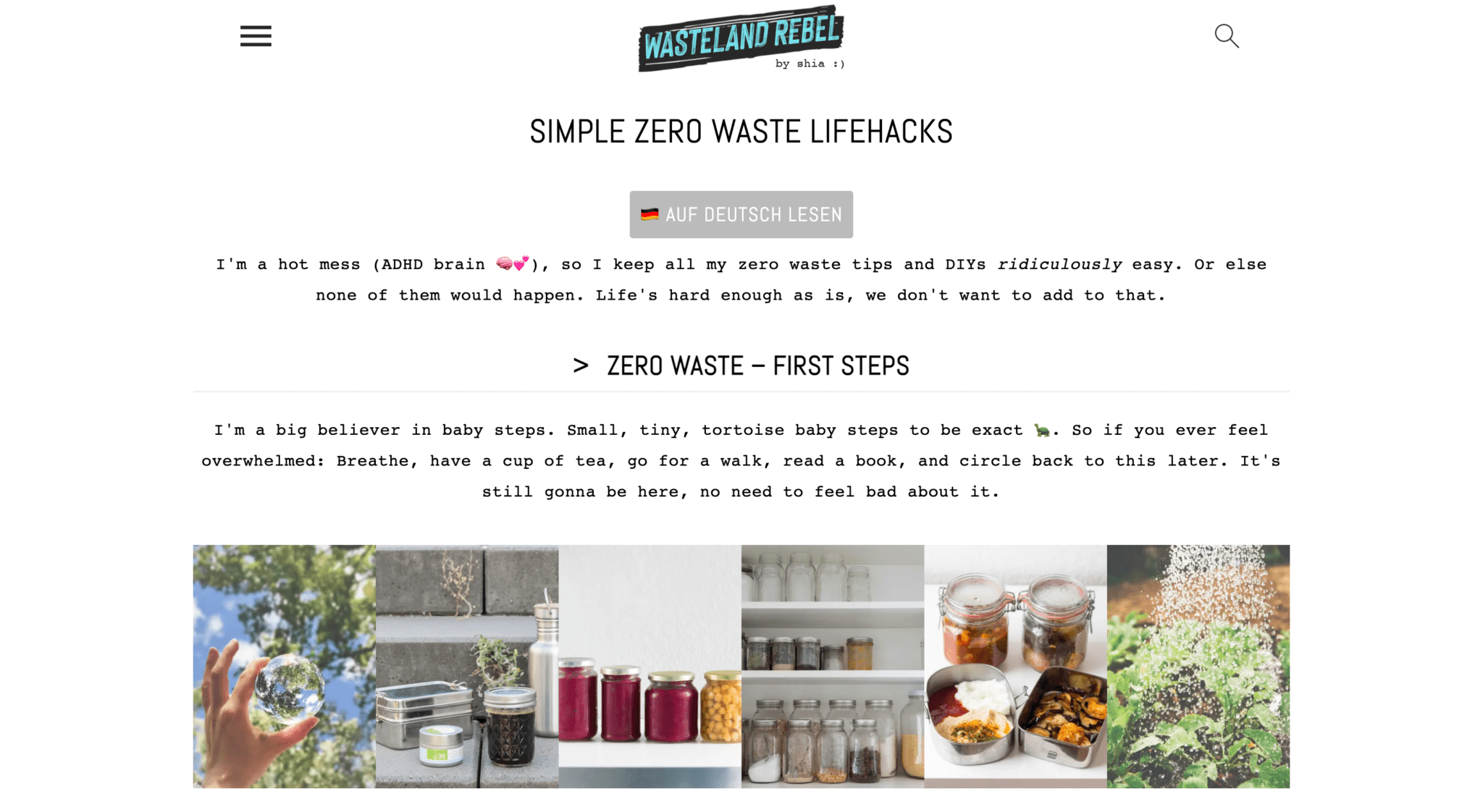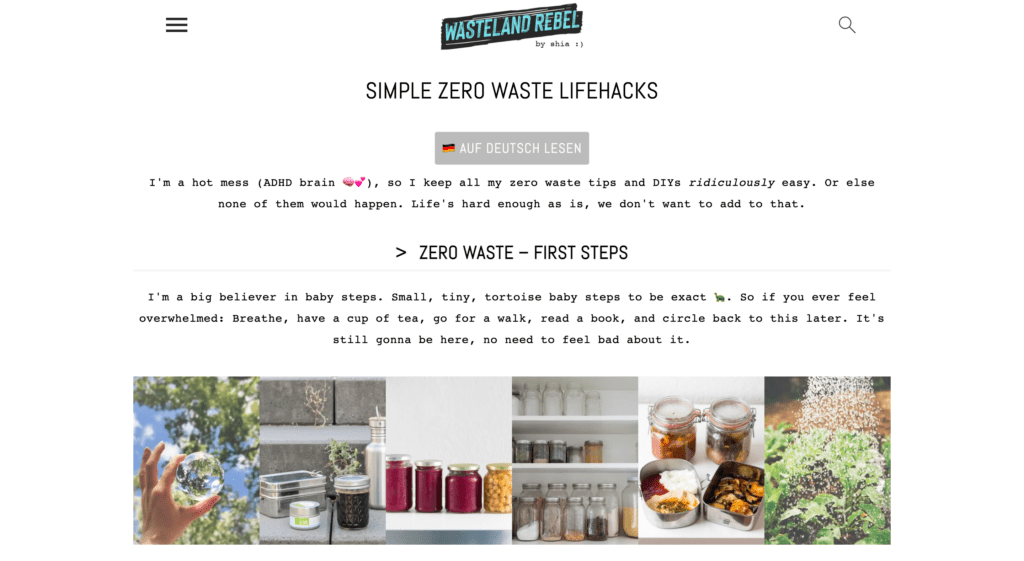 Shia is the blogger and environmentalist behind Wasteland Rebel. Her goal in creating the blog was to document and display her path as she and her husband reclaimed control of their lives.
The blog is a mix of tips, stories, product recommendations, and recipes to help others live more sustainable lives. Shia knows that big changes happen slowly, so each post is designed to inspire small but doable changes in her readers' lives.
If you're looking for a dose of humour with actionable tutorials like Wash Your Hair without Shampoo: An No-Poo Overview, Wasteland Rebel is the blog for you.
11. Rob Greenfield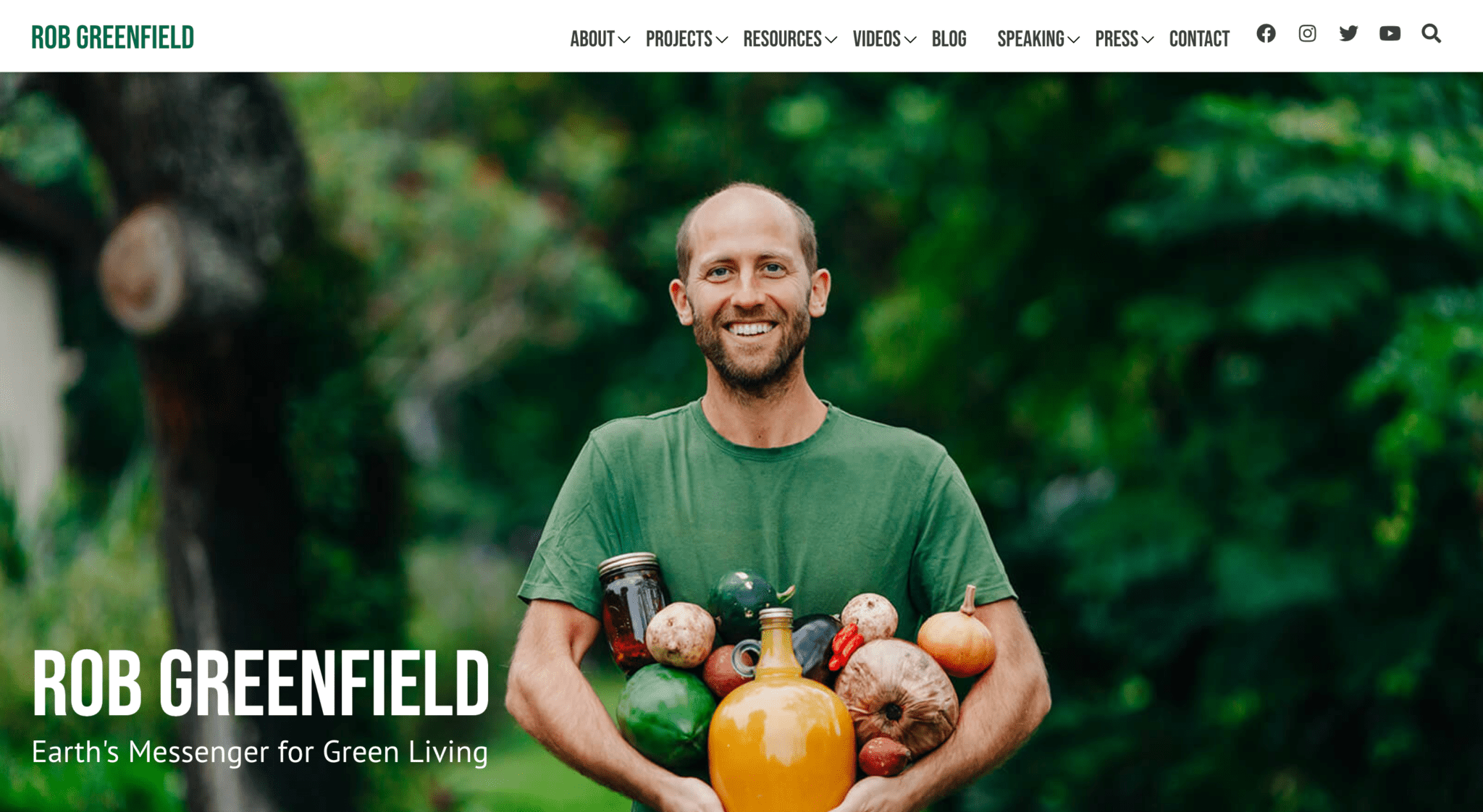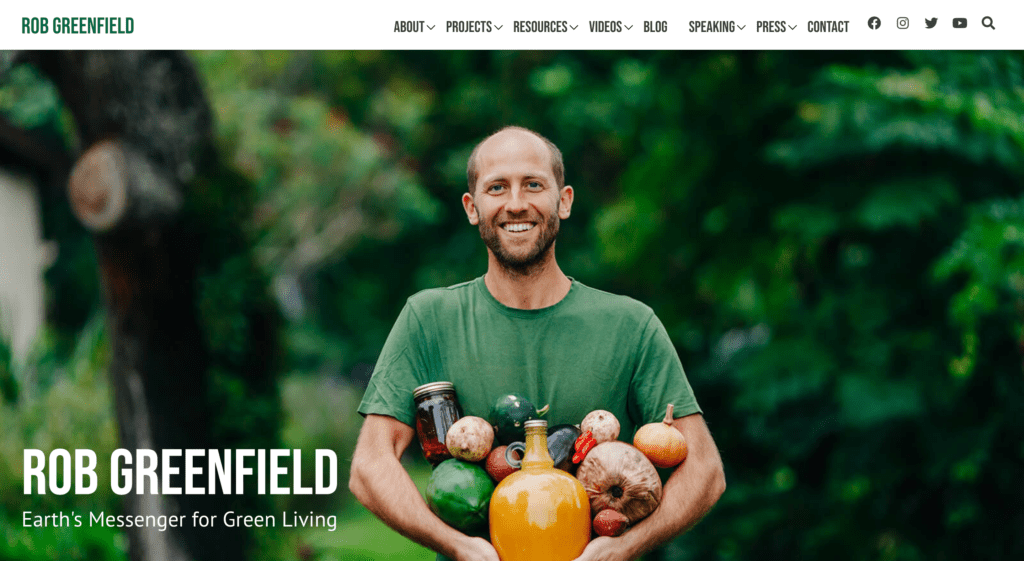 With a blog with the same name, Rob Greenfield is an activist and humanitarian. He embarks on extreme projects to bring attention to critical global issues and inspire positive change.
He's been named "The Robin Hood of modern times" by France TV, and his work has been covered worldwide. 100% of the media income is donated to nonprofits.
His blog is a source to educate, inspire and help others live more sustainable, equitable and just lives.
What I appreciate most about Rob is his dedication to using his platform to raise awareness for important global issues. Rob is constantly working to bring attention to critical problems that often go overlooked, whether he's going a year without showering or wearing his trash for 30 days.
12. Treehugger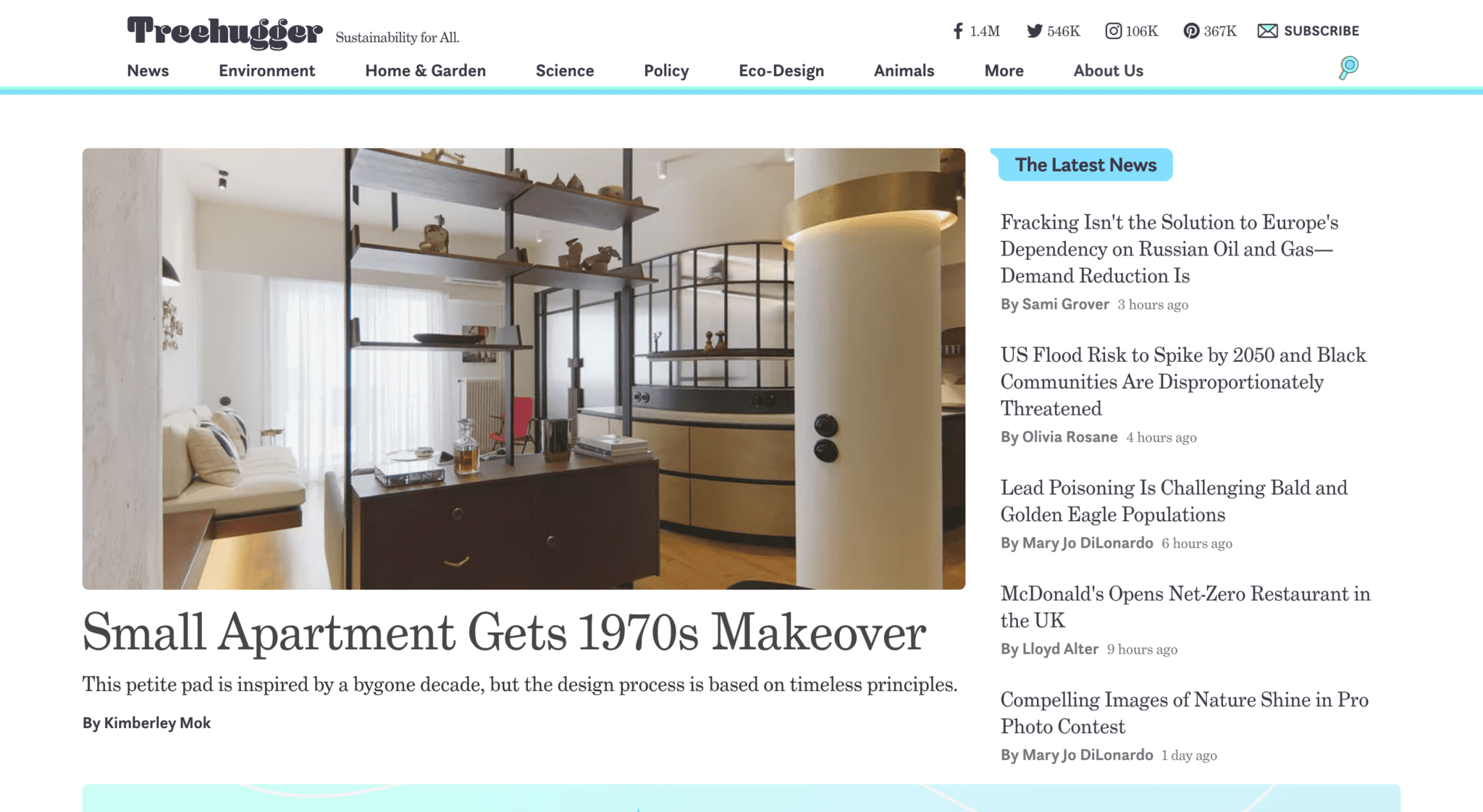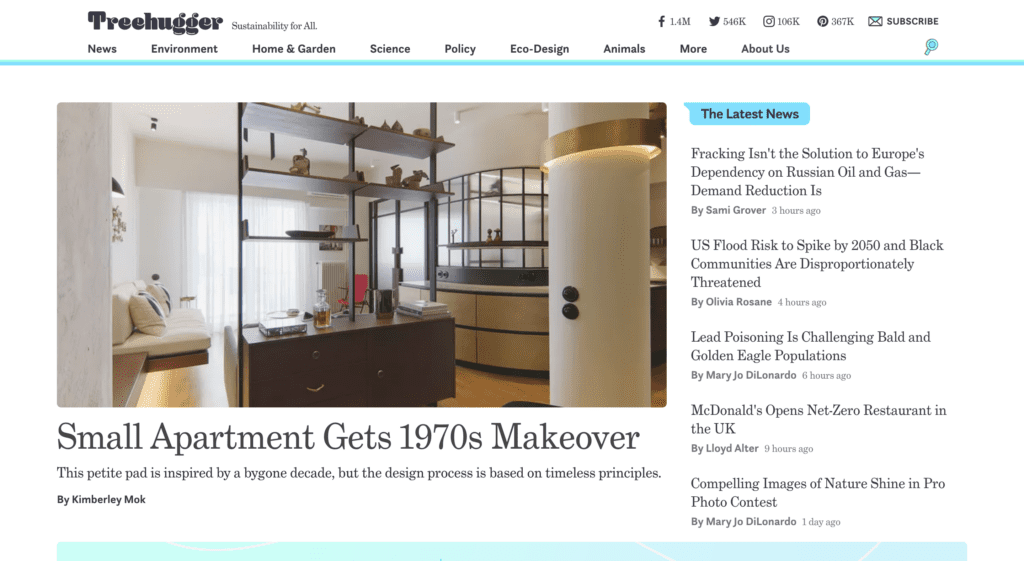 Founded in 2004 by eco-advocate Graham Hill, Treehugger is one of the world's largest information sites dedicated to driving sustainability mainstream.
The blog covers a wide range of topics, including renewable energy, eco-friendly architecture, sustainable transportation, reducing your carbon footprint and more.
What makes Treehugger unique is its sheer volume of content. It's a mix of timely news on environmental events and evergreen content like 16 Plants That Repel Unwanted Insects (Including Mosquitoes).
No matter what sustainability topic you're interested in, Treehugger is sure to have a post about it.
13. McKinsey & Company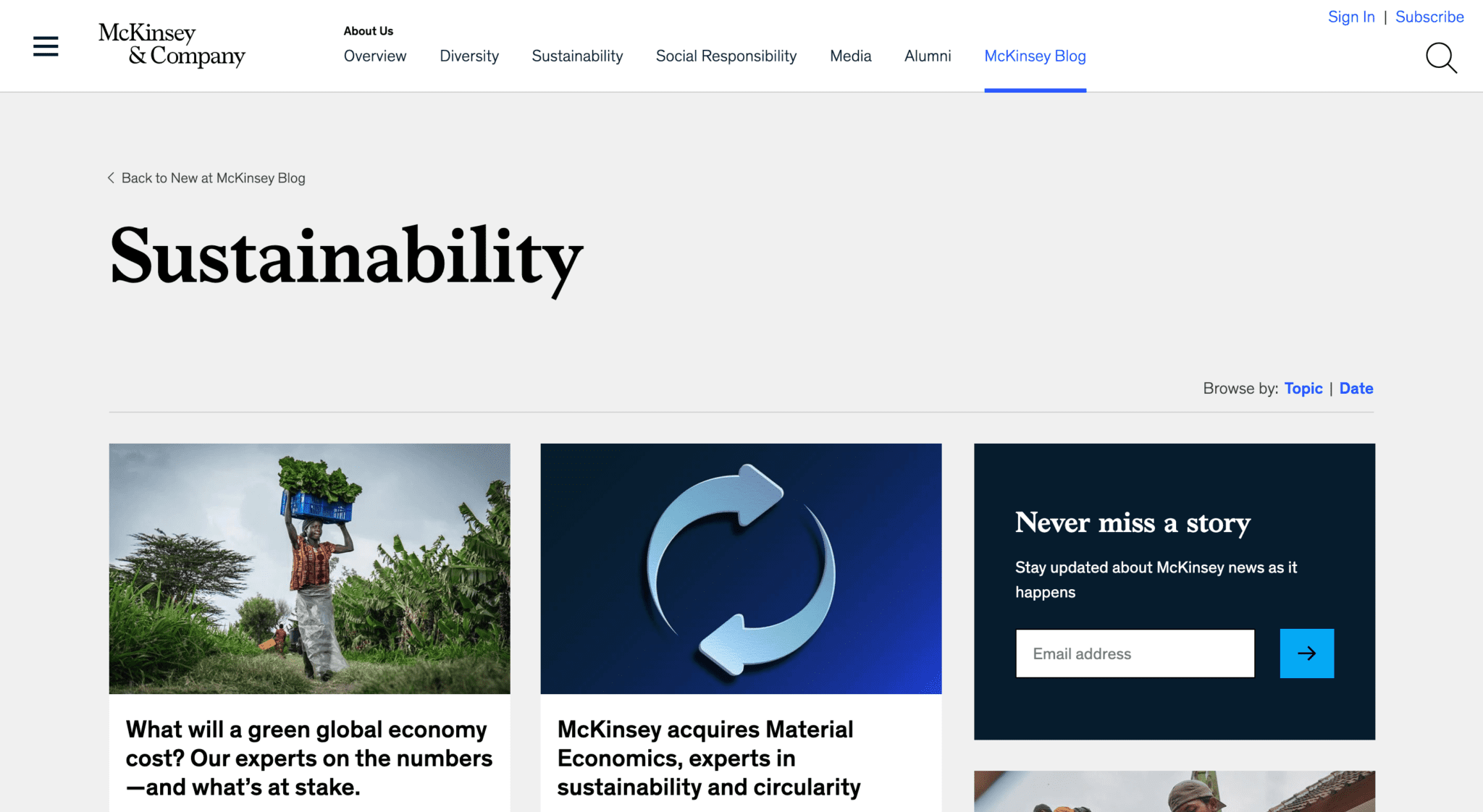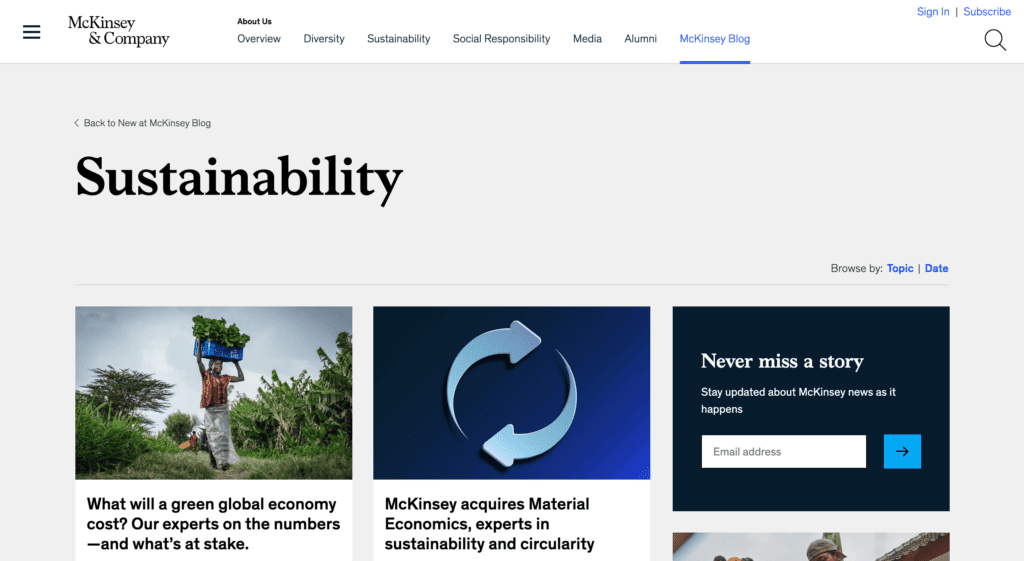 Founded in 1926 by James O. McKinsey, the management consulting firm McKinsey & Company is far from the many solo bloggers on this list.
Yet, the company's blog covers various topics, including climate change, the circular economy, energy transition and more.
McKinsey's editorial team are industry experts, leading to interesting articles like How AI can unlock a $127B opportunity by reducing food waste.
If you're seeking in-depth analysis on large-scale sustainability initiatives, then be sure to check out McKinsey's blog.
Learning from green living blogs
The sustainability blogs I've listed are just a fraction of the many out there. But each of these blogs has something unique to offer.
Whether you're looking for tips on how to reduce your waste, big-picture trends, or inspiration to take action on the issues you care about, these websites have you covered.
Do you have a favourite sustainable living blog that you would recommend? Let me know in the comments below.