I owe a lot to vegan YouTubers. Through their videos, I was inspired to become vegan in 2014 but also stay vegan all these years later.
Back then, I didn't know anyone vegan outside of my wife, so I treated these creators as an extension of my plant-based community.
I want to pay it forward and share the creators who inspire millions of people worldwide to embrace veganism, no matter your motivation.
Note that this list is entirely biased to my preferences. These are the channels I subscribe to, and I actively watch their content. It's like if someone asks you what your favourite TV shows are. You're going to share your top picks with conviction. I feel the same about these YouTube channels.
If you're a vegan YouTuber not on this list, I acknowledge you. I know first-hand how much work is involved in creating videos (we have a channel for Heartful Table).
So thank you for spreading veganism in your unique way. The more vegan personalities on YouTube, the more it'll help the animals and the planet. Period.
Without further ado. Here's my list of binge-worthy Vegan YouTubers.
1. Earthling Ed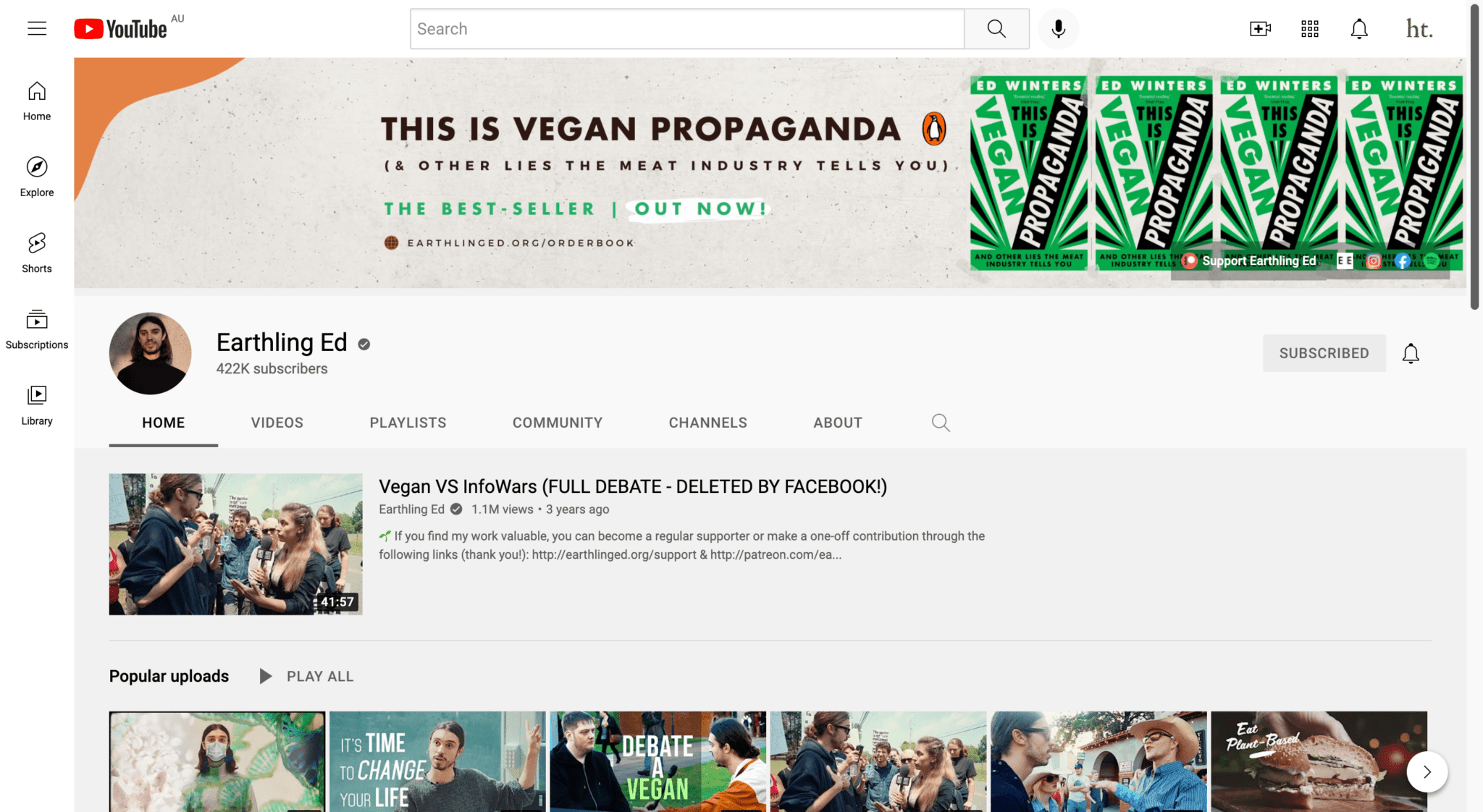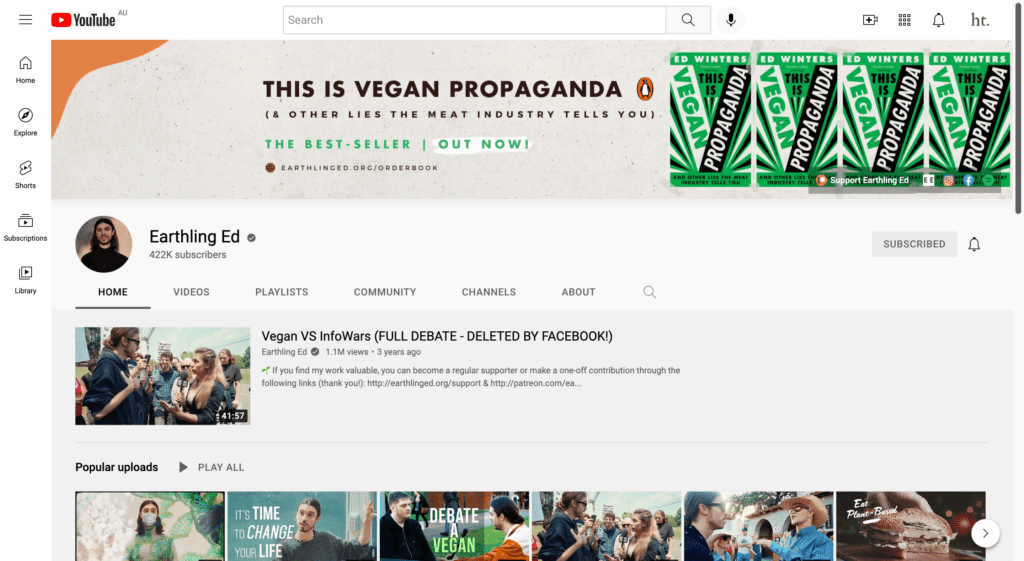 Ed Winters, the creator of the channel Earthling Ed, has made a name for himself with his thoughtful and informative approach to vegan activism.
Whether he's debating with members of the public or presenting at schools, Ed always manages to make a strong case for veganism. I admire his commitment to veganism and his ability to engage with people from all walks of life.
He cares deeply about animal welfare, and his work makes a real difference. Thanks to Ed and other vegan YouTubers, more people are waking up to the reality of animal exploitation and its devastating impact on our planet.
2. Pick Up Limes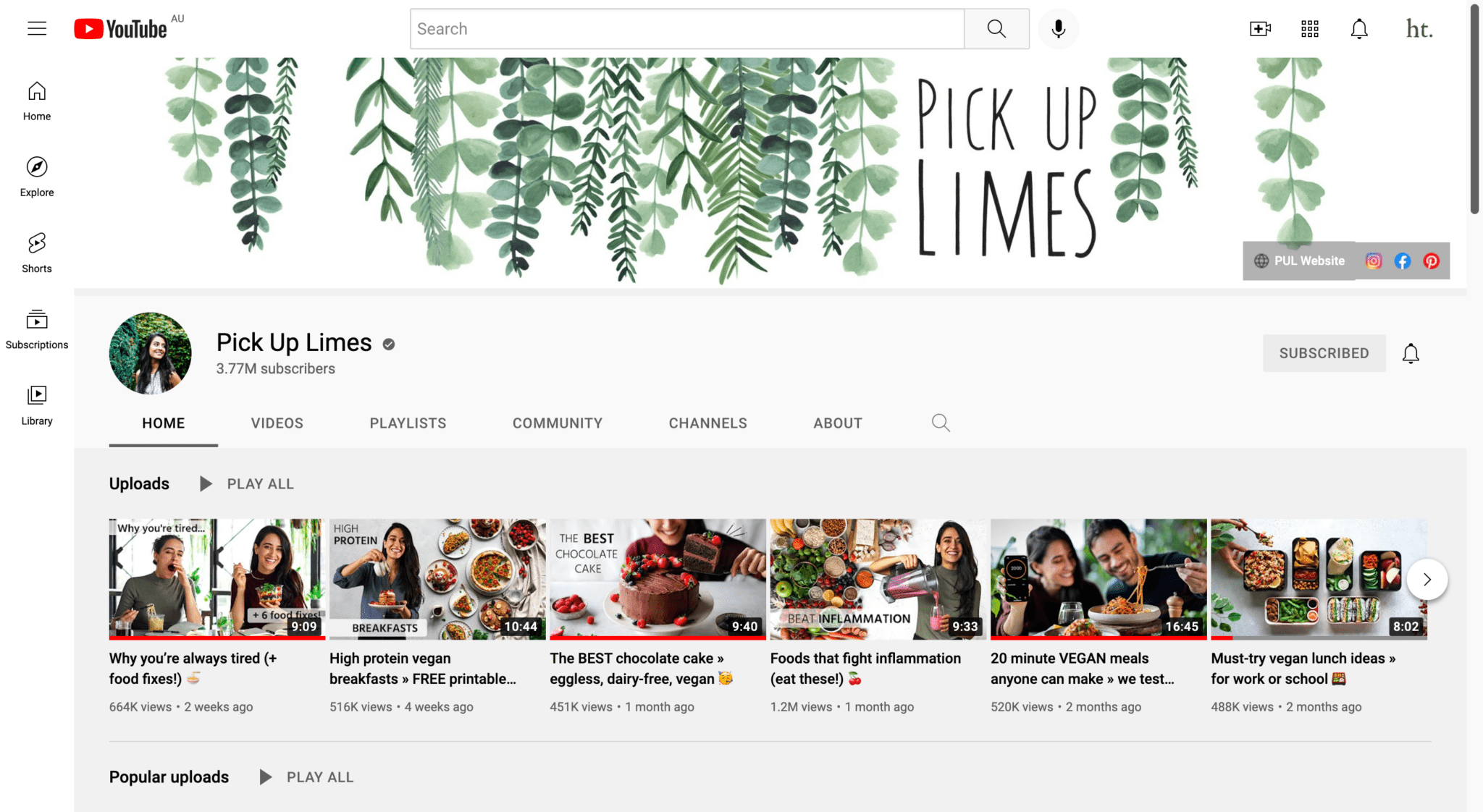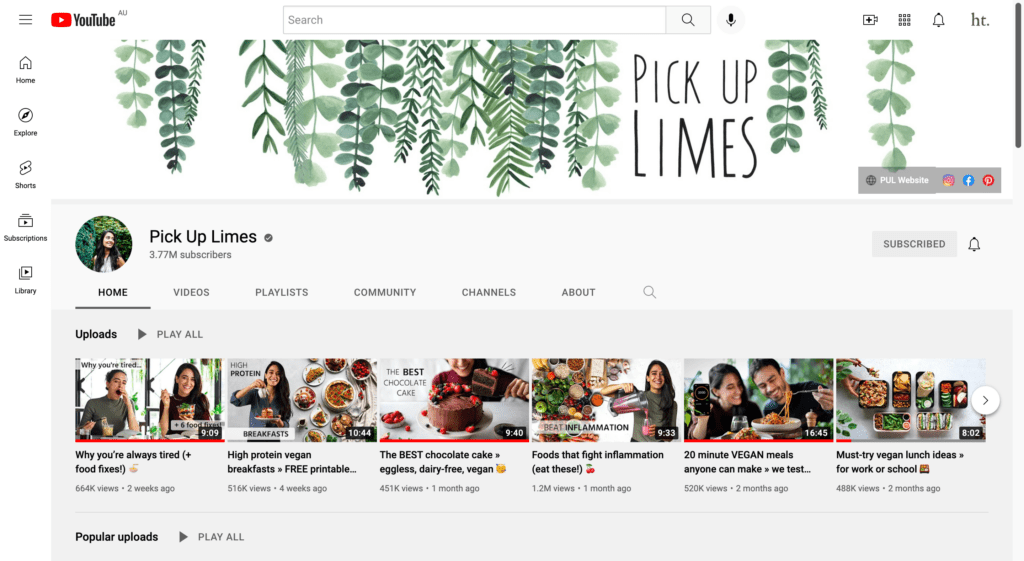 I'm always excited when a Pick Up Limes video pops into my feed. It's one of those channels that always leaves me inspired after watching.
Sadia's gentle approach to food, nutrition, minimalism and conscious living is what attracts me (and I'm sure many others) to her videos. It's great to see such a positive representation of veganism in the media.
As a dietitian from Canada living in the Netherlands, Sadia regularly publishes new and helpful videos with her team's help, including her fiancé, Robin.
Pick Up Limes has you covered whether you're looking for vegan recipes, meal ideas, vegan tips, or personal development.
3. Radhi Devlukia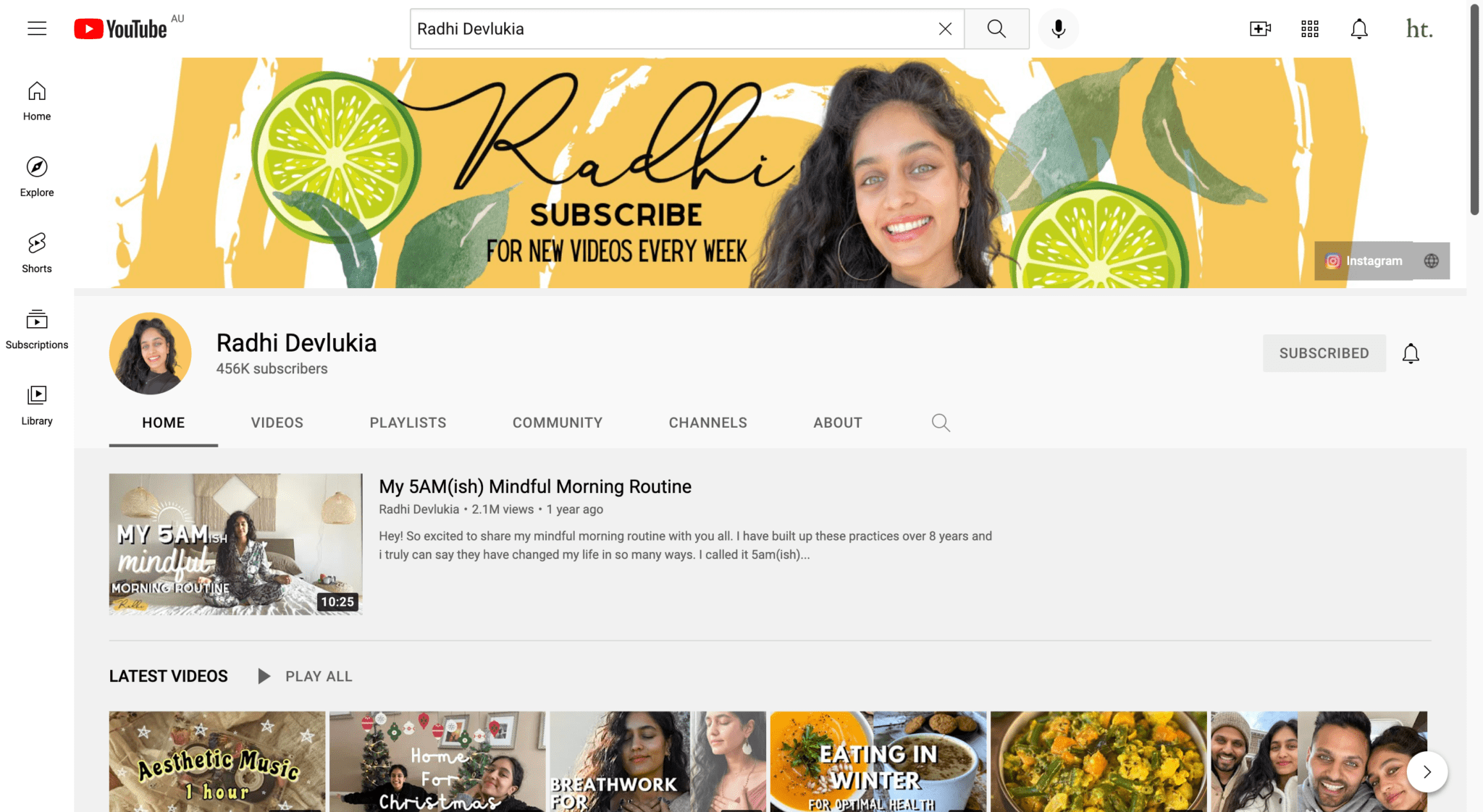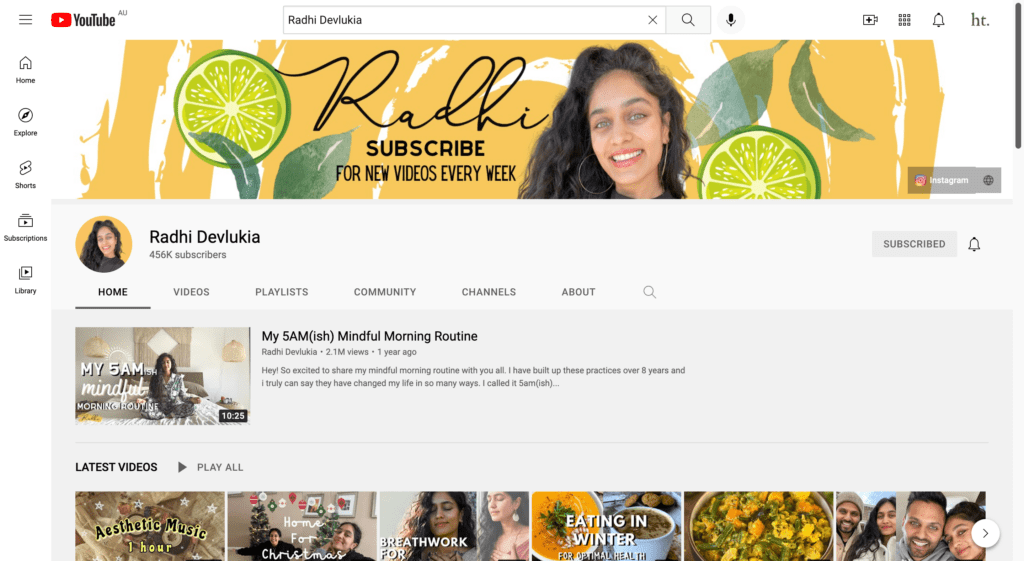 Radhi Devlukia's YouTube channel is a hub of plant-based recipes with influences from all parts of her life.
She was born in the UK to parents born and raised in Africa, and she now lives in the USA. Her recipes reflect her diverse background, and she enjoys merging cultures and flavours to create flavorful, vibrant dishes.
In addition to her skills in the kitchen, Radhi is a gifted teacher. She has a knack for communicating concepts in a relatable and straightforward way. Her warm personality and positive attitude are truly infectious.
Whether you're looking for vegan recipes, spirituality or wellness tips, you'll find it all on Radhi's YouTube channel.
4. Avantgarde Vegan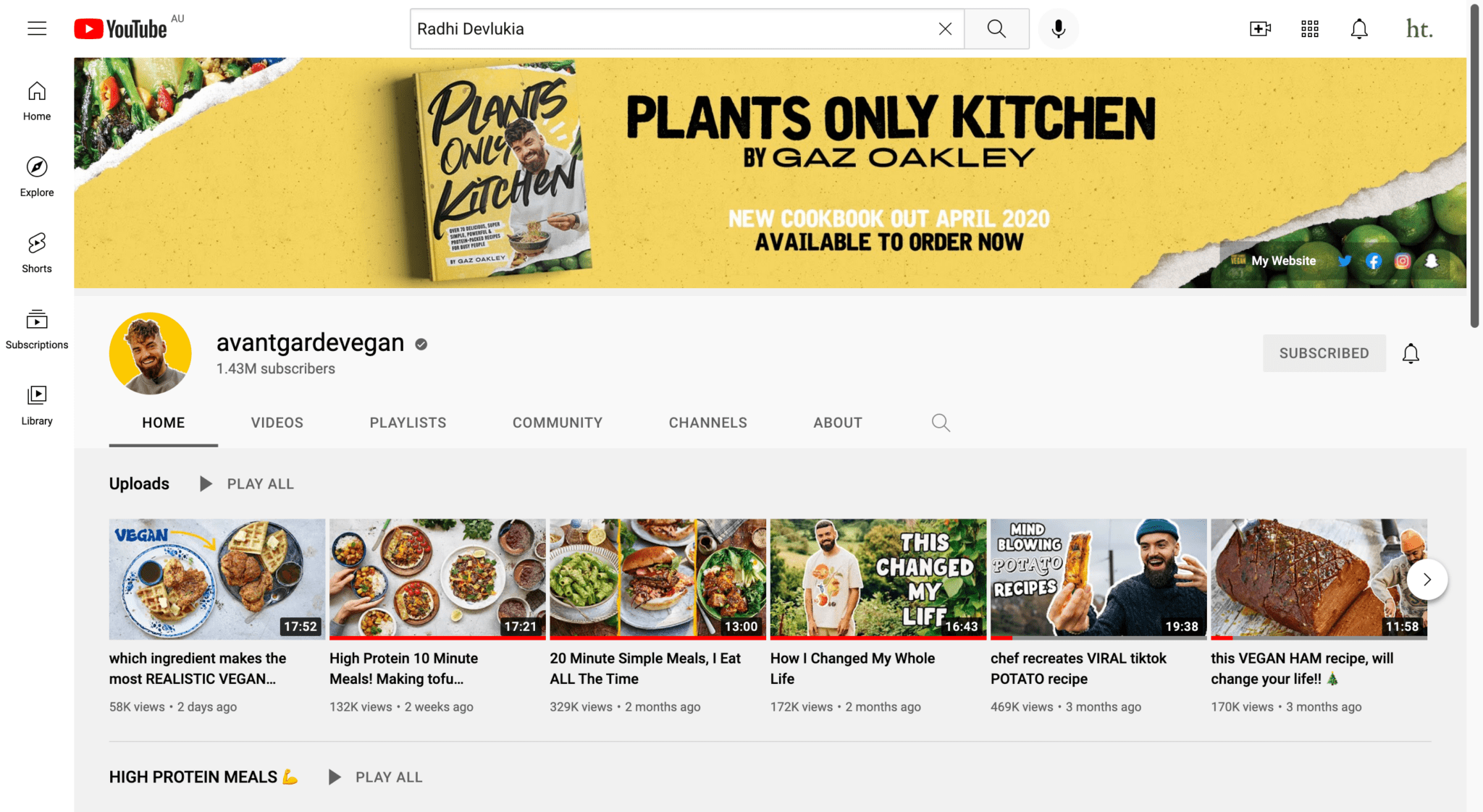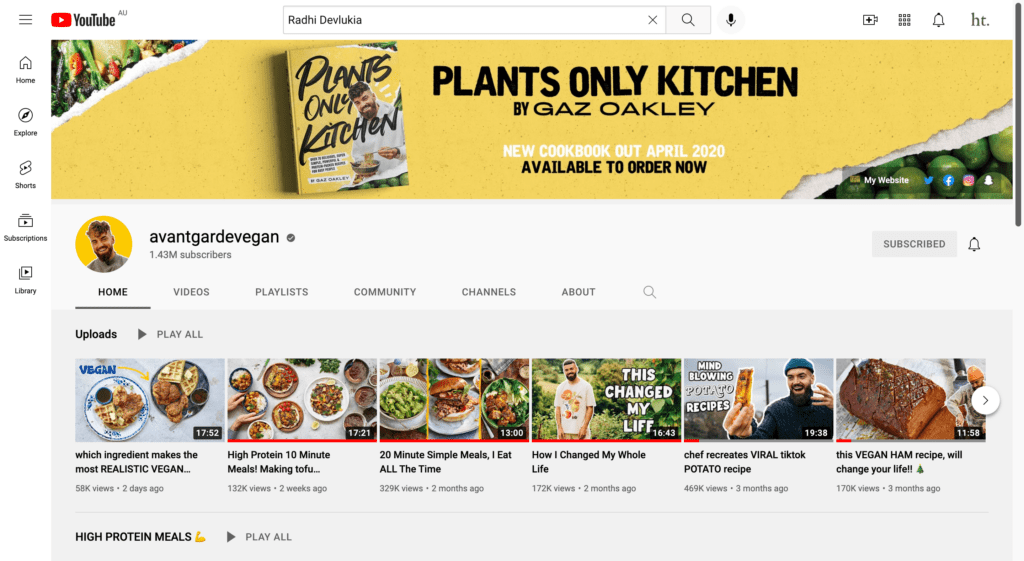 Gaz Oakley, the popular professional vegan chef behind the large YouTube channel, Avantgarde Vegan, delivers mouthwatering vegan recipes in a modern and entertaining package.
He has a soothing voice and makes everything appear incredibly delectable! Seriously, I want to eat all of his recipes!
Gaz also shares what he eats in a day, uploads travel videos and is the go-to source for anyone wanting to cook up a feast for meat-eaters. He has also published some epic vegan cookbooks, which have persuaded many of his friends and colleagues to go vegan.
In addition to being an excellent cook, Gaz is also a great instructor. He breaks down recipes in a way that is easy to follow, and he is always seems connected to what his community needs.
5. Unnatural Vegan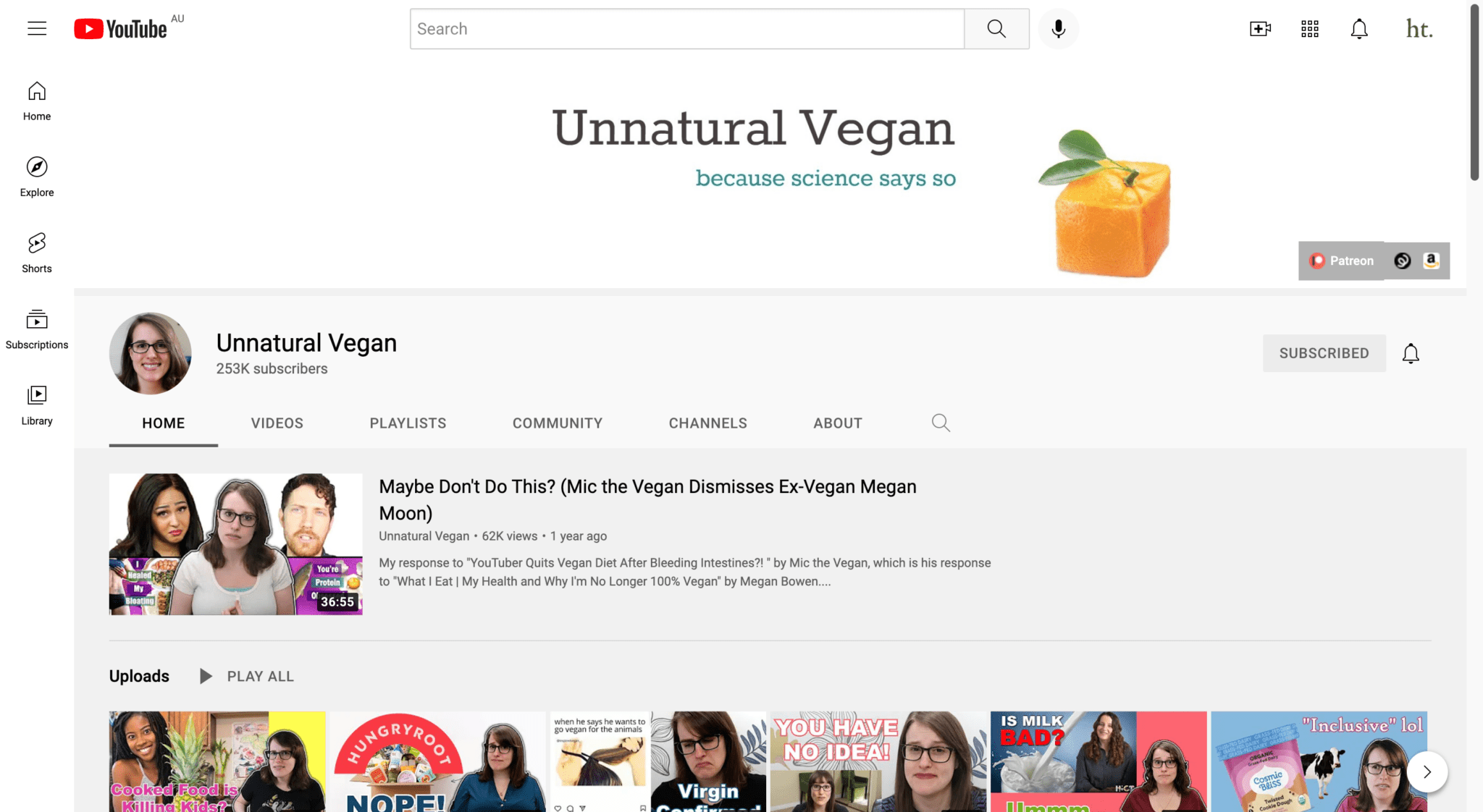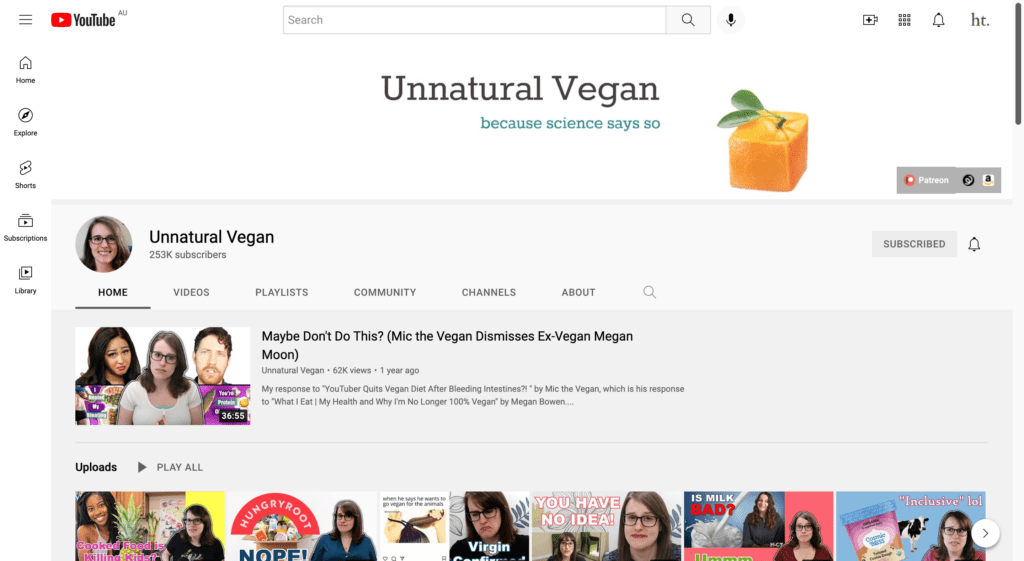 Swayze, better known online as Unnatural Vegan, is an American YouTuber who makes commentary videos. She talks about the vegan lifestyle and how to maintain it.
I like Swayze because she sits in the grey areas of veganism, bringing objectivity to the movement. In saying that, her style isn't for everyone as she's known to be critical of others, including other vegans, in an attempt to bring balance to common vegan health and lifestyle advice.
Swayze's videos usually include research-based information and personal anecdotal experience. This allows her to explore both the pros and cons of veganism in a relatable and down-to-earth way.
Her guidance has helped me feel more confident in my vegan journey, and I am grateful for her contribution to the vegan and non-vegan viewers.
6. Good Eatings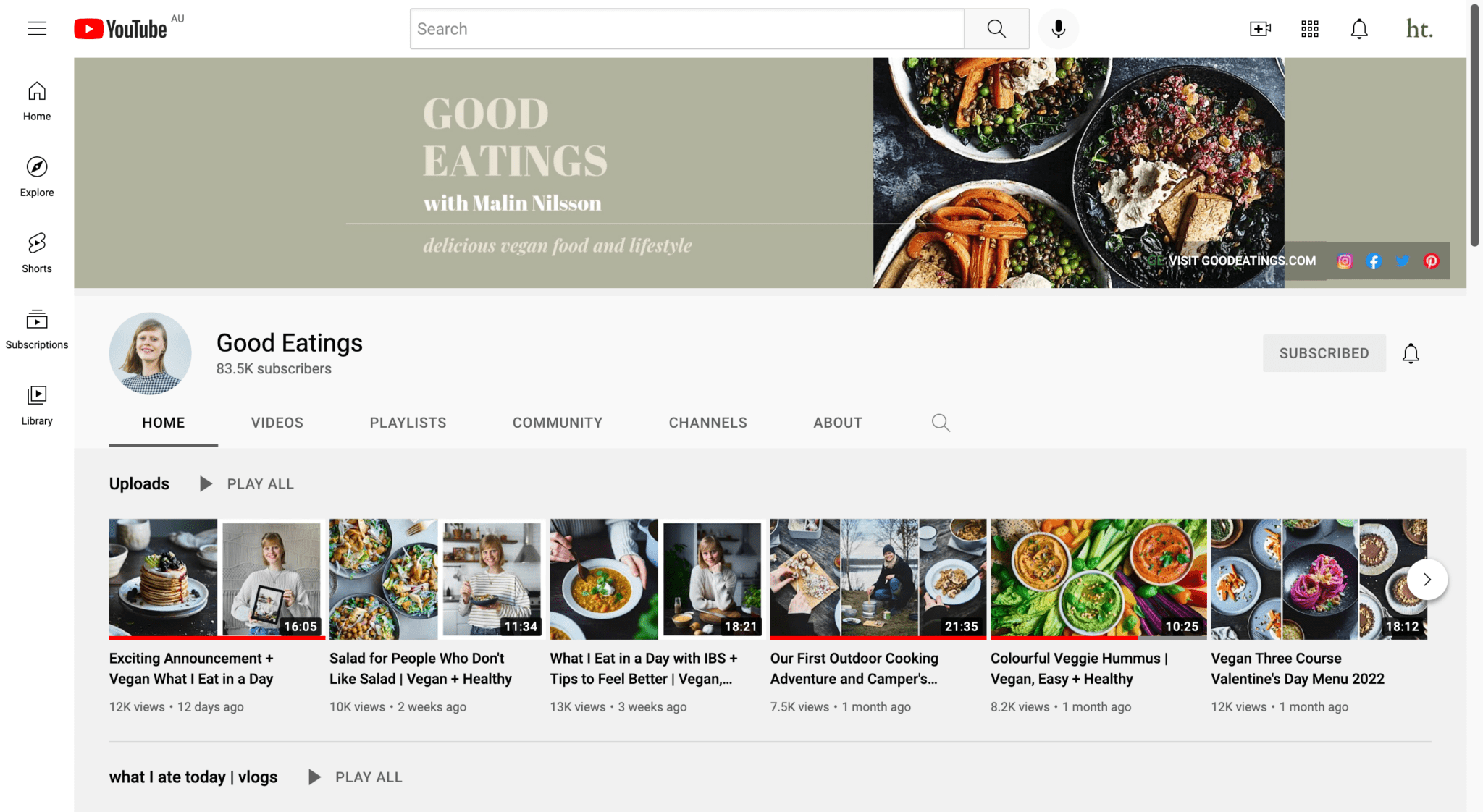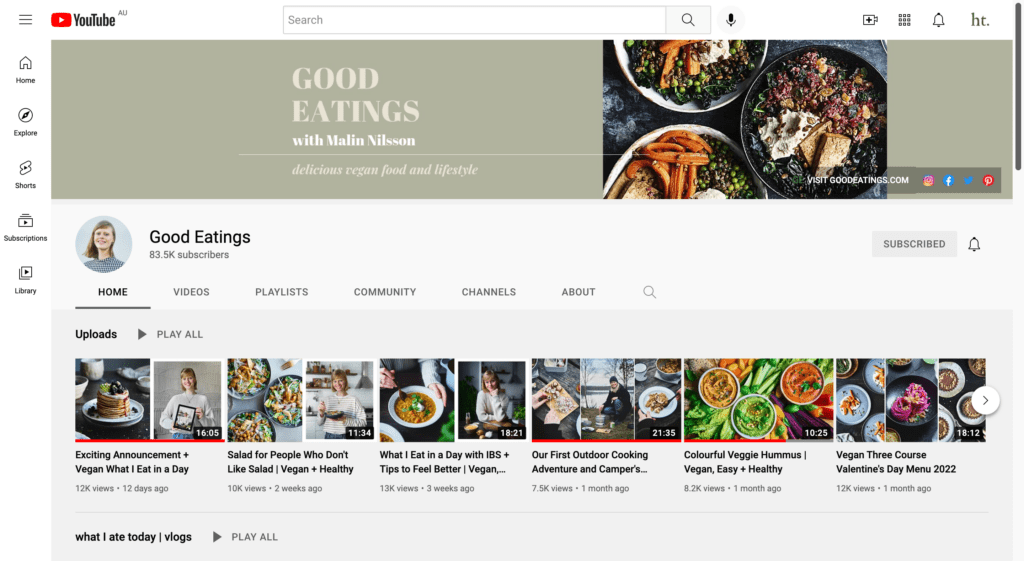 Malin Nilsson is the delightful personality behind the Good Eatings YouTube channel. She creates delicious vegan and often gluten-free recipe tutorials and travel vlogs with a Scandinavian touch.
Read more: Scandinavian Minimalism: 5 Inspiring Lessons From Nordic Culture
What I love most about this channel is the relaxed atmosphere, incredible footage, and Malin's vlogs, where she shows us what it's like to be vegan in Sweden.
Her recipes are mouthwatering (her vegan Swedish meatballs are on the top of my list), and her tips for living a vegan lifestyle are super helpful. If you're looking for a fun and informative new YouTube channel to subscribe to, check out Good Eatings.
7. Rainbow Plant Life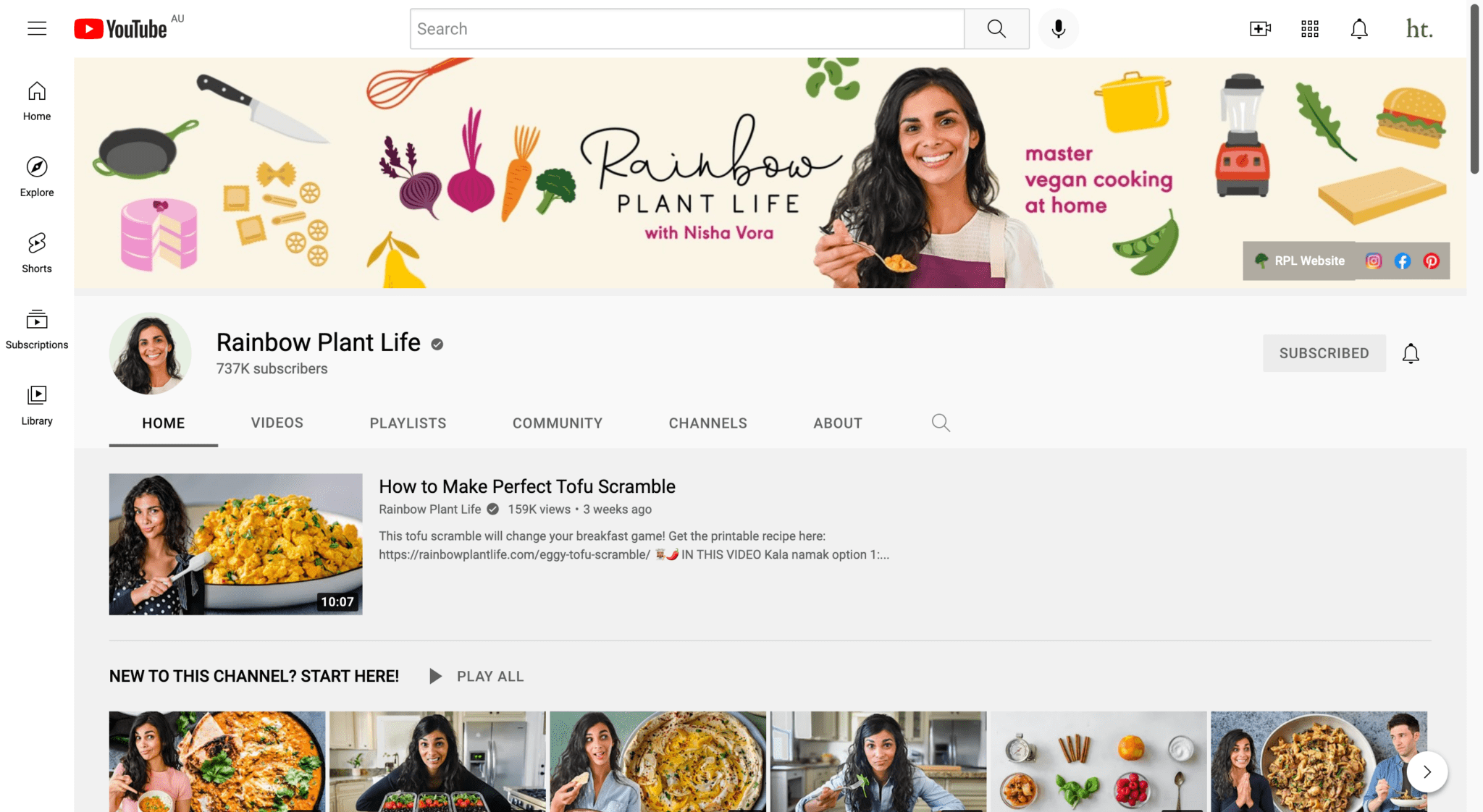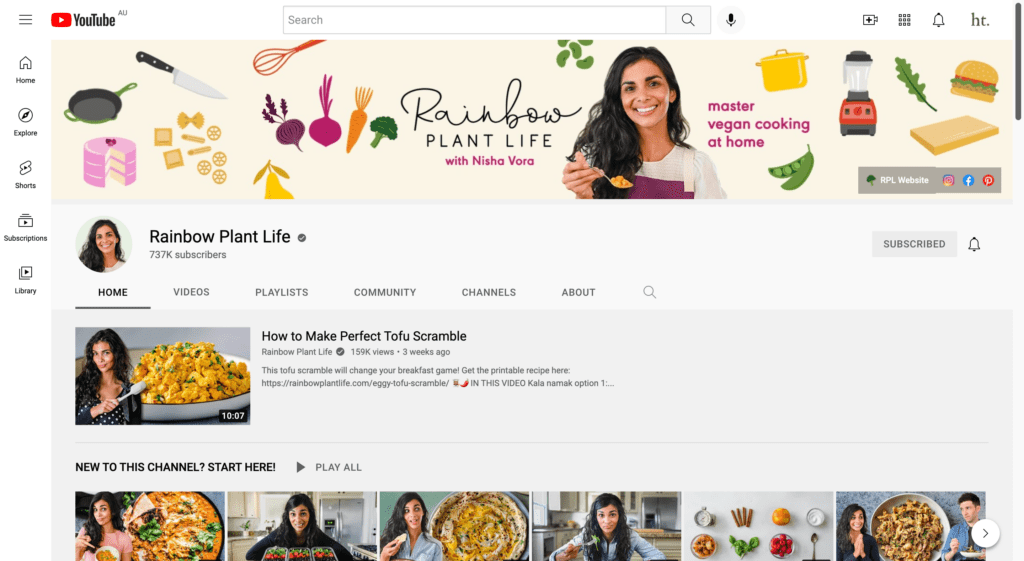 As a food blogger, photographer, and cookbook author behind the YouTube channel Rainbow Plant Life, Nisha Vora is dedicated to helping her audience master vegan cooking. And she doesn't disappoint.
Her cooking tutorials are some of the most informative, packed with valuable tips and tricks. But she also knows how to keep her viewers engaged, sprinkling little jokes throughout her videos.
I always look forward to when she brings on her Indian parents to try her creations. If you're looking for highly educational cooking tutorials, you need to subscribe to Nisha's channel.
Honourable mentions
YouTube is a crowded space, and the algorithm can only expose you to so many channels. I wish I could make a list including every vegan YouTuber on the planet, but it's not feasible.
I do, however, want to give a shoutout to Rachel Ama, Sustainably Vegan, Mic The Vegan, Make It Dairy Free, Madeleine Olivia, Chef Nico, Joey Carbstrong and Caitlin Shoemaker.
While I don't necessarily subscribe to these channels, I've watched some of their videos, and I'd highly recommend them.
Top vegan YouTubers
So that's my list of vegan YouTubers worth following this year. From cooking tutorials to "what I eat in a day" to live debates, they offer something for everyone.
What do you think? Who would you add to the list? Let me know in the comments below.