If you're after a BAKED vegan blueberry cheesecake that tastes just like a dairy cheesecake, then you'll fall in love with this recipe. I don't want to sound like I'm tooting my own horn, but this cake will blow your socks off.
If you love cheesecake, you'll love this! It's the best vegan cheesecake I've had. Hands down.
I know I'm making some big statements, but I've had feedback from my taste testers of this wonderful creation, and they're shocked at how good this vegan cheesecake is.
Don't take my word for it though, try it for yourself and let me know in the comments.
This recipe has been in my head for over a year now, and I thought that it would be the perfect way to start wrapping up cake month (if you didn't know, this September, I decided to do a month of just cake recipes). I know it's already October, but I couldn't help myself but have two more treats up my sleeve to share with you.
Other cakes that I shared with you in the last month:
This post may contain affiliate links, for which we earn a small commission at no additional cost to you. Read our full disclosure.
Kitchen tools needed to make this vegan blueberry cheesecake
The tools that you'll need to craft this dairy-free cheesecake are the following:
9-inch springform cake tin
Unbleached parchment paper
Rolling pin and ziplock bag, or food processor (for crumbling the biscuits)
Silicone spatula
Small saucepan
Spoon
Measuring cups and spoons
Scales
Small bowl (to soak the cashews)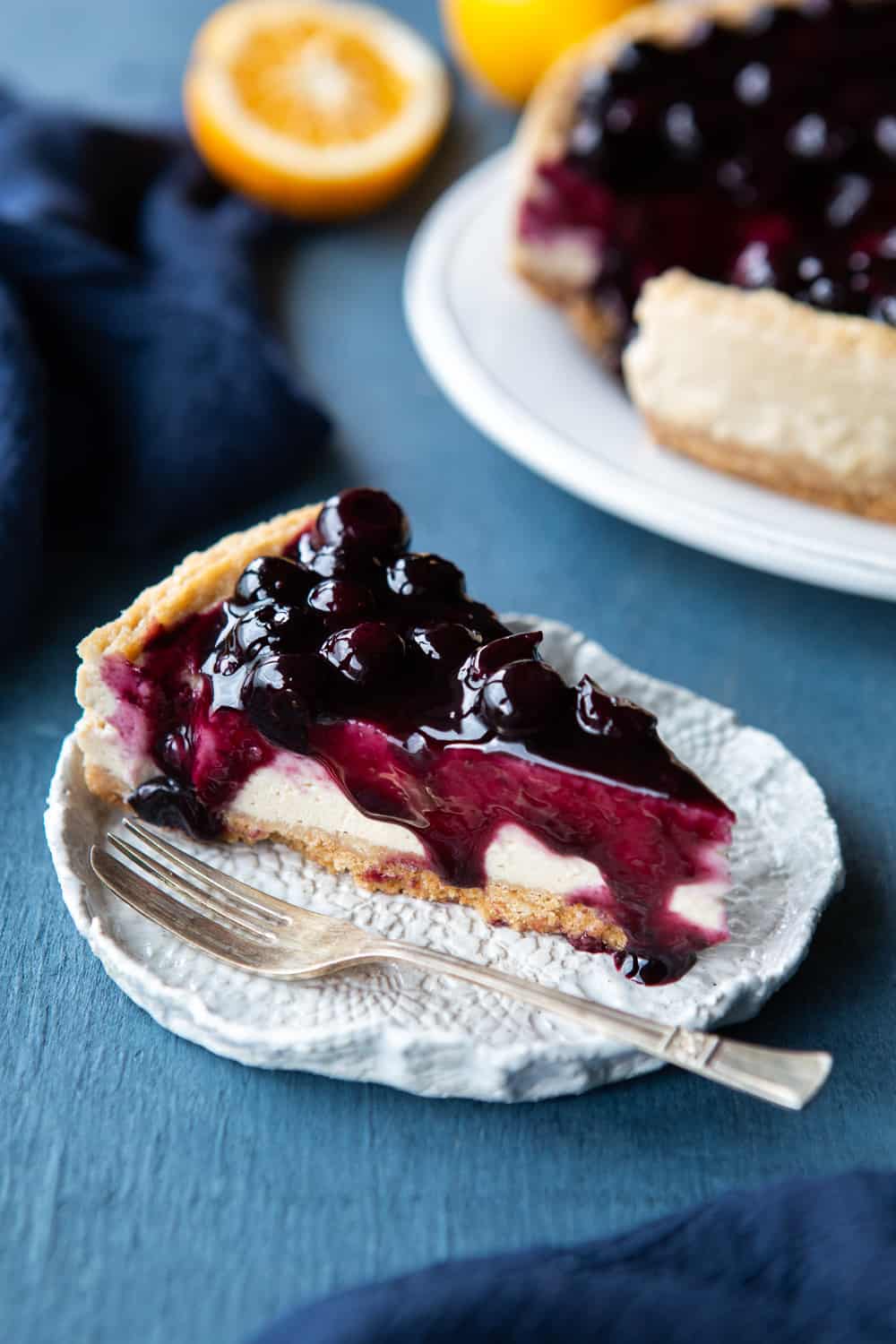 The blueberry compote
The blueberry compote that ties the flavours of this cake together is really easy to make. All you'll need is:
Frozen blueberries
Coconut sugar
Tapioca/arrowroot/corn starch
Lemon juice
That's it! With a splash of water to help the starch thicken the compote, making it will be as simple as putting all the ingredients into a small saucepan and stirring it over low heat until it thickens to the desired amount.
You can make it thicker or thinner; it's entirely up to you. I like mine on the thicker side.
Tips for making this baked vegan cheesecake
This cake is pretty straight forward to create, but here are a few tips to make it that little bit easier to get the best results possible.
If you don't like cashews or are allergic to them, you can use macadamia nuts in their place.
It's best to use a high-speed blender for this recipe because you want the smoothest, creamiest cheesecake filling possible.
This cake is best made the day before you'd like to serve it so that it has time to cool in the oven and set nicely in the fridge. It's important not to skip this step.
Don't try and substitute the vegan cream cheese. Trust me, I have tried it, and the result is nowhere near the creamy, smooth and "cheesy" flavour that a proper cheesecake should be.
The reason you leave the cake in the oven to cool is that it prevents the top from cracking.
This cake will keep in the fridge for up to 5 days.
A word about the ingredients used in this vegan cheesecake
If you've been following and cooking my recipes for a while, you'll know that I always try and use healthier alternatives. I was deliberating what to do with this recipe for MONTHS.
I had many failed attempts at making it a "healthier" vegan baked cheesecake. Still, alas, I realised that if I wanted to share a recipe that represented the closest thing to regular cheesecake, I had to use ingredients that you usually wouldn't find in my kitchen, and I'm okay with that.
I wanted to give you a cheesecake that I felt was worthy of sharing, and quite honestly, a cheesecake that would be worthwhile your time making.
So, all this to say, that this is probably the "naughtiest" dessert that I currently have available on TMV and that I'm proud of it! I achieved what I set out to do. To give you the best possible vegan blueberry cheesecake recipe that wasn't raw or trying to be something it clearly wasn't.
This cake is perfect for any celebration, or simply just because you feel like cake! I mean, I can personally eat cheesecake every single day.
You'll love this cake because it's:
Moist
Dairy-free
Egg-free
Vegan-friendly
Gluten-free (optional)
Smooth
Delicious
Creamy
Super easy to make
Some other sweet recipes you'll love:
If you try this recipe, let me know! I would love for you to leave a comment and rating below. If you want to go that extra mile, tag us on Instagram, or share your photo of the recipe on Pinterest.
Join the MV community
You'll get a neat summary of our content each week, as well as some behind the scenes of what's happening! See you on the inside 😉