Our decision to adopt a dog, let alone having a vegan dog was not something we took lightly. We see the commitment of raising an animal not too dissimilar to raising a child.
Any living being that we bring into our home, we want to ensure that they have an enriched life.
However, for us, there's another layer of requirements. For Maša and I, our goal each day is to live out our values, specifically minimalism and veganism.
At the same time, we felt compelled to bring a dog into our home. It's something we had been thinking about for years up until this point. It was time…
But one thing that was holding us back was the uncertainty of raising a vegan dog.
In the end, our emotions overcame our values, and we brought Chewy into our lives in May 2017.
We adopted him from his previous family at the ripe age of 11 months.
It took some weeks for Chewy and frankly, for us to acclimate to each other. In that process, we fed Chewy the leftover meat-based dog food the previous family gave us.
Even though the ingredients of this food horrified us, with all the change that was happening in Chewy's life, we wanted to keep some familiarity with his food at least.
As he settled into our home, the trial and error towards a vegan diet began.
Fear led us to conformity (feeding our dog meat)
Like most new dog parents, we did a lot of research online and in-person about breed tendencies, best food, toys, beds and everything in between.
I remember our first visit to a large retail pet store in our neighbourhood. We were overwhelmed by the massive range of dog food on the shelves.
At the time, we were experimenting with how Chewy responded to different raw foods, whether it was carrot sticks, rice crackers, mincemeat, or fruit. The results were mixed, and the pet store assistant insisted that this is quite normal, particularly for Oodle (dogs with some level of Poodle DNA) breeds, as they tend to be picky eaters.
So with this knowledge, we continued to buy meat-based dog food because we were too fearful to switch Chewy over to a full-blown vegan diet.
But now that we were on this meat path for our dog, we wanted to give him the best of the best—which leads us to the next evolution of our journey towards raising a vegan dog.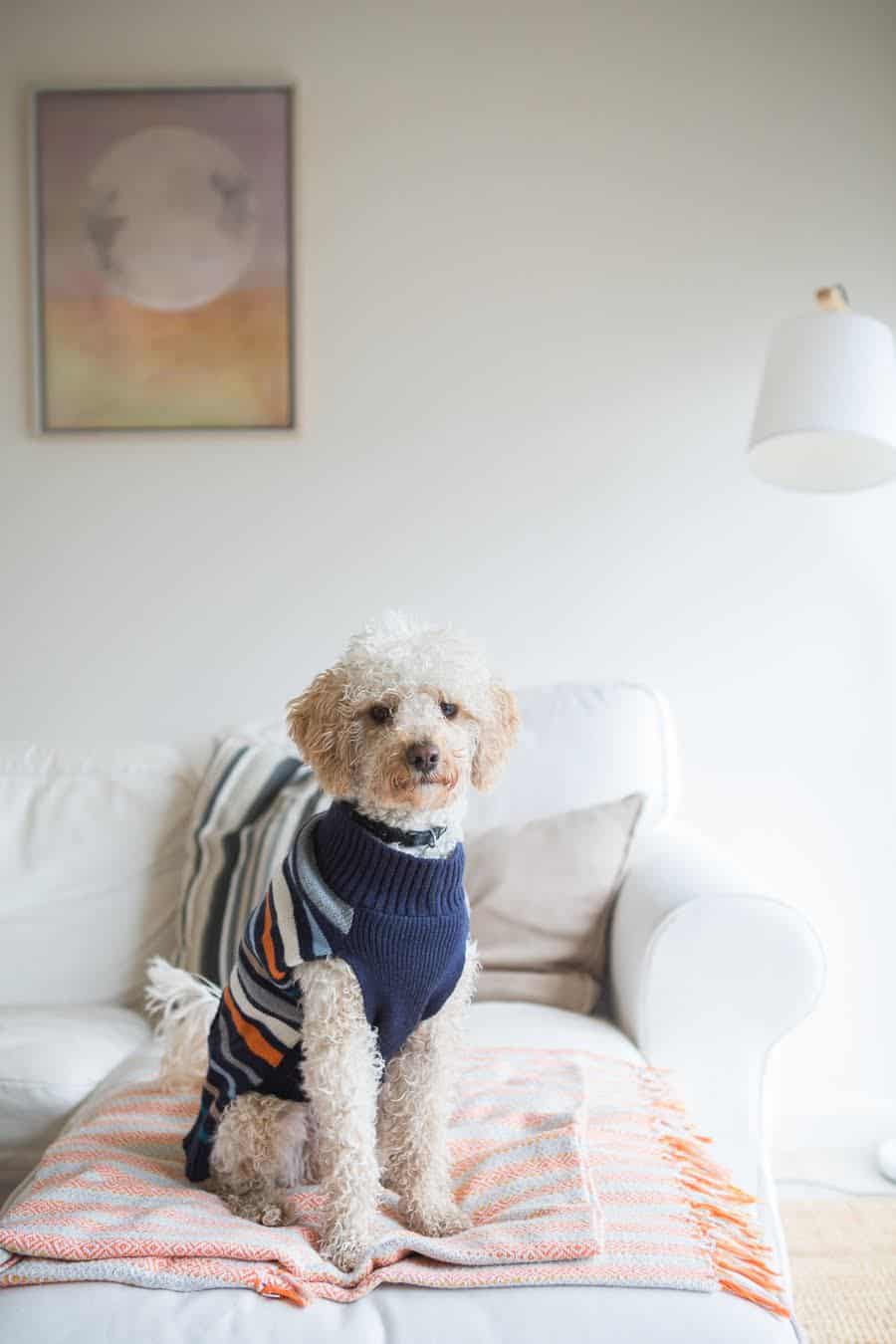 We fed our dog raw meat because we thought that was the best thing to do
In the midst of Chewy's transition, we watched a documentary on Netflix called Pet Fooled. The film looks at the unregulated pet food industry and its negative impact on animals' health.
It was eye-opening at the same time not surprising of the studies found regarding the pet food industry. It's quite disgusting to know that a lot of the food we intrust on the shelves are actually harming our furry friends.
In any case, the key takeaway from the documentary was that a raw meat diet was optimal for dogs.
The prospect of this idea was horrifying to us. Packed traditional dog food was testing in itself, but buying and preparing raw meat in a vegan household was hard to swallow.
But again, our love for Chewy overcame our values, and Maša proceeded to source organic meat from a local butcher.
I remember the night that we first fed Chewy raw meat. Keep in mind that up until this point, he was still getting used to his new home, and the stress of such change crippled his appetite.
So when Maša put raw bit sized chunks of beef with some grated veggies in his bowl, we didn't know what to expect. What happened next, was spectacular. Chewy inhaled the food in seconds, licking his bowl until it was shiny. This moment produced so much internal conflict for us.
On the one hand, we felt relieved that we found a formula that was not only scientifically healthy and "natural" for our little dog, but it was also a meal he was clearly passionate about.
Conversely, having raw animal flesh in our home as vegans was a slap in the face.
We couldn't handle bringing raw animal flesh into our home
We were challenged in so many ways to feed our dog meat, especially after being vegan for three years at the time. It pushed us so hard to the point where we questioned whether we made the right decision to adopt a dog.
For a couple of weeks, this was our process:
Go to the butcher to buy raw organic pet meat

Scoop it out of the plastic bag and put it in his bowl

Store the meat in the bottom of our fridge

Sometimes we would buy meat from the supermarket and cook it for him
Now to a non-vegan, these steps don't seem like a big deal. But for us, it was one of the most challenging experiences we've faced so far as vegans.
The touching of the meat, cutting it with our knives, scooping it with our spoons, washing meat down our drains, and the smell. Oh, the smell! It smelled like death. I guess because that's what it is.
But even after this brutal process of feeding our dog meat, after a little while, Chewy went Oodle on us and stopped eating his meals.
Those picky, picky Oodles, huh.
We were frustrated but at the same time relieved. Chewy's pickiness gave us some hope that we could experiment with a plant-based diet. At this point, we would use any excuse to avoid dealing with dead animal flesh.
Read more: 3 Reasons Why You Shouldn't Buy a Dog From a Breeder
We started researching vegan dog food
We know from DNA studies that dogs evolved from wolves around 15,000 years ago.
And of course, we know that wolves are carnivores. They have pointy teeth instead of a boxed jaw like omnivores and herbivores. Wolves also chop their food instead of grinding their teeth when eating.
Based on this logic, it's safe to assume that dogs like their ancestors are carnivores.
However, we're talking about 15,000 years ago! Dogs have evolved to enjoy non-meat food.
They show omnivorous tendencies despite being technically considered carnivores. We've domesticated them so much that they don't resemble the wolves that they once were thousands of years prior where they hunted their own food. Most dogs these days wouldn't survive in the wild.
In fact, in 2013 a Collie by the name of Bramble lived to 27 years (189 dogs years!) held the Guinness World Record for being the oldest dog at the time, living on a vegan diet of rice, lentils and vegetables.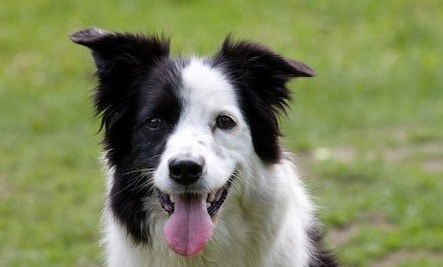 This was enough evidence for us to explore the benefits of a vegan diet for our dog. Of course, everyone's situation is different and I would encourage you to do your own research and consult with your vet regarding the specific needs of your pet dog.
If you're interested in reading up on studies on this topic, check out this paper.
The next challenge was finding a vegan dog food that was not only healthy for Chewy but also something that he would eat.
A conversation at the Naturally Good Expo
After we researched the benefits of plant-based foods for dogs, we needed to find a go-to vegan dog food product.
When we were running our online store, we would attend an annual event in Sydney called the Naturally Good Expo. It's a supplier exhibition for natural health products and brands.
In 2016, before having Chewy, we connected with a vegan dog food brand called V-dog. Even though we didn't have a dog at the time, we were curious about what ingredients they used in their products.
So in June 2017, only a couple of months after adopting Chewy, we had another opportunity to check out V-dog. But this time with the goal of finding a solution.
We spoke to their rep who was this down-to-earth young guy who had four rescue dogs at home, all eating V-dog. It was V-dog that gave two of his dogs another life, after being sick, which ultimately inspired him to work for this company.
But what was impressive was the ingredient list in their vegan kibble which you can check out here. We had experience researching ingredients from our business so we were pleased to see that this product ticked all of the boxes.
Note: We're not affiliated with V-dog, we just love their brand and what they stand for. If you're interested, click here to see a list of alternative vegan dog food brands.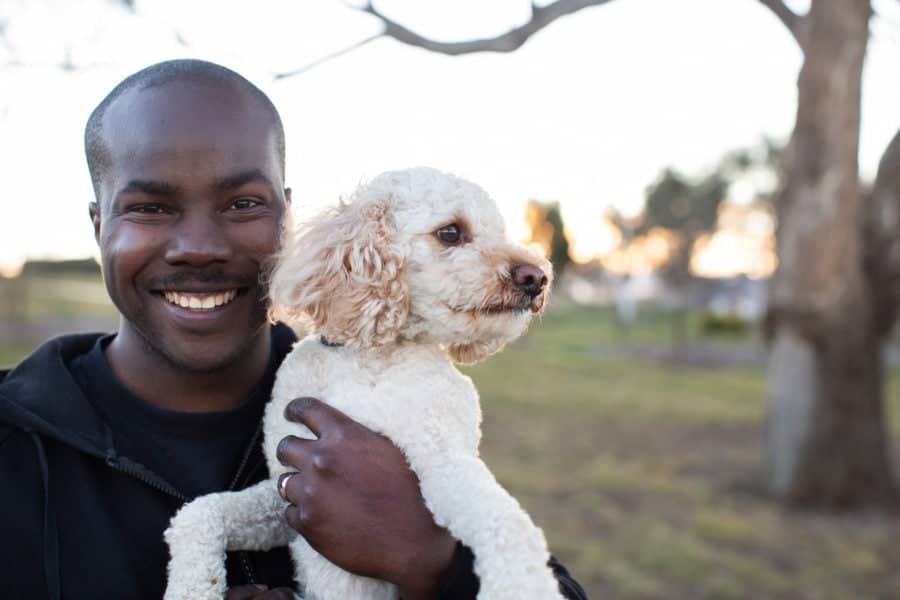 The challenge of getting an Oodle to eat vegan dog food
So we were sold on the V-dog, but was Chewy?
We did the same thing most responsible dog parents would do to prevent digestive problems, and gradually mixed V-dog into his current diet.
Initially, Chewy would eat around the vegan food and occasionally nibble on it. Eventually, we lost patience with him and after we ran out of his old food and gave him no option but to eat V-dog.
It was a war of attrition that required willpower to not give in to our stubborn pooch. On day two of the standoff, he gave in and started eating the kibble.
From that day on, he persisted with the food with the addition of regular plant-based treats as well as bite-size servings of the food we eat.
This is not a blissful story of how our dog suddenly fell in love with this mix of food. It was a persistent grind, but well worth it in the end.
We didn't do this to make Chewy's life hard. It's quite the opposite. We know that in the long run, as evidenced by 27-year-old Bramble, that a plant-based diet was going to improve Chewy's overall health. His energy is high, his coat is very healthy, and his digestion is excellent.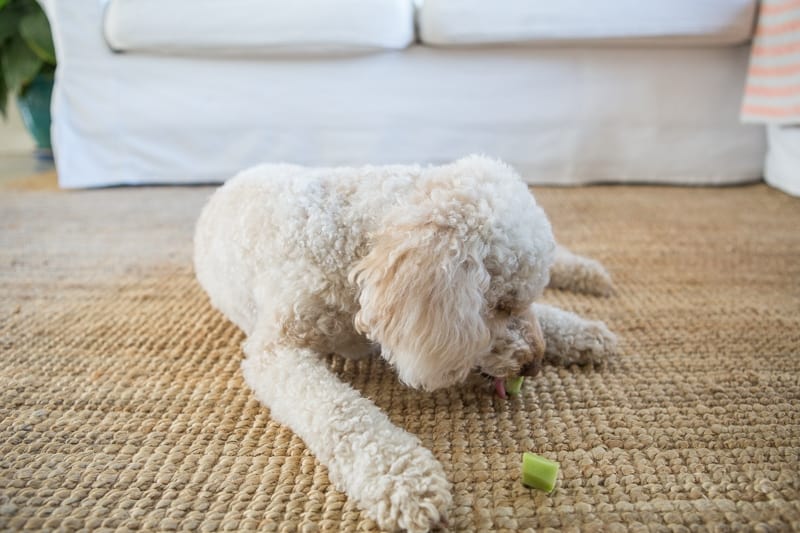 Dealing with judgement when you have a vegan dog
I remember when I first became vegan, I would avoid telling people because I hated the feeling of being judged.
Over time, I became comfortable talking about my values and why I choose to live a cruelty-free lifestyle.
That was nothing compared to the judgement you receive when people discover your dog is vegan. Sure, if you decide to make these choices, that's on you. But when you are responsible for a being that is dependent on you, i.e. pets and children, things get personal.
You know what though, I totally understand why people would feel horrified that we don't feed our dog meat. But at the end of the day, we take full responsibility for our decisions whether it's for Chewy or ourselves.
I will say, however, that the misconceptions people have about a vegan diet for humans a true for dogs as well. Tribal knowledge has penetrated our culture so profoundly that we struggle to broaden our perspective when the status quo is challenged.
In the end, we only tell people our dog is vegan if they ask. If a stranger at the dog park offers Chewy a non-vegan treat, we politely decline without an explanation.
Friends and family see how healthy and happy Chewy is and while they have their reservations they can physically see he's doing well.
We know that vegan dogs will become more widely accepted as the veganism movement continues to grow.
The impact of vegan dogs
There are approximately 500 million pet dogs on the planet, and the pet food industry in the US alone spends over 40 billion dollars on dog food each year.
Think about how many animal lives could be saved each year with the adoption of vegan dog food. The potential impact is massive!
What's exciting is that new products and brands are coming out all the time to help our furry friends. We're only just getting started.
Now I say all of this not to be ignorant. I'm just excited that dogs can thrive on a vegan diet. In saying that, Maša and I have heard the odd person express that they have had some issues transitioning their dog to a plant-based diet.
We didn't probe to find out exactly what they were feeding their dogs, but as humans, it's possible that a strict vegan diet is not suitable for every domesticated dog.
Now, over to you.
What has been your experience raising a vegan dog? We would love to hear from you in the comments below.