I still remember how hard it was to find quality resources when I first became vegan.
Sure, there have been some powerful films and documentaries but sometimes you're in the mood to read a quick article to give you that boost of reassurance and a sense of belonging.
Tapping into vegan blogs is a great way to get fresh and unique content, written by passionate individuals.
However with the internet exploding in the last decade, it's become a very crowded space.
It takes five minutes to set up a blog or a YouTube channel. With so many people creating content, it becomes challenging to find the good stuff.
Don't get me wrong, I think it's great that people want to spread the vegan message. But in order to stand out on the internet, you have to take your blog seriously.
In this post we've scoured the web for the highest quality vegan blogs we could find. We've hand selected blogs based on the following criteria:
Is it up to date?
Sticking to a consistent blogging schedule is hard work and not many bloggers make it past year 1. So we want to acknowledge those who have stayed consistent and dependable to their communities.
Is it 100% vegan?
We became vegan for ethical reasons so it's important that this message is not compromised in this list. There are so many beautiful food bloggers who claim to be "nearly vegan" or plant based with having a few eggs every now and then. Again, we love these blogs and will continue to follow them, but for the purpose of this list, we've only curated 100% vegan blogs.
Is the photography amazing?
Anyone can start a blog but not many put in the time to hone their craft, this includes photography. This is especially important for vegan food bloggers. If you want to share your delicious recipes with the world, you need to have great photography.
Is the design simple and clear?
As minimalists, we appreciate simple design. Design that lets the content be the lead singer. We also feel it's important to have a website that is mobile friendly as most people are reading content on their smartphones.
Do they have a unique message?
We want to promote vegan blogs that believe in compassion, health and sustainability. You can usually tell straight away from the blogs tagline or their about page. We want to know the bloggers behind the brand and what their personal story is. We also love vegan blogs that have a point of difference, whether it's a type of cuisine they focus on or a design aesthetic. For example, we cover a range of topics on this blog, but our North Star is the intersection of minimalism and veganism. That's what makes this blog unique.
Is it a single author blog?
We love getting to know individuals who run blogs. That personal connection gets lost with major publications. So whilst we love websites like One Green Planet, we've decided to only include the little guys and gals in the post. Although some of these single author blogs have more traffic than the big publications!
Vegan blogs of all kinds
I just want to make it clear that this is not a roundup focusing solely on vegan food blogs. Whilst they take up a big chunk of this list, we were also looking for bloggers writing about fashion, the environment, health and anything in between.
With all of that said, let's get into the list!
1. Fairing Well (link)
2. hot for food (link)
3. The Compassionate Road (link)
4. Oh She Glows (link)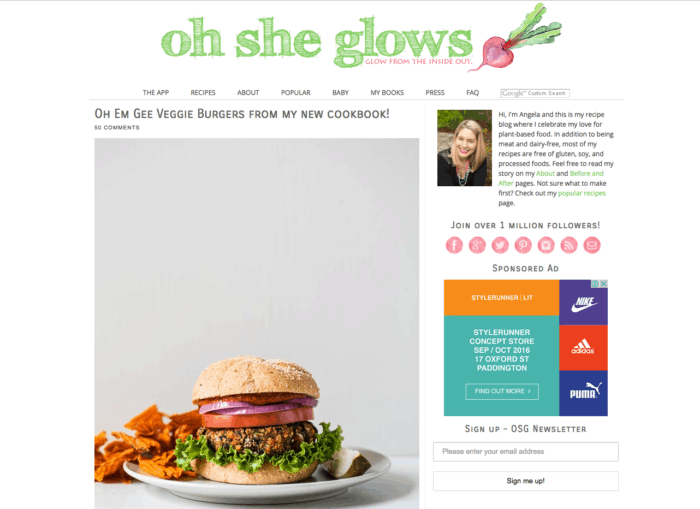 5. Rainbow Nourishments (link)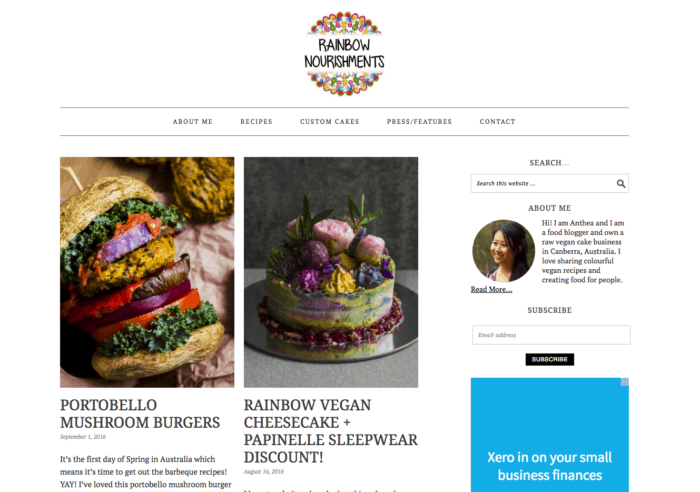 6. Thug Kitchen (link)
7. Vegan Richa (link)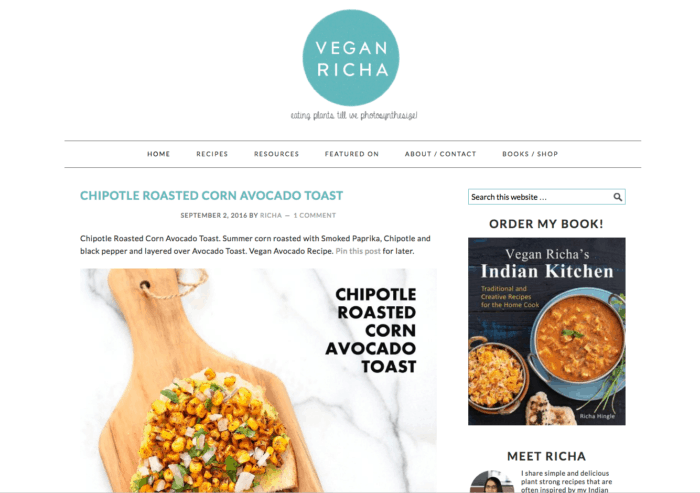 8. The Full Helping (link)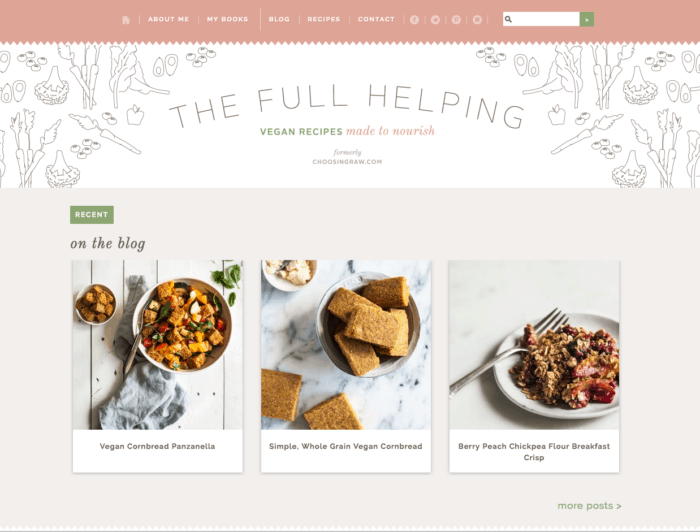 9. Earth By Anna (link)
10. The Plant Philosophy (link)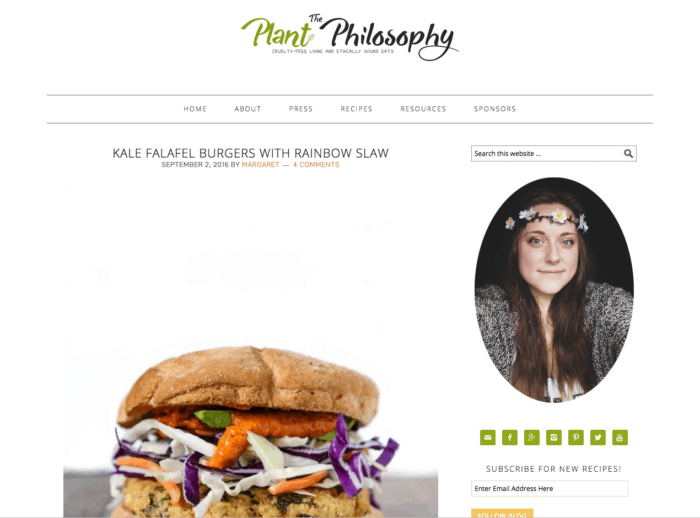 11. Keepin' It Kind (link)
12. Black Vegans Rock (link)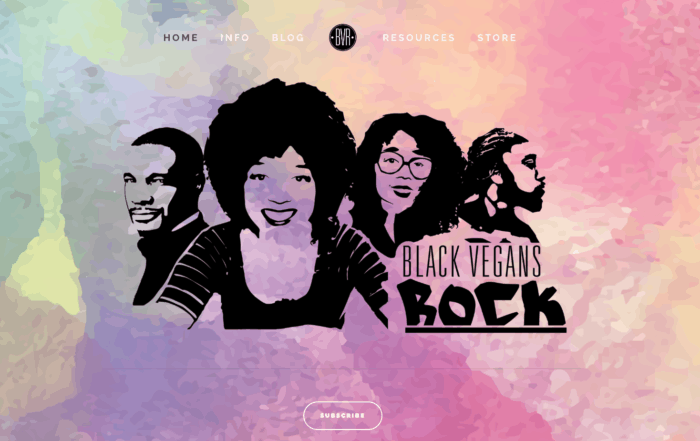 13. Nutriciously (link)
14. My Vegan Journal (link)
15. Ordinary Vegan (link)
16. Like a Vegan (link)
17. Bake and Destroy (link)
18. No Meat Athlete (link)
19. Healthy Happy Life (link)
20. Olives For Dinner (link)
21. Oh, Ladycakes (link)
22. The First Mess (link)
23. The Vegan 8 (link)
24. One Ingredient Chef (link)
25. Vegan Yack Attack (link)
26. Rich Roll (link)
27. Vegan Miam (link)
28. Blissful Basil (link)
29. Allyson Kramer (link)
30. The Colorful Kitchen (link)
31. Simple Vegan Blog (link)
32. This Rawsome Vegan Life (link)
33. One Arab Vegan (link)
34. I Love Vegan (link)
35. The Vegan Stoner (link)
36. The Discerning Brute (link)
37. seitan is my motor (link)
38. Vegie Head (link)
39. An Unrefined Vegan (link)
40. the vegan chickpea (link)
41. Your Daily Vegan (link)
42. Veganlovlie (link)
43. JL Goes Vegan (link)
44. Bad Ass Vegan (link)
45. Kris Carr (link)
46. The Kind Life (life)
47. Green Evi (link)
48. Unconventional Baker (link)
49. Delightful Vegans (link)
50. Namely Marly (link)
51. Lauren Caris Cooks (link)
52. Wallflower Kitchen (link)
53. Trinity's Conscious Kitchen (link)
****Update: due to an overwhelming response in the comments with more websites, we've selectively added a few more vegan blogs to our roundup****
54. My Goodness Kitchen (link)
55. Zucker & Jagdwurst (link)
56. Cocoon Cooks (link)
57. Brownble (link)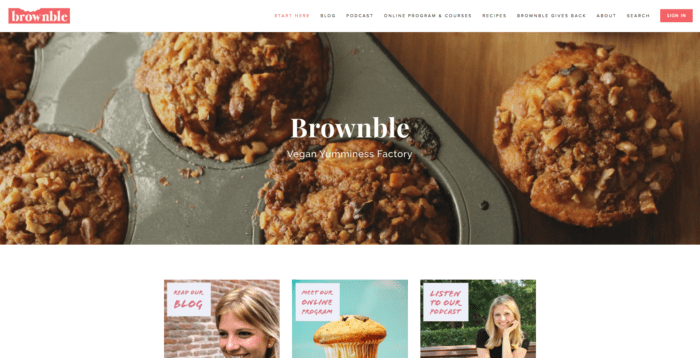 Vegan blogs for everyone
So there's our comprehensive list of high quality vegan blogs to follow. Whilst this list took hours to compile, I'm sure there's are still plenty of blogs that I missed. So I would love to know what your favourite vegan blogs are in the comments below.