Most of us grab a packet of oily snacks, chips, or cheesy delights when hunger pangs strike. But it can be challenging to think of vegan-friendly snack options. Being a vegan, you must be facing several stereotypes, hence for your normal diet schedule you lack very less snack options as its entirely of plant-based foods and excludes all animal products.
But, in spite of eating fake meats happily, you must be worried for your snacking time. Here, in this article we have covered few vegan snacks which are being tried and tasted by us.
Which Vegan Snack Is The Healthiest?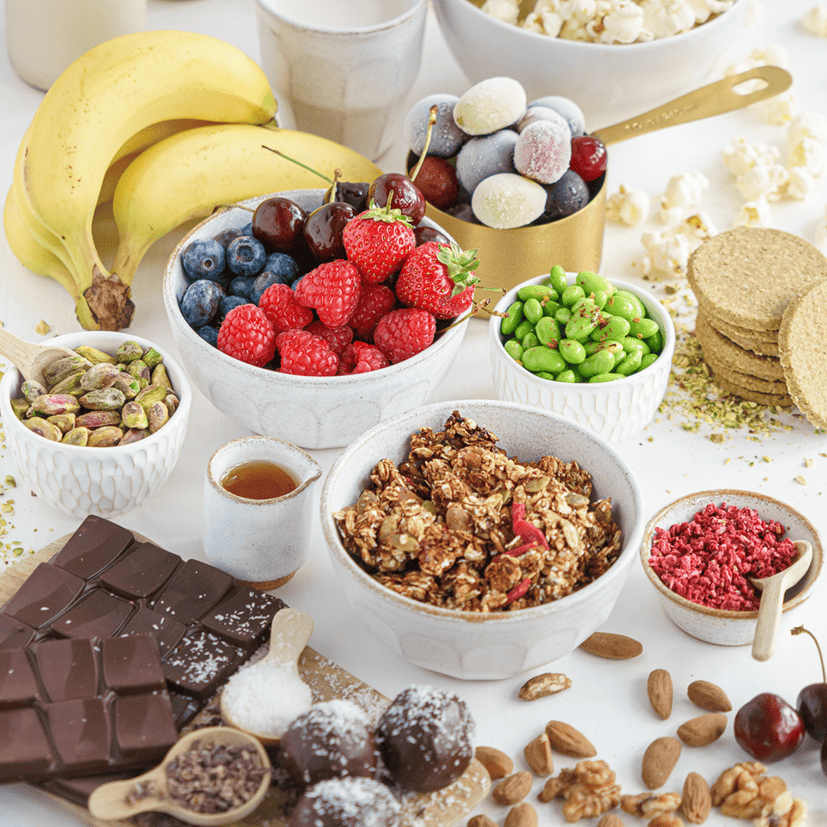 You must be wondering, how vegan snacks be interesting. We have listed few which are completely healthy and nutritional. Let us have a sneak-peak to what vegan snack items are considered healthy mainly for us all:-
Pack fun snacks: If you prepare snacks for children, you may make them more flavorful and entertaining by using cookie cutters or adding healthy dips. For example, chop celery sticks into "ants on a log" shapes; they may be chopped into little pieces. Next, spread them with peanut butter. Add raisins or Medjool dates on the top to resemble ants. You may substitute the peanut butter with a vegan dip, such as white bin dip or hummus, for an alternate option. Healthy does not need to be dull! Also, keep in mind that a fun snack is not only for children but also for adults. Enjoy yourself.
Cereals & Seeds: Granolas and seeds make excellent snacks since they are portable and provide a healthy balance of carbs, proteins, and fats. You may, for instance, combine granola, sunflower seeds, and dried cranberries. This combo will provide lasting energy and satisfy you until your next meal. Several store-bought granolas are plant-based, so that you could stockpile a few energy and granola bars. If you have the time, prepare it yourself at home.
Chickpeas with Sunflower Seeds Roasted: If you're searching for a savory snack, roasted chickpeas, and sunflower seeds are an excellent choice. Chickpeas are high in protein and fiber and contain complex carbs that provide sustained energy. Moreover, sunflower seeds are an excellent source of protein and healthy fats. This combo is ideal for times when you need a rapid boost.
Veggie Chips with White Bean Dip: When needing something salty, vegetable chips are one of the most excellent vegan snacks you can consume. Gluten-free and a healthier alternative to traditional chips, they may be created using veggies. Kale chips, sweet potato chips, and beet chips are among the examples. They are often baked, so they have less fat. For a whole snack, you might combine them with a white bean dip or guacamole.
A fruit and nut spread: This traditional snack is usually an excellent option. It is simple to transport and has a healthy proportion of carbs, proteins, and lipids. Try an apple with macadamia butter or a pear with cashew butter, for instance. If you are packing this snack for later consumption, separate the nut butter from the fruit so it does not make it mushy.
Fortunately, whether you are a strict vegan or just trying to reduce your meat consumption, there are endless ways to put up tasty and nutritious plant-based snacks. Let's look at twenty vegan snacks that won't break the bank but will keep you full and healthy.
1. Guacamole with Chips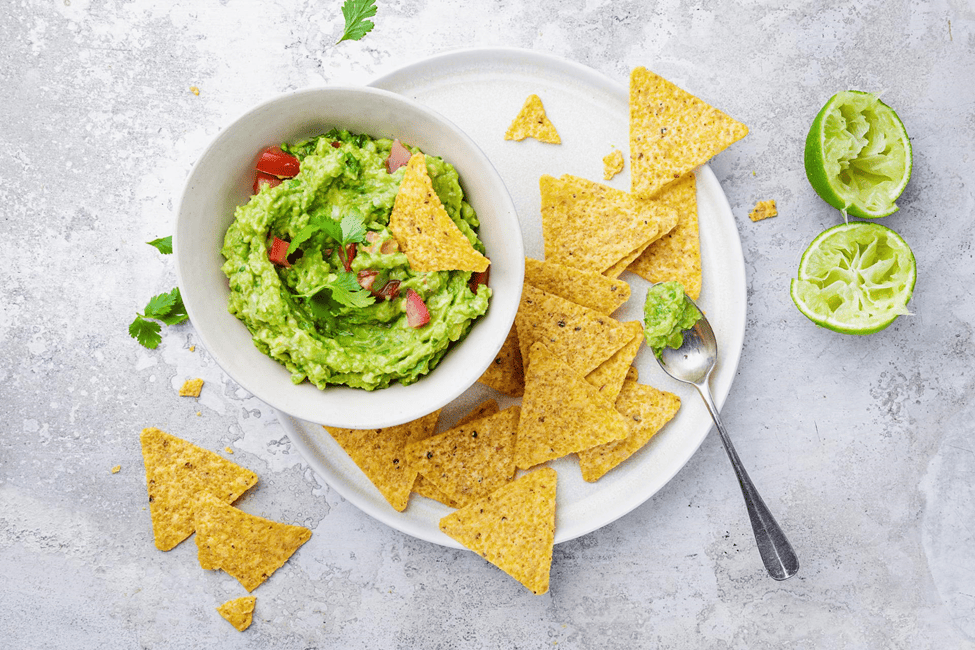 Guacamole is an avocado, onion, garlic, and lime juice-based vegan dip. It is very nutritious and includes several valuable components which makes it a good vegan snacks option by all means. Avocados, for instance, are a fantastic source of monounsaturated fats, fiber, and potassium, all of which may support cardiovascular health.
You may cook your guacamole or buy a pre-packaged version that does not include extra sugar or salt. Mix crackers made from 100 percent whole grains with guacamole for a nutritious vegan snack. On tasting it, we felt the flavor of avocado is quiet rich on mixing it with the butter.
According to UPMC Health Beat, people who are into eating avocados always have a tendency for lowering the risk of the disease related to heart. Its also being researched that half serving of avocados is equal to eggs, butter and even processed meats.
2. Fruit and Nut Spread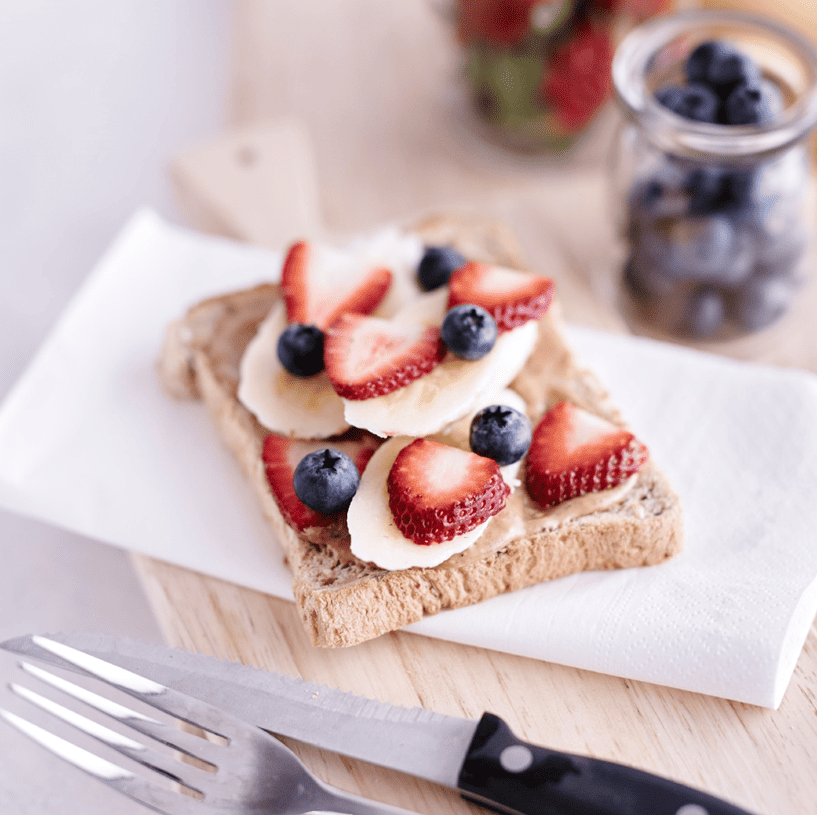 Fruit and nut butter, produced by blending nuts, is a tasty vegan snack with several health advantages. Fruits' fiber, vitamins, and minerals help keep you feeling full, while nut butter's fiber and protein keep you going strong. Bananas and apples with nut butter (almond, cashew, or peanut butter) are famous. Choose a nut butter that doesn't include additional sugar, oil, or salt to maximize its nutritional value.
3. Trail Mix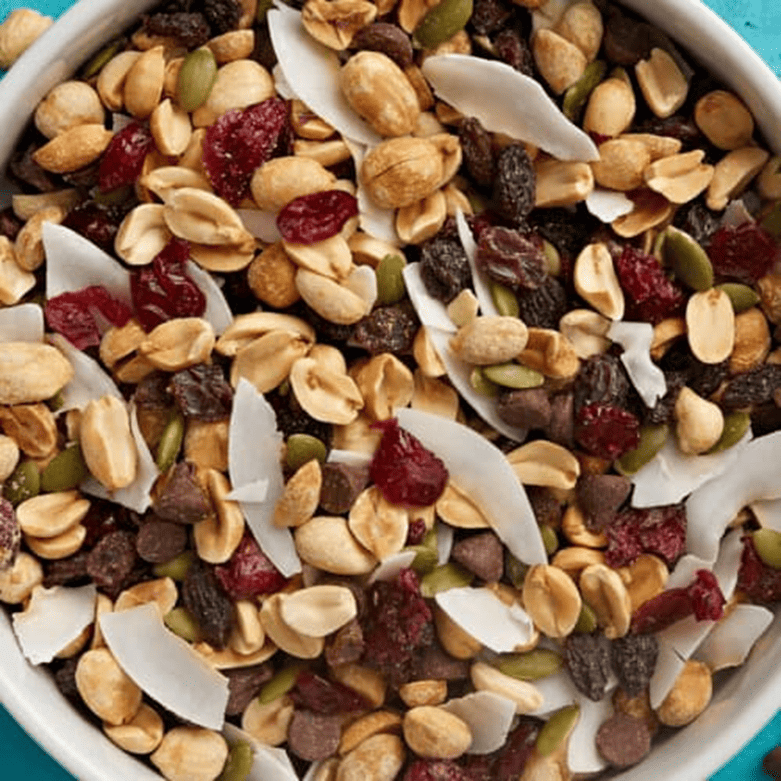 The nuts, seeds, and dried fruit comprise the bulk of a traditional trail mix. Chocolate, coconut, crackers, and even entire grains may be found in some variations. Depending on its constituent parts, trail mix may be an excellent way to get your daily dose of fiber, healthy fats, and protein.
Being completely vegan, I am in love with this snack as the flavor of almond, pistachios are always great but you may make your trail mix without sugar and salt by mixing your preferred plant-based ingredients.
1 unit of this trail mix, contains 135 calories, as per to myfooddata, in which only 9g is fat and approx. 13g is carbohydrates.
4. Roasted Chickpeas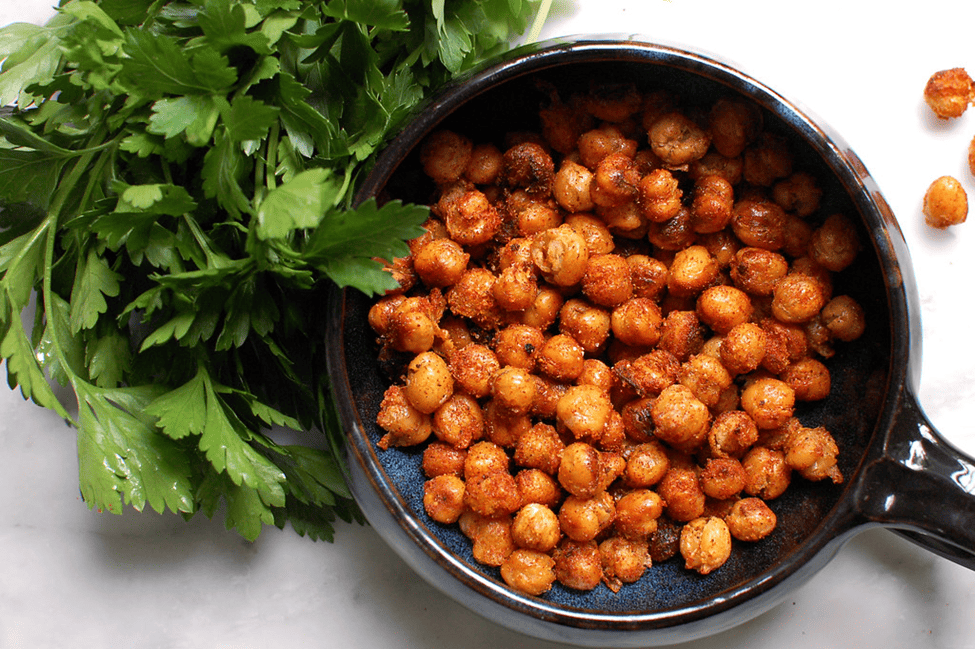 Chickpeas, sometimes called garbanzo beans, are a kind of legume that is both round and somewhat yellow. Chickpeas are a great source of protein and fiber, and just one cup (164 grams) contains nearly 14 grams of protein and 71% of the DV for folate. Minerals such as iron, copper, manganese, phosphorus, and magnesium are also abundant in them.
Chickpeas, when roasted, make for a tasty vegan snack. You may create your own by spreading canned chickpeas in an even layer on a baking sheet, mixing them with olive oil and spices, then baking the mixture for 40 minutes or until it reaches the desired crunchiness. I like roasted chickpeas the best when spiced up with red chili and lemon.
5. Avocado and Rice Cake Snack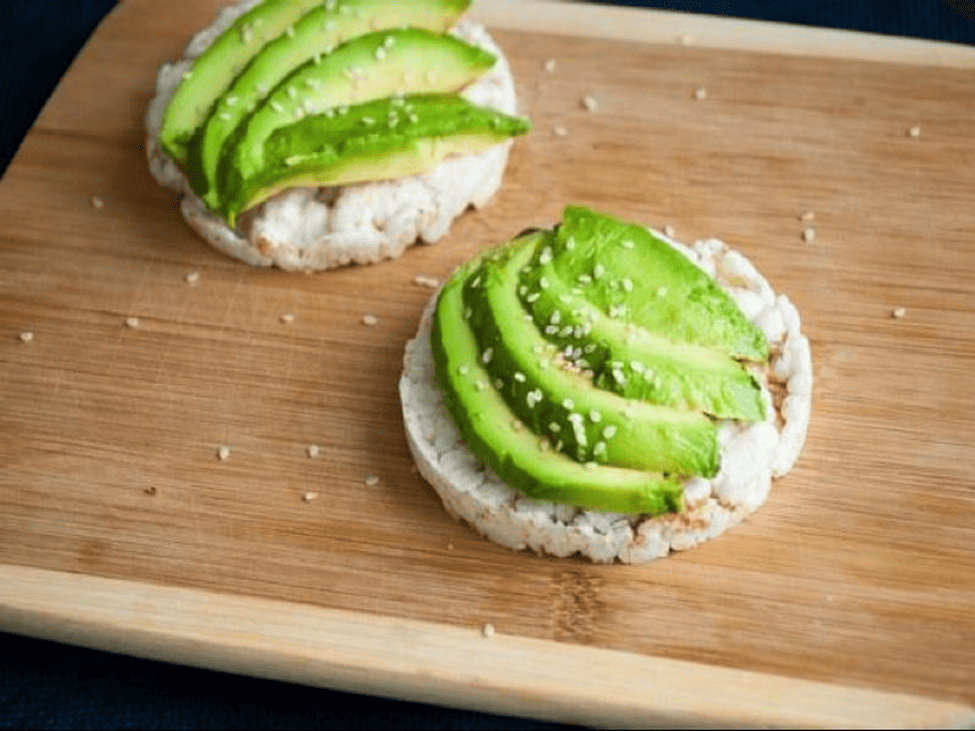 Like crackers, rice cakes are a convenient and tasty snack. Puffed rice is compacted and formed into discs for its creation. Whole-grain brown rice is the foundation of the healthiest rice cakes, including very few extra components.
For just 70 calories, you can have two brown rice cakes with 14 grams of carbohydrates. Healthy fats and fiber make avocado on rice cakes a well-rounded vegan snack. To add texture and taste, sprinkle toasted sesame seeds on rice cakes.
6. Vegetables and Hummus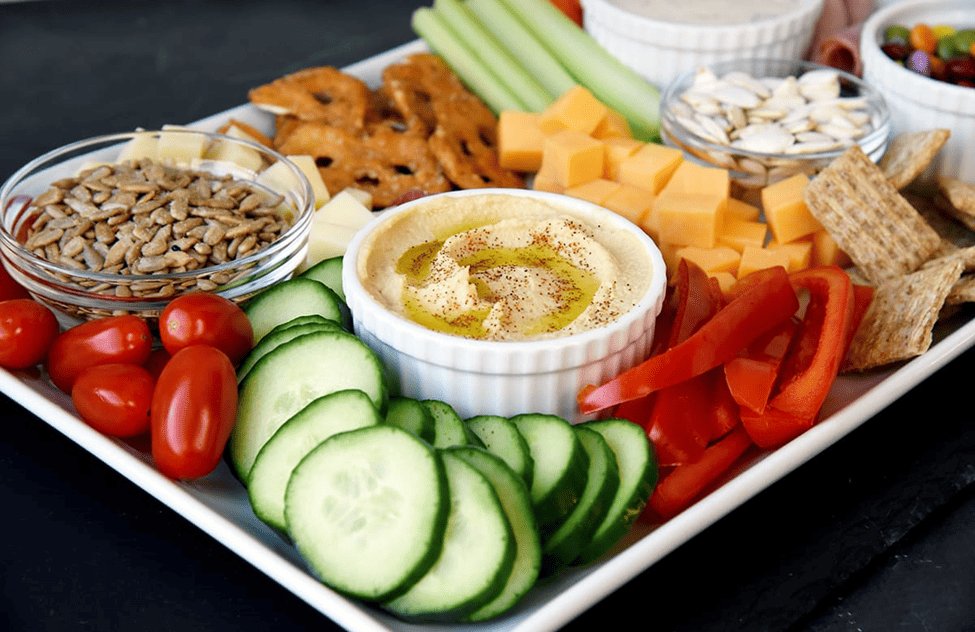 Chickpeas, oil, lemon juice, garlic, and a sesame seed paste called tahini are the vegan dip's main ingredients in hummus. It has a lot of beneficial nutrients, including fiber, lipids, B vitamins, and vitamin C.
Commercially produced hummus may include vegetable oils and preservatives, but homemade varieties are often healthier. Whether homemade or purchased, a healthful and crunchy vegan snack is hummus with fresh veggies, including carrots, celery, cucumbers, and radishes.
7. Vegetable and Fruity Blends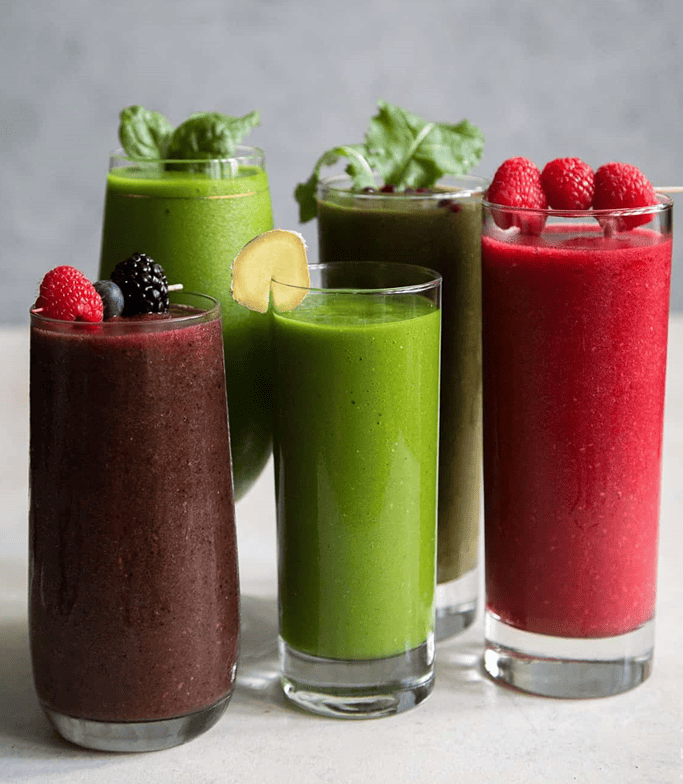 For vegetarians on the go, smoothies make a great lunch option. Fruits and vegetables, full of healthy nutrients like vitamins and minerals, are common beverage additions. Bananas, cherries, spinach, and kale are some fruits and veggies that combine well with plant-based milk or water to create a delicious and healthy drink. Some vegan diets are deficient in omega-3 fatty acids, which can be remedied by supplementing with a small amount of flax or chia seeds.
8. Oatmeal With Fruit, Nuts, or Seeds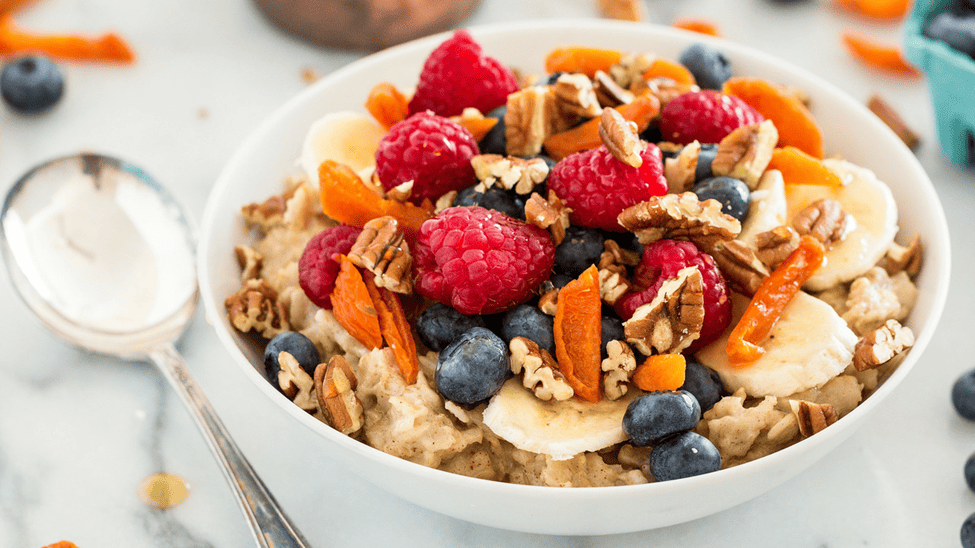 Hot cereals and milk or water become muesli. It's most often consumed in the morning, but it's a simple and nutritious vegan nibble any time of day. Its fiber, iron, calcium, and other nutrients are exceptional.
The nutritional value of muesli can be increased by preparing it with dry almond milk and then adding chopped fruit, almonds, or seeds. If you're going to eat muesli, it's best to make it yourself or select sugar- and salt-free quick varieties.
9. Homemade Tortilla Chips and Salsa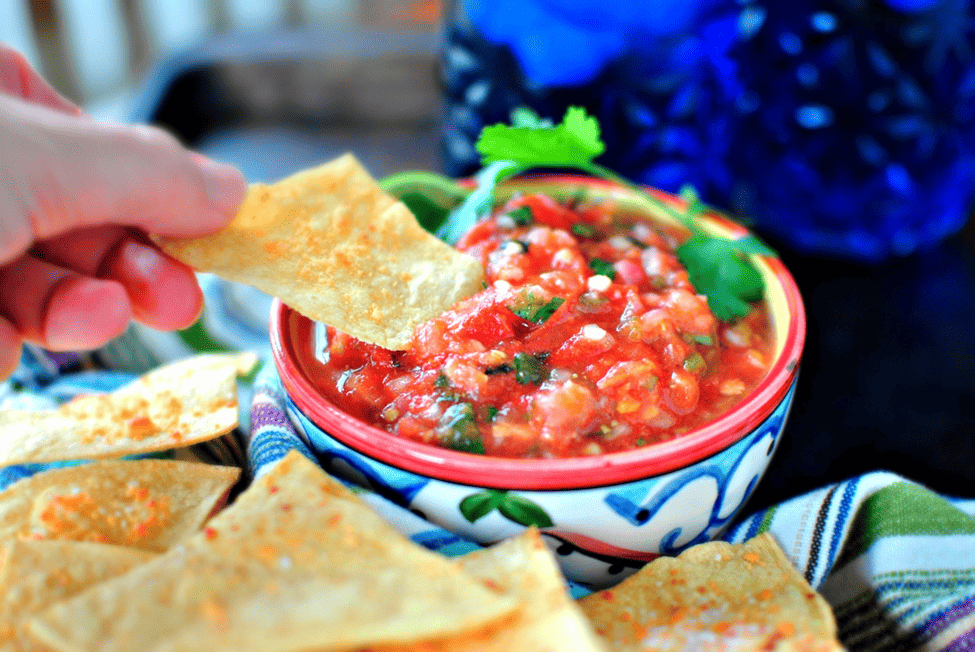 Chopped tomatoes and onions are the foundation of most salsa recipes, along with lime juice, salt, and other spices. Vitamin C, calcium, and the antioxidant lycopene from tomatoes are all present in high concentrations. Heart disease risk has been shown to decrease with increased lycopene consumption. Tortilla chips are typically consumed with salsa; however, store-bought chips are frequently fried in veggie oil and contain too much sodium.
You can easily create your own by slicing some tortillas, brushing them with olive oil, and baking them for 15 minutes. You will be surprised to know, that according to carbmanager, Oats Nuts & Seeds Oatmeal (1 serving) contains 47g total carbs, 41g net carbs, 7g fat, 8g protein, and 280 calories.
10. Nutrient-Rich Yeast Popcorn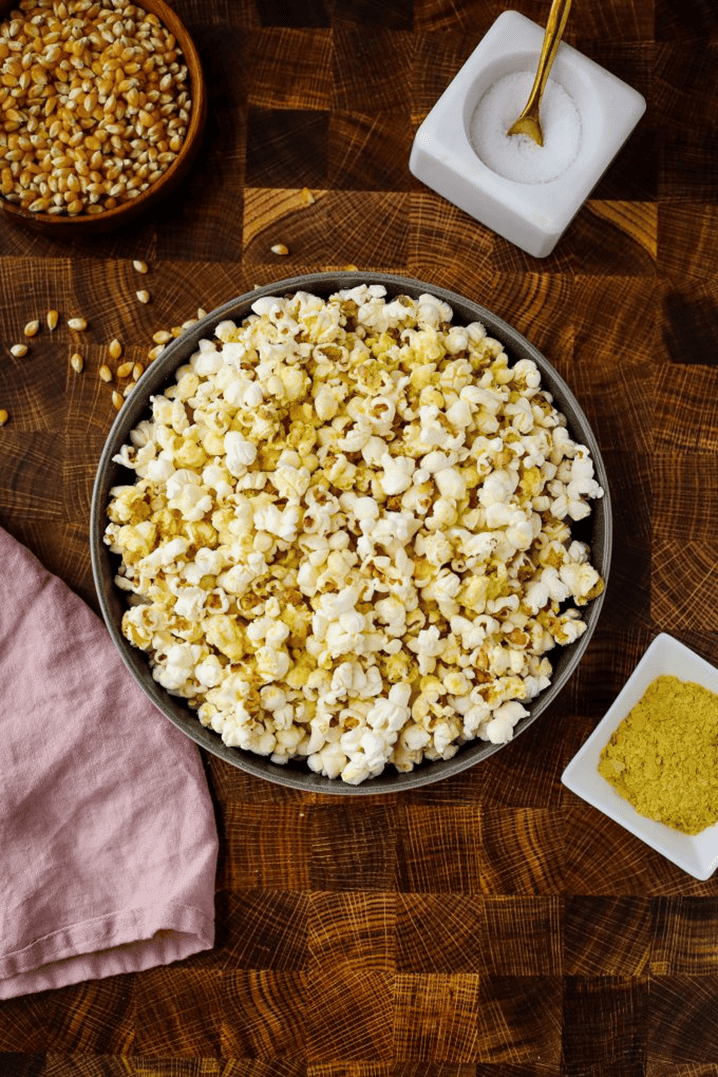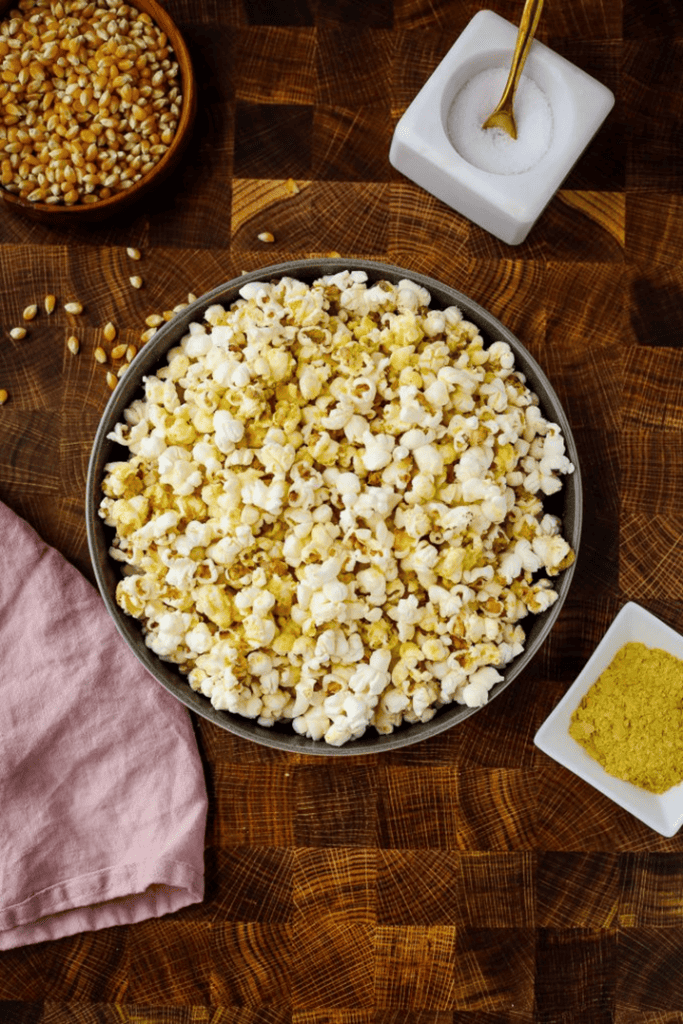 To create popcorn, desiccated maize seeds are popped in hot oil. It can be cooked in a stovetop pot with oil, a microwave, or an air fryer. Popcorn prepared in an air cooker can be a healthy option for vegans. Nearly 10% of fiber's daily value (DV) can be found in just 62 calorie-free grams (2 cups).
The addition of nutritional yeast can increase the health benefits of popcorn. Typically supplemented with zinc and B vitamins, this flaky golden yeast is a high-quality plant protein. Its piquant flavor has been compared to that of cheese.
11. Granola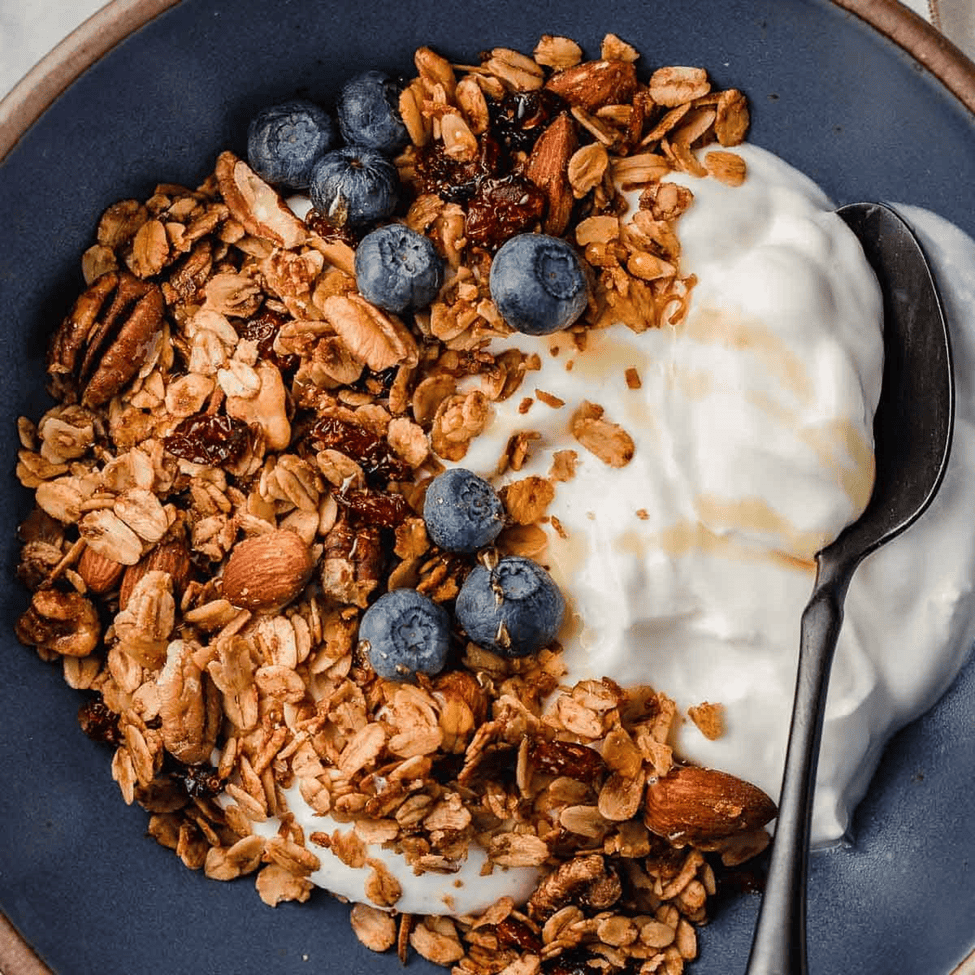 Oats, nuts or seeds, dried fruits, spices, and a sweetener are standard components of the vast varieties of granola. Sugar and vegetable oil are common additions to commercial granolas. However, if you make your own, you can get a meatless nibble high in fiber, protein, and suitable lipids.
Mix melted coconut oil and maple syrup together with old-fashioned oats, almonds, pumpkin seeds, raisins, and cinnamon to make your own granola. In your oven, distribute the ingredients on a floured baking tray and roast for 30–40 minutes at moderate heat.
12. Fruit and Nut Bars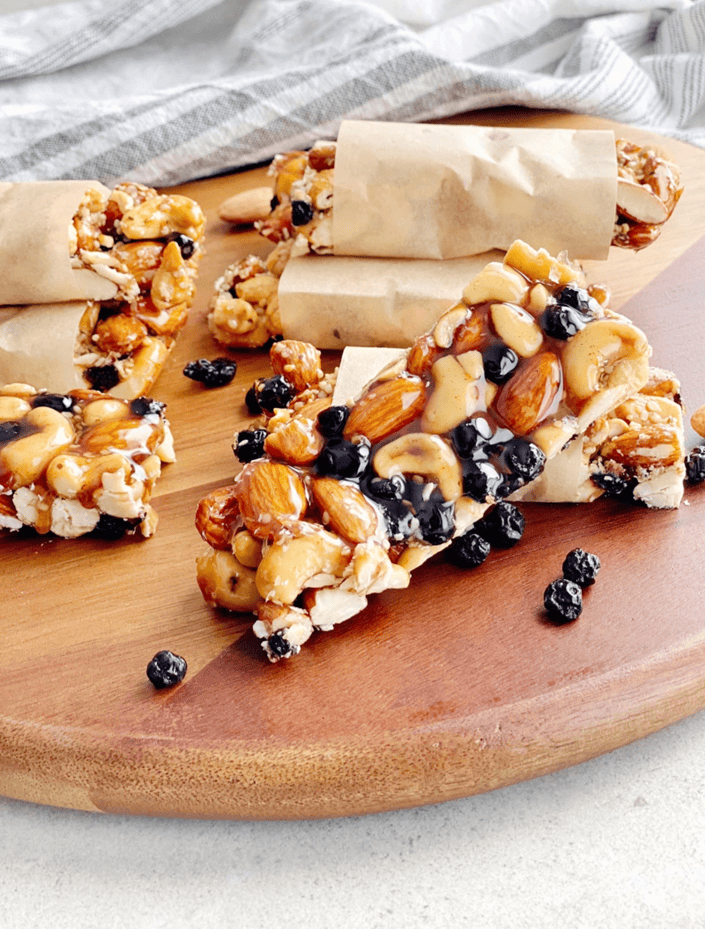 Fruit and grain snacks are a convenient and healthy option for those on the go. GoMacro Bars and KIND Bars are just a few examples of brands that offer vegan bar choices. The protein content of a single Cashew Cookie LaraBar (48 grams) is 5 grams, while the potassium content is 6% of the DV, and the iron content is 8% of the DV.
Mix 1-2 cups (125-250 grams) of almonds, 1 cup (175 grams) of dried fruit, and 1/4 cup (85 grams) of maple or brown rice syrup to create your own fruit and nut cookies. Bake at 350° for 20 minutes after spreading on a buttered 8-inch (20-cm) baking sheet.
13. Homemade Pita Chips and White Bean Dip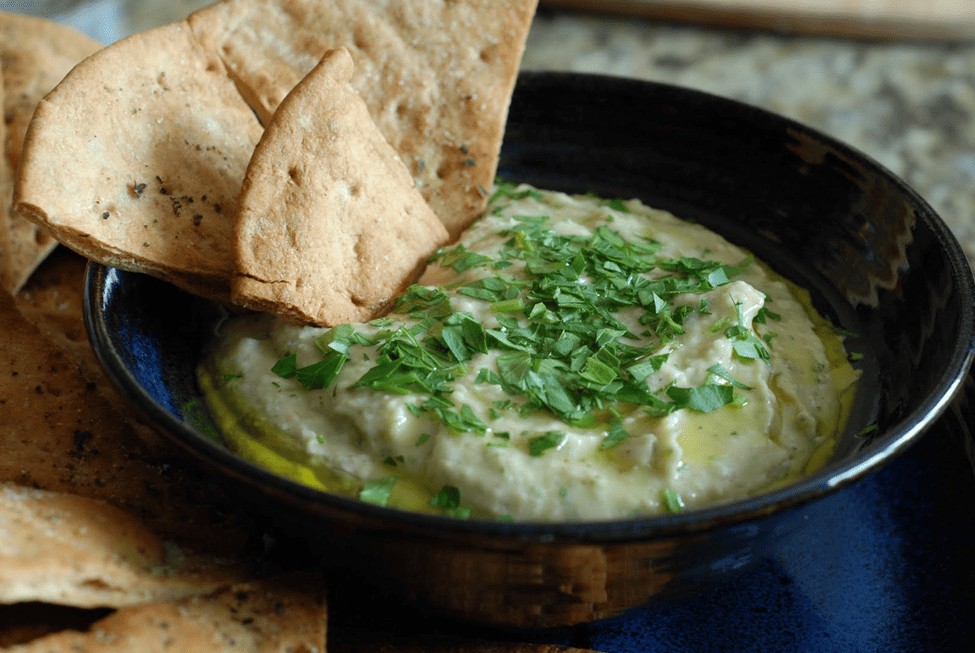 White or cannellini beans are usually combined with olive oil, lemon juice, garlic, and fresh seasonings when making white bean dip. About five grams of protein, more than 10 percent of the daily value for iron, and four grams of fiber can be found in just a quarter cup (50 grams) of white beans.
White bean sauce and flatbread crackers are a delicious and nutritious vegan combo. Whole grain pitas can be sliced, brushed with olive oil, and baked at 400 degrees for 10 minutes to create pita crisps, which can easily be deemed as healthy vegan snack recipes for all times.
14. Bananas and Peanut Butter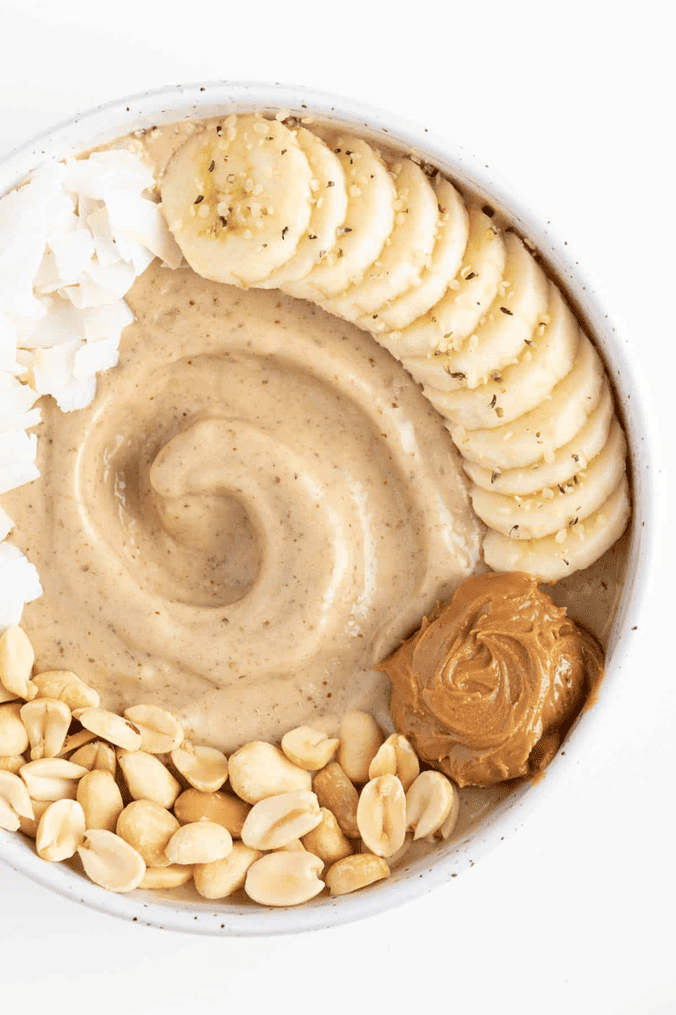 The peanut butter and bananas mix makes for a tasty and nutritious lunch. Potassium and fiber-rich bananas complement the protein and suitable lipids in peanut butter. When eaten together, these foods can help you feel filled and satiated for longer and hence, can be deemed as a healthy vegan snacks for weight loss purposes.
Bananas can be cut into narrow segments, and the peanut butter can be distributed between two sections to create banana and peanut butter nibbles. They will be extra tasty if you chill them on a cookie pan coated with parchment paper in the fridge for at least 30 minutes.
15. Dried Coconut and Dark Chocolate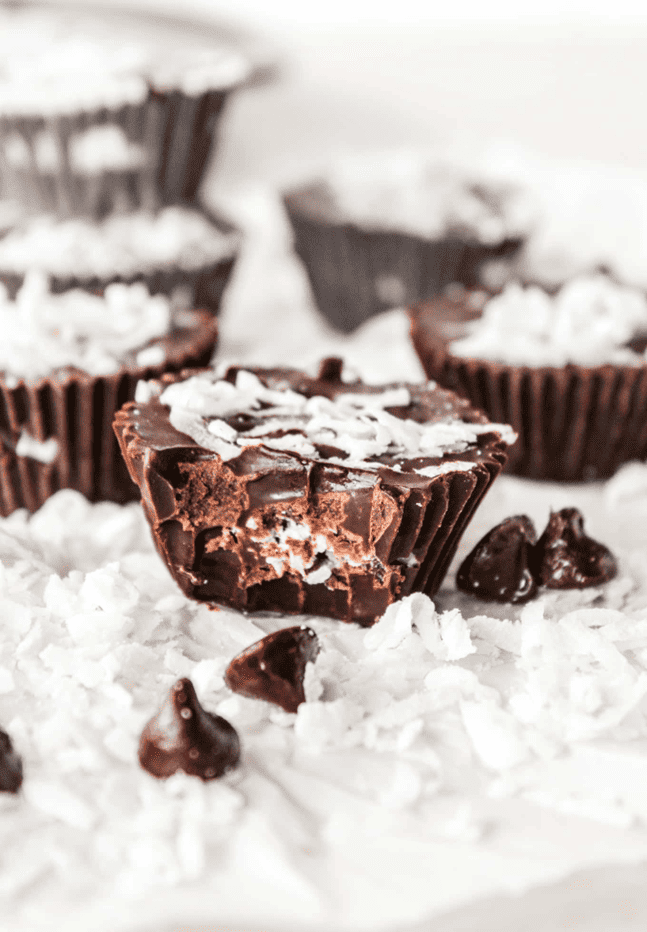 Combining desiccated coconut with a few pieces of dark chocolate makes for a nutritious vegan nibble to satiate your craving for something sweet. Dehydrated coconut shavings or chunks are the basis for dried coconut.
One ounce of the unsweetened variety contains 18% of the daily value for fiber, making it an excellent choice for a healthy snack. Additionally, some plant chemicals in dark cocoa may have health advantages. Look for brands that don't use animal ingredients in their chocolate to ensure a vegan diet.
16. Crispy Baked Vegetables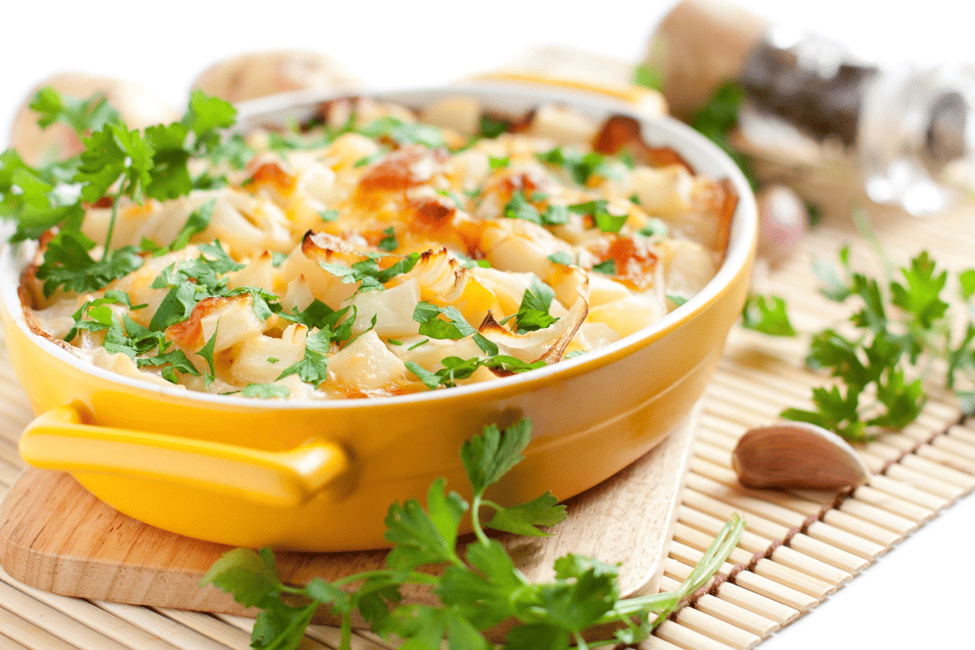 Vegetable slices dried or baked at a low temperature make a tasty vegan snack. Nutrient content in baked veggie chips varies by vegetable used. Beet chips, which are baked, are high in potassium and folate. At the same time, dried carrots are a good source of vitamin A. Bake thinly sliced vegetables at 200–250 degrees Fahrenheit for 30–60 minutes, and you'll have homemade vegetable chips.
As per to the nutritionix, the overall calorie intake ranges up to 151 in which carbohydrates value ranges to 8% of the total value.
17. Nuts with Spice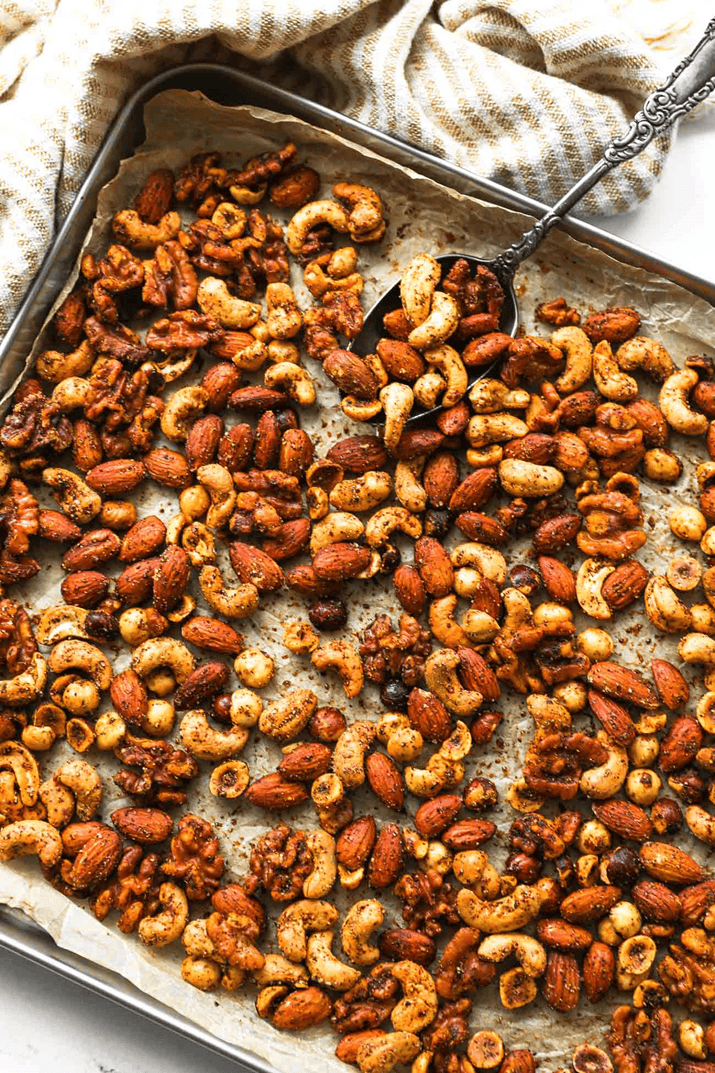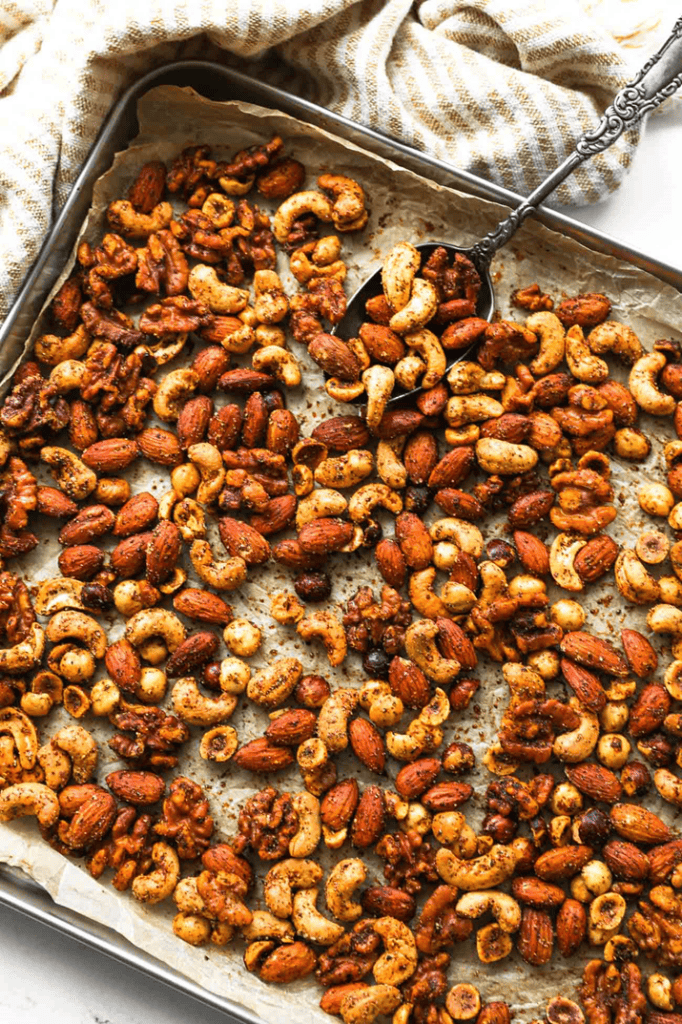 Almonds, pistachios, cashews, walnuts, macadamia nuts, and pecans are only some of the most well-liked nut varieties. All nuts are a fantastic vegan snack choice because they are healthy. For instance, one ounce (23 grams) of almonds has six grams of protein, more than 12 percent of the daily value for fiber, and a number of vitamins and minerals.
Coating nuts in spices makes them taste even better. Most supermarkets have spiced nuts. Bake a mixture of your chosen nuts, olive oil, and herbs for 15 to 20 minutes, and you'll have homemade spiced nuts.
18. Crispy Seaweed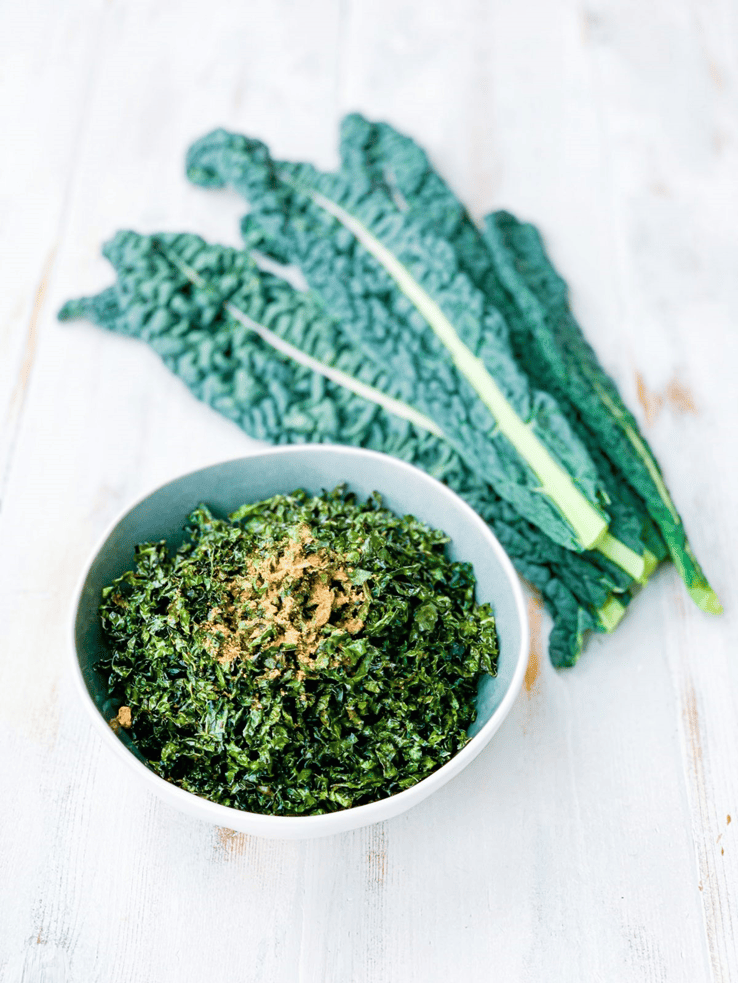 Sheets of seaweed are cooked, then cut into squares and seasoned with salt to create seaweed crisps. They're packed with healthy nutrients, including folate (B9), fiber, and vitamins A and C. Plus, they're also vegan and low in calories. Iodine, found in saltwater and essential to healthy thyroid function, may also be found in high concentrations in seaweed. Try to get seaweed crisps that have little or no additives.
19. Ants on a Log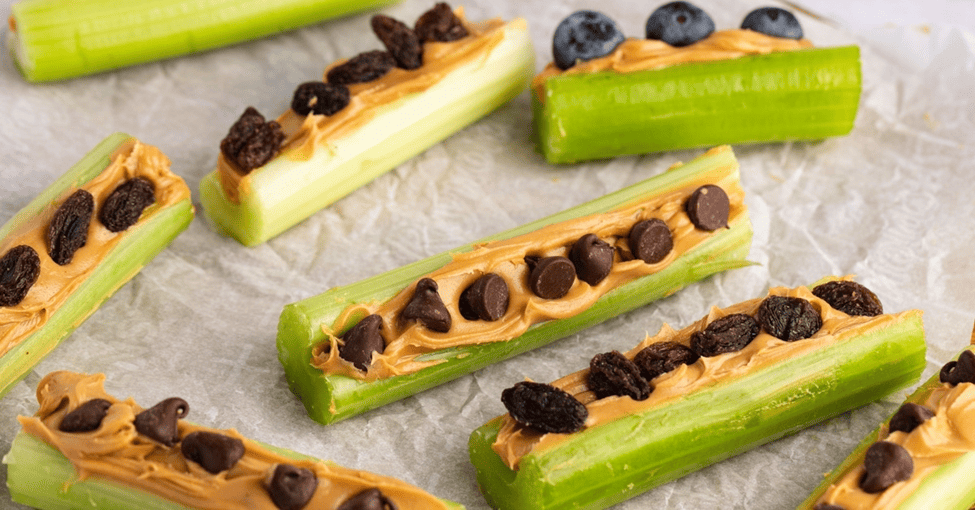 The moniker "ants on a log" refers to the popular snack of peanut butter and raisins sandwiched between two pieces of celery. This vegan snack's celery, peanut butter, and raisins are excellent sources of fiber, healthy fats, and vitamins and minerals. Cut up some celery, spread on some peanut butter, and top with some raisins; you've got an ant on a log.
20. Frozen Grapes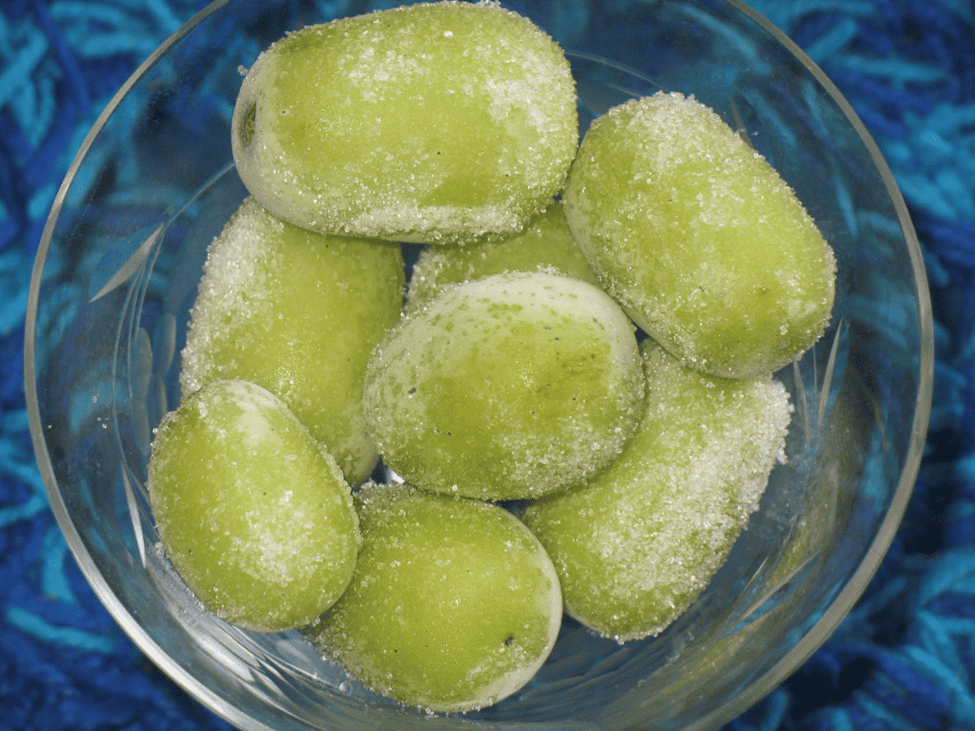 Grapes are a kind of tiny, round fruit that may be either purple, red, green, or even black, depending on the variety. Grapes have a high concentration of vitamins K and C, with 28% of the daily value in only one cup (151 grams). Polyphenols, chemicals found in plants, have been shown to reduce the risk of cardiovascular disease and type 2 diabetes. Grapes are vegan-friendly and taste great when frozen. Grapes are a great frozen snack to have on hand for those times when hunger hits.
Ready-to-Eat Vegan Snacks Brands
Apart from the mentioned snacks that can be made easily at home, there are certain brands that offer ready-to-eat plant-based snacks. Well, let us have a look at that:-
1. Potato Crisps
There are two popular brands:
A delicious snack, the brand's Classic Original Potato Crisps is a great option for you if you are looking for something to quickly satisfy your hunger pangs.
Base Ingredients- Dried Potatoes, Palm Oil (Vitamin E), Tapioca Starch, Salt, Sugar, White Pepper.
Calories- 140 per serving
Price- $36.00
Know More About it Here
A well-known brand, Amazi's Salted Olive Oil Plantain Chips is another snack option for you that is crunchy with a bold flavor. Sweet and salty, these get prepared with sweet plantains that are grown in Uganda.
Base Ingredients- Plantains, Olive Oil, Salt
Calories- 100 per serving
Price- $35.99
Know More About it Here
2. Dried Fruit
Dried fruit snack which is not only nutritious but luscious too, has a brand that will make you fall in love with its offerings. Have a look:-
Rind's Tropical Skin-On Dried Fruit is a delectable snack you can lay your hands on anytime you have those sudden hunger pangs. Tangy and juicy, this refreshing blend will get you going instantly.
Base Ingredients- Dried Organic Pineapples, Dried Organes, Dried Kiwis
Calories- 130 per serving
Price- $19.99
Know More About it Here
3. Chickpea Puffs
Well, who doesn't love a Chickpea Puff?
As such, to make your life extra delicious, there exist a renowned brand that strives towards offering you this decadent delight.
Hippeas has come up with its Hippeas Chickpea Puffs that is one of its kinds. Vegan and gluten-free, this snacks is induced with great taste and flavor.
Base Ingredients- Chickpea Flour, Rice Flour, Yellow Pea Flour, Sunflower Oil, Salt
Calories- 100 per serving
Price- $22.6
Know More About it Here
4. Spoonable Smoothies
Making smoothies is one thing and enjoying spoonable smoothie another!
And to make your palate crave for more of these delicious smoothies, a brand has come up with the same!
The brand's Spoonable Smoothies are a great combination of fruits and veggies that is just anytime snack. Extremely healthy, the product is induced with a delectable blend of organic ingredients.
Base Ingredients- Organic Spinach, Organic Bananas, Organic Spirulina, Organic Pineapple, Organic Cashews, Organic Dates, Organic Chia, Organic Flax
Calories- 100 per serving
Price– $3.19
Know More About it Here
5. Nuts
Another readymade item for snacks-time is Nuts, and there are brands that are apt in making this luscious item for you and your loved ones. One of these are:-
The brand's Cherry Berry Nut Medley is a true delight for senses. Enjoy this quick snacks that is great choice for those looking for a nut mix.
Base Ingredients- Sprouted Almonds, Sprouted Walnuts, Sprouted Cashews, Dried Upcycled Cherries, Dried Blueberries (w/ Apple Juice Concentrate, Avocado Oil).
Calories- 120 per serving
Price- $42.00
Know More About it Here
6. Dark Chocolate Coconut Bars
Dark chocolate combined with coconut can be an anytime luscious snack.
Isn't it?
Well, you can enjoy the same with the mentioned brand.
The brand's Unreal Dark Chocolate Coconut Bars is a sumptuous option that is vegan and gluten-free. Made with less sugar, this item can make you fall head over heels with its taste.
Base Ingredients- Organic Coconut, Organic Cassave Syrup, Dark Chocolate (Chocolate Liquor), Cane Sugar, Cocoa Butter and Vanilla
Calories- 70 per serving
Price- $35.90
Know More About it Here
7. Trail Mix
With the readymade Trail Mix, you can never go wrong any time of the day. Here's a popular brand that can meet your needs in all way.
Made from finest ingredients, Power Up has come up with Power Up Protein Packed Trail Mix that can keep you fuller for a long time. Gluten-free and Certified Kosher, this item is also devoid of artificial ingredients.
Base Ingredients– Almonds, Cashews, Cherries, Peanuts, Pumpkin Seeds, Raisins
Calories- 190 per serving
Price– $5.28
Know More About it Here
Also Read: The 7 Best Vegan Apps to Make Plant-Based Living a Breeze in 2023
Accidental Vegan Snacks You May Find at a Convenience Store
Even if you are keen over buying a vegan snack box for home attentively, at times you may overlook certain items that are actually plant-based or known as accidentally vegan snacks that can be bought instead. These are those items that though were not made to be a part of vegan meal, have been made by the companies without any animal-based ingredients.
Surprising! Isn't it? Well, there are several companies that have been manufacturing such snacks that you can find at any convenience store any time! Some of these items are as follows:-
1. Oreo Cookies
While our cookie king may feel all milky and creamy, some of its varieties are completely devoid of animal-based ingredients, making it safe for vegan consumption.
2. Pringles
Present in almost all the grocery aisles, Pringles is another vegan snack food option that does not have animal-derived ingredients in them. Hence, straight it goes onto our vegan shopping basket and should in yours too.
3. Ritz Crackers
Made with vegetable oil, the original variant of the cracker is devoid of butter, which makes it a suitable addition to your plant-based diet. We are sure that this lazy vegan snacks will make your weekends extra luscious and decadent just by being in it.
4. Doritos
Doritos Spicy Sweet Chilli flavor is also a vegan-friendly option for you if you're up for some tortilla chips at your home. One of the best vegan snacks, they can ratchet up any ocassion of yours without a doubt.
5. Lay's Classic Potato Chips
Our all-time favorite Lay's has several versions of it flourishing in the market. But the one that is devoid of animal-based ingredients is Lay's Classic Potato Chips. So, the very next time you have a party at home, and vegan friends are to come over, do not forget to buy this vegan chips at the behest.
FAQs
1. Why do vegan snacks score high on the health front?
Answer: Vegan foods provide a lot of vitamins and minerals. For instance, a simple snack of carrot and celery sticks offers a decent supply of vitamins A and C, fiber, and antioxidants. A snack with hummus is more satisfying and may assist with inflammation, blood sugar, and digestion.
2. How to prepare roasted chickpeas at home?
Answer: At home, you may prepare roasted chickpeas:
If using dry chickpeas, they should be soaked overnight and boiled until tender. You may also use canned chickpeas. Wash the chickpeas to remove loose skins and let them air dry for some time. Place the dried peas on a baking sheet, drizzle with olive oil, and season with salt and black pepper—twenty to thirty minutes, or until golden brown and crunchy.
3. What are some quick and healthy vegan light snacks?
Answer: Sandwich preparation takes just a minute or two, yet many possible permutations exist. Use a single piece of bread sliced in half to make your sandwich more of a snack than a meal. In addition, you can transform any sandwich into a wrap by substituting a giant tortilla for the bread. Whole grain products like bread and tortillas provide fiber and improved nutrition.
It takes just minutes to reheat canned chili, a straightforward and light lunch.
4. Are there any vegan junk food snacks?
Answer: Yes, and in the junk food arena Potato chips are number one. Compared to the mass market chips sold by PepsiCo, the quality of specialty brands is far more excellent. Delicious is the Cape Cod Kettle Chips. Cal-Bee, a Japanese company (you could find them in an Asian market), makes the best potato chips in the world.
The simplest method to replicate the crispiness and flavor of freshly fried food at home is to bake frozen tater tots. Dip in ketchup or any other tasty sauce. The Ore-Ida brand, found in the frozen food aisle of any grocery store, is cruelty-free. You can get organic tater tots at most health food shops, which taste the same as the regular kind.
5.What vegan snacks are easy to digest?
Answer: Some of the vegan snacks that can be digested easily include bananas, chickpeas, oats, granola, cereals and seeds amongst others.
6.What snack food items can vegans eat?
Answer: When thinking of vegan snacks to buy and eat, one can go for Guacamole with Chips, Fruit & Nut Spread, Trail Mix, Roasted Chickpeas and Avocado & Whole-grain Brown rice.
Quick Facts Table
| | | | | |
| --- | --- | --- | --- | --- |
| Name of Snack | No. of Calories | Nutritional Value | What We Like | What We Don't Like |
| Guacamole with Chips | 45 in 2 tbspns | High in dietary fiber & monounsaturated fats | Promotes heart health | Calorie-dense |
| Fruit & Nut Spread | 462 in 100 grams but depends on what types of nuts and dried fruits are used | Contains fiber, healthy fats, vitamins & protein | Nutrient-dense | Calorie-dense and may lead to bloating, indigestion & weight gain |
| Trail Mix | 462 in 100 grams but depends on what types of nuts and dried fruits are used | Contains dietary fiber, healthy fats and protein | Vegan varieties contain no added oil, salt and sugar | Calorie-dense Tannins & Phytates in Nuts may make it hard to digest |
| Roasted Chickpeas | 269 in 1 Cup of Cooked Chickpeas | High in protein (18.64g) & fiber (16.8g) in 100 gm Roasted Chickpeas | Low in carbs Good source of Vitamin B Complex, folate, phosphorous, magnesium, zinc, calcium & antioxidants | High in sodium |
| Avocado & Whole-grain Brown rice Cakes | 60 in 1 serving of 19 grams | Rich in minerals & fiber | Low-fat | Avocadoes have the highest calories among fruits |
Conclusion
Vegans, or those just seeking to cut down on their intake of animal products, might benefit from keeping a supply of vegan-friendly snacks on hand. Try one of the above vegan snacks to stave off hunger until mealtime. They are simple to prepare and provide a healthy choice for vegans and anyone trying to increase their plant-based diet.
Some of the best options that are lighter on stomach and the ones you can go for without a second thought includes Bananas, Chickpeas, Cereal and seeds and Granola amongst others. Overtime, you can also explore other gourmet options per your taste and preferences. But for now the mentioned ones can be at your aid as and when required.
And trust us, if you are constantly one who keeps track of what you're popping into your mouth, the above mentioned items are just what your tummy ordered!
You May Also Like