Will you be practising minimalism this Christmas? What might be holding you back? And what the heck does a minimalist Christmas even mean?
A minimalist Christmas for us means skipping all the nightmares of going shopping, fighting over car parks in overcrowded shopping centres, stressing about what to buy for your second cousin and what on earth to make for Christmas lunch that will also please the meat-eaters.
Don't get me wrong, we love to spend time with family over the holiday season, and it's important to us. But we opt out of present giving and receiving.
If we do participate, then we contribute to gifts that are either experienced-based or something that our family have requested to chip in for. That way they get what they want or experience something that they'll remember for years to come.
Christmas to us isn't about contributing to the excessive consumerism at this time of year. It's about spending time with the people that we love, relaxing and eating some great food.
What we often do is go to Michael's family home—where they do their traditional gift-giving and receiving and we join in with our contributions, take photos and then have a wonderful relaxed lunch.
They'll always make sure to have vegan options for us and we normally bring something to contribute as well. Then we may play some games, watch a movie or just snooze for a couple of hours before going to see my family.
Now my family hasn't participated in Christmas since I was little girl, so we never do any gifts, just a nice meal and lots of laughs. So that's typically what Christmas day looks like for us and we love it!
But for those of you that would like to transition their family and loved ones to a more minimalist Christmas this year and moving forward, here are some suggestions for you.
Start the conversation
Make sure you always sit down the people you spend Christmas with and have a conversation around what Christmas really means to you. That may be going to church, cooking delicious food, playing family games, reflecting on the year that has been or simply spending time together however that is with people that are most important to you.
Reflecting on what's important really brings it back to the core and it's much easier to then discuss how you can implement less gift-giving and receiving for something that would be a memorable experience.
Read more: How to Graciously Handle Unwanted Gifts as a Minimalist
Maybe you all book a beautiful Airbnb house in the country for the weekend with fun outdoor activities nearby instead of using that money for gifts. When you open up the conversation to what's important, the gifts can be interpreted in many different ways.
If you like to have the exchange and the idea of presents under the tree, try being creative and using what is currently at home rather than spending money on new wrapping paper, ribbons and name tags.
Making your own wrapping from materials you have in the house can really add a personal touch to the gift.
Alternatively, you can use a box that you already have and pick some flowers from your garden to wrap in twine and put on the box. Let your inner child and creative take over!
Make sure that you also let the extended family know that you are doing things a little differently this year and that you won't be buying physical presents for family. That will get them to also think outside the box a little with what they may like and also what to gift others.
When we had the conversation with our families we spoke to them much earlier in the year. Raising this early is key to giving your family time to process your level of participation in your Christmas tradition. We highly recommend you do the same thing, and you'll find that those closest to you will be super supportive (hopefully).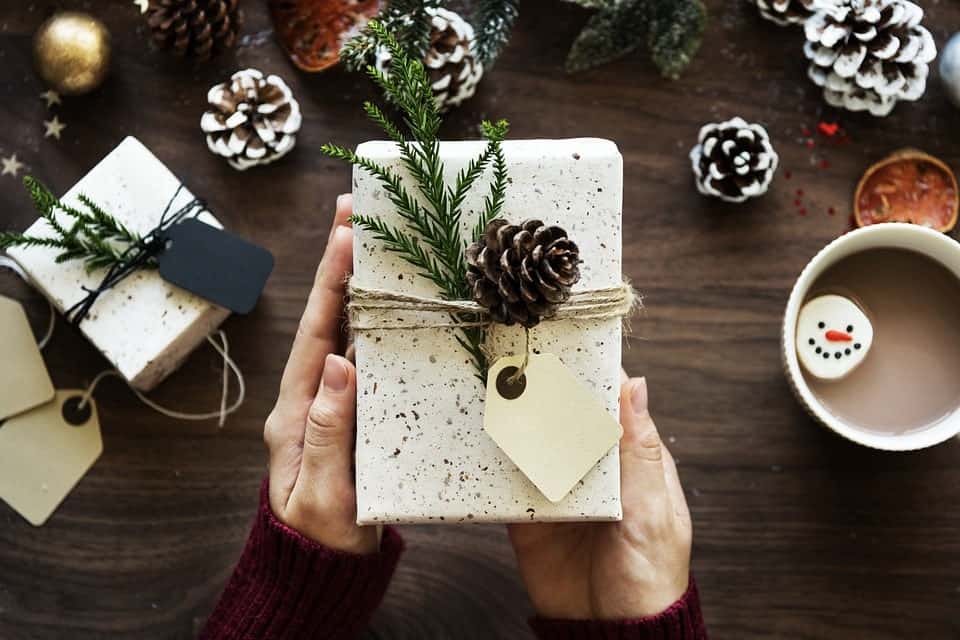 Try a zero waste Christmas
We produce so much waste globally each year in just wrapping gifts in new wrapping paper that is literally used once and tossed in the bin in most cases. I have always reused wrapping paper if I can for re-wrapping gifts in to not waste it.
If you're someone that rips open presents and the paper is in shreds, then maybe not, but you can be a little more careful to preserve it and maybe even use it for home arts and crafts with the kids!
There are plenty of ideas online to create a zero-waste, eco-friendly Christmas. Here is an article that gives you plenty of suggestions.
By implementing these ideas, you'll not only save money but feel great because you won't have to take bags and bags of avoidable waste to your bin.
This concept of zero waste can also be applied to food. Try and shop at bulk buying places and only buy the quantity you need for your recipes.
You'll save on plastic packaging, spending too much and excess leftover ingredients that you won't need until next Christmas.
Don't let FOMO (fear of missing out) kick in and go crazy at the farmer's market overbuying fresh produce for the 'just in case I need it' scenario. Plan ahead and only get what you know will be eaten.
Fresh produce only lasts a certain amount of time and you don't want to have to be tossing it in the bin when it's gone mouldy.
Start a new tradition
Starting a new family tradition can be exciting! Try out things and see how it all makes you feel. Christmas for many holds a very special place in their heart, so it's important to keep that excitement and joy about the day alive but done in an eco-conscious way.
Are you already doing a minimalist and/or zero waste Christmas? What do you do that your family enjoys? Would love to hear your thoughts and ideas in the comments below 🙂