Consumed for centuries now, sea moss has been an indispensable part of mankind due to its culinary contributions on a global level. High in nutrients such as Vitamin A, C, and E, along with other essential minerals like magnesium, zinc, and potassium, they are a storehouse of several health benefits that further makes them one of the most prized items across generations.
Having gained immense popularity as a dietary supplement, this beneficial option has a subtle charm and exoticism to it that is hard to overlook and even harder to resist. However, although many of us may have consumed them in our everyday life, not all are aware of their origin, how beneficial they are for the body, how to use them in your vegan diet that is bit different from vegetarian diet.
But before delving into these intricacies, let's dive deeper and know closely what this item is all about in its entirety!
Sea Moss- What is it?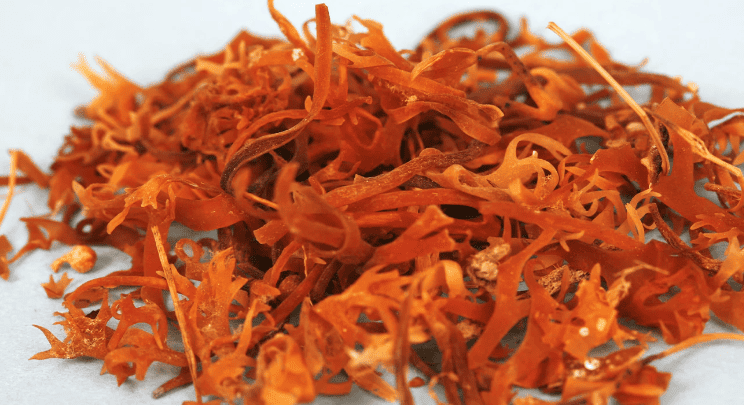 Also known as Red seaweed, Sea moss is a type of red algae that always makes its presence known through its capsules, powder, and gelatinous versions, the most common being the gel option. They mostly grow along the Atlantic coasts, especially between Europe and North America.
An edible sea plant, they can be found in different colors, the most common being the red variant, which is known as Irish moss, often found in commercial products.
Sea Moss Nutrition
Sea moss has always been touted as a superfood. One of the reasons for this is that the beneficial item is a vegan and gluten-free source of innumerable nutrients.
As such, some of the nutrients in this plant-based specimen are as follows:-
| | |
| --- | --- |
| Nutrients | Nutrition Per Serving (2 tbsp) |
| Calories | 4.9 cal |
| Protein | 0.2 g |
| Fat | 0 g |
| Carbohydrates | 1.2 g |
| Sugar | 0.1 g |
| Magnesium | 14.4 mg |
| Calcium | 7.2 mg |
| Potassium | 6.3 mg |
| Iron | 0.9 mg |
| Zinc | 0.2 mg |
| Copper | 0.02 mg |
| Manganese | 0.04 mg |
| Phosphorus | 15.7 mg |
Irish moss is thus, a rich source of lots of nutrients and antioxidants, which make them a good addition to any vegan diet.
Health Benefits of Sea Moss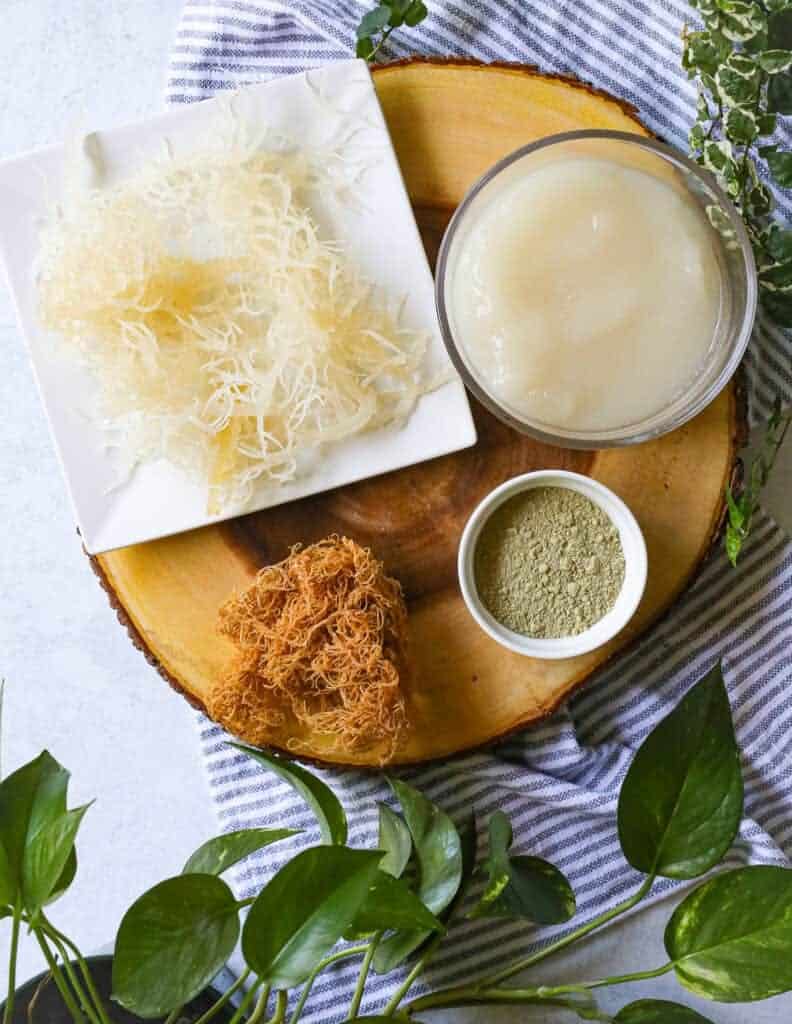 So, is sea moss good for you and does sea moss have health benefits?
Well, with numerous nutritive values up its sleeves, Irish moss possesses several health benefits that can help you lead a life away from illnesses. As such, some of the known benefits of this moss are as follows:-
1. Helps Fight Flu and Cold
Irish moss is blessed with nutrients such as iron, magnesium, zinc, phosphorus, potassium iodide, vitamin C, antioxidants, and amino acids that have a positive impact on our immune system. They also have antimicrobial and antiviral agents that help in enhancing our immunity against flu and colds.
So, the next time you're down, adding this moss to a hot drink can help you get back on your feet faster. It is also recommended to consume this item with drinks now and then, especially during the flu season and in winter months to fight off such illnesses.
You can know more about it here
2. Promotes Gut Health
Being a good source of fiber and live bacteria, sea moss aids in digestion and leads to better gut health. They help in restoring the microbiome (microorganisms) in the digestive tract, decrease the bad bacteria, and replenish it with good bacteria in the gut.
All this causes better digestive processes, and regular bowel movements in the long run. So, if you're having tummy issues, a balanced intake of Irish moss will be worth it.
3. May Help in Weight Loss
Irish moss is low in calories; therefore, they tend to be good for those who are on their way to shed some extra pounds. Also, since they are rich in minerals like magnesium, calcium, and potassium, they boost the metabolism process, thereby promoting weight loss.
Not only this, the high fiber quotient in these mosses, help one feel satiated for a long time, removing the urge to eat frequently, making it easier to stick to the diet plan one forms during their weight loss journey.
4. Supports Heart Health
Being a rich source of fiber than most of its counterparts, this plant-based item is healthy for the heart. Rich in omega-3 fatty acids, and antioxidants they aid in improving cholesterol balance, lead to blood sugar control and function as a blood thinner, thereby, reducing the risk of contracting heart-related diseases.
5. May Prevent Parkinson's Disease
One of the most common degenerative illnesses found in the elderly is Parkinson's disease, which causes stiffness, tremors, and difficulty with body balance. Although there exists no cure for this, according to the National Library of Medicine, consuming Irish moss can slow the pace of the disease's progression.
Since, this item contains amino acids, proteins, pigments, and peptides; they can play an overall neuroprotective role, thereby helping people who suffer from this disease. You can know more about it from here.
6. Might Help in Respiratory Disorder
One of the sea moss benefits is that it can help treat certain respiratory problems such as chronic bronchitis and asthma. This is possible because of the presence of minerals like magnesium, zinc, and potassium that aid in reducing inflammation. Also, Irish moss can help thin mucus, which further relieves respiratory conditions and improve overall lung function.
7. Aids in Better Digestion
Irish moss is known to be prebiotic, which is a kind of dietary fiber. This help in maintaining a healthy environment in the gut which leads to better digestion. Aiding in the growth of good bacteria and preventing the possibility of harmful bacteria, moss improves the overall bowel system in the body.
8. Supports Thyroid Function
One of the benefits of sea moss is that it supports thyroid function in the body. Irish mosses are loaded with folate, iodine and selenium that help in the proper functioning of the thyroid gland apart from managing thyroid hormones. Thus, a balanced intake of these mosses can help in fighting problems like thyroid dysfunction.
9. Help Improve Nail, Hair, and Skin Conditions
Blessed with certain nutrients, Irish moss has a positive impact on cell health and its function, especially on nails, hair, and skin. Containing nutrients like magnesium, vitamins A, B, C, and K, iron, folate, and zinc, these mosses lead to healthier nails and hair.
Also, due to its antimicrobial and anti-inflammatory properties, Irish moss help in improving skin conditions like eczema, acne, wrinkles, and aging. Adding a small amount of these mosses in shampoo can help you get that frizzy-free hair that is smooth and shiny.
10. Reduces Stress
One of the most intriguing Irish Sea moss benefits is that it helps reduce stress and other mental health problems. These mosses are loaded with potassium, which is known to work as an electrolyte that helps maintain muscle contraction and transmit signals through nerves efficiently.
Due to high potassium concentration, this item helps regulate mental functioning and can aid in improving disorders like anxiety, depression, agitation, or moodiness.
11. Aids in Sleeping
Irish moss is a great source of magnesium and potassium, which helps in relaxing the body, thereby promoting sleep. Another mineral found in these mosses is potassium which helps in regulating the electrolyte balance, which eventually improves the sleep quality.
So, if you wish to consume Irish moss to get better sleep, then knowing the dosage is important. The recommended dose is between one and three grams per day; however, doctor's consultation is advised at all times.
12. Detoxifies the Body
Another benefit of this plant-based miraculous item is that it helps in the detoxification process as it is rich in minerals and antioxidants. These nutrients are known to remove toxins and improve liver function which further aids in detoxifying the overall human body.
Thus, with a bevy of health benefits, sea moss gel benefits list can go on and on. No wonder why people are raving about this beneficial item across the globe. As such, include Irish moss in your day-to-day life and stay healthy, away from illnesses.
Ways to Use Sea Moss in Vegan Food
Using a sea moss capsule is like a walk in the park. All you need to do is swallow them and you're good to go. But the gel and powdered versions are more versatile and may leave you stumped as to how to use them in vegan food if you're using them for the first time.
So, how to use sea moss?
Well, using and including Irish moss in daily routine is not a tough nut to crack and can be done in a variety of ways as mentioned below:-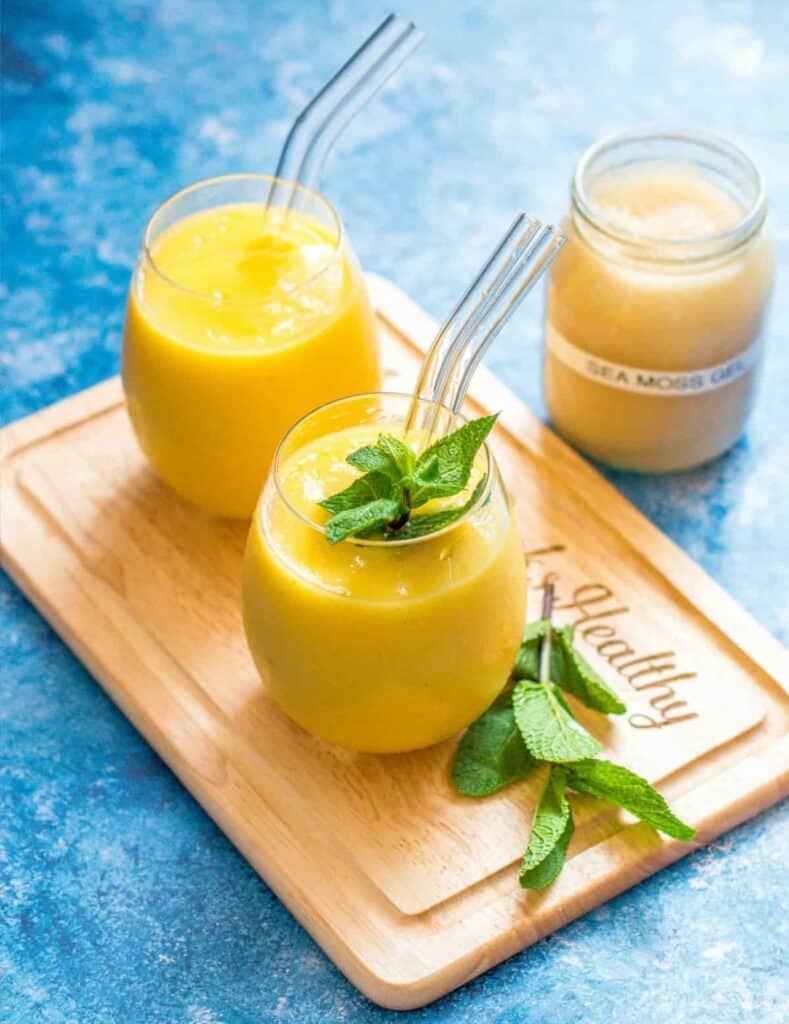 One of the easiest ways to consume Irish moss without much ado is by including them in the vegan smoothies of your choice. Prepare different kinds of smoothies for your breakfast, lunch, or dinner, and add about 1-2 tbsp of the moss. However, when preparing the juice, make sure that you do not end up adding processed ingredients as they might reduce the benefits of the moss, and may even lead to weight gain. As such, it is better to add non-GMO (Genetically Modified Organisms) organic veggies or fruits as the base of your smoothie.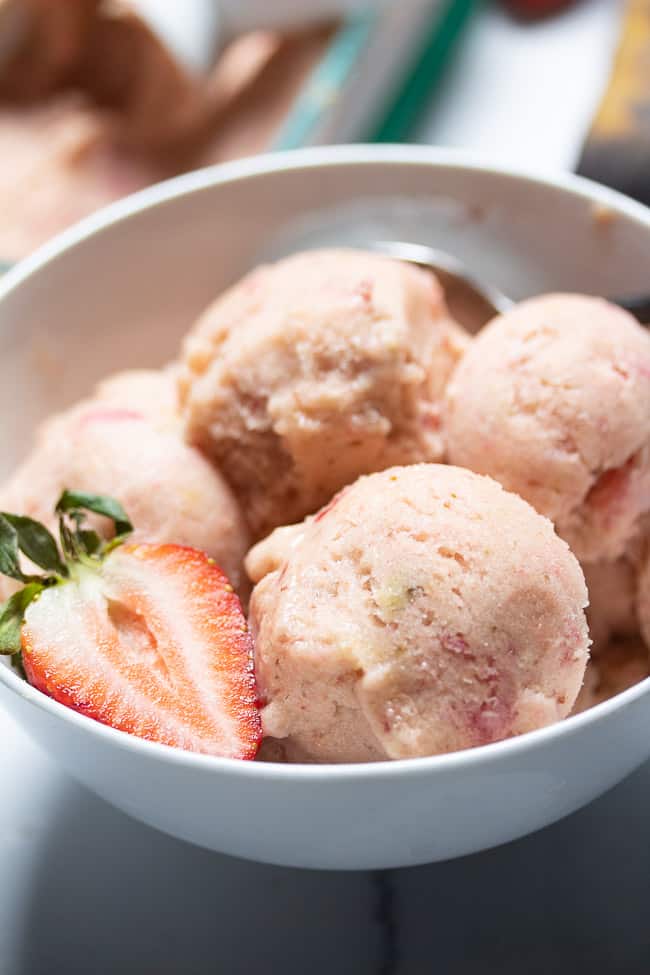 Another way to use the Irish moss is by making vegan ice creams. Make a naturally sweetened dairy-free ice cream by blending ingredients of your choice and adding a small amount of this moss with the mixture. You can add flavors if needed and freeze the mixture overnight. Since Irish moss is a natural thickener, it will make your ice cream get set quickly and help you consume them in a delectable way.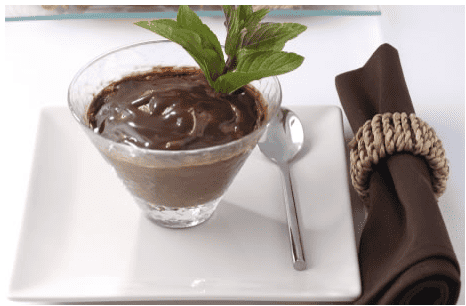 Well, one of the most ideal ways to consume Irish moss is by using them in your favorite dessert. You can add it in gel form, where its mucilaginous property will lend a luscious texture and thickness to your puddings and desserts. Let your sweet item freeze, and then serve it with a topping of your choice to make the best out of the moss-induced dessert.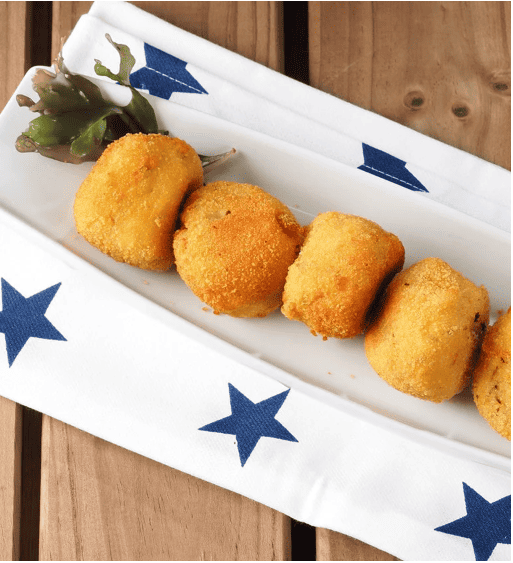 You can add sea moss when you make your favorite vegan snacks at home. Just add a tbsp of Irish moss to any snack you make and reap the benefits of this item without losing on to your tasty treats.
Blackberry Irish Moss Jam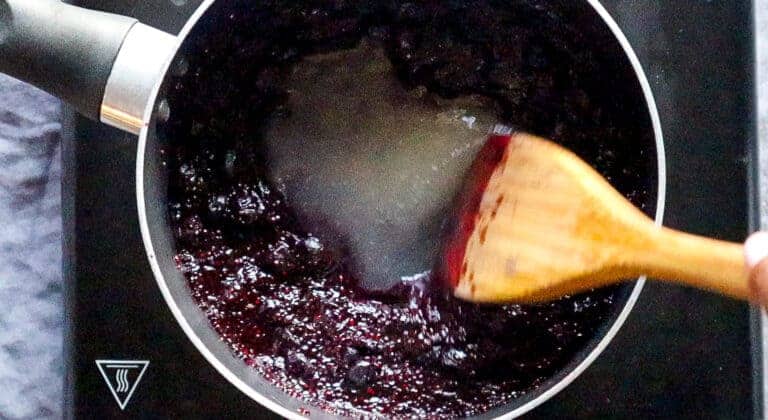 Well, now you can make your very own Blackberry jam using Irish moss, a sumptuous option for you to include the beneficial item in your everyday diet. High in fiber and low in sugar, this appetizing jam will leave you craving for more. All you need to have is blackberry and other ingredients that you wish to add, along with a small portion of Irish moss and you're done.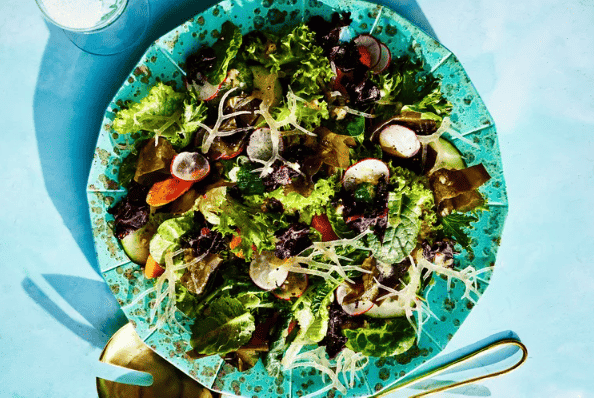 Sea moss can also be used in a healthy way in salad dressings. You can use the Irish moss gel as a thickener for your favorite salad recipe. Mix all the desired ingredients along with the moss and enjoy your salad dressing in a whole new way.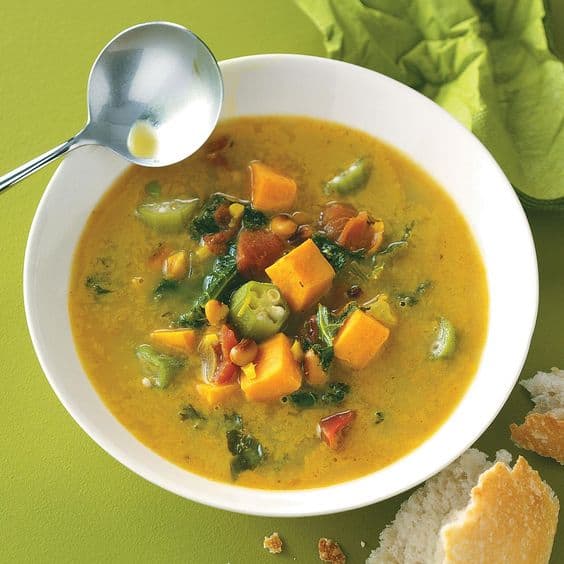 Irish moss can be used in soups and stews and consumed easily. You can mix 1 or 2 tbsp of this plant-based item per serving and it will leave a great texture without altering the flavor of your soup or stew. Apart from offering health benefits, the moss will also provide a smoother and thicker consistency to your dish.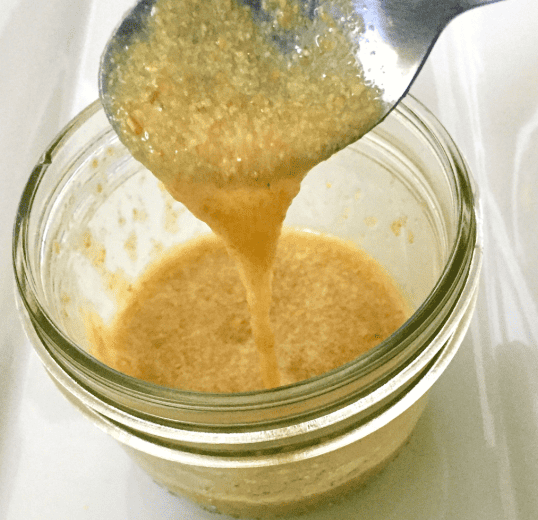 Well, another way to include sea moss in your diet is to use them as a vegan egg replacer in different recipes. To use it, you need to mix 2 tbsp of Irish moss along with 3 tbsp of water as a substitute for an egg. The mixture prepared can be used in muffins, pancakes, cakes, or other cuisines such as frittatas or veggie patties. If you are thinking what can be the best vegan meat substitute, for your diet, we also have a solution for it.
Things to Keep in Mind Before Buying Sea Moss
Well, while you go and look for Irish moss in the grocery aisle of your nearest store, consider the following points so that you make the best deal out of your purchase.
Surface salt on Irish moss occurs naturally but their size and taste reveal whether the moss is authentic. When the moss grows, it absorbs salt water and when it dries, it appears on its surface. So, if your sea moss looks more like rock salt or table salt, be aware as they might not be an authentic version.
The appearance of the Irish moss is another factor that determines what you're buying is good. The mosses grow distinctly and their appearance will tell you whether they have grown in the pool or harvested from the ocean. As such, ocean-grown moss will be thicker in some places and their thallus will vary in density and length, enabling you to understand if you're purchasing the right moss.
Differences in Color or Tone
Sea moss that grows in the ocean varies in color and possesses tonal differences. So, when you come across mosses that carry a uniform color throughout, know that they might be fake, or worse, bleached.
Presence of Other Seaweed
Irish moss that grows in the ocean sometimes contains other seaweeds that get entangled with them. Although these seaweeds are picked out after harvesting, the moss may contain a few strands still. Apart from Irish moss, there exists no other type of seaweed in tanks or pools. In addition, the pools and tanks also do not have sand or sea dirt that is present on mosses, so you can easily tell if they are fake or genuine.
Ways to Make Home-Based Sea Moss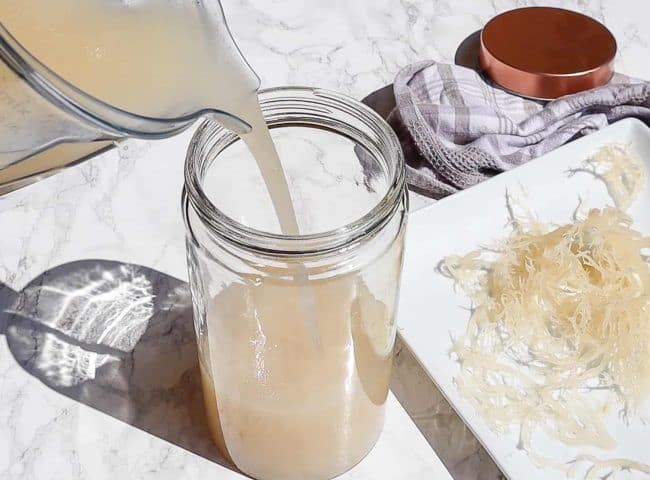 Presently, there exist several brands that sell sea moss in various forms, but there are numerous ways by which you can make your own at home effortlessly.
As such, to begin cooking with this item, you must wash and soak it in cold water for a day. Make sure that you keep on changing the water frequently. The moss will get ready to use when it turns white and gelatinous and doubles in size.
When it gets prepared, put the moss along with some water in a blender and blend till it becomes thick and gets honey-colored. Store it in the refrigerator. It will stay intact for up to two weeks.
The Downside of Consuming Sea Moss
Well, is spoonful of sea moss the key to good health?
Although sea moss gel benefits are totally evident, it does have some downsides to it. Since the item is high in iodine, it can quickly increase the iodine levels in the body leading to an enlarged thyroid gland. Its consumption (although not necessarily) can cause allergic reactions in some people.
Another problem is that it contains carrageenan (a kind of additive) that gets used in organic food across the globe. It has been pointed out that these can be toxic to human cells and is highly inflammatory for the digestive tract. As such, sea moss side-effects cannot be overlooked and hence, their intake should be duly monitored.
Frequently Asked Questions (FAQs)
1) Is sea moss an animal or a plant?
Answer: Sea moss is a sea plant that bears a resemblance to other algae and seaweeds. Out of these, the most commonly found and used in commercial products tend to be the Irish moss.
2) What is the taste of sea moss?
Answer: Sea moss has a somewhat fishy taste and slimy texture. As such, raw sea moss possesses an earthy, underwater flavor, similar to oysters or clams.
3) What quantity of sea moss gel should be consumed daily?
Answer: The intake of sea moss should ideally be 1 to 2 tablespoons per day or as recommended by the doctor.
4) Is sea moss full of nutrients?
Answer: Yes, Irish moss is loaded with nutrients. It contains 92 minerals out of 110 minerals that our body needs for various purposes, including bone building and metabolism.
5) What are the benefits of sea moss?
Answer: Sea moss is full of health benefits ranging from better heart and gut health to boosted immunity. However, their balanced intake is recommended.
6) How to use sea moss?
Answer: Sea moss can be used in a wide variety of ways, ranging from adding it to any smoothie to using them in soups and stews or as an egg replacer, per one's liking.
7) Is it necessary to keep sea moss in the refrigerator?
Answer: Sea moss gel that gets precisely used more than other version of the moss needs to be refrigerated to keep them fresh. They can stay intact in a cool place for about a month. As such, only raw dried Irish moss can be kept at room temperature in a sealed bag where it will stay for a year.
8) What happens if you take sea moss every day?
Answer: Since Sea mosses are loaded with iodine; it can lead to enlargement of thyroid gland. It can also lead to certain allergic reactions in some people and can have a bad impact on the digestive tract.
9) What is the best way to consume Irish moss?
Answer: The most common and popular way to consume Irish moss is by making them into a gel and adding them to various dishes and beverages of one's choice.
10) Is it okay to take sea moss supplements? Who should not take sea moss?"
Answer: Consumption of sea moss in moderate quantity is safe. However, while going for its supplements, a doctor's consultation is advised. As such, people with certain sensitivities must avoid the consumption of this item as it might trigger the allergies.
11) How long does it take for sea moss to start working in your body?
Answer: One can witness a noticeable change in their body after three to six weeks of consuming sea moss.
12) What are sea moss capsule benefits?
Answer: Sea moss capsules have a lot of health boons including helping in fighting flu and cold, promoting gut health and weight loss amongst others.
Takeaway (Final Thoughts)
Serving as a traditional remedy against innumerable illnesses for a long time, sea moss has indubitably marked the lives of millions across the globe. A versatile superfood, its contributions to the culinary world is yet another aspect that makes it a much sought-after item amongst mankind.
However, sea moss health benefits and precautions must be duly considered during their intake. As such, whatever variant of this plant-based item you buy, it is sure to add to your health, both physically and mentally.
So, what you're waiting for?
Get going and buy this natural wonder and take your vegan cooking to new heights with every pinch of this age-old companion!
You May Also Like