Be it juicy chicken nuggets or crispy patties, vegan chicken is indubitably the head-turner in the culinary world. With the growth in plant-based movements, compassion towards animals has been advocated, which has led to the rise of a vegan diets. Though people calls fake meat to the chicken alternatives that is loved far and wide.
From better human health to enhanced environmental benefits, these plant-based options have revolutionized. Not only these vegan alternatives were seen across the globe but also vegan YouTube channels are getting hyped.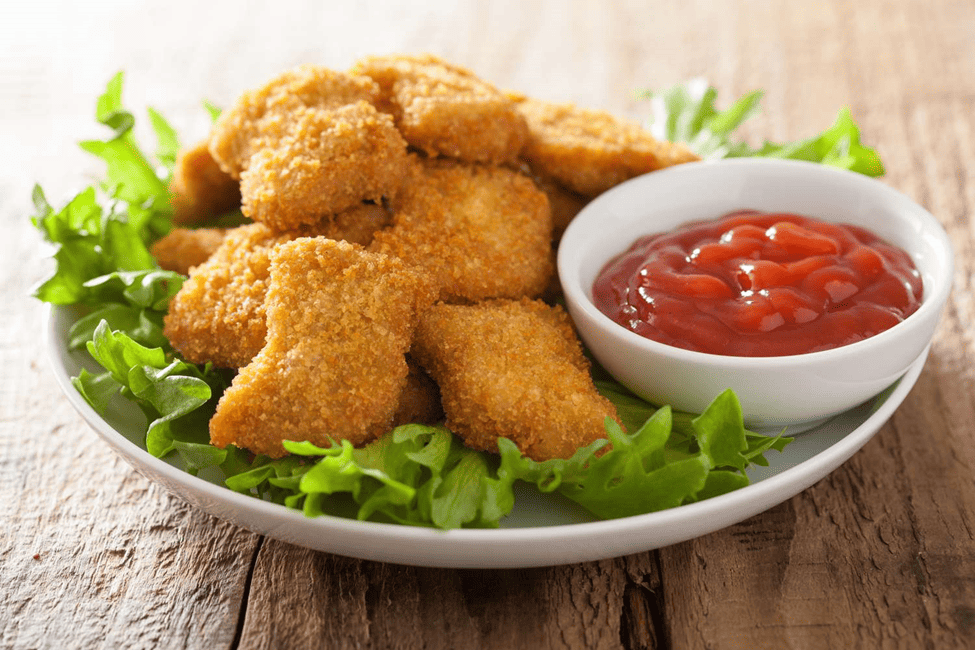 So, whether you're a newbie in the vegan world or have been following this diet for over many years now, we have rounded up about the 10 most popular vegan chicken brands that will surely cater to your palate's needs.
But before we get into that, let's know what is meant by plant-based ch icken in its entirety!
What is Vegan Chicken?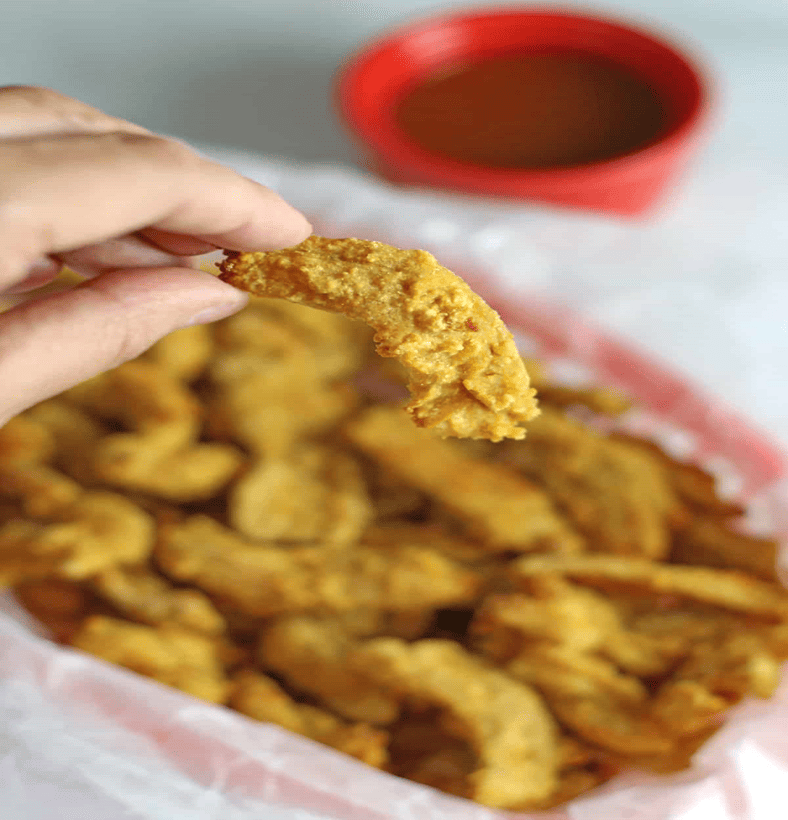 Chicken substitutes are plant-based chicken that is prepared to emulate the taste and texture of traditional chicken. Delicious and healthy, these items use base ingredients that are vegan in nature. Highly versatile, they are fashioned into patties, nuggets, or other options that are extremely luscious to consume.
What is Vegan Chicken Made Of?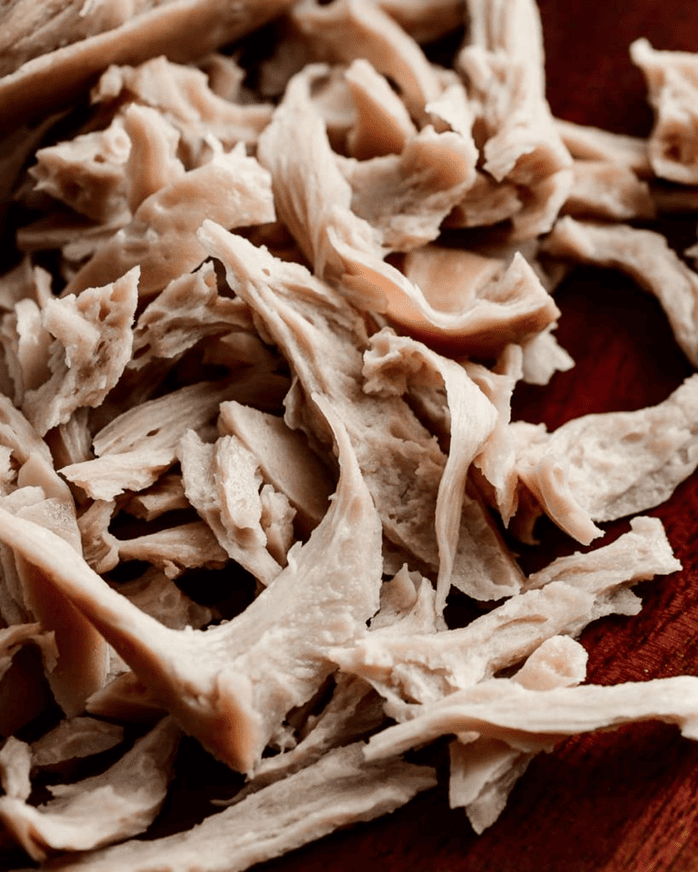 Although fake chicken is usually made up of several items, certain ingredients are typically used and included in these alternatives.
The commonly used ingredients are as follows:-
Soy
Pea Protein
Wheat
Seasoning
Oil
Nutritional Value of Chicken Substitute to Regular Chicken
Plant-based Vs Regular chicken: Which is healthier?
Well, to know about this, let us have a look at the nutritive value of chicken alternative per 100gm to regular chicken is as follows:-
| | | |
| --- | --- | --- |
| Nutrient | Vegan chicken (100gm) | Traditional Chicken (100gm) |
| Calories | 180cal | 239cal |
| Fat | 5.4g | 14g |
| Cholesterol | 0mg | 88mg |
| Potassium | 73mg | 223mg |
| Carbohydrate | 13g | 0g |
| Sugar | 6g | 0g |
| Fiber | 2g | 0g |
| Sodium | 335mg | 82mg |
| Protein | 21g | 27g |
Why choose Vegan Chicken?
Today, people increasingly use substitutes for chicken due to growing awareness regarding abuse and cruelty towards animals on farms. One of the regular chicken variants named the broiler chicken endures some of the most harsh conditions and worst abuse on various factory farms. They are invariably immunized and even mutilated at times.
Apart from these, several health benefits make plant-based substitutes a much sought-after item amongst people across the globe. High in iron and fiber, these options are low in saturated fats and cholesterol, which promotes good health. They are also extremely sustainable than traditional chicken, which makes them a better option for consumption.
Also Read: 10 Best Vegan Egg Substitutes for Baking or Cooking in 2023
Is plant-based chicken good for you?
To help you in knowing the answer to your question, "Are plant-based meat substitutes healthy", we have mentioned some of the advantages. As such, the vegan chicken substitute has several benefits that you must know and understand in order to make the most out of your diet.
The benefits are as follows:-
1. Good Protein Source
Several plant-based chicken options possess generous amounts of protein that are required for the body. Most vegan diets lack protein, which is essential for the proper functioning of our organs. As such, the consumption of vegan chicken helps in meeting the required daily amounts of this nutrient.
2. Helps Improve Heart Health
A chicken alternative is also known to reduce the risk of developing heart-related issues. Being low in fat, including saturated fat compared to animal-based options, they tend to be a healthy alternative. Apart from these, they also carry fewer calories, which further adds to their benefits.
3. Assists in Weight Loss
Fake chicken contains less saturated fat than regular chicken; hence, they are good for weight loss purposes. Also, since these alternatives carry lesser calories, they are good for health and weight management.
4. Offers Required Fiber Quotient
Fiber is essential for good gut health. As such, plant-based chicken substitute help in a better bowel system and digestion, which reduces the problem of constipation.
Top 10 vegan chicken brands
To help you relish various chicken alternatives right at your home, we have listed some of the top brands that you can choose from without a second thought.
Here goes the list:-
1. Boca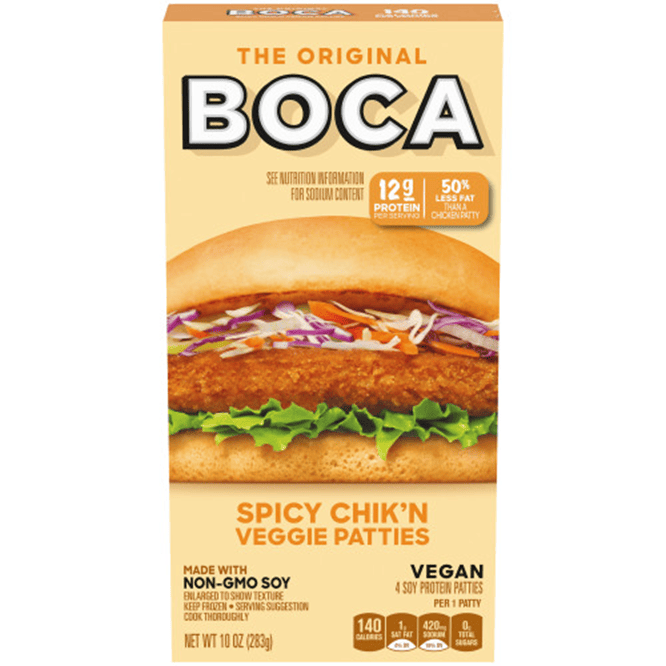 One of the best plant-based chicken brands that have garnered much attention across the globe is Boca. Offering a wide range of meat-free eats, the company makes sure that they give a healthier version of the regular chicken, along with swapping the bun with their burger bun alternatives.
Boca's Spicy Vegan Chik'n Veggie Patties is one of the best options that you can look for while trying their vegan alternatives to chicken. Each of their patties contains about 12gm of protein and 140 calories. You can use their frozen vegan pattie to prepare delectable sandwiches at home. They can be easily prepared over a grill, microwave, oven, or on a stovetop.
Taste and Flavor:- Boca's patties do not have a strong flavor but rather have a slightly smoky taste, which stayed longer on my palate, and would surely be on yours too.
Texture:- The texture of the patties is similar to that of a ground beef hamburger. The condiments used further add to the flavor profile of the item, which was enticing for me.
Price:- $4.99
Buy it from Here
2. Beyond Meat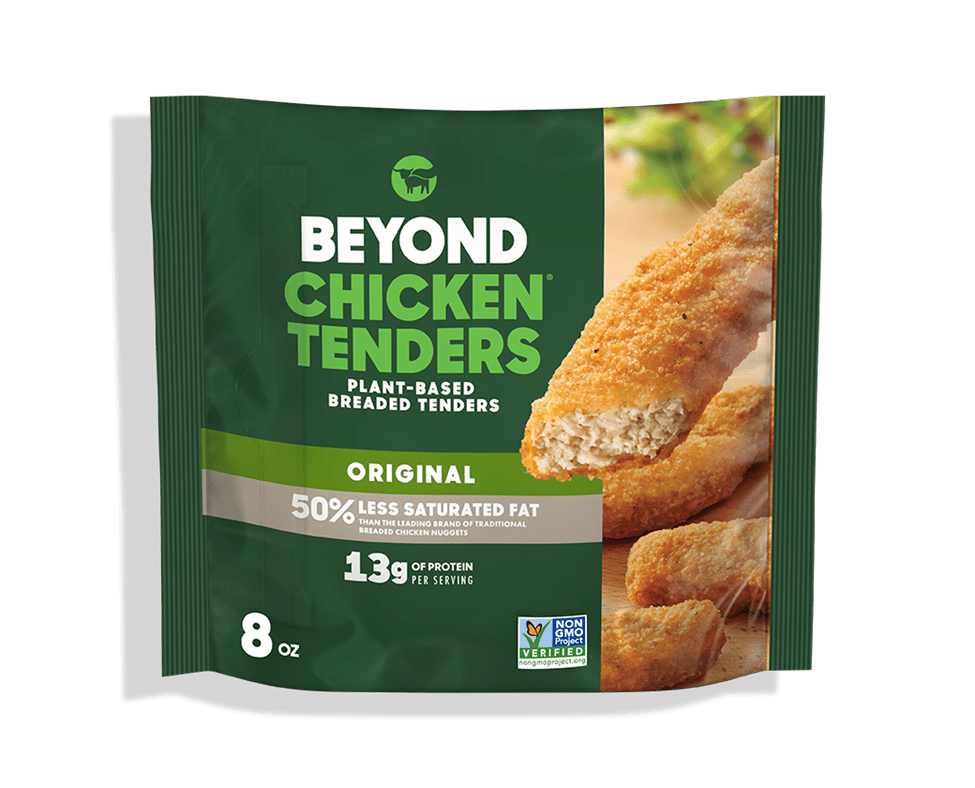 Offering plant-based products, Beyond Meat is one of the most loved vegan chicken brands. With a crispy outside and soft inside, their items are extremely irresistible. Prepared with vegan ingredients, the product's alternatives to chicken are non-GMO (Genetically Modified Organisms) and can be used as a dip as and when required.
Their Beyond Chicken Tenders is a great option for you, if you're looking for a delectable substitute for chicken. This item is easy to prepare and requires less time to get cooked. It is a good source of protein, with 11g per serving along with 210 calories. The product is devoid of antibiotics and is kosher in nature. A sumptuous option, you can consume them during lunchtime, dinners, or any hour of the day.
Taste and Flavor:- I must say that this vegan chicken option is pretty good and tastes almost like regular chicken, so you can substitute it as and when required. It is quite flavorful.
Texture:- It had a toothsome texture that emulated traditional chicken well. I liked the juiciness and tenderness of their product.
Price:-$5.39
Buy it From Here
3. Abbot's Butcher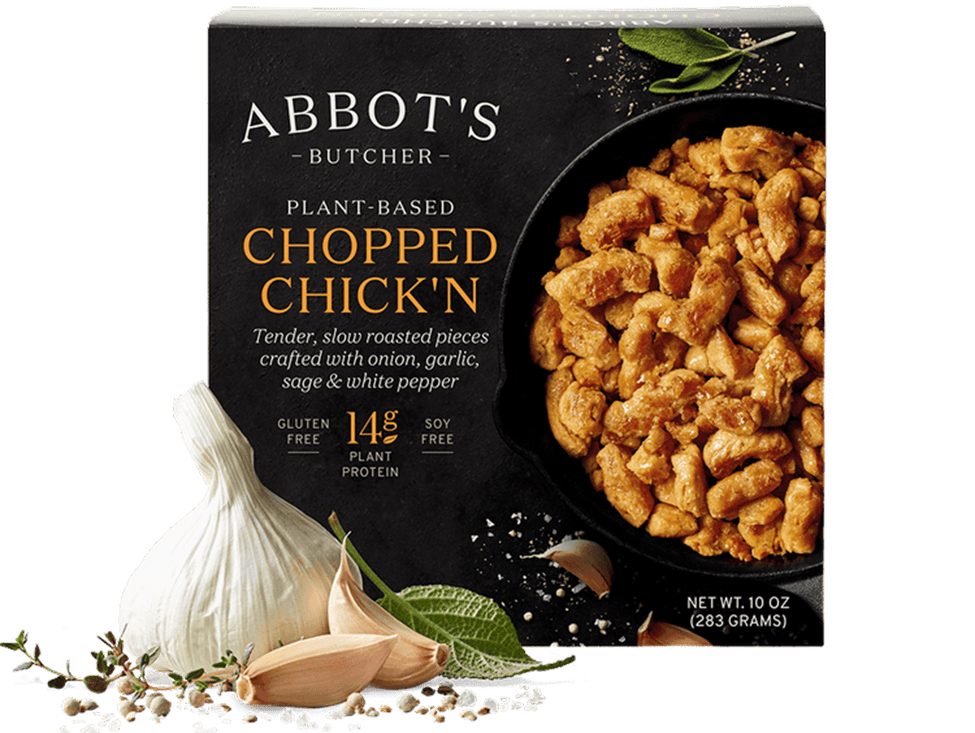 If you're looking for a vegan chicken online brand, then Abbot's Butcher can be your best bet. Providing premium plant-based options, their products carry rich, whole ingredients that add to the taste of the chicken substitute in a whole new way.
Abbot's Butcher Plant-Based Chopped Chicken is a delectable item that you can try without a second thought. Soy and oil-free, this alternative is prepared from pea protein, wheat, veggies, and other condiments, which makes this vegan option more sumptuous and craveable.
The product carries no preservatives, additives, gums, or natural/ artificial flavors. Juicy and tender, you can enjoy this vegan chopped chicken with a variety of dishes of your choice.
Taste and Flavor:- With a mild flavor, the taste of this vegan chicken option is purely sumptuous and I liked its juiciness.
Texture- The texture was good and not over the top. I liked how it browns nicely and also stays tender when it is roasted.
Price:- $8.29
Buy it From Here
4. Gardein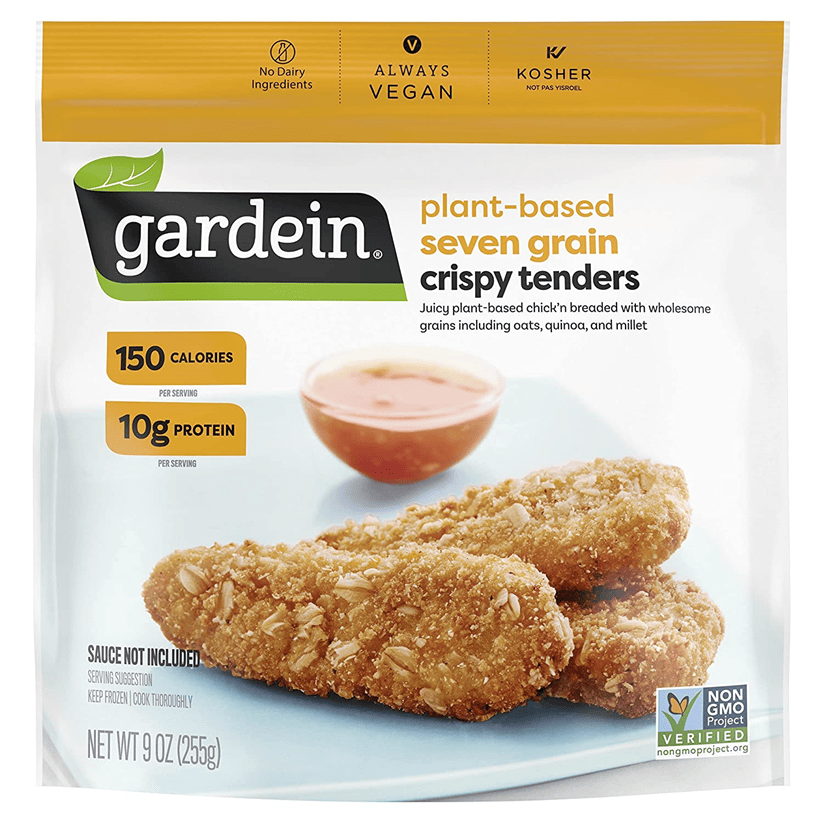 A prominent vegan chicken brand that will never leave you disappointed is none other than Gardein. Featuring a wide array of easy-to-make chicken as well as meat alternatives, the company makes scrumptious vegan options that have led people to fall head-over-heels for them.
Gardein Seven Grain Crispy Tenders is one of their main products that you should invariably try if you're looking for something juicy and tender. Made with wholesome grains such as quinoa, oats, and millet, the delicious alternative for chicken gets made very quickly and easily. It makes a good addition to wraps and salads.
Offering 8g of protein and 100 calories per serving, this product is kosher, non-GMO Project Verified, and is also devoid of dairy ingredients.
Taste and Flavor:- I found the taste of this product terrific. It had a natural flavor but was not exactly like a regular chicken. It had its own flavor profile.
Texture:- These crispy tenders had the same texture similar to any chicken stripes. I liked their crispiness.
Price:-$5.69
Buy it From Here
5. MorningStar Farms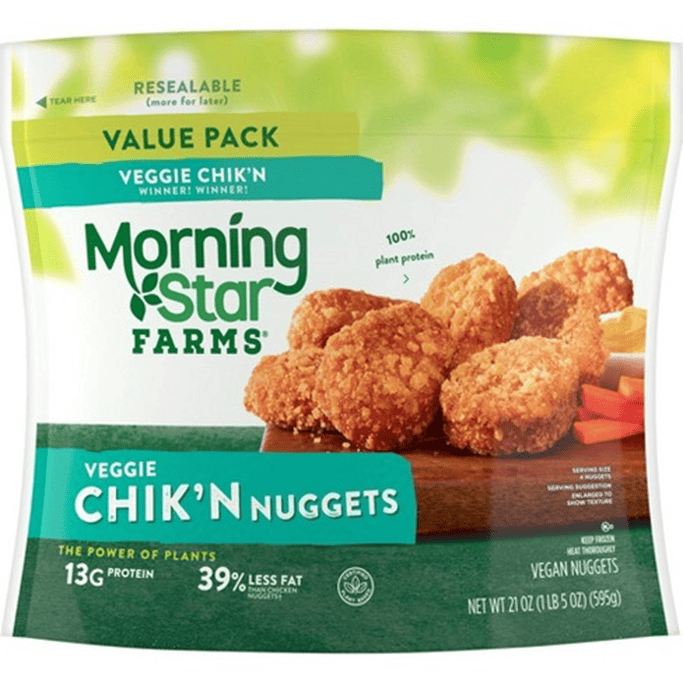 An iconic brand, MorningStar Farms is a chicken substitute brand that has become a staple in the homes of many people over the years. Providing a sumptuous substitute for chicken, the brand has many stars added to its badge with its numerous vegan options.
MorningStar Farms Plant-Based Vegan Chik'n Nuggets is one of their specialties that you can give a try. Lightly seasoned, this substitute has a crispy undertone that can ratchet up any occasion. Completely vegan, this is an excellent source of protein, which is 13g per serving, which further makes it a good addition to one's diet.
Taste and Flavor:-With a BBQ flavor, I liked the overall taste of these nuggets. They were tender yet crispy, all that you need from any nugget option.
Texture:- I found its texture to be good. However, it was not very similar to the regular chicken.
Price:- $4.99
Buy it From Here
6. Fresh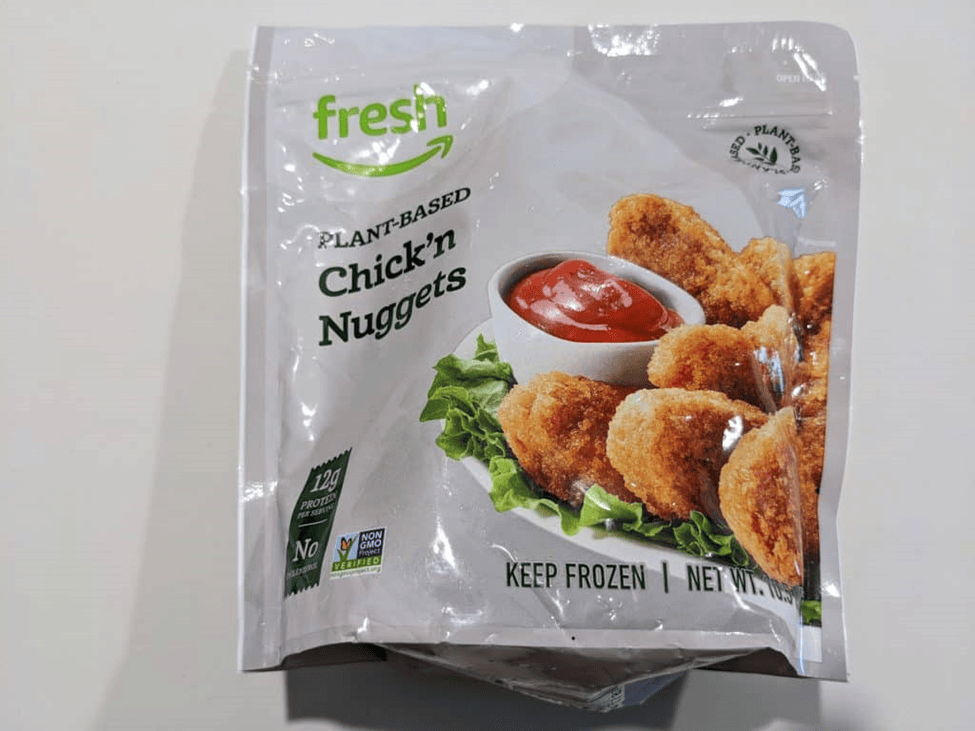 A fake chicken brand, Fresh has been one of the most renowned companies in plant-based products. Offering delicious vegan options, Fresh has made a mark in vegan products. With an array of sumptuous items at hand, this brand will surely add to your occasion.
This brand's Plant-based chick'n nuggets are one of the best options for you if you're looking to take your palate on a delectable sojourn. A healthy item, it contains 12g protein per serving and is also a non-GMO Project Verified product. This item is perfect for dipping in ketchup, barbeque sauce, or honey.
Taste and Flavor:- I liked the taste which was quite enticing. The nuggets had a flavor quite like the traditional chicken.
Texture:- It had a crispy texture, but one that does not get hard with time. It was chewy and juicy, which for me was its best part.
Price:- $2.99
Buy it From Here
7. SweetEarth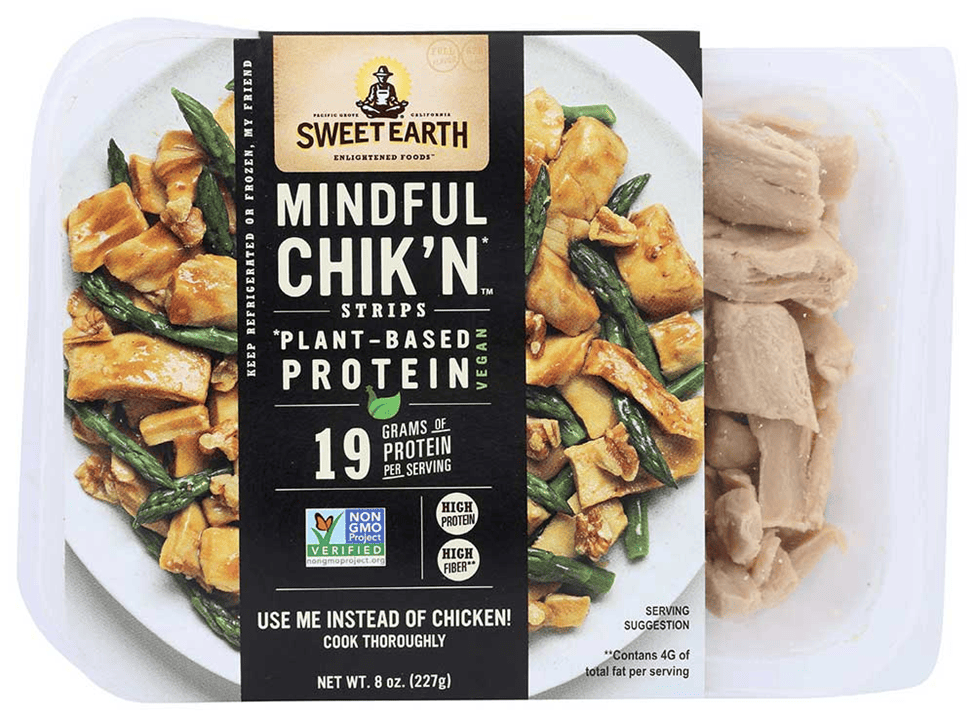 Another popular brand that you can choose to get hold of as a substitute for chicken is SweetEarth. With a sumptuous range of easy-to-make items, the brand offers several alternatives to choose from per one's liking and occasion.
The company's Plant-based Chik'n Mindful Chik'n Strips are a must-try, if you wish to explore something new and flavorful. Ready to eat, this item lends 18g of protein per serving. Prepared without hormones or antibiotics, these stripes are a healthy alternative to regular chicken varieties. You can make use of this vegan alternative in pasta, wraps, salads, and other curry dishes.
Taste and Flavor:-Personally, I felt that the brand very nicely emulated the taste of a regular chicken. It was extremely juicy with a mild flavor.
Texture:- For me, the texture was a bit off but is likely to work in different cuisines.
Price:- $8.69
Buy it From Here
8. Impossible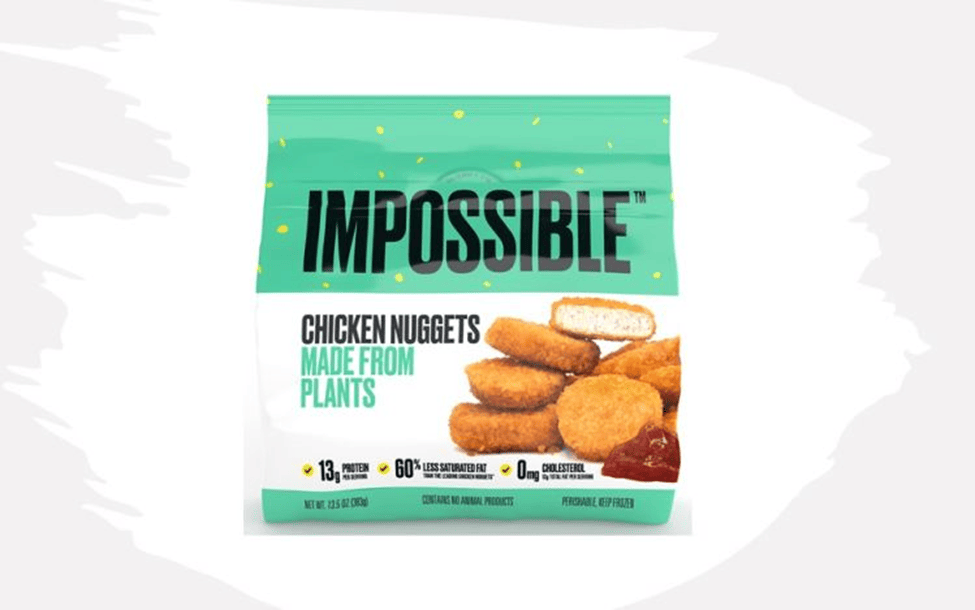 Another renowned vegan chicken substitute brand that is loved far and wide is Impossible. With its numerous plant-based items, the company has helped vegans in relishing different sumptuous options that are simply mind-boggling.
Their Chicken Nuggets Made From Plants is a delectable item that is a must-try. A healthy substitute, it does not contain cholesterol and provides 13g of protein per 95g serving. A fully cooked option, it can be prepared easily in the air fryer, microwave, or oven.
Taste and Flavor:-It had a smell of regular chicken. I liked the chewy taste.
Texture:-I loved its texture. It was golden and crispy and had a meaty texture.
Price:-$8.69
Buy it From Here
9. Jack & Annie's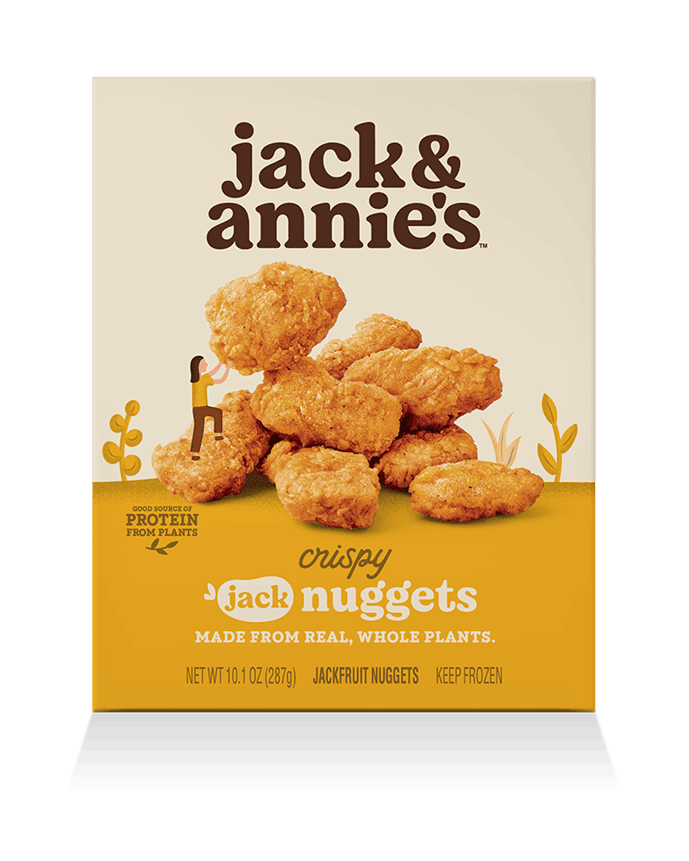 Another vegetarian chicken brand that you can go for is Jack & Annie's. Offering several plant-based options, the company provides a wide array of vegan substitutes to regular chicken that you'll be spoilt for choices. You can invariably use their substitutes in various ways and enjoy the delectable taste.
Jack & Annie's Crispy Jack Nuggets are something that should be at the top of your must-try list of chicken substitutes. Extremely luscious, this item contains a good amount of protein with 7g per serving. You can add this alternative to chicken in your pasta, and salads. With its classic comfort food, the brand has won the hearts of vegans and vegetarians across the globe.
Taste and Flavor:- I found the taste of this substitute quite satisfying and wholesome to the palate. It resembled real chicken.
Texture:-The texture of the alternative was nice, and I liked the chewy texture that was crunchy too.
Price:- $5.99
Buy it From Here
10. Daring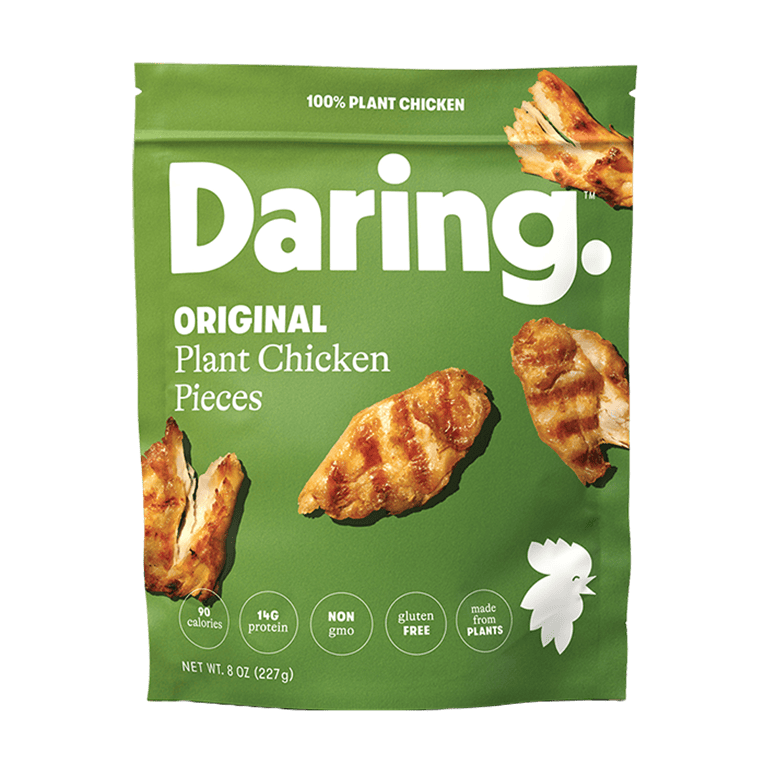 A well-known chicken alternative brand that you can lay your hands on is Daring. Providing delectable plant-based items, the company has created its own fan base that has been growing and catering to people's palates in a whole new way.
Daring Original Plant Chicken Pieces is one of their best offerings that you should definitely try. A healthy substitute, the item can be enjoyed with a salad, wrap, or dip. With 14g of protein per serving, it is a good addition to any vegan diet.
Taste and Flavor:-It tasted great right after cooking. I liked its flavor, which was more like canned chicken.
Texture:- The texture was good. I liked its tenderness along with the apt crispiness required.
Price:-$6.69
Buy it From Here
As such, these top brands are sure to meet your palate's cravings and satisfy your hunger in a delicious and exotic way. With time, you can also explore other options, but for now, the mentioned ones are enough to get you going in the vegan world!
How to Use Vegan Chicken in Cooking?
Well, knowing about the vegan chicken available around you is one thing, and including them in your dishes is another. So, if you're giving your brains a hard time as to how to use these alternatives, then be assured as we got it all covered for you.
As such, the following are some of the ways by which you can use the substitutes easily:-
One of the best ways to use any chicken substitute is by making curries with them. With similar texture and flavor, the luscious alternative is sure to ratchet up any event or occasion in a delectable way.
The chicken alternative that you choose can be used in soups too. You can make your very own vegan chicken soup and enjoy the dish at your upcoming party.
Another way in which you can include fake chicken in your dishes is by making sandwiches with them. Put thinly-sliced vegan alternatives to chicken in the sandwiches and relish it along with lettuce, fresh veggies, and vegan mayo.
With your vegan chicken substitute, you can make delicious stir-fried veggies tossed with these alternatives. An easy-to-make item, it can be enjoyed at any time of the day.
Make Vegan Chicken Nuggets
With vegetarian chicken at hand, you can deep fry and make sumptuous nuggets instantly. Get on and enjoy this homemade snack with some vegan sauces right at your place.
Why Some Plant-Based Chicken Products Are Not Good?
Although vegan chicken seems pretty lucrative in the first go, there are some underlying issues with it. Let us have a look at that:-
The main problem with plant-based chicken is that they are highly processed. Although this processing helps in giving a nice taste to the item, it is not considered healthy. On the contrary, it reduces the antioxidants and other nutrients from the product. These processed food items even contain additives that are not considered good for the body.
Like any other processed product, vegan chicken is also high in sodium content. As such, these items contain about 400mg of sodium per serving. It is worth remembering that we all get sodium from other places too, which can eventually lead to increased blood pressure and enhances the chances of contracting heart-related issues apart from fluid retention in the body.
Nutrient Quotient is Not Good
Plant-based chicken are not nutritionally dense in spite of being made from plant-derived ingredients. High in carbs and fat, these items contain less protein than needed. They also contain less of certain other nutrients such as vitamin B12, iron and zinc that are found in regular chicken.
Although natural flavors sound better than artificial ones, in reality, they are not. These flavors more often than not go through processing to such an extent that there remains hardly a difference between artificial and natural flavor.
Vegan chicken often relies on grains or legumes. As a result, they are higher in carbs compared to regular chicken options. In these plant-based alternatives, you might get 10 grams of carbs and at times 20 grams per serving. All this can lead to increased inflammation, and can even increase the risk of type 2 Diabetes.
The problem with relying too much on soy or wheat is many. Wheat contains gluten which is known to cause allergies to some people. Likewise, with soy come antinutrients, phytoestrogens, and the potential for genetic modifications. Therefore, a constant risk always remains with the use of these ingredients.
Things to Consider When Choosing a Vegan Substitute for Chicken
When you're choosing some of the best plant-based chicken, you must keep certain things in mind so that you end up with the best bet.
Well, let us look at these aspects more closely:-
1. Flavor
To begin with, it is important to understand that the taste of any regular chicken is mild and slightly sweet. These then take some savory flavor once cooked. As such, this is one of the most crucial aspects to consider while buying any vegan alternative so that they work exactly the same way that the traditional chicken works on a blank canvas, adding taste and flavor unique to themselves.
2. Texture
When you think of selecting vegan chicken brands, look for their texture. Any recipe that calls for chicken relies on it greatly for having that luscious chewy texture. This texture then makes for an important characteristic of that dish. Therefore, when you go shopping for these vegan substitutes, ensure that they too offer such satisfying bites.
3. Fat
Chicken is said to be lean meat, which means that it does not contain much fat. As such, when you buy any plant-based chicken, make sure that they do not contain extra fat in them.
4. Protein Quotient
One of the factors that lead people to consume chicken is its protein quotient. Therefore, when you buy any substitute for chicken, make sure that your vegan alternative checks this box.
Frequently Asked Questions (FAQs)
1. What is vegan chicken?
Answer: Vegan or plant-based chicken is a product that is made in a way that emulates the taste, texture, and flavor of a regular chicken.
2. Do plant-based chicken taste like regular chicken?
Answer: Yes, plant-based chicken has a taste similar to that of a traditional chicken although the flavor might vary per different brands.
3. What makes plant-based chicken taste like regular chicken?
Answer: Plant-based chickens are made with soy, pea protein, or wheat which gives them the taste of a regular chicken.
4. What is a vegan alternative to chicken made of?
Answer: Usually, chicken alternatives are made from vital wheat gluten, soy, and vegetable protein.
5. Does vegan chicken contain protein?
Answer: Yes, vegan chicken contains a good amount of protein just like the traditional chicken options.
6. Is vegan chicken healthier than regular chicken?
Answer: Yes, vegan chicken is a healthier option since it contains less saturated fat than regular chicken. Apart from this, these alternatives contain a certain amount of fiber and a good quantity of protein that further adds to its benefit.
7. How can we store a vegan chicken?
Answer: It is recommended to keep the vegan chicken in a container in the fridge where it will remain intact for up to a week or so. However, the unopened vegan chicken alternatives can be frozen for up to a year, provided you carefully read the "Best Before" date given on the label.
8. Are plant-based chicken nuggets healthy?
Answer: Yes, plant-based chicken nuggets are healthy since they usually contain less saturated fat compared to regular chicken options.
9. Why should we choose plant-based chicken?
Answer: Apart from health benefits, plant-based chicken reduces cruelty towards animals and promotes empathy. Therefore, they should be chosen over their counterparts.
10. What are the drawbacks of consuming vegan chicken?
Answer: Vegan chicken carries higher amounts of sodium and lack nutrient that is present in regular chicken. However, one can take health supplements to get over the problem of lack of nutritive value.
11. Is vegan chicken good for weight loss?
Answer: Yes, it has been found that vegan chicken can aid in weight loss as they are rich in fiber, which helps in staying satiated for long, thus reducing the urge to eat within shorter intervals.
12. Is plant-based meat healthy?
Answer: Plant-based meat contain more nutrition compared to traditional meat options and hence, they tend to be a healthier alternative than their counterpart.
Takeaway (Final Thoughts)
Today, there exist numerous vegan chicken brands that are offering delectable options to vegans out there. Being an affordable, versatile, and sustainable option, they have gained huge popularity and fame across the globe. With a wide array of vegan alternatives to chicken present in the market, one can now relish flavor-packed dishes without animal cruelty at all.
So, the next time, you get to your nearest grocery store; try laying hands on some of these renowned brands that are simply mind-boggling, sumptuous, and ready-to-eat items ideal for any occasion. Also, there are alternatives to plant-based meat available in the market.
Well, in the comment section, tell us which one you liked the most!
You May Also Like