I'm really excited to share this recipe for a vegan lentil loaf (aka vegan meatloaf) with you. It's a hearty, comforting recipe that's full of nourishing ingredients.
I did quite a bit of research and testing on this to make sure I brought something different to the table since there are so many lentil loaf recipes out there. It's the perfect main dish to serve at your Thanksgiving or Christmas dinner, or on any occasion really!
I've only recently gotten into making veggie loaves and I must say, I'm a massive fan. They're so easy to make and can feed so many mouths! They're great served with a side of mash and either fresh or steamed greens. Other options are:
Made into a sandwich or burger with your favourite toppings
Pressed down into a pie dish and topped with mash to make Shepard's pie style dish
You can stuff bell peppers with them and bake in the oven
Bake them in a muffin tin and pair with some sides or pop in the lunchbox for work or school (make sure to bake them for around 20-30 minutes)
The options are really endless with this mixture!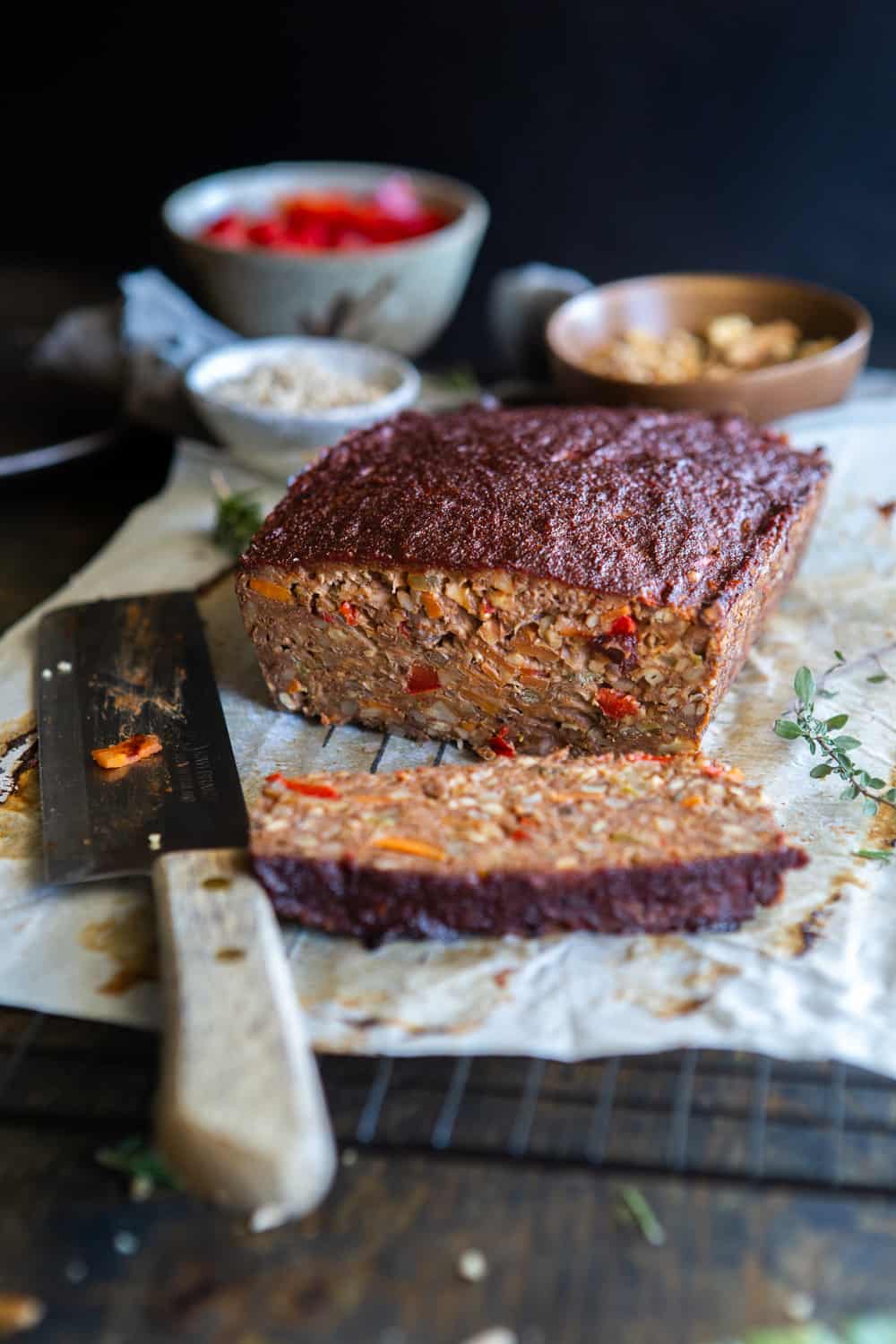 Can I make this lentil loaf ahead of time?
You sure can make this ahead of time. In fact, I would recommend it! The flavours will be a little deeper and you don't have to stress so much when you should be enjoying yourself and relaxing.
I've done this way too many times! I plan a feast and get excited to have people come over and I end up being stressed all day because the house needs to be cleaned, I need to have all the ingredients for the dinner ready and make sure to allow enough time to cook everything before our guests arrive.
So when I make recipes like this one that can be made ahead of time, it makes it such a more enjoyable experience on the day. Can anyone relate?
You just need to warm it up before you're ready to serve. It can also stay in the fridge for up to three days.
Is it freezer-friendly?
This vegan lentil loaf certainly is freezer-friendly. Just bake it without the glaze and freeze it once it's completely cooled. When you're ready to use it, thaw it completely and then glaze it before popping it in the oven to warm up.
You can also leave the glaze off if you choose to make a gravy for the lentil loaf instead.
However, if you like your glaze, you can certainly double the recipe and have that extra thick layer on top of the loaf. It will only add more flavour!
The steps to make this meatless loaf are super easy and straightforward. In other words, it's hard to stuff up!
Unlike other loaf recipes, this one has no exotic ingredients or ingredients that I don't normally cook with myself as our kitchen is mainly whole-foods.
It's also not dry and mushy, so it makes it so easy to cut and enjoy thin or thick slices.
It has a great range of colours and vegetables, to make this meal enjoyable and nutritious at the same time.
A couple of other tips…
What you see is the texture and consistency of the pulsed mushrooms, sunflowers, walnuts and some of the brown lentils.
If you don't have a loaf tin or pan, you can simply use a baking tray lined with parchment paper. Just shape the mixture with your hands to resemble a loaf and it will hold up fine.
One other tip, if you're cooking the lentils (rather than using from a can), make sure not to overcook them. If you do, the loaf can turn out a little mushier than desired.
Other recipes you'll love:
Now let's get into this!
If you try this recipe, let me know! Would love for you to leave a comment and rating below. If you want to go that extra mile, tag us on Instagram or share your photo of the recipe on Pinterest.