Admittedly, I haven't been one to appreciate the art of shopping second-hand.
The thought of buying something used was always a little off-putting to me.
Since becoming a minimalist, this didn't change much, as I associated people who shop second hand, with people who have a lot of things.
It's the constant "looking" for bargains, that separates frugal living and minimalist living.
Beyond that, I just like new things. I like knowing that I'm the first person to use a product fresh out of the packaging. It makes me feel like I'm in control of my purchase.
But the mentality of wanting new things hasn't served me or the environment well over the years. My desire for new, led me to debt and supporting industries that generate waste and unethical practices.
If you've been following this blog, you'll know that we have plans of eventually moving to Europe. We'll be taking everything we can from Australia, but inevitably, we'll need to to buy some basics for our new home.
Will we buy new or used to fit out our apartment? And when it comes to living a minimalist, vegan and sustainable lifestyle, is shopping second hand better than buying new?
These are the types of questions we'll need to address. And that's what I'm about to answer in this post.
I'm going to kick off with some genuine concerns about second-hand shopping, before discussing the benefits of buying used, and some tips to get started.
Concerns about shopping second-hand
I've already touched on my resistance to buying used things, but I want to unpack that fully. The reasons for not wanting to shop second-hand play a massive role in how we can shift our paradigm.
Not going to find what you want
It's hard enough trying to find a product new. Then you add the complexity of finding products that are ethical, sustainable and vegan-friendly, and things just got a lot harder.
THEN you remove all new products from your options, and things get harder again. This is perhaps my greatest fear when thinking about shopping second-hand.
So much more time and research need to go into shopping for things, quite often with no result. If you're already time-poor, this idea is terrifying!
Read more: 15 Minimalist Shopping Tips To Help You Master Your Temptations Today
You may receive a faulty product
When you buy brand new, you're generally supported by some warranty or consumer law. So if your product is defective, you can return, exchange or get it repaired.
When shopping second-hand, there isn't the same level of accountability, which means more risk.
Can you trust the seller?
Many transactions involving used items are conducted between two individuals as opposed to an individual and a business.
An established business has its reputation to uphold, so they do everything they can to build trust with their customers.
When you interact with someone on an online marketplace or in person, with little chance of seeing them again, there's no incentive for the seller to build trust with the buyer.
As someone who used to work in technology, I've seen countless examples of someone buying a used iPhone, only to find out that there was a hard lock on the device, and they couldn't access it. When the buyer tried to reach out to the seller, there was no response. So in the end, they purchased an unusable phone. Not cool!
Compromised condition
Some people want to control the whole experience of buying a product and are happy to pay more for something new.
The moment a product is used, the condition will never be the same. We see this a lot in the car industry. As soon as you drive a new car out of the showroom, the value drops significantly.
This is something you have to come to terms with if you're going to start shopping second-hand.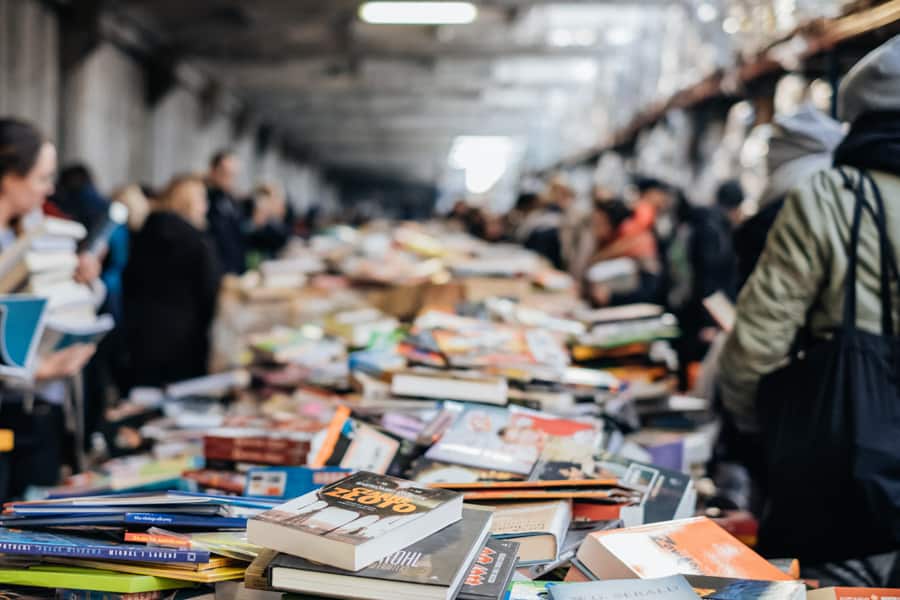 Is the product genuine?
If you have plans of on-selling your second-hand good, a big part of retaining value is going to come down to the integrity of the product.
Some products, like genuine sneakers, can appreciate depending on the market trends. So product integrity becomes even more critical in this context.
Buying second-hand makes it harder to validate the integrity of the product you're buying.
Shorter lifespan
When shopping second hand, you're buying a used product. It's only logical to presume that life in the product is less than what it was if you were to purchase the product new.
With a tighter lifespan, you'll need to buy more frequently, thus increasing your consumption habits.
Benefits of shopping second-hand
Okay, so now that I've covered off on the concerns of shopping second-hand, it's time to get into some legitimate reasons why we should buy second-hand.
Extend the lifecycle of a product
Considering the lifecycle of a product, even before you purchase it is something we've advocated for some time.
Thinking about the lifecycle, pushes us to consider the quality, how we plan to use it if it's repairable, and how we'll discard it once we've used it to its capacity.
One of the options of discarding a product is to on-sell or give it away. Even though you no longer need it, someone else might. This is a far more sustainable alternative to throwing products in the trash, contributing to the incredible waste.
This point in itself should be motivating enough to buy more second-hand goods.
Slow down consumption
Extending the lifecycle of products also means slowing down the rate of excessive consumption, which means less waste, emissions, unfair wages and animal cruelty.
Instead of generating waste, we're creating a circular economy of re-distributing "would-be" discarded products and giving them a new life.
The knock-on effect is that the demand for new products would decrease, which would force producers to reduce their supply.
Ultimately, shopping second-hand means that we're more resourceful as a society.
Encourages community building
Earlier I mentioned the risks associated with dealing with people-to-people transactions instead of people-to-business transactions.
However, that's only looking at the worst-case scenario. For as many bad transactions we have with second-hand deals, there are ten more positive ones. Okay, I just made that number up. But it feels about right 🙂
So what's so good about these dealings? Well, buying and selling from other people builds a sense of community.
For example, we sold our bed frame to some guy on Facebook. He brought over a truck to pick up the bed. In the 20 minutes he was in our home, he helped us to dismantle the bed, he bought a few more other items, and we were able to talk about the history of the things he just bought from us.
Furthermore, he happened to share a lot of views on the world as we do, so we had a stimulating conversation about macro-level consumerism.
It doesn't seem like much, but in that 20-minute interaction we:
Sold more things we wanted to get rid of, instead of creating more waste
We met a new person who expanded our perspective
He validated to himself that buying a bed frame second-hand was the right decision
We proved to ourselves that persisting in selling things second-hand was the right decision
The bed gets to have a new life thus extending its life
Buying and selling amongst each other while inconvenient at times is an incredibly humanising experience.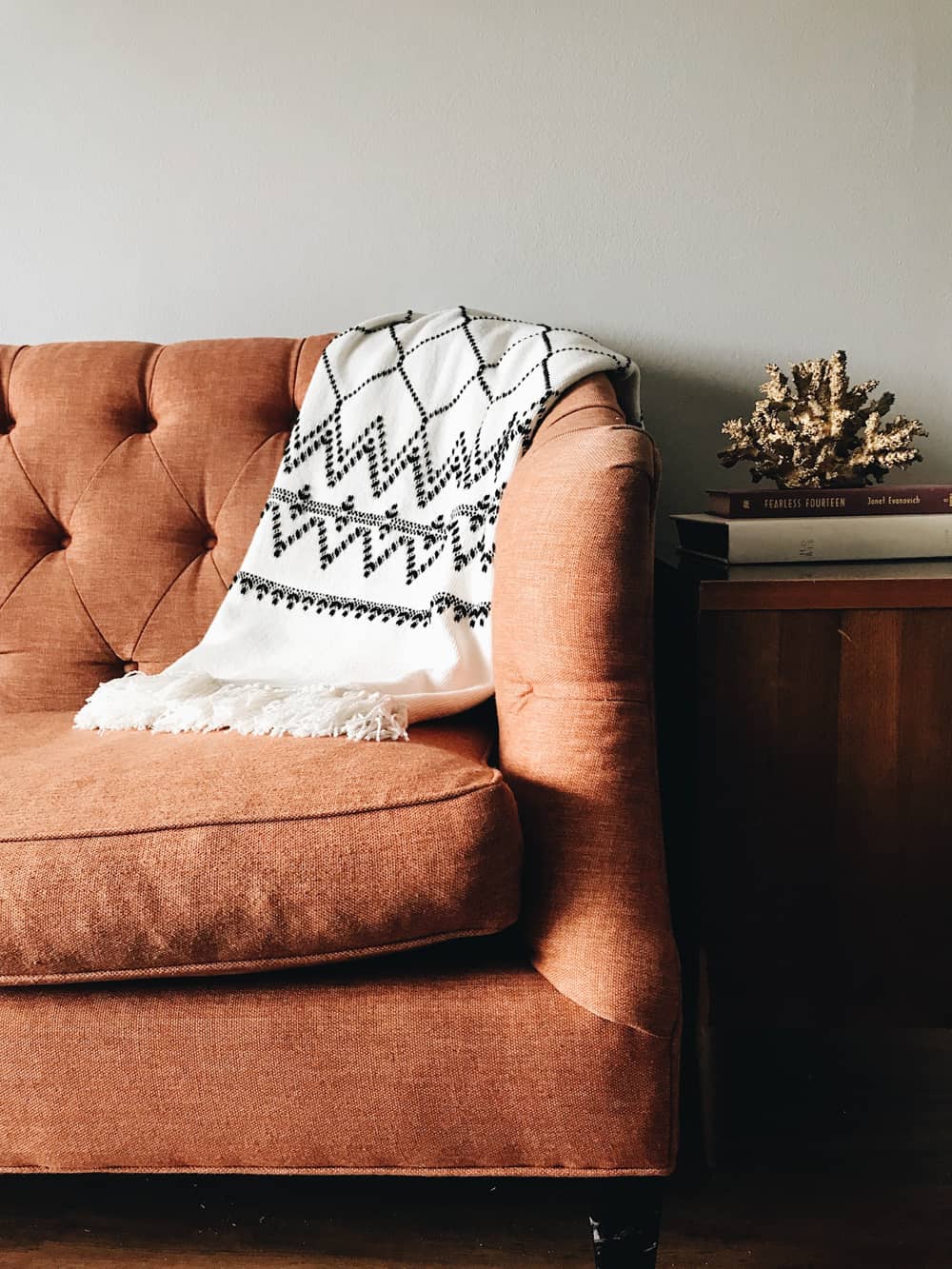 You may not always get what you want, and that's a good thing
Wait, why would it be a good thing not to get what you want?
See, when buying an item brand new, you know exactly what you're getting. Certainty is the expectation.
But when you buy a used product, quite often, you need to settle for something that you wouldn't have otherwise bought.
In the family home I grew up in, we've had a total of three lounge sets between 1994 and today. The first of which was a second-hand set my parents bought. It had a pinkish, purple colour, and I vividly remember the cigarette burn on the single-recliner chair.
The latter purchases were brand new. Do you want to know which lounge I liked the most? You go it, the second-hand one.
And it's not because of the memories associated with that specific couch, although there are many great ones! It's because it was by far the most comfortable couch we ever owned—and I was sad to see it go.
I share this story because I imagine you've been pleasantly surprised with a second-hand purchase before. You naturally lower your expectations when you buy used products, and that's a good thing.
We put so much pressure in finding the perfect product when shopping for new things, and sometimes that means we don't appreciate the purchase as much—because we expect it to perform. I mean, it better, considering how much we paid for it!
There's a real sense of pride in thrifting an item that over-delivers.
It's cheaper to buy second-hand
Ha! You would have thought this would be the first benefit I mentioned.
It's undeniable, buying used is more affordable than buying new. That's why many of us shop second-hand.
You can save yourself thousands of dollars buying second-hand. I just watched a video about a 20-year-old girl living in a van for the past two years. She fitted out the van with mainly second-hand products and the vehicle itself cost her $2,500 used.
In the end, she's avoiding paying someone else's mortgage, and she built her mobile home relatively cheaply by leveraging used products. This is a pretty extreme example of keeping costs down, but it certainly makes a point.
Shopping second-hand, if used with intention, is a mindset that can save you a ton of money.
So how do you get started with second-hand shopping?
Tips for shopping second-hand
The goal when buying any product, especially second-hand, is to feel confident in your purchase. Below are some tips to keep in mind to feel confident in your decision to buy used items.
Where to buy second-hand products
Access to used goods comes down to where you live and what's available in your area.
Luckily, technology has enabled us to leverage the internet to broaden our options. Below is a summary of where you can look to do your second-hand shopping.
Charity shops
Also known as an "Op (opportunity) Shop" in Australia, charity shops accept donated products and on-sell them to the public. Type in "charity shop near me" in Google to find a list of shops in your local area.
Make sure to visit their website first to see what types of products they accept. For example, one of the shops in my area doesn't take electronic goods, mattresses and prams. Knowing this in advance will save you time.
Vintage shops
Also commonly known as thrift stores, vintage shops buy quality used items and then mark them up for a profit—which can either be cheaper or more expensive still than new products, depending on the rarity. Thrift stores typically have a defined range of products and styles to present a consistent brand to their customer base.
You can find them in your area by typing "vintage/thrift shops near me" into Google. As products in vintage shops usually sell quickly, due to their strict curation, you may consider following them on social media as they regularly post new items available. If you see something you like, it's up to you to move quickly to look at it before it's sold.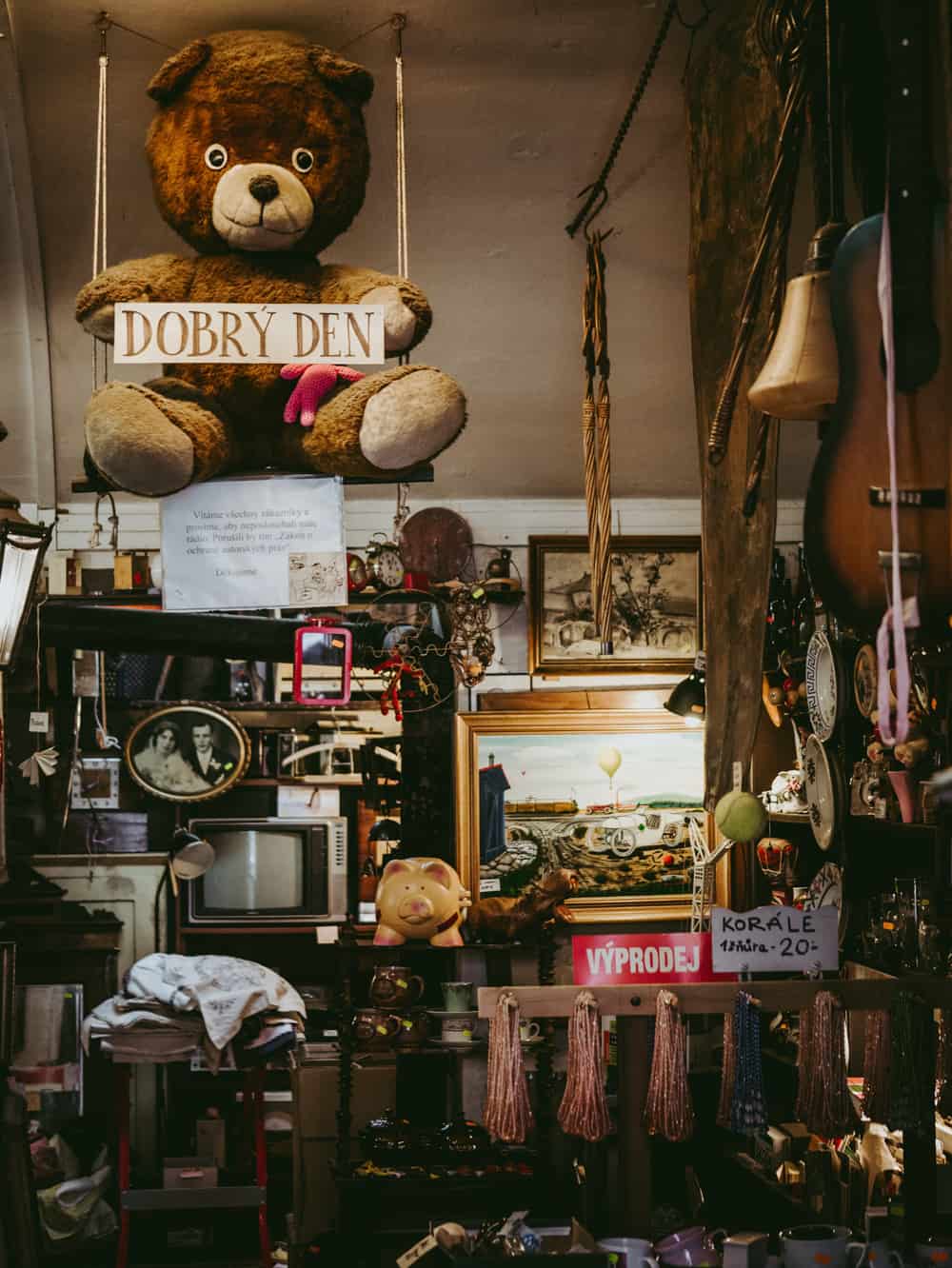 Swap shops
In recent years, there's been a growing movement around paying-it-forward. It's a small community of people who choose to give away their items to people who want them. It's a lovely concept, and the vibe in these groups usually are quite positive.
The best way to give or receive second-hand things is to join a pay-it-forward Facebook group. Type "pay it forward <insert your city>" into the Facebook search to see if there's a group in your area. Outside of Facebook, there are other swap shops, notably with books. Type in "swap shops near me" in Google to see what's available.
Now while there isn't a monetary exchange in these swapping groups, it's expected that the receiver picks up the product from the giver. This may seem like a small deal, but when it comes to decluttering, it's very helpful to have people come and take things away from you, even if it's free. Otherwise, we can sometimes procrastinate or worse, we leave things in our car for weeks on end.
Online marketplace
One of the most popular ways to buy second-hand is through online platforms like Facebook Marketplace and eBay. There are many others, again depending on your country and city. There is one in Australia called Gumtree.
These are websites where people post their used products, often with an image, description and price. The seller sometimes needs to mail the product to the buyer, depending on where they are.
I encourage you to look past the big well-known marketplaces when trying to find products. For example, we discovered a fantastic online shop for wedding dresses, where Maša was able to sell her dress very quickly. Once you know what you need to buy, type "second-hand <insert product> online" into Google to see what comes up.
Sometimes I like to type in "best second-hand shops online in <insert country>" to get a list of marketplaces. From there you can sign up to be notified via email of specific products as they become available.
Google the product
Whether you're thrifting in-store or online, try to Google the product you're considering.
This won't always work if the product is vintage, but it's worth a try.
The key here is quickly finding a product number, brand or model which you can reference in your search. If you find the product, you'll be able to look at reviews, get an idea of the original price and build confidence in the product.
If this is a more expensive product like a computer or vehicle, you might be able to find more specific information like recalls on particular parts, for example.
Manage your expectations
Before you become the best thrift shopper in the world, you need to reset your expectations. Shopping second-hand can be fun as much as it can be frustrating. Here are four hard truths you need to be prepared for:
You'll miss out on products – you've found the perfect size shoe in the perfect colour, only to find when you come back for it, someone else bought it. This can be devastating, so be sure to play the numbers game. For instance, you need to be prepared to bid on five pairs of shoes to finally get one pair you're happy with.
Have patience and persist – sometimes it will feel like you'll never find what you want, until bang! After looking for what seemingly feels like months, you find exactly what you're after. It's a testing process, and you need to expect it to take longer than buying new.
You'll get frustrated with people – you'll have buyers trying to bargain with you at your front doorstep even though you already agreed on a price. People will flake on you and not respond to your messages. Try to have little or no expectations of people, and only then you may be surprised when they're polite and respectful 🙂
You'll get a faulty product – again, shopping second-hand is a numbers game. You'll win, and you'll lose. You just need to bank on the fact that you'll win more than you'll lose, and in the end, it will be worth it.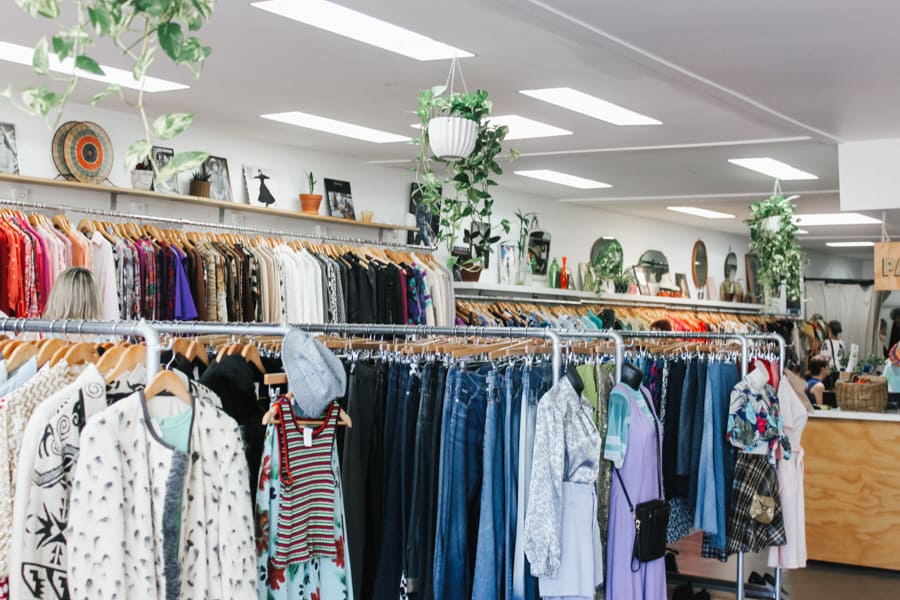 Reasons to buy new instead of shopping second-hand
As beneficial as it is to shop second-hand, it's not a perfect system. There are times where shopping new is going to be your best option.
Below are three situations where it is best to buy new instead of shopping second-hand.
You can't find what you need
Sometimes you need to buy something urgently, and you can't afford the time to research and wait for a used item to become available.
If you need to make a quick decision, sure at least have a look to see if something is available online, but don't waste too much time. If you can't find what you're looking for, buy new instead.
You want to support ethical, sustainable brands
I have a counterintuitive philosophy, which means spending more as a mindful consumer. I don't mean you should be excessive, but I do feel it's important to support ethical brands trying to do the right thing.
It's our dollars that will keep these brands in business and continue to provide alternatives to the toxic and harmful products available to the masses.
However, I understand that this approach can be quite costly, so it's best to find a balance between shopping second-hand and supporting sustainable brands.
You don't want to be tempted to consume more than you need
As I explained earlier, the key to being an excellent thrift shopper is being alerted of products as they become available. This quite often means shopping at thrift stores consistently, signing up for email and social notifications, and seeking opportunities.
If you're not careful, being "connected" to marketplaces may become an unhealthy habit—to the point where you consume more than you need.
We all have people in our lives that are continually doing deals, whether it's buying something at a bargain, or on-selling their used products. It's a job in itself, and a recipe for unnecessary clutter.
You get trapped in a mindset of "oh well, I can always sell it". The principles of minimalism still apply to second-hand shopping. Develop a wishlist of what you need and proceed to find those products. Again, check second-hand first, if not available, go for something new.
But don't get lost in bargains, opportunities and exchanges, just because you can. If you have good self-control treat your second-hand shopping like an event. Set yourself a deadline on how long you'll look for an item. If you don't find anything in that timeframe, end your campaign. Unsubscribe from notifications and move on.
However, if you find it hard to go in and out of second-hand mode, it might be best to shop new instead. That way you can remove the fear of missing out on products and simply execute on what you need to buy, nothing more.
Is it okay for vegans to buy non-vegan products second-hand?
Before wrapping up this post, I wanted to make a quick note on something I've struggled with when it comes to shopping second-hand.
As a vegan, I avoid buying any products that come from an animal. This goes far beyond food as many products are made from silk, leather, wool, feathers, amongst other animal materials.
Many vegans, feel that if the harm has already been done, then it's okay to buy second-hand products made from animals. I agree that this is a much better alternative to purchasing animal products new and signalling to the market to produce more of the same cruel products.
Not only that, but it's more resourceful to use products that are made regardless of whether they're vegan or not. It's hard to fault that logic.
But I have a different point of view on this matter.
Each one of us is a walking billboard. What we own, wear and consume represents who we are. And other people take notice.
As more people start to understand what veganism is, the more they will test you for your integrity. People are curious to see where you get your "leather" shoes from as a vegan.
Not only that, subconsciously we're showing people it's okay to consume these products. Most of the time, this won't matter, as vegan-friendly products are looking more and more like the non-vegan versions.
But for me, personally, it matters. It's important to me to be able to look in the mirror and know that what I own does not represent exploitation to animals. And I don't want to leave any doubt or confusion when I represent myself and the animals to others.
Again, many people share a different view on this topic (including my wife). Still, I thought it was important to bring up, as we'll be presented with opportunities to buy non-vegan products when shopping second-hand. And we need to make a decision we're comfortable with.
What do you think is better? Shopping second-hand or buying new?
Over to you now! Let me know what you think in the comments below. Also, do you have any tips for balancing the need to find things second-hand, and drawing the line? I'd love to know!