I've created four different easy vegan chocolate truffles that everyone will enjoy. You can pick from rose and pistachio, hazelnut, ginger or rum and raisin.
These truffles that also happen to be dairy-free and vegan don't compromise on flavour even when compared to their dairy-laden counterparts.
They're even tastier!
I've used coconut milk in this recipe instead of double cream and butter, and the creaminess is just as rich, and don't worry for people that don't like coconut, I promise you, you won't even notice it's there.
The tools that you'll need to make these vegan truffles
If you're making all of the truffle recipes here, you'll require the following kitchen utensils:
Silicone spatula
Heat-proof bowls
Small saucepan or Turkish coffee pot (or similar)
Unbleached parchment paper
Plates or baking trays
Spoon
Little bowls
2 Forks
Food processor
Knife
Chopping board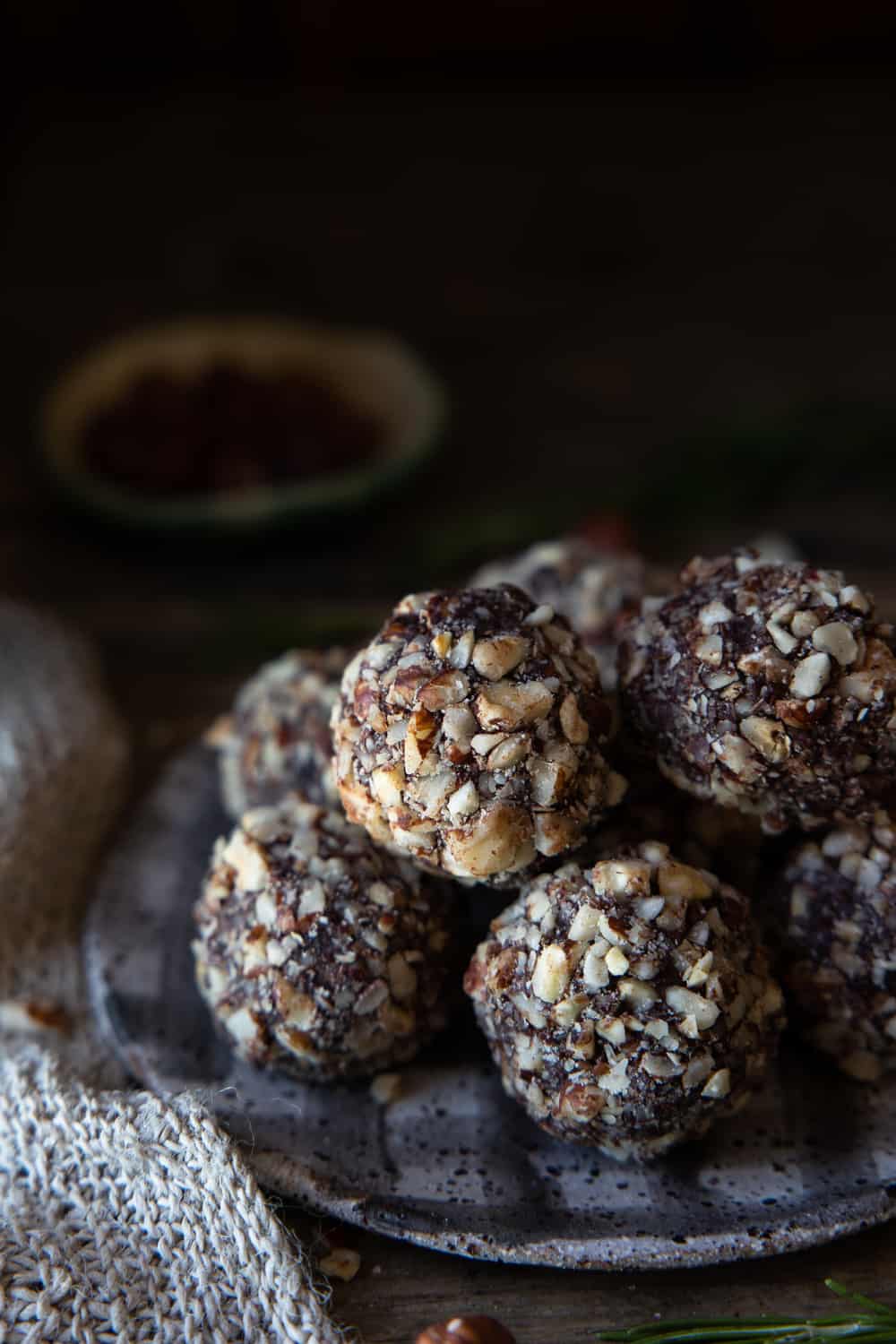 Tips for making these dairy-free truffles
There are a few tips and tricks to help you make these melt in your mouth truffles at home.
If you're using a double boiler to melt your chocolate, be careful that the water doesn't come to a boil. You want it to be simmering and not touching the bowl that you have placed over the saucepan. The chocolate can overheat and in the process lose its beautiful texture and shine.
If the chocolate splits for whatever reason, use an immersion blender or electric whisk for around 30 seconds to a minute, and it should come back together. No need to toss it and start again!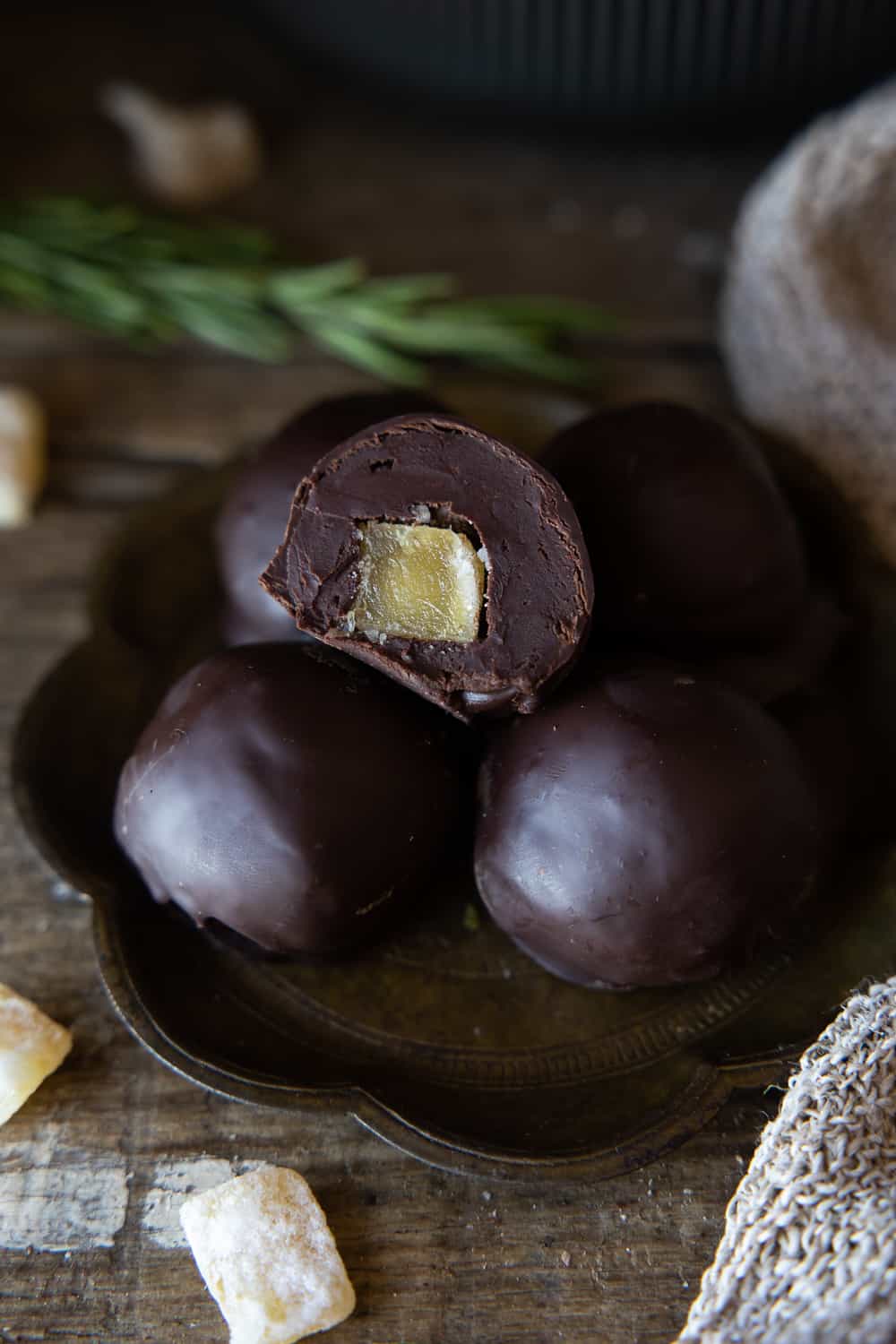 These recipes make 10 truffles, if you'd like more, just double or triple the recipe.
If the truffle mix starts to get a bit too soft to roll, place it back in the fridge for 20-30 minutes to firm up again.
Ideally, the truffles should be kept in the fridge until eaten (for up to one week). If the weather is cooler where you are, they'll be fine at room temperature for a while.
As you'll see in all these truffle recipes, I've used the ratio of 150g (5.29oz) of chocolate to 7tbsp of liquid. If you choose to add different ingredients, make sure that at least 4 tbsp are coconut milk/coconut cream. That will help to make the chocolate firm, yet chewy.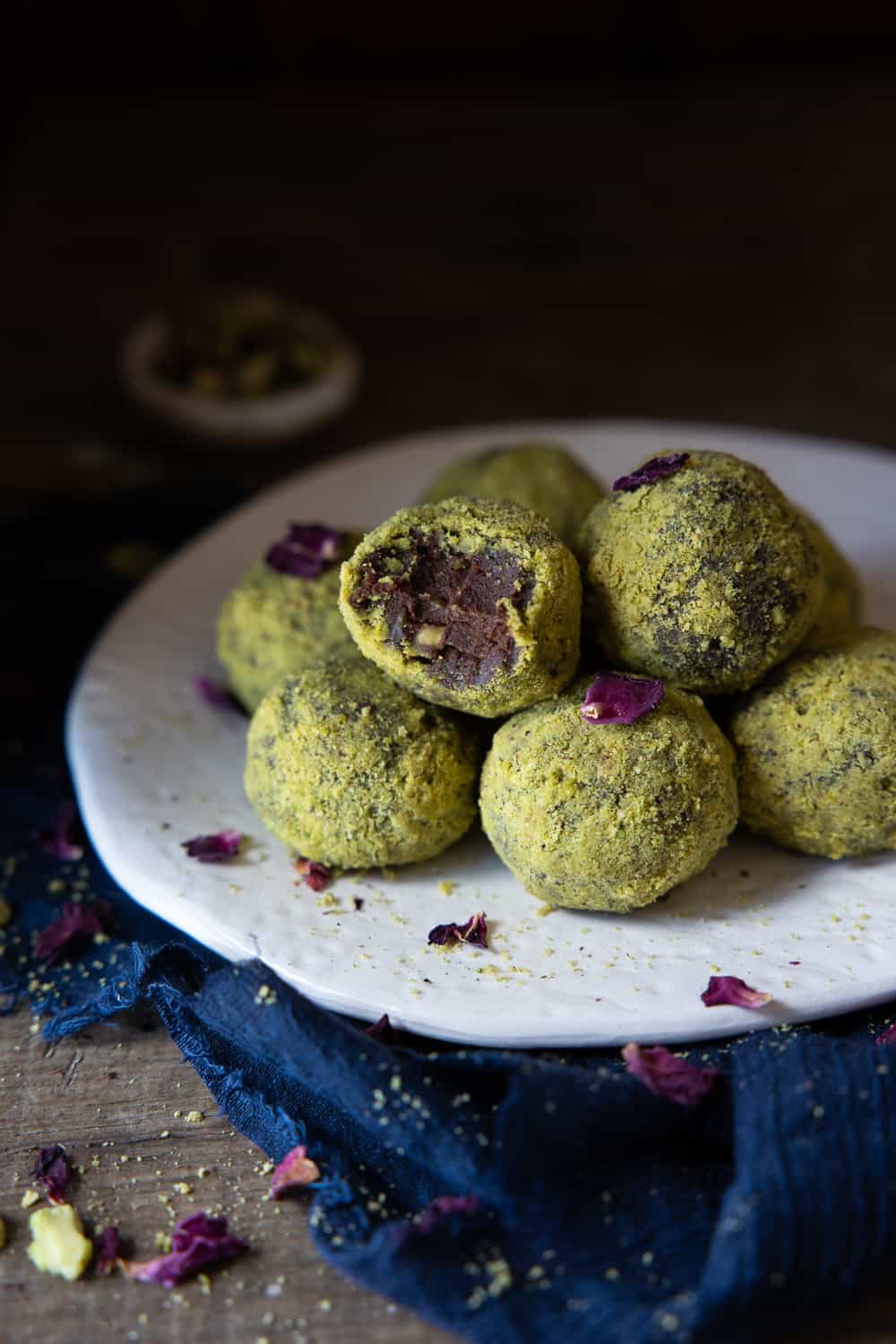 Other vegan chocolate truffle flavours you can try
Even though I've created four different flavour options in this post for you, I had many more ideas.
The reason I chose the ones that you see below is that they'd be the flavours I would pick if I saw them in a box of other truffles.
So that those ideas don't go to waste, here are the other ones that didn't quite make the cut.
Plain – if you'd like to make a plain chocolate truffle, use the ginger truffle recipe and remove the ginger ingredients and you have yourself a delicious classic chocolate truffle!
Marzipan – place a small amount of marzipan in the centre of the ganache and dip the truffle in melted chocolate. You can also add some almond extract into the ganache when you make it.
Peanut – for all you peanut lovers out there, this one is for you to try! Place either a small amount of crunchy peanut butter or peanut in the centre of the ganache, rolling the truffle in crushed up salted peanuts.
Coffee – like the peanut one, this truffle flavour was very close to being included. Place half a roasted coffee bean in the centre of the ganache, and when you make the ganache before setting, add 2 tbsp of espresso coffee with 5 tbsp of the coconut milk. Roll either in cacao powder or dip in melted dark chocolate.
Jaffa – another great combination! Add orange rind or orange extract/flavour to the ganache before setting for a beautiful burst of tangy freshness.
Other nuts – there are plenty of other nuts that you can use to create your truffles. Macadamia, almond, pecans and walnuts are just a few suggestions.
Chilli – you may think it's an odd idea, but chilli and chocolate work well together! Add some chilli powder to your ganache before setting and dip in melted dark chocolate to add a gorgeous crunch to the final truffle.
Liquors – truffles are known to be a little on the boozy side. So, if you're so inclined, use your choice of liquor in your truffles. I would start with 2-3 tbsp of liquor and reduce the coconut milk to 5-4 tbsp.
Coconut – last but not least, a classic, coconut. Add some desiccated coconut to the ganache filling before setting and roll in coconut to finish. Alternatively, create a soft centre using desiccated coconut with maple syrup to help it stick together and to sweeten, and then roll in desiccated coconut to finish them off. Think of it as a bounty truffle!
These vegan truffles make the perfect gift!
Not only do these make great handmade gifts, but they're also perfect for enjoying yourself when you feel like a nice treat. Here are a few ways you can present these as gifts:
In a jar (as pictured above)
In a box
Cellophane, tissue paper or material bag, tied with twine or ribbon
On a handmade plate as an additional gift
In a kraft paper bag
They freeze well and keep in the fridge for up to one week.
With no more than five ingredients in each recipe, they're super easy and affordable to make! Let me know in the comments below which flavour is your favourite.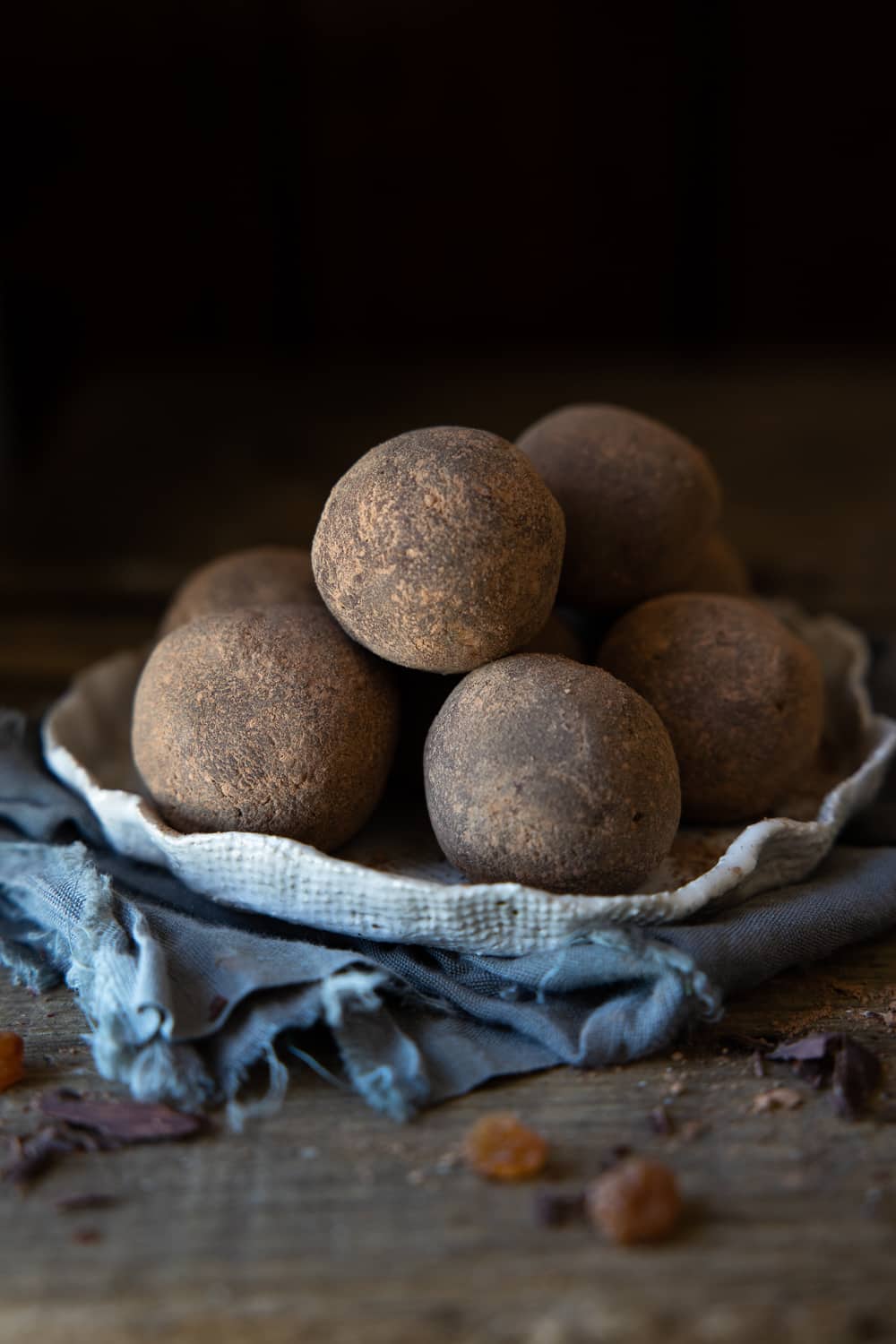 Other recipes you'll love:
If you try this recipe, let me know! Would love for you to leave a comment and rating below. If you want to go that extra mile, tag us on Instagram or share your photo of the recipe on Pinterest.