This classic vegan chocolate cake is my go-to tried and tested recipe for when I need a chocolate fix or want to bake a treat for a special occasion.
It's been a recipe two months in the making and started when my husband Michael requested a chocolate cake for his birthday this year back in March. He wanted a beautiful, rich chocolate cake. I then realised that in all the time we've been vegan, I never made one!
This cake was inspired by a chocolate cake that is in my friend Anthea's cookbook from Rainbow Nourishments. She is a fantastic chef/baker!
Tested to perfection
After trying (and failing) at MANY testers, this is the vegan chocolate cake recipe I'm super proud to share with you. It's rich, moist, has the perfect amount of crumb, and is layered with a decadent two-ingredient velvety chocolate ganache.
If you love a chocolate fix (or are a chocoholic like me) every now and then, you know a good chocolate cake when you taste one. And this, my friends, will certainly hit the spot!
Vegan or not, everyone will enjoy this cake. So don't be afraid to make it for those that usually wouldn't pick a plant-based cake if on the menu.
It's a super simple, fuss-free cake that doesn't require any fancy kitchen equipment! Just your basics.
I also wanted to make a point of saying that it uses your everyday staple pantry ingredients—no need for specialty cacao powders, flours, or egg and dairy replacements.
Lots of cake creators out there state only to use Dutch-processed cocoa because it's been treated with alkali. The raw cacao is more acidic; therefore, many say not to use it. However, I have found that it still works nicely in cakes and, again, doesn't have to be a specialty ingredient that you need to go out and find.
If you happen to have Dutch-processed cocoa at home, wonderful, if not, it's perfectly fine to use either cacao or cocoa! More on the differentiating factors of those two in my hot chocolate recipe.
The added ingredients of maple syrup and espresso coffee will bring out the chocolate flavours even more.
A few tips for making the best vegan chocolate cake
Please, please, PLEASE use scales, not measuring cups for this recipe! The cup measurements vary from country to country, and also, the flour that you use will be a different density potentially to the one that I used. So this is why it's essential to measure it out accurately to get the best results.
It's important to sift the ingredients to avoid any lumps in your batter. Since we're using coconut sugar, bicarbonate of soda and baking powder, they are all ingredients that can lump quite easily.
To get a nice even bake, use the middle rack in your oven. If baking two cakes, place them side by side. If your oven is too small for that, bake them individually.
This cake is best made ahead of time, as you want it to completely cool on your benchtop, then transfer it to either an airtight container or cling wrap and then to the fridge. I usually make mine the morning of when I want it for that evening or the day before.
Let the cake cool completely and sit in the fridge for an hour or two before spreading the ganache. You'll avoid the ganache sticking to the cake crumb or it being too thin. It needs that time in the fridge to set a little to make it thick and spreadable.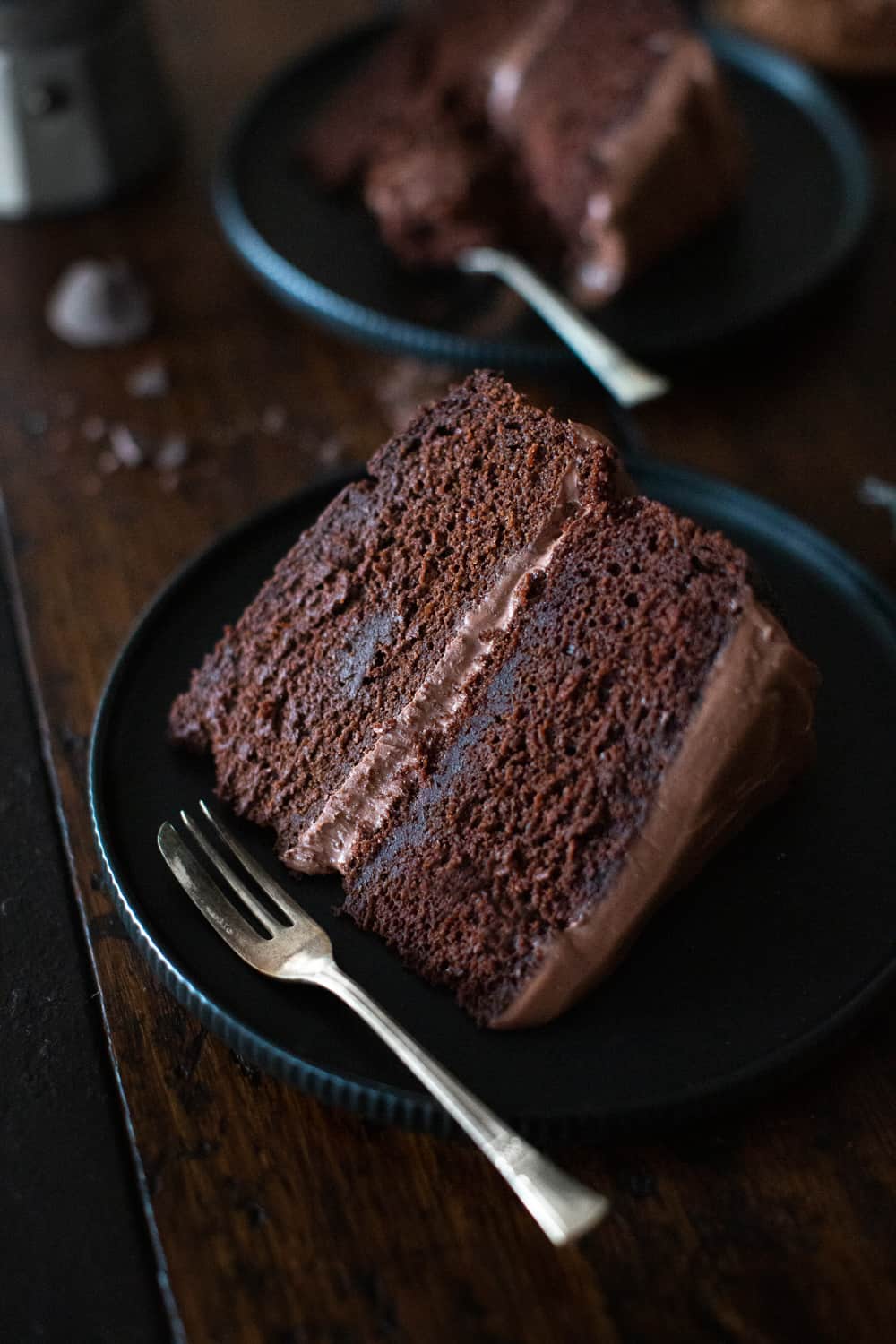 This classic vegan chocolate cake is:
Eggless
Dairy-free
Soy-free (optional), just pick your ganache chocolate without any soy
Nut-free
Palm oil-free
So if you're after an easy, moist, chocolatey rich cake that is topped and layered with a creamy dairy-free thick ganache, this is your cake!
It's not too sweet, yet it doesn't compromise on flavour. It satisfies that chocolate craving without too much guilt.
If you try this recipe, let me know! I would love for you to leave a comment and rating below. If you want to go that extra mile, tag us on Instagram, or share your photo of the recipe on Pinterest. Or Pin It for later!
Other recipes you'll love:
Join the MV community
You'll get a neat summary of our content each week, as well as some behind the scenes of what's happening! See you on the inside 😉