In the short time that we've been vegan, we've heard pretty much every reason why others feel they cannot be vegan.
In many situations, when they ask us, we try and keep the answer relatively short and sweet. When we do respond, people tend to want to explain to us why they aren't vegan.
Today, I want to discuss with you all those reasons and 'excuses' that people use for not changing their lifestyle.
Some use different defence mechanisms to oppose why they're eating meat, dairy or eggs. Some of these are embedded in Western society and have made people believe that we need animal products in our lives in one way or another.
I wanted to go through and list some of the reasons we've heard and some that our readers have shared with us on why people don't choose a vegan lifestyle.
This post is more of a collection of thoughts and a way to help you see that you're not alone in this. Here are the 8 "excuses" that we found were most common.
This post may contain affiliate links, for which we earn a small commission at no additional cost to you. Read our full disclosure here.
1. It's part of my culture
Many different cultures around the world have meat, dairy and eggs engrained into their lifestyles and cuisines.
In some countries, it's pretty difficult to find food out, in supermarkets and at family/friend gatherings that don't contain any animal products.
For example, countries like France, butter is a large part of their diet and is in many foods. In Argentina, red meat is pretty much served at every meal. And in many Asian countries poultry, pork and eggs are a staple part of the household.
One of the most comprehensive studies done about diet-related diseases concluded that countries with high consumption of animal-based foods in 1983–84 were more likely to have had higher death rates from "Western" diseases as of 1973–75, while the opposite was true for counties that ate more plant foods. This is an extract from The China Study.
Often vegans that are part of families who are cultural omnivores feel isolated and alone. In many cases, they are also called "selfish", "rude" and "unreasonable".
When one of our readers wrote in and shared her experience with her family was feeling this way towards her, it broke my heart and made me question why that is.
Why is making your own food choices a selfish decision? Shouldn't we all have the right to eat what we want and not feel hurt or ashamed by those decisions?
Veganism in my eyes is a compassionate lifestyle, and people that follow this lifestyle probably don't want to make others feel like they need special treatment.
2. It's too hard
People look at veganism as an extreme way of living—believing that by not consuming animal products you'll have nothing to eat.
This is all about perspective. Trust me, I used to be someone that thought it would be too hard to live without eggs, cheese and yoghurt. Here I am, almost 18 months later, and I have not missed or craved any of those things!
When you surround yourself with foods that you can eat, you don't feel deprived or feel like you're missing out. You just need to shift your mindset to feel like you have an abundance of choice rather than feeling deprived and restricted.
There's so much choice and substitutions as you transition to a plant-based lifestyle that makes it easy to kick those cravings and habits out the door!
3. Lack of vitamins and minerals
These beliefs have been planted in our heads by the meat, dairy and egg industries. We can get calcium, iron, magnesium, protein and omega 3 from plant sources, in many cases much better ones too!
There's so much research and information out there about this today that we need to stop buying into what the big agricultural business advertise to us.
These corporations spend an outrageous amount of money on advertising each year and are also subsidised by the government in many countries—so that sometimes meat, dairy and eggs are cheaper than vegetables.
"The American government spends $38 billion each year to subsidize the meat and dairy industries, but only 0.04 per cent of that (i.e., $17 million) each year to subsidize fruits and vegetables." Sourced from the PETA.org website.
I watched a documentary on the dairy industry, and it addresses the myths and truths and everything in between about this everyday staple. If you want to learn a little more, watch the film Got The Facts On Milk?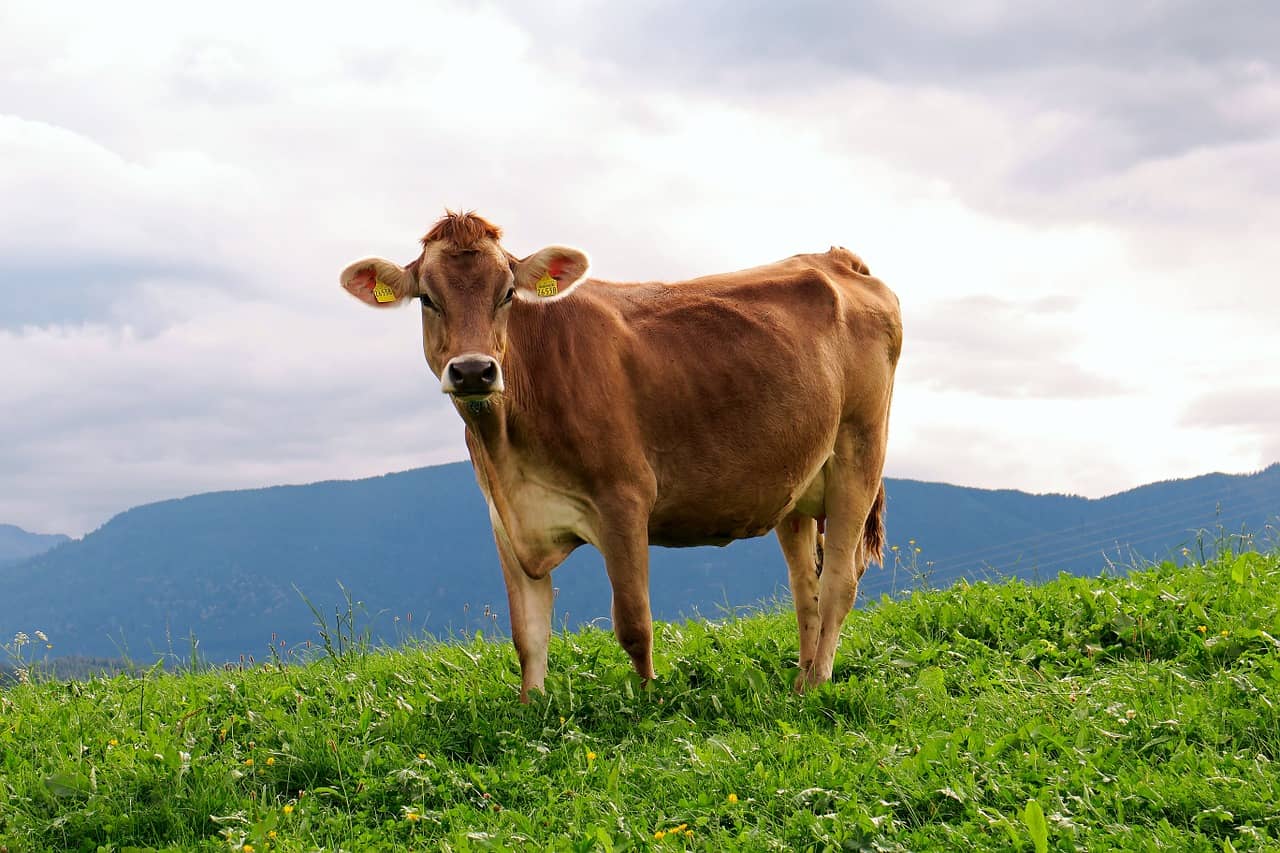 4. I only buy "humanely" sourced meat that is from a local farmer, free-range/organic and grass-fed
I used to think this way before I became vegan. When I was eating meat, this would be what I would support. The local, small and organic farmer that looked after his animals.
However, when you start to dissect that statement and what you're really supporting, you realise that the animal might have a better life than those in factory farms, but the end destination is identical.
They all end up in a slaughterhouse. Animals are raised to be killed for their meat one day. Animals are here to be loved and nurtured just like human beings. They offer us so much. They deserve respect in return.
The trauma that the animals experience when being slaughtered or just before stays in their cells/flesh and we eat that meat that has emotional stress still present. This is then passed onto our bodies. I think this is a pretty straightforward progression.
If you're interested, we recorded a podcast episode answering the question: is there such a thing as humane meat?
5. What would happen to all the animals?
This question comes up quite a lot. What would happen to all the animals if all humans became vegan? There would be way too many animals. My response is pretty simple. The chances of all humans adopting the vegan lifestyle at once are unrealistic.
Every year we are breading more and more animals for human consumption and cutting down beautiful forests to either grow a crop for animal feed (to fatten them up for slaughter) or land for the animals that are being bred at a rapid rate.
Many farmers cannot keep up with demand and have been forced in many cases to turn to factory farming.
Some of you might think that factory farming is a choice, however with how much meat is being consumed on this planet right now, it's the only way that they can meet demand.
So in saying all of that, if we slowly but surely started reducing the amount of meat, dairy and eggs you consumed, you'd be voting with your dollar to say that you don't want factory farming and to consume animals. Because the demand is there, the industry is responding.
If anything, the slow decrease in animal, dairy and egg consumption would decrease the need to breed them at such a rapid and inhumane way. The world would slowly start to reverse all the environmental issues that the industry is having on our planet.
6. Eating plant-based is too expensive
Consider this. As mentioned above, the animal and dairy industry is so heavily subsidised that if we paid the actual price of animal products, most people wouldn't be able to afford it.
If they subsidised more of the plant-based organic farming, it would make a massive difference to the industry and the accessibility of these foods to the average household. In saying that, meat, eggs and dairy are still quite expensive.
Going to farmers markets and buying fresh produce straight from the person that grows it is probably the cheapest way to shop. I buy all my weekly produce—fruit and veg at the markets and spend around $80 (and this is on organic produce, it can be done cheaper). That's about 80% of what we eat, with legumes, beans, nuts, seeds, grains and some soy proteins filling the rest of the budget.
I must admit that at the moment we're spending more than we should be as we aren't shopping with meals in mind, we just buy produce, and I cook what we feel like and what we have available.
This would be greatly reduced if we planned our meals for the week in advance and bought only what we needed. Always a work in progress.
7. I'll feel left out in social situations
This is a tough one. Many vegans face this on a daily basis. At work, school, birthdays, parties or weddings. A lot of people also don't want to inconvenience others by asking them to prepare something different for them.
There are a few ways to get around this. Here are some tips and suggestions for those that are struggling to transition to a vegan lifestyle because of this reason.
Eat beforehand – make sure you eat before you go so that you don't risk not having anything to eat when you're around others. It's a bonus if they have something for you there, but make sure you don't leave it to chance and go hungry.
Bring something yourself – if you don't feel comfortable telling others that you don't eat any animal products, then let them know that you will happily bring your own food. This way, they may even offer themselves to make something that you can enjoy as well. If not, you have yourself covered and don't feel left out when you're there.
Let the organiser know you're vegan – let the person organising the event know that you are vegan unless they already know. In many cases, they would be more than happy to have something there for you to enjoy so you don't feel left out. Anyone with specific allergies or dislikes would let them know, so why can't you?
Invite everyone over to your place – this way you get to control the food and show off how delicious vegan food can really be!
Pick the cafe or restaurant you go to – we often get asked to pick a place as all our friends and family know that we are vegan. That way you know for sure you'll be able to choose some options from the menu and your friends get to try something new. We usually try and pick somewhere that we've been before and know that they serve good food. The last thing you would want is for your friends to think that vegan food is either bland, boring or nothing special.
If you do one of the above suggestions, you should be able to still have a great time in social situations without feeling left out or making a big deal about the fact that you're vegan.
Further listening: How To Enjoy The Holiday Season as a Vegan – Episode 038
8. Meat is too delicious to give up!
This is one that I probably hear the most. I usually respond with "there are some awesome alternatives to meat these days that taste similar but don't involve animals." That's the polite version! 🙂
People have become addicted to meat, dairy and eggs. Just like being addicted to sugar, I've heard of people having withdrawals from not having meat every single meal. They don't classify it as a complete meal if it doesn't have any meat.
With soy being the primary substitute for meat in many forms like tofu and tempeh or seitan (which is a wheat gluten product), you can buy sausages, bacon, roasts, fillets and more all made to look, taste and have the same texture as meat but not being meat.
We personally only eat tofu and tempeh as we don't like substitutions as they normally have preservatives, numbers and other ingredients that aren't quite what we want to eat on a regular basis.
With all those alternatives, you can't really have that as an excuse in my view!
Common excuses for not being vegan
These are just 8 of the common "excuses" that we have experienced or heard about recently. There are certainly many more! What are some of the 'excuses' that you've heard? Would love to hear them in the comments below!