Dear vegetarians,
The difference between vegetarian and vegan may seem insignificant to you. Is there much of a difference?
Vegetarian, vegan—it doesn't matter. We're all doing our part to reduce the exploitation of animals.
I hear you—and I have a lot of respect for you.
There was a time where I thought vegetarianism was extreme.
Growing up, I only had one vegetarian friend and I thought he was missing out on things all the time.
But he stayed strong to his values. I never saw him fold. When we were flipping meat on the barbecue, he would bring his vegetarian patties.
He never wanted to cause an inconvenience. It was admirable.
Then in August 2014, seemingly at random, I became vegan. I literally went from eating a chicken kebab to being vegan.
I didn't transition gradually—and I never considered being vegetarian before going all the way to veganism. Not to say that this is the right path to veganism as we all have different origin stories.
After making the connection between my consumption habits and the unnecessary exploitation of animals, my heart saw only one option—go vegan.
When I told my vegetarian friend I was vegan, he was proud of me. But even after being vegetarian for many years, he admittedly thought a vegan lifestyle was extreme. How ironic!
I found the interaction confusing. And then I thought the vegetarian movement was confusing.
I don't spend much time in vegetarian communities outside of seeing the reference of V and VG on restaurant menus.
But I do have some opinions I want to share with you about the difference between vegetarian and vegan, and more importantly, why it matters.
So what is the difference between vegetarian and vegan?
The best way to understand the difference between vegetarian and vegan is to see how their requirements compare.
As a vegetarian, no doubt, you already understand the differences. But here's a quick refresher:
A vegetarian is someone who avoids consuming meat, poultry and fish or any animal flesh. This also extends to insects. Vegetarians do, however, consume dairy, eggs, honey and are more open to supporting products that are made from animal fabrics.
Conversely, a vegan is someone that avoids consuming anything that comes from an animal. This would include meat, poultry, fish, insects, dairy, eggs and honey. Veganism extends beyond food, as they also avoid products made from animal fabrics including leather, silk and wool.
It's common for both vegetarians and vegans to reasonably avoid forms of animal entertainment like zoos, animal rides, racing, circuses and fighting.
Another overlap between vegetarians and vegans includes avoiding products that are tested on animals.
I think it's interesting to note that vegetarianism as a concept came before veganism. In fact, the word vegan was made by taking the first three letters and the last two letters from the word vegetarian.
If you want to learn more, you can read my post on the definition of veganism.
So to summarise, the fundamental difference between vegetarian and vegan comes down to the consumption of:
Dairy (milk, cheese, cream, yoghurt etc)
Eggs
Honey
Animal skins
Consumer goods made with ingredients from dairy, and honey, e.g. cosmetics
Again, you knew this already. But at least we've isolated our differences, which will fuel the rest of this letter.
What's more popular, vegetarian or vegan?
Okay, if you haven't seen this already, check out a Wikipedia page called Vegetarians by country.
The article is regularly updated with statistics on the population of vegetarians and vegans across different countries.
Sample sizes and references for each country vary greatly, but at least it starts to give us an idea of the growth in both lifestyles.
Let's take the United States, for example. According to a poll conducted in 2018, 8% of the population was vegetarian, and 3% were vegan.
As you look at the statistics of each country, it's clear that vegetarianism is consistently two to three times more popular than veganism.
This is unsurprising as vegetarianism has been around much longer than veganism.
Furthermore, there are not as many restrictions, making vegetarianism more approachable and accessible than veganism.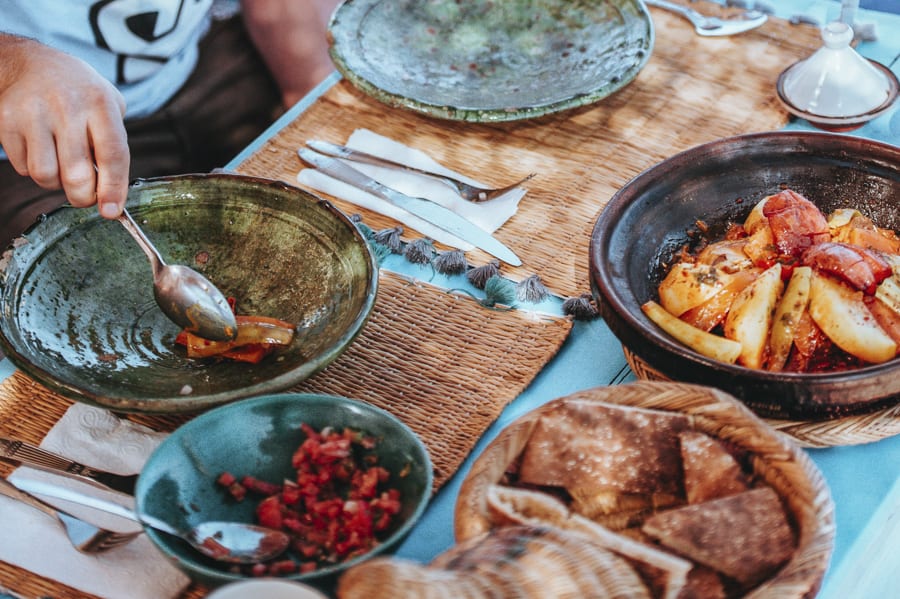 Thank you, vegetarians
Before I explain why I think our differences matter much more than you probably think, I want to take a moment to thank you.
Thank you for being the original animal advocates, at least by an official term—as some humans have unknowingly been vegetarian from the beginning of our existence.
I want to thank you for your passion for promoting an alternative way of living. Your efforts have changed the supply and demand of all of the cruelty-free products we have access to now.
Lastly, thank you for being courageous and removing animal flesh from your diet.
But now you need some tough love.
You need to take the next step
There are gaps in your philosophy that need addressing.
I'm frustrated with you more than omnivores because I know you know all of this stuff.
You're acutely aware and connected with the impacts of dairy, eggs, honey and fabrics, yet you're stalling.
Why?
You're almost there. I mean, you are the original. You were pushing for vegetarianism when there weren't even any labels on packets to help you.
I'd argue that you had to fight harder than vegans in your time.
But now? Come on. We have an abundance of alternative options.
And the thing is, I know you think about this often. You ask yourself, "could I really be vegan?"
The answer is a resounding YES!
In the next part of this letter, I'm going to explain why you need to act on what you already know.
The problem with dairy
The dairy products you love dearly, including milk, cheese and cream are made from the milk of animals.
Milk can be produced from:
Camels
Goats
Yaks
Buffalos
Horses
Donkeys
Zebus
Sheep
Cows
Humans
Cockroaches, yes cockroaches!
However, according to this article, 85% of the milk that's created for dairy comes from cows. So let's talk about cows for a moment.
Dairy cows are a specific breed of cow that produces a certain type of milk. From the age of two, these animals start their careers as dairy cows.
Like any mammal (including humans), to produce milk, you need to have given birth. So either organically, or forcibly, farmers impregnate these cows on 14-month cycles.
The cycle looks something like this:
Give birth
Produce milk for ten months until parched
Take a 60-day break
Forced to mate or get artificially inseminated
Start the process again
Do this for four years, then get sent off the slaughter for beef, leather etc.
The average lifespan of a cow is 18-22 year. However, the average lifespan of a dairy cow is 4-6 years.
Calves of the dairy cow are considered to be "waste-products" as they're unable to grow at the same rate as beef calves. And their meat is substandard according to the beef industry.
So often, only after a couple of days of living, these calves are sent to the abattoir for slaughter.
Okay, I feel like I'm going all vegan on you when I realise, I'm preaching to the choir.
But what I don't understand is why you're comfortable supporting an industry that is just as cruel if not crueller than the beef industry?
Especially when it's never been easier to get alternative products. This is an easy win if you just make the switch. There are more alternatives out there now than ever before!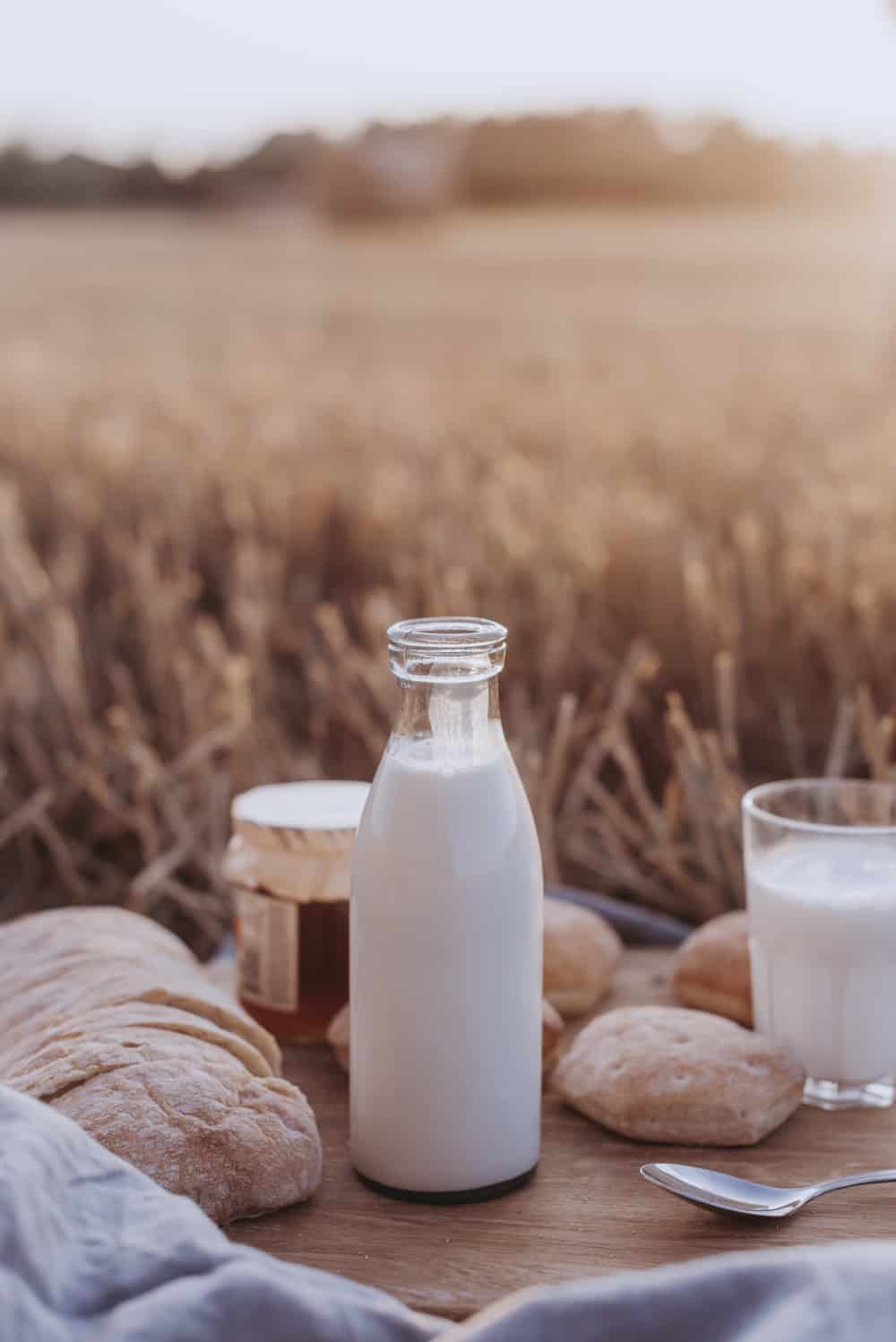 The problem with eggs
Like you, I used to love eggs. Like really love eggs.
I'd have eggs any time of the day whether it was fried, boiled, poached. Runny or well done. Oh, and how could I forget? Eggs were an essential ingredient for baking cakes!
Between Maša and I, we'd go through two cartons of eggs each week. You read that right. We were running quite the eggy operation.
However, we only used to buy organic and free-range because we cared about how hens lived.
Having said all of that, even eating the leftover eggs from your backyard chicken is unethical.
Again I know you know this, but unlike dairy, I'd say you're willing to fight a little harder to defend your consumption of eggs.
Even though the rate of laying eggs from farmed or backyard chickens means a reduced life expectancy for hens, it's easier to justify consuming eggs.
This is not to mention all of the male chicks who get ruthlessly discarded at birth because they have no commercial value.
You've seen the footage of these chicks getting ground up. You understand that every egg you buy or consume promotes exploitative practices. But you choose to turn a blind eye.
Take it from someone that loved eggs. When you give them up, you'll quickly become disgusted by them.
Even when I ate eggs, I hated dealing with them. The smell, getting bits of the shell stuck in your food. Or holding blocking my nose as I'd drink eggs white raw after watching Sylvester Stallone do it in his famous Rocky movies.
You'll honestly be surprised at how quickly you'll forget about eggs. You can do it!
The problem with honey
Okay, this is where things get a little more challenging.
I can't blame you for consuming honey, because it's even confusing amongst vegans.
We wrote a whole post on this very topic—so I suggest you check it out.
But fundamentally, honey is not for human consumption. Honey is for the bees that produce it.
If you were stubborn about eggs, I easily imagine you rejecting the premise of boycotting honey in your life.
The thing is because you're used to shopping for cruelty-free products you're probably more aware of alternative sweeteners than the other 90% of the population who are not in our vegetarian/vegan bubble.
I get it. I enjoyed honey. My favourite combination growing up was honey and peanut butter on bread.
Do you know what my favourite combination is now? Maple and peanut butter sandwiches. I don't even think about how I wish I had honey instead of maple.
Once you finish the rest of the honey in your house, this is an incredibly easy switch.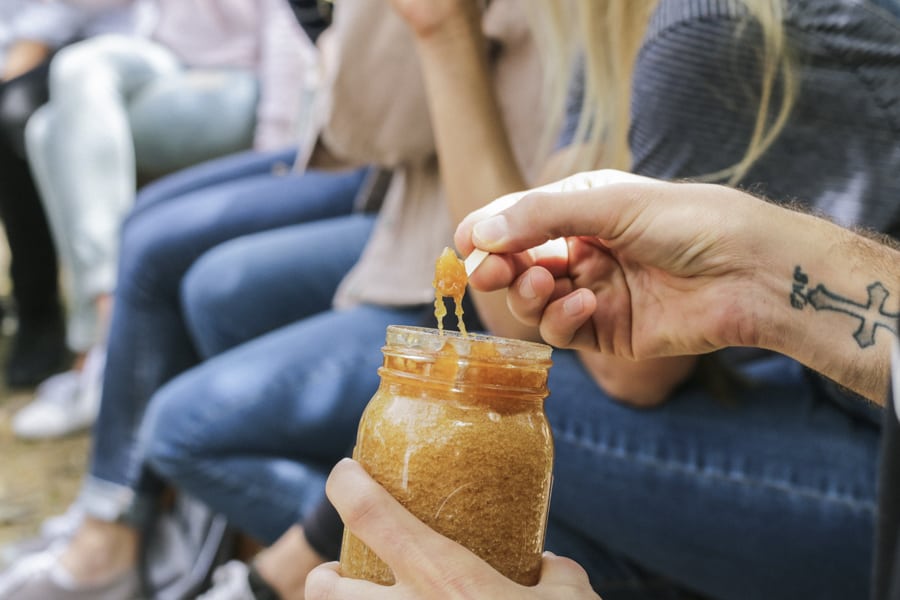 The problem with animal fabrics
It's common knowledge that leather, wool and silk are fabrics made from animals.
Perhaps you haven't seen these products to be a problem, as the fabrics are promoted as a by-product of the meat industry.
Animal fabrics, however, are not by-products, but co-products of meat as they make up a decent percentage of profits from these animals.
In some instances, like silk and exotic leathers; the only reason to exploit these animal materials is for the fabric industry.
For example, snakes and alligators are explicitly hunted for their skin to produce leather.
When you support leather, you're supporting the trappers that go out at 3 am and kill and skin wildlife to earn their keep.
How are these actions anything but cruel? Now I'm not saying that every vegetarian in the world supports the animal fabric industry, but it's an area that's often overlooked.
Luckily there are lots of innovative alternative fabrics being made all the time, especially in fashion.
So, what's the hold-up?
You don't eat meat. You don't support animal entertainment and testing. And you probably care about the environment.
Remember, vegetarianism is two to three times more popular than veganism.
Think about the impact you could have on animals if you switched over to veganism. It's a tangible and realistic goal, considering how closely related the lifestyles are.
Yet, you resist becoming vegan. You're almost there. I mean you've done the hardest part of eliminating meat from your diet!
So I write this letter to you to ask why.
Why don't you become vegan? I think we've established throughout this post that you're not ignorant to what's going on. So if it's not that, what is it?
Respond to this letter in the comments below.
PS – please know that this letter comes from a place of love. I acknowledge that being vegetarian is still a far better alternative than eating animal flesh. So whether you decide to go vegan or not, thank you for being considerate.